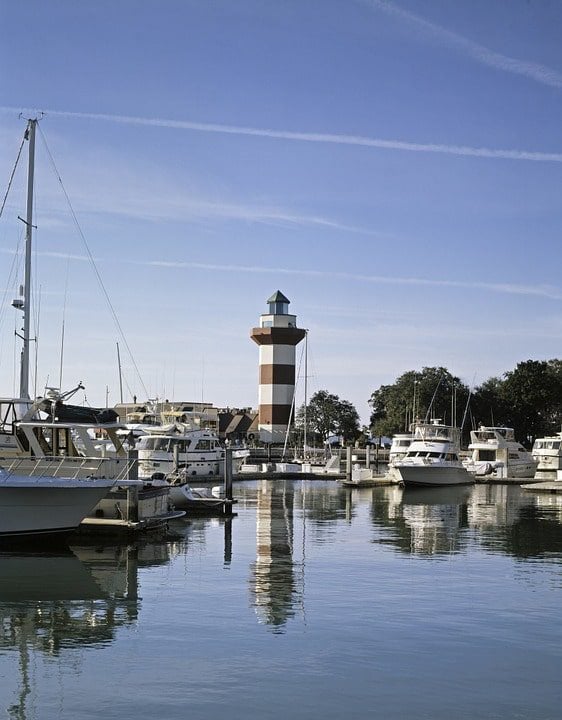 If you're heading to South Carolina with your pet in tow, you're probably wondering where you can stay with your beloved furry friend. There are plenty of pet-friendly places to visit and things to do in the Hilton Head area, but finding the right accommodations is key to ensuring you and your pet have a comfortable and enjoyable trip.
With this in mind, we've brought you some of the best pet-friendly hotels in Hilton Head so that you can make an informed decision when it comes to planning your next vacation with your four-legged family member.
1. Red Roof Inn Hilton Head Island
With an excellent location on Hilton Head Island, the Red Roof hotel is just a fifteen-minute stroll away from popular attractions like the Arts Center of Coastal Carolina and Pirate's Island Adventure Golf.
There are plenty of excellent amenities for humans at this accommodation with free self-parking and Wi-Fi as well as an outdoor swimming pool.
The pet-friendly accommodation welcomes both cats and dogs of any size, and there's absolutely no extra fee to stay. Pets can't be left unattended, but dogs on a leash can visit the beach after 5 pm or before 10 am between Memorial Day and Labor Day. There are also grassy areas onsite for pet relief.
Verdict: A perfect location near the beach that welcomes both cats and dogs.
2. Best Western Ocean Breeze Inn
When you stay at the Best Western Ocean Breeze Inn, you'll not only be close to the beach, but you'll also be just minutes from Coligny Plaza and Legendary Golf.
The hotel also lies within easy reach of The Sandbox so you won't be short of things to do during your break. The comfortable rooms feature LCD TVs and microwaves as well as cozy pillowtop beds, and there is also complimentary Wi-Fi to ensure you stay connected at all times.
The Best Western Ocean Breeze Inn offers a host of excellent recreational opportunities like rental bicycles and a fitness center, and guests can even benefit from a delicious complimentary breakfast.
Two pets weighing up to 55 lbs. are welcomed here for an extra pet fee of $45 nightly (the nightly fee gets capped at a maximum of $100 per stay), and both cats and dogs are accepted.
Pets with guests stay in rooms on either the first or second floor, and well-behaved pets are allowed to remain unattended in the rooms. However, if you choose to keep your animals in the room unattended, housekeeping is not provided. Pet relief areas are also available on the property, and there are plenty of dog-friendly places to visit nearby including Burkes Beach and the Sea Pines Forest Preserve.
Verdict: Pets can stay unattended in rooms, and the property is well-located in an area with plenty of pet-friendly activities nearby.
3. Omni Hilton Head Oceanfront Resort
The hotel enjoys a beautiful location right on Hilton Head Island's sandy beaches. The tropical paradise is a perfect spot for humans and their furry friends alike, and the Omni Hilton Head Oceanfront Resort boasts impressive views over the ocean as well as easy access to tennis, golf, swimming pools, and a host of other amenities for a wonderful stay.
Although cats are not permitted, the property welcomes no more than two dogs weighing up to 50 lbs to share their owner's room for an extra $200 fee per stay. Dogs can be left in rooms unattended as long as they get crated, and waste bags and dog feeding bowls are available.
Pets may use a grassy onsite area for relief purposes but there are also lots of dog-friendly areas nearby, including the Hilton Head Island beaches.
Verdict: A comfortable and luxurious hotel with plenty of excellent amenities for humans. Dogs are permitted to stay unattended in guest rooms as long as they are in crates.
4. Holiday Inn Express Hilton Head
If you're looking for an affordable stay with your pet in Hilton Head, the Holiday Inn Express is an excellent choice.
The resort-style property lies on no less than six acres of land and is surrounded by beautiful lagoons, trees and wildlife. It's just a short walk to the Hilton Head Island white sandy beaches and the Coligny Plaza where you can find excellent restaurants and shops.
Meanwhile, the guest rooms feature 49 inch HD televisions, microwaves, refrigerators, hairdryers, and Keurig coffee machines. On top of that, there are outstanding resort amenities such as a fitness center, outdoor pool, free Wi-Fi and a complimentary breakfast. So you'll enjoy a wonderful stay.
Both cats and dogs are welcome and two pets of all sizes may remain in the room at an extra cost of $40 per night per pet. There are designated Two Double and Double Queen rooms available on the ground floor for those traveling with their four-legged friends.
There is an on-site pet relief area, too; however, it's important to note that animals cannot be left unattended in guest rooms. The Holiday Inn Express is also close to popular dog-friendly attractions like the Hilton Head Island beaches and fun activities such as Captain Mark's Dolphin Cruises where your four-legged friend can come aboard.
Verdict: Te affordable hotel welcomes both cats and dogs. The property boasts lots of excellent amenities and is near popular attractions.
5. Park Lane Hotel And Suites
Just half a mile away from Shoppes on the Parkway, the Park Lane Hotel and Suites is the only all-suite property on the Island and offers beautifully-appointed King, Queen-Loft, and Double-Queen accommodations to guests, all of which boast full-size appliances and kitchens.
There are a host of amazing health facilities including a whirlpool, swimming pool, cornhole, fitness room, horseshoes, grills, bicycle rentals and even life-sized Connect Four games. Not only that but each morning, guests can benefit from a delicious complimentary breakfast.
The property welcomes two dogs per guest room with a combined weight of 75 lbs. A fee of $60 is charged for stays of one or two nights, rising to $90 for a longer stay. Waste bags and treats are available at the front desk. Unfortunately, cats are not permitted at the Park Lane Hotel and Suites.
Verdict: An all-suite property that offers excellent entertainment amenities for guests as well as accommodation for two dogs.
Emotional Support Animals with USSA
Why not think about registering your pet as an ESA with USSA? Emotional support animals offer key support to people who are experiencing emotional and mental health problems, helping to relieve the distress associated with conditions such as bipolar disorder, depression, anxiety, and phobias.
Contact USSA today and find out more.