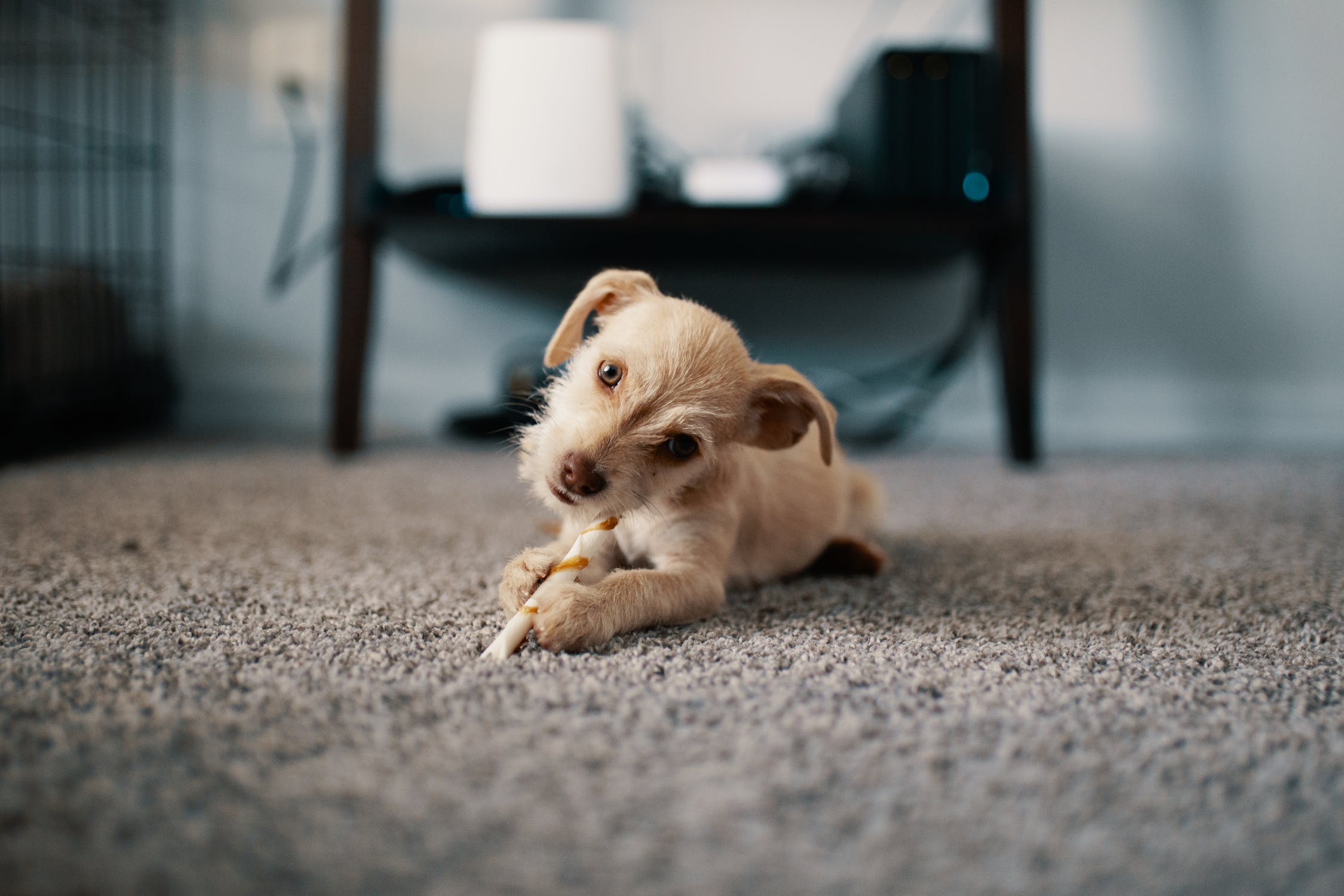 Avoiding expensive doggie day-care? Couldn't arrange for a pet sitter? Or do you want to spend some quality time with your pooch? You'll have to find a hotel with a decent pet policy to bring your dog with you on vacation. We've combined a list of the best dog-friendly hotels in the Branson area. Our top choices were selected because of their outstanding amenities, unbeatable locations, and reasonable prices.
The Cabins at Green Mountain
The Cabins at Green Mountain Resort is a 3-star cabin-style resort in the heart of Branson. All of their classy, rustic cabins are dog-friendly. Two dogs up to 35lbs can stay in The Cabins for a one-time $25 fee, plus an additional $10 fee per dog/per night. Dogs can stay in the cabins unattended and do not have to be crated while you are out.
A close walk to Branson's palace, museum, and the Promised Land Zoo, The Cabins at Green Mountain Resort is an excellent family accommodation. You can check out their games and activities for children, as well as tubing, hiking, and fishing on-site. The Cabins have a pool, hot tub, exercise room, and an outdoor grill/picnic area for your recreation.
If you're coming into town late, you won't have to worry. The Cabins at Green Mountain Resort has a 24-hour reception. They also offer concierge services and ironing, if you'll be attending any special events. All cabins include a personal safe, dryer and dining area. Upon request, you can have a cabin with a fridge, dishwasher, and freezer. Four different cabin styles are available, including a cottage and home.
If you're flying out of Branson, The Cabins have easy access to the Branson National Airport just a short drive away.
Hilton Promenade Branson Landing
The Hilton Promenade has an excellent location right along the Branson Landing, which is a 1.5-mile strip along Lake Taneycomo that hosts over 100 shops and restaurants. The Fountains are perhaps the Landing's most unique attraction. Designed by the same producers who made the musical fountains in Disney Orlando, University City California, and Bellagio Las Vegas, they combine water, fire, light, and music in a breath-taking spectacle.
The Hilton Promenade Branson Landing gives you easy access to life on the Landing, including Branson's summer concert series. However, you don't have to walk out the doors to find elegant dining experiences.
The Hilton Promenade's Level 2 Steakhouse offers premium cut meats and other gourmet dishes. Their seasonal Clear Lounge offers a range of cocktails and other drinks. Big Whiskey's Restaurant and Bar has an upscale take on American classics, and they also offer whiskey on tap.
Two dogs or cats are also allowed as guests in the Hilton Promenade, provided they are under 75lbs. You will need to pay a $50 pet fee. Dogs will receive a food and water bowl for their stay. You will get a pet door hanger to hang on your door handle, which lets housekeeping know there is an animal in the room. Pets may be left unattended.
Besides the Landing, guests at the Hilton Promenade will have easy access to the Branson Convention Center and Historic Downtown Branson, which is only two blocks away. Golfers may enjoy the Hilton's special golf package for the nearby Branson course.
Gazebo Inn
Gazebo Inn is a cozy, Victorian-style bed and breakfast right along the famous 76 Strip. This hotel is within walking distance of the Branson Strip's restaurants and other attractions, including the neighboring Andy Williams Moon River Theater. The Gazebo Inn lets you book a room with your dog for a small $15 fee, however, they require that your pet is less than 20lbs.
At Gazebo Inn, you have a choice of a room or suite, some of which include a whirlpool tub or Jacuzzi. All rooms are equipped with a refrigerator and coffee station. A complimentary breakfast is included in your stay. Guests will have 24-hour access to an outdoor pool. For a modest price, The Gazebo Inn promises the same friendly, high-quality customer experience you would have at an upscale hotel.
Gazebo's cozy, vintage style and easy access to Branson's main attractions makes it a great option for vacationing families. Guests can reserve tickets for local attractions through the front desk, and they may be eligible for certain discounts.
La Quinta Inn & Suites by Wyndham
This midscale hotel is located off Highway 76, near the Tanger Outlet Center. La Quinta Inn & Suites gives you easy access to both the Branson and Springfield-Branson National Airport, the Branson Convention Center, and the College of the Ozarks.
La Quinta Inn & Suites can accommodate all your basic needs at a reasonable price. You'll be provided with complimentary hot breakfast, WiFi, and parking. If you have a large vehicle, you can still park at La Quinta with no extra charge.
ADA service animals are welcome at La Quinta Inn & Suites, and owners will not be charged any pet accommodation fees. Two cats or dogs are allowed per room on the first floor for a $20 nightly fee per animal. The maximum charge for each stay is $40. You can leave your dog unattended if the animal is crated, and you will need to leave your cell phone number at the front desk in case of an emergency.
La Quinta Inn & Suites has a heated indoor pool for all two-legged guests. They also have a business center and laundry services at your disposal. Rooms are clean and modern, equipped with high-speed WiFi, microwave, mini-fridge, and television.
Chateau on the Lake Resort Spa
The Chateau on the Lake Resort Spa is a 4-star luxury spa hotel on a solitary hill overlooking Table Rock Lake. All rooms include personal Keurig coffee makers, plush linens, Gilchrist & Soames bath accessories, 37 inch LCD televisions, and complimentary WiFi. Certain rooms have balconies facing the mountains or lake, however, these are not pet-friendly options.
Dogs and cats under 25lbs are welcome at Chateau on the Lake. The hotel strongly advises that you book a pet-friendly room in advance to make sure that your pet can be accommodated. All pet-friendly rooms are located on the third floor.
Chateau on the Lake has a grassy area on the property for pet relief. If you're leaving without your four-legged friend, the hotel requires that you crate your dog while you are out. You won't have a hard time finding a place to take your dog out on a walk, as the Chateau on the Lake is surrounded by nature trails.
Chateau on the Lake Resort offers many special packages, including a sumptuous Deluxe Stay-In meal followed by a full American breakfast-in-bed the following day. They also offer packages for nearby attractions or the in-house Chateau Spa.
On-site dining is of no shortage. Coffee and snacks are offered in the Library Lounge, with cocktails in the lobby. The Chateau Grille dining room gives guests an unforgettable view of Table Rock Lake.
Chateau on the Lake makes it easy to get out on the water. They offer a free shuttle to a full-service marina. Guests may also swim in beautiful, heated indoor and outdoor pools. Poolside service is available upon request. Kids can enjoy the Crawdaddies Kids Club indoor play area.
Baymont by Wyndham- On the Strip
Baymont Inn & Suites can deliver all the basics you and pooch need at a very reasonable price. Located on the Highway 76 Strip, it's close to many of Branson's popular attractions. It's not far from the Branson Landing, either, at just one mile, and has convenient access to US Route 65 and the airport.
This comfortable and affordable hotel allows dogs up to 50lbs for an additional pet fee. Four-legged guests are guaranteed the same warm welcome with treats and a water bowl upon arrival.
Each attractive, modern room has free WiFi, a microwave, mini-fridge, and 32-inch LCD television. The hotel offers complimentary parking and a hot breakfast. They also have an on-site convenience store for grab-and-go snacks. Guests can swim in their indoor pool or soak in the hot tub.
If you're on a long trip, the Baymont is equipped with all the facilities you might need. Baymont Inn & Suites has a business center if you can't put off work during your travels.
Register Your Pet as an Emotional Support Animal with USSA
When working with hotel staff to accommodate your dog, the process is always simpler if you have the proper identification. Register your Emotional Support Animal with US Service Animals to skip complicated and stressful conversations about local policies. Registered members will be able to contact USSA for legal support if their rights have been questioned.
By registering with USSA, you will receive a certification of registration, ESA vest, leash, collar tag, and photo identification card for your Emotional Support Animal. Registration is simple and only $79.98. After entering you and your Emotional Support Animal's personal information, you will be required to submit a prescription letter from a licensed medical health professional to ensure the validity of USSA services.