If you are hoping to travel with your pet and your destination is out of driving distance an airplane is obviously your best option. The question is, is your pet allowed to board an airplane?
American airlines have specific pet policies in place, but there is good news. If you are traveling with a dog or a cat your little friend can make the voyage in the sky with you as long as certain requirements are met. Unfortunately, only cats and dogs are allowed to board the aircraft, so your pet monkey might have to sit this one out.
You have a couple different options to bring your animal friend along. You can carry-on, check, or transport your pets. These all depend on your pet's breed and size.
What Are the Requirements?
If traveling with your dog or cat you need to be sure to bring along a health certificate and an up-to-date vaccination record.
Carry-On Pets
On American flights, you can bring 1 kennel as your carry-on bag if:
You pay the carry-on pet charge.

Your pet is at least 8 weeks old.

Your pet stays in the kennel and under the seat in front of you the entire flight.
Kennel Guidelines for Carry-On Pets
American Airlines assumes no liability for the health or well-being of carry-on pets. The following rules are enforced:
Pets must be able to stand up, turn around and lie down in a natural position in their kennel.

Non-collapsible kennels can't exceed 19in x 13in x 9in.

Soft-sided collapsible kennels can be larger but still need to fit under the seat, have to be secure, padded, made of water-repellant material and have nylon mesh ventilation on 2 or more sides.
Checked Pets
You can travel with up to 2 checked pets that are at least 8 weeks old. It is important to keep in mind that capacity is limited, so pets are only accepted on a first-come basis.
When checking a pet, you'll need to:
Contact Reservations at least 48 hours prior to travel.

Check in at the ticket counter.

Allow extra check-in time (can't check pets more than 4 hours before your flight).

Complete a checklist with an agent.

Provide a health certificate.
If your flight has a connection, checked pets are only allowed to connect through these cities:
Charlotte, NC (CLT)
Chicago O'Hare, IL (ORD)
Dallas/Fort Worth, TX (DFW)
Los Angeles, CA (LAX)
New York Kennedy, NY (JFK)
New York LaGuardia, NY (LGA)
Miami, FL (MIA)
Philadelphia, PA (PHL)
Phoenix, AZ (PHX)
Washington Reagan, DC (DCA)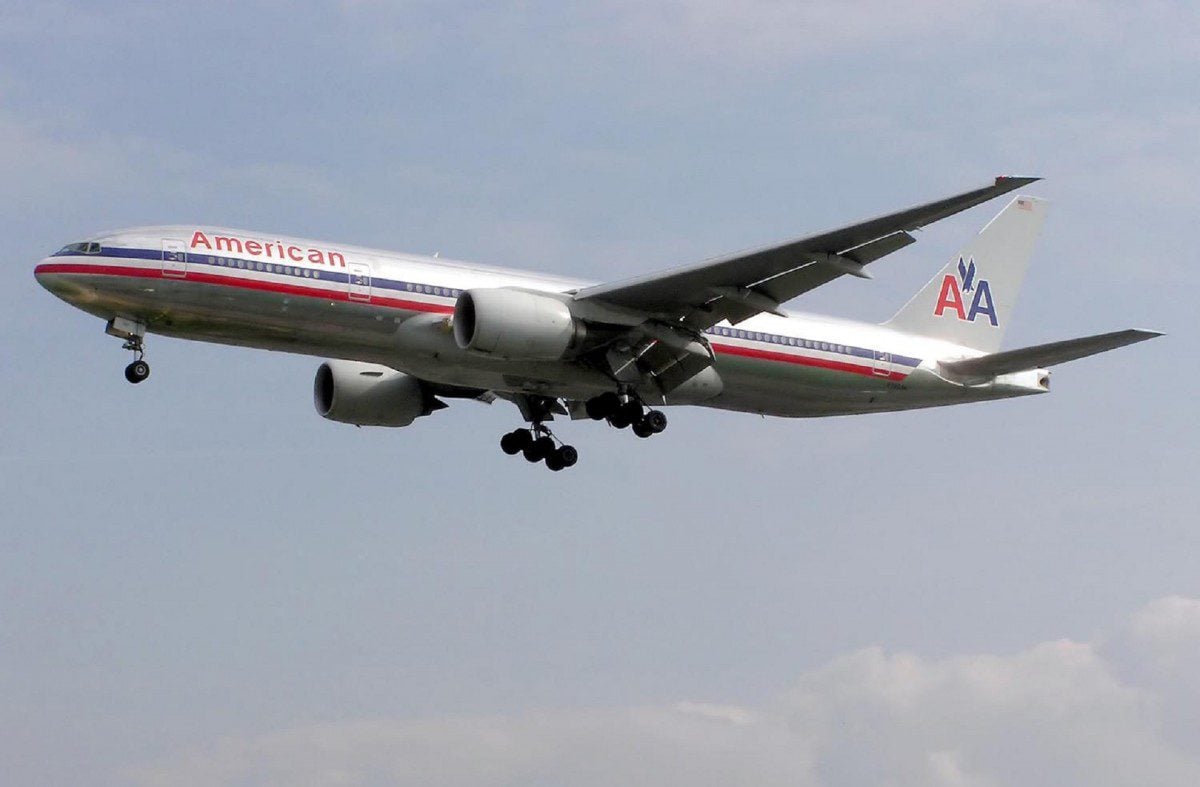 Keep in Mind
Checked pets cannot travel on A321, A321S, A321H, A320, A319 aircraft because they do not have proper ventilation to safely transport your pet to and from your location.
Checked pets cannot travel to/through/from Phoenix (PHX), Tucson (TUS), Las Vegas (LAS) or Palm Springs (PSP) May 1 – September 30, 2018. The reason being is that temperatures often exceed a safe limit for animals and could pose potential threats.
What Breeds are Excluded?
The following dog breeds are not allowed to travel: Affenpinscher, American Staffordshire Terrier, Boston Terrier, Boxer (all breeds), Brussels Griffon, Bulldog (all breeds), Cane Corso, Dogue De Bordeaux, English Toy Spaniel, Japanese Chin, Lhasa Apso, Mastiff (all breeds), Pekingese, Pit Bull, Presa Canario, Pug (all breeds), Shar Pei, Shih Tzu, Staffordshire Bull Terrier, Tibetan Spaniel; and cat breeds that can't be checked are: Burmese, Persian, Himalayan, and Exotic Shorthair.
Specific Regulations for all American Airlines Flights
| Location | Pet Policy |
| --- | --- |
| All | American does not accept animals transported for research with the exception of lab mice and rats. |
| All | American Airlines does not transport the following wild game trophies: elephant, lion, water buffalo, rhinoceros and leopard. |
| All | We maintain the right to refuse transport to any animal that is exhibiting aggressive behavior or does not appear fit to travel. |
| All | If you are transporting a non-domesticated, wild, exotic or zoo animal, there is only one place you can drop them off for transport: cargo terminals. We will continue to transport household pets such as dogs, cats, ferrets, birds, gerbils, hamsters, guinea pigs, pot-belly pigs, rabbits, rodents and cold-blooded animals from passenger ticket counters, baggage service offices and dedicated Global Priority Shipping Centers. |
| All | We do not transport venomous or poisonous snakes, lizards, invertebrates or amphibians as defined by the IATA Live Animal Regulations. |
| All | In compliance with USDA regulations, we are unable to transport warm-blooded animals on any single flight over 12 hours in length. |
The Bottom Line
Your fury friend can join you on your travels, but you need to make sure that you meet all the requirements and follow the necessary guidelines for a safe flight. There is a price tag attached to the travels of your animal. Service animals fly free, carry-on animals are $125, and checked pets are $200.
But in the end, who can put a price tag on the companionship of your 4-legged friend?