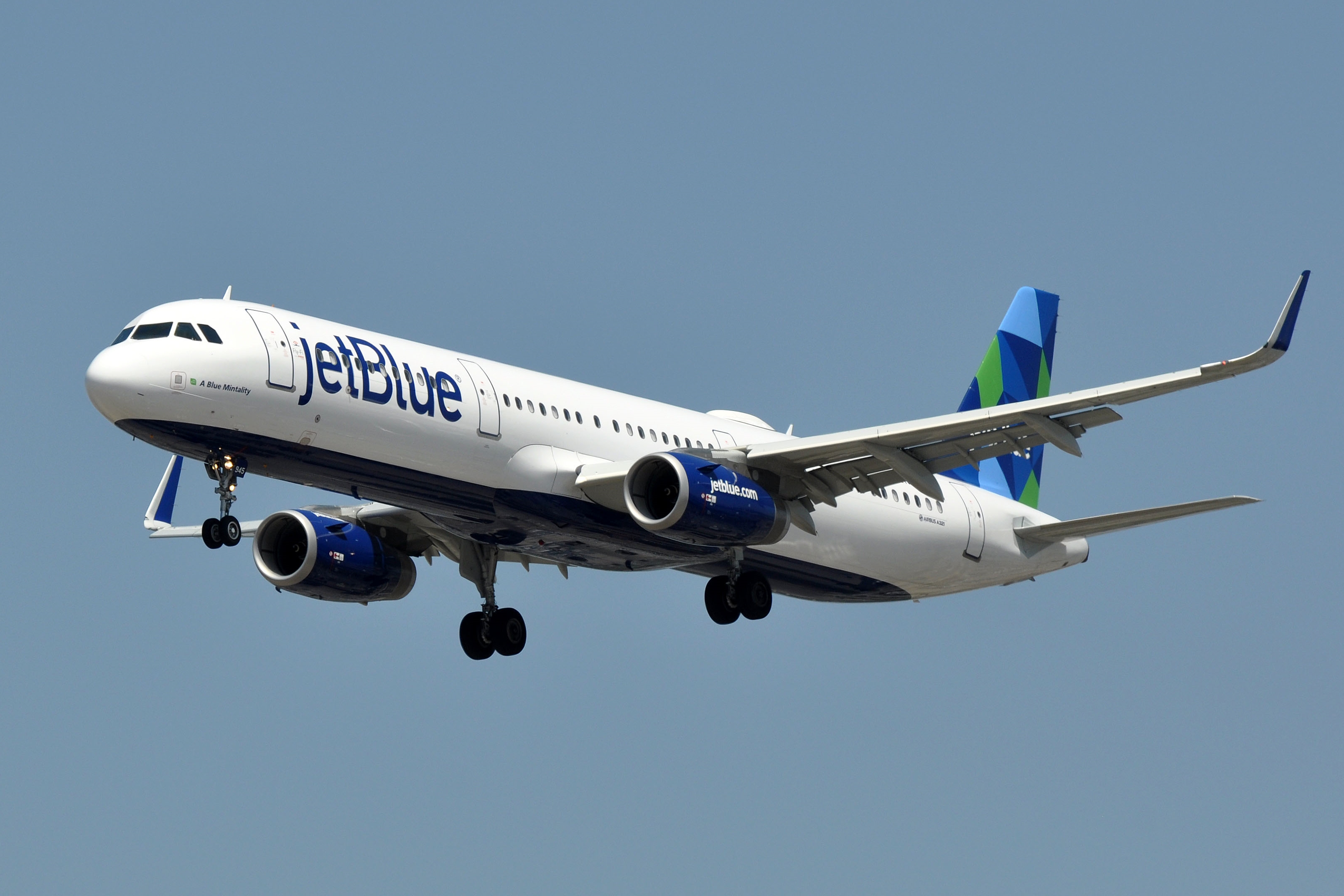 Before taking an emotional support animal (ESA) on a flight, it's important to take the time to understand the airline's ESA policy. Every airline has their own guidelines on which animals are allowed, the documentation you must provide, where the animal must remain during the fight, and more.
The good news is JetBlue has an easy-to-understand ESA policy to welcome passengers who are traveling with emotional support animals. They are more restrictive than most carriers in terms of which breeds are allowed as an ESA.
What to Know About the Air Carrier Access Act (ACAA)
JetBlue's policy is to use the Air Carrier Access Act (ACAA) to define an emotional support animal or service animal.
An emotional support animal or psychiatric service animal is defined as an animal that provides comfort in support of a diagnosed emotional or mental disorder such as PTSD or anxiety.
A service animal is trained to perform specific tasks for you such as retrieving objects, alerting you to sounds, pathfinding, or providing physical stability.
Under the ACAA, JetBlue can ask you to provide documentation to prove your need for an emotional support animal but they cannot ask for documentation for a service dog.
The ACAA allows you to fly with your emotional support animal for free without paying the typical JetBlue pet fee of $125 each way.
Note that the Department of Transportation is still considering placing new restrictions on emotional support animals. The DOT has already stated it will not punish airlines that adopt "reasonable" restrictions on the movements of ESAs on a plane.
JetBlue's Guidelines on Allowed ESAs
JetBlue allows well-behaved and healthy emotional support animals onboard JetBlue flights. Just note there are very strict species restrictions.
JetBlue only allows cats, dogs, and miniature horses as ESAs. JetBlue does allow short-nosed cat and dog breeds to fly, unlike many airlines, but this may not be a good idea as breeds like French Bulldogs can suffer extreme and life-threatening breathing difficulties.
The following animals are not allowed on JetBlue flights, even as ESAs or service animals:
Rodents
Reptiles
Spiders
Ferrets
Snakes
Hedgehogs
Sugar gliders
Non-household birds
Tusked animals
You are limited to just one ESA per customer.
Emotional support animals and service animals are exempt from JetBlue's weight limit on pets which is a combined 20 pounds with the pet and carrier.
A Carrier Isn't Required, But It's Recommended
JetBlue does not require an ESA to travel inside a pet carrier but it can help keep your ESA safe while traveling through a busy airport.
If you do use a carrier, it will need to meet JetBlue's carrier guidelines and the animal must come out of the carrier at the security checkpoint.
JetBlue requires that the carrier in good condition without damage that could allow the animal to escape. It can be a soft carrier or a hard-sided carrier but it must be leak-proof and ventilated.
The dimensions of the carrier must allow it to fit under the seat in front of you. Maximum dimensions of the carrier are 17″ x 12.5″ x 8.5″.
JetBlue Requires Advanced Notice and Documentation!
In 2018, JetBlue updated its ESA guidelines. These changes come after some ESA owners have abused their right to travel with an emotional support animal which has led to property damage and even dangers to other passengers such as the case in 2017 when a Delta passenger was mauled by another passenger's emotional support dog.
According to JetBlue's statement, the updates to its ESA policy come after "a drastic increase in industry incidents involving emotional support animals that haven't been adequately trained to behave in a busy airport or the confined space of an aircraft."
Under the new policy, you must provide advanced notice and documentation when you are traveling with an ESA. You will need to provide notice at least 48 hours before your flight and submit three documents online:
Medical/Mental Health Professional Form which has been completed by a physician currently treating you who prescribed the ESA.
Veterinary Health Form attesting to the animal's health and vaccination record.
Confirmation of Animal Behavior Form confirming the animal obeys commands and has been trained to behave properly in public. This document is also an agreement that you accept liability for property damage or injuries.
You can add your ESA to your reservation when you book online or you can call 1-800-JETBLUE. The link to submit documentation can be found at JetBlue in the "Emotional Support Animals" section.
Bring Required Documents When You Fly
It isn't enough to submit the required documents online before you fly; it's crucial that you carry these documents with you when you travel and make them available to JetBlue staff upon request. You may be refused to board if you can't provide the required documentation — even if you submitted it days ago.
ESA Letter aka Medical/Mental Health Professional Form
Your ESA letter must be less than 12 months old and on the letterhead or prescription pad from the licensed medical professional who prescribed the ESA. The letter must state all of the following:
You have a diagnosed mental health condition or disability
The type of animal
That the letter issuer is a licensed mental health professional or medical doctor and that you are under their care for a mental health disorder
The issuer's license type, license number, issue date, and state/jurisdiction in which they were licensed
Note: Your ESA form does not need to disclose any specifics about your diagnosis or condition. JetBlue employees cannot ask about the details of your medical history.
Veterinary Health Form
This form is a certificate that indicates your animal is healthy enough to travel, shows no signs of a transmittable disease, and is up-to-date on required vaccinations. It should also indicate that the veterinarian believes the animal can be trusted to behave safely in a crowded or hectic environment and does not pose a danger to humans. Obtaining this form will require an exam by an accredited, licensed veterinarian. This exam will include a check for heartworm disease and a prescription for heartworm preventative medication.
The veterinary health form should indicate the animal's name, breed, color, age, and country of origin.
Confirmation of Animal Behavior Form
JetBlue is one of several airlines that requires a personal passenger guarantee for an ESA. This form must be completed by you and attest that your animal has been trained to behave in public and respond to commands with a statement that you accept liability for any property damage or injuries caused by your animal.
What to Know During Your Flight
Once you board your flight, JetBlue has guidelines on where your ESA can and cannot go.
If your ESA is in a carrier, it must be stowed under the seat in front of you. Otherwise, your ESA can sit on the floor at your feet or on your lap.
It's very important to note that your animal can't prevent a customer next to you from using all of the amenities of their seat or take any of their foot room. Your animal can only sit on your lap if it can do so without touching any part of your seat.
Emotional support animals and service animals can go with you to any seat on the plane except the emergency exit row.
Make Sure Your ESA Is Prepared to Fly
As an emotional support animal owner, you have a duty to make sure your pet is well-behaved in the airport and on the plane. Unfortunately, ESAs have been under increasing scrutiny thanks to owners who have traveled with animals who aren't trained and disrupt other travelers, cause property damage, or even attack other people.
It's up to you to make sure your animal does not jump, bark, growl, or display other disruptive or threatening behavior.
To get your animal used to flying, you may want to practice on a train or bus so they can get accustomed to being in their carrier or at your feet on public transportation.
Your animal should also be potty trained prior to traveling. Fortunately, most major airlines have a pet relief area within the airport with artificial grass. If a pet relief area isn't available at the airport, you will need to exit and re-enter through airport security. Make sure you plan accordingly as this can be very time-consuming and even impossible with a short layover!
To play it safe, contact the airport or check their website before you travel to make sure you know where the pet relief area is located. Depending on the airport, it may be near baggage claim, through a marked door, or it may be a secure grassy area near the terminal entrance. Most airports include waste pickup bags and trash receptacles.