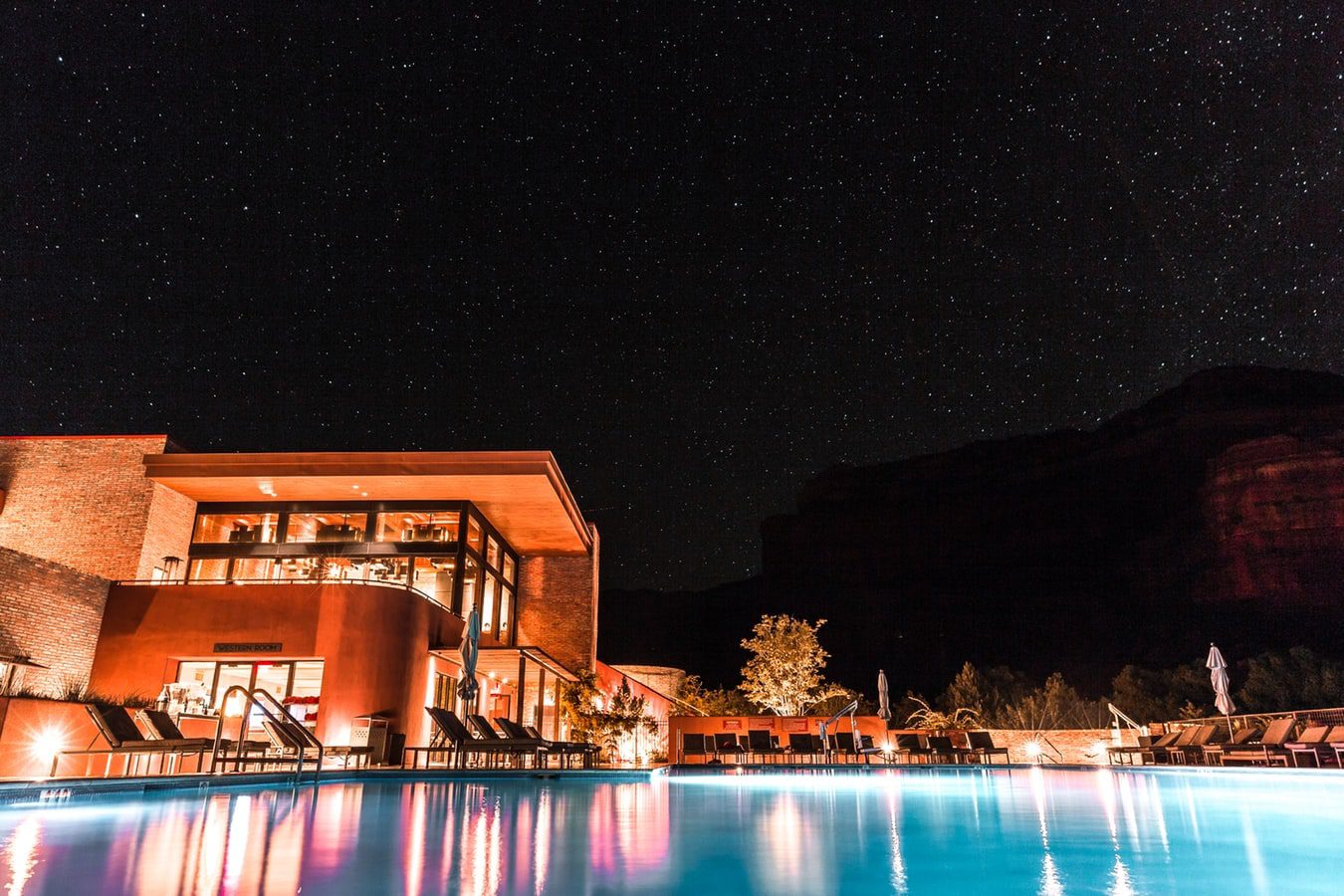 Sedona is a beautiful tourist destination in the state of Arizona. It attracts many tourists from neighboring counties and around the world. It is popular for its mild climate and vibrant arts community.
The desert town is surrounded by steep canyon walls, red-rock buttes, and pine forests. On the outskirts, numerous trailheads lead to Red Rock State Park. The park offers hiking, picnicking, and bird-watching spots.
Sedona also offers a wide selection of accommodations, which are well-equipped with luxurious amenities. When planning to visit the area, especially if you're traveling with your pets, you should do proper research on the hotels to find one that best suits your needs. Here's a look at some of the best pet-friendly hotels in Sedona.
Sedona Real Inn & Suites
Sedona Real Inn & Suites is a 3-star hotel in the neighborhood of Sedona West. One of the area's outstanding landmarks, the Chapel of the Holy Cross, is about seven miles away. The nearest airport is Flagstaff Pulliam Airport, about 28 miles away.
Nearby attractions include Boyton Canyon, Red Rock State Park, Oak Creek Canyon, Grand Canyon, Montezuma's Castle, Cathedral Rock, and Slide Rock State Park. Sedona Real Inn & Suites has 89 rooms that are designed to offer a comfortable living away from home.
Each room comes equipped with a flat-screen TV with cable programming, free Wi-Fi and wired Internet, refrigerator, and a microwave. There's also a DVD player, coffee maker, and complimentary newspaper. Sedona Real Inn & Suites rooms and suites have flexible layouts to fit the whole family.
Other amenities available at the hotel include a fitness center, an outdoor pool, a spa tub, free self-parking, and a complimentary buffet breakfast. Moreover, guests get to enjoy coffee/tea in a common area.
In addition to on-site concierge services and a business center, there's also a children's and pet-friendly park. Sedona Real Inn & Suites also takes pride in being the only hotel in Sedona with a fenced, on-site pet park. You and your pet can stretch your legs there after a long day of relaxing.
The hotel allows two pets per room for an additional fee of $30 per pet, per night. Each pet must not exceed 50 pounds and should always be on al leash. Both cats and dogs are welcome. The hotel provides a pet basket with treats, a water bowl, and a leash.
It's worth noting that not all rooms are pet-friendly. Hence, it's essential to check the availability of pet-friendly accommodations before you make reservations.
The Andante Inn of Sedona
Andante Inn of Sedona has a convenient location in West Sedona. Staying at the hotel puts you within a 10-minute drive of Sedona Art Center and Coffee Pot. It is about 9.5 miles from Bell Rock and 10 miles from Slide Rock State Park.
The Andante Inn of Sedona also offers easy access to most of the area's recreational activities, including hiking, train rides, and hot air ballooning. It offers spectacular views of the Sedona Red Rock. The hotel has 66 air-conditioned rooms.
Each room has a refrigerator, flat-screen television with cable channels, and free wireless Internet access. The rooms also have private bathrooms with both shower and tub, hairdryers, and complimentary toiletries.
Guests also get work desks, coffee-making equipment, and complimentary hot breakfast every day. Also, the hotel offers an array of recreation facilities. These include a 24-hour fitness center, an outdoor pool, and a picnic area. There's also tour and ticket assistance.
Other amenities that guests at the Andante Inn of Sedona enjoy include a 24-hour business center, free on-site self-parking, express check-in, and express check-out. Guests may also take advantage of a roundtrip airport shuttle for a surcharge.
Dining options include the restaurant, coffee shop, and the bar/lounge. The Andante Inn of Sedona allows two dogs up to 50 pounds for an additional fee of $25 per stay. Note that guests with pets are assigned traditional rooms.
The hotel offers pet treats at check-in. To ensure your pet has a great experience, the hotel has an on-site, fenced-in dog park. Dogs can access the fire pit and the outside patio during breakfast.
However, you shouldn't leave your dog unattended at any time. The hotel doesn't allow cats. It is advisable to confirm the availability of pet-friendly accommodations before making reservations at the Andante Inn of Sedona.
Oak Creek Terrace Resort
Oak Creek Terrace Resort is a rustic, family-owned and -run hotel in Oak Creek Canyon, about four miles north of Sedona. It sits nestled between the tree-covered canyon walls and the beautiful red rock. The landscape takes your breath. The canyon has a creek for swimming or fishing and a creekside glade with hammocks for napping.
The hotel grounds boast lush green trees and shrubs, offering a tranquil environment for relaxation. There are also barbecue picnic areas. Staying at the hotel gives you easy access to the Grand Canyon, galleries, shopping, Indian ruins, and other major attractions in the region.
Oak Creek Terrace Resort has 20 rooms. Some of the rooms are standalone cottages, while others are in the main building. Each room features a romantic wood-burning fireplace and a whirlpool tub for two.
The hotel is pet-friendly. It allows two dogs of any size or breed for an additional fee of $35 per stay. Cats are not allowed. If your pets are well-behaved, you can leave them in the room unattended.
There are several grassy areas with waste stations on the hotel compound for pet relief. There is also a fenced-in area near the creek where you can take your furry friends for a swim.
Butterfly Garden Inn
The Butterfly Garden Inn lies in the heart of the Oak Creek Canyon, about 10 miles north of Sedona. It is about 13 miles from the Chapel of the Holy Cross, one of the area's notable landmarks. Flagstaff Pulliam Airport is about 16 miles away.
The serene inn has 20 welcoming cabins. The cabins range from one to three bedrooms with fully-equipped kitchens. Guests can also expect to enjoy free Wi-Fi access, a shared lounge, and free private parking.
Other amenities include a business center, a grill, and a delightful continental-style breakfast delivered to the cabin every morning. Butterfly Garden Inn allows dogs up to 25 pounds for an additional fee of $50 per pet per stay. Cats are not welcome.
Guests should not leave their pets unattended at any time. When out of your room with your pet, be sure to put it on a leash. You are responsible for cleaning up after your pet on hotel property as well as in the neighborhood.
Peach Tree Retreat
The Peach Tree Retreat is a self-contained Airbnb rental in Sedona. It has two bedrooms, a spacious bathroom, and a sitting area. There are also a coffee maker, a refrigerator, microwave, and television.
The apartment has a good air-conditioning system and fresh drinking water from the well. It can comfortably accommodate three people.
The front door opens onto a private deck that serves as a bird-watching spot. Some of the birds you can see include eagles, red cardinals, and stellar blue jays.
The deck also provides an excellent location to enjoy spectacular natural views. Also, it takes not more than five minutes to walk to Crescent Moon Park, where you can enjoy miles of hiking. Other amenities you can expect to get at the Airbnb include bedding and linens, free Internet access, free on-site parking, and heating.
Peach Tree Retreat offers up to 29 percent discount for long-term rentals. It is also pet-friendly. You can bring two dogs of any size for an additional fee of $25 per dog per stay. It is important always to leash your pets to keep them safe from wild animals.
If your pets are well-behaved, you can leave them in the room unattended, in a crate.
Final Thoughts
Sedona is one of the most popular tourist destinations in Arizona. It is famous for spectacular scenery, indulgent spas, 5-star resorts, and fine dining. While it is mostly a luxury destination, it is also ideal for those on a budget because most of the best things to do are free.
If you're looking for pet-friendly accommodations in Sedona to stay with your dog, cat, other furry friends, there are many options to choose from. If you're not sure where to start looking, you can check out the above five options and go for what suits your needs and budget.
Also, if you haven't done it yet, you should consider registering your pet as an emotional support animal (ESA). In case you're wondering, an emotional support animal can comfort a person just by staying with the person.
ESA animals offer comfort and support for people struggling with various emotional issues. Conditions may include depression, anxiety, panic attacks, phobias, bipolar disorder, and other emotional and psychological conditions. You can register your pet as an ESA with U.S. Service Animals (USSA) today.