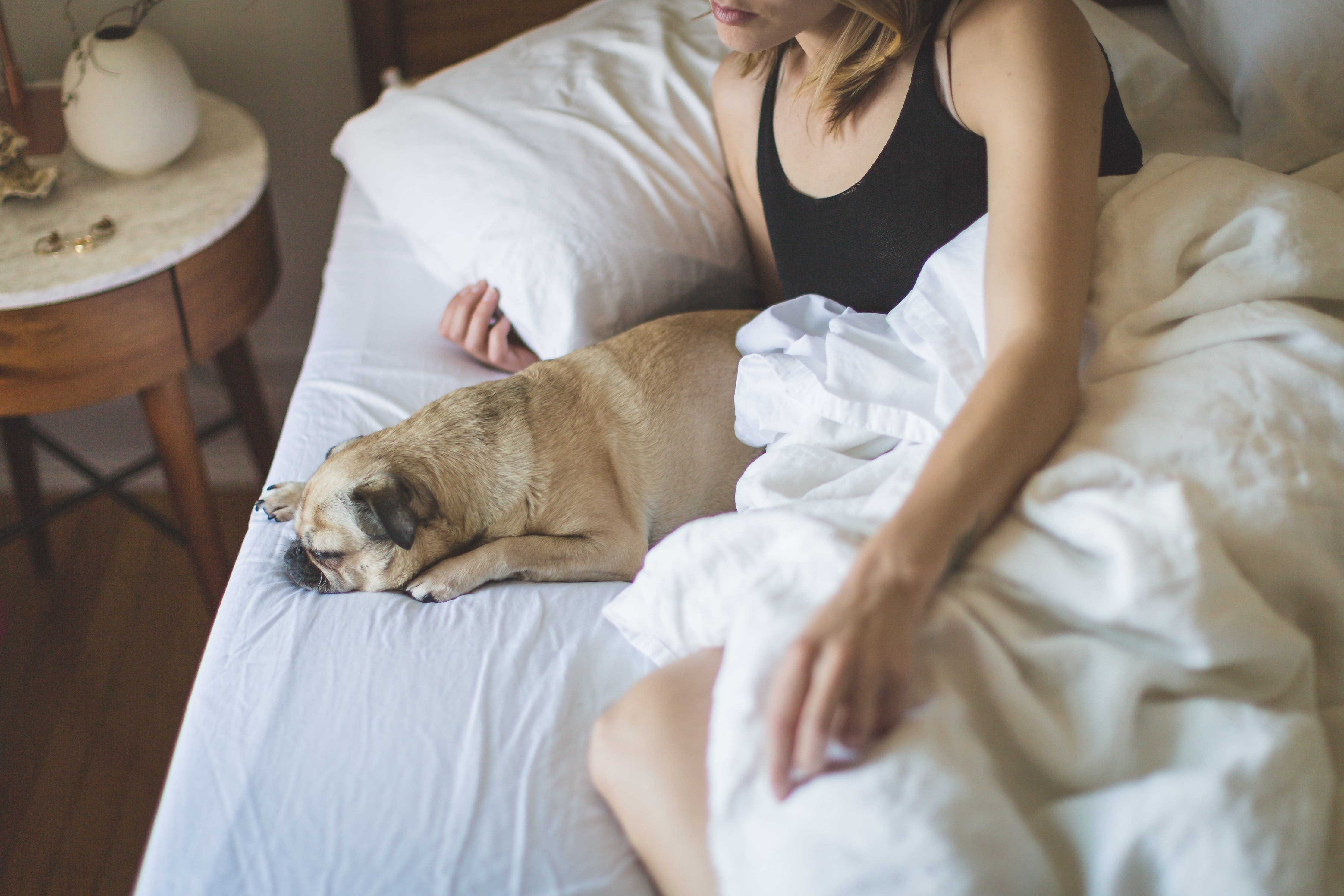 Now you and your pet can enjoy this Southern gem. Savannah, GA has a long list of unique, dog-friendly accommodations, and we've compiled some of our favorites. Whether you're looking to be pampered with your pooch, or just to have a simple home-base while you and your pup are out strolling the town, we've got you covered for hotels with the best pet policies in Savannah.
East Bay Inn
Easy Bay Inn is located just one block from the river on East Bay Street in Historic Downtown Savannah. This boutique hotel is known for its exposed brick and vintage furnishings. They are rated high for their comfort and quality customer service.
East Bay Inn has two pet-friendly rooms which you must book through the hotel (and not through any third-party site). The hotel recommends that you book early to ensure they have a spot for your dog. The dog-friendly rooms are the King and Queen suite, which have access to a private, outdoor patio.
There is a $50 fee for bringing your dog and limit of two pups only, however they have no size restrictions. Dogs will receive a friendly welcome at East Bay Inn. The staff is happy to give you recommendations about abundant dog-friendly places in Savannah.
Humans will also receive an excellent welcome. Upon arrival, guests will get one free wine or beer at East Bay Inn's Tandem Bar. Afterward, guests will be eligible for one free drink every day of their stay. You can also visit Debbi's Restaurant for some Southern favorites. Premium coffee and breakfast are served in the Tandem Bar.
Guests will receive two plush robes and essential toiletries during their stay. You will also have use of a personal safe and mini-fridge. If you need, you can ask for complimentary bottles of water at the reception. The main parlor has a computer and printer, and complimentary WiFi in every room. Order their turndown service for an extra, luxurious evening treat.
East Bay Inn has a reputation for being haunted by a ghost named 'Charlie.' If you take interest in the other-worldly, ask the concierge about Savannah's haunted bar crawls and cemetery tours. You can book your local city tours and haunted tours through East Bay Inn.
Kimpton Brice Hotel
Also located in Savannah's Historic District on East Bay Street, the Kimpton Brice Hotel is ten minutes from Savannah riverboat cruises, and just a little farther from the city market. Pets are allowed to stay at Kimpton Brice regardless of size, and there is no limit on the number of pets staying in the hotel. Pets will be received with treats and a possible greeting from the Director of Pet Relations (the hotel dog), as well as a loanable mat, food and water bowl.
You can ask the concierge for more specific information about parks and dog-friendly shops around town. What's more, you can bring your pup to their complimentary wine hour. If you're bringing your dog, you'll receive a special door hanger that lets housekeeping know there is an animal in the room.
Complimentary services at Kimpton Brice include a nightly wine reception, public bikes loans, premium complimentary tea or coffee in the morning, and a yoga mat in every room (to get out that Monday-Friday tension). They also offer in-room spa treatments and lovely gourmet meals at the Pacci Italian Kitchen & Bar.
Kimpton Brice offers a 'Forget It, We Got It' service which lets you borrow any essential travel items you may have neglected to pack, free of charge. These include shaving razors, make-up mirrors, phone chargers, international adapters, feminine hygiene products, and TSA-approved plastic bags. Talk to the concierge if you've forgotten any travel essentials.
The Kimpton Brice hotel offers special discounts and services for business travelers. Small and mid-sized businesses can receive a 10% discount on rooms if they register with IHG's business travel program. This allows employees to access an app that will help monitor their hotel expenses. All registered employees receive IHG Rewards Club Gold Elite Status.
Thunderbird Inn
Thunderbird Inn has been in business since 1964, and they have taken efforts to preserve their image as a roadside motor hotel. This retro-style budget motel makes it possible to stay in Savannah in style at a reasonable price. Their attractive, newly-renovated rooms capture the spirit of the sixties with colorful retro furniture.
Upon arrival, you will receive complimentary popcorn and lemonade, as well as a classic MoonPie on your pillow. In the morning you can make the most of the free, on-the-go Krispy Kreme Donuts, high-quality coffee, and orange juice.
Thunderbird Inn has an exceptional pet policy. They have no restrictions on the kind of pet (one woman reports bringing her lizard) or size of the animal, they just require a $50 pet fee. Staff will be happy to inform you about services for dogs in the Savannah area, as well as dog-friendly shops, cafes, and restaurants. Dogs will receive special bedding and welcome treats, and they can play in Thunderbird's indoor dog-run.
All rooms have real glass tumblers and coffee mugs, a tea station, fridge, and television. If you decide to book one of their suites, you'll also have a working, vintage typewriter at the desk in your room. Suites afford you a comfortable seating area with good lighting, in case you want to spend your evenings off sitting down with a good book. All suites have high-speed WiFi.
Thunderbird Inn makes its best effort to protect our environment. Each room has individual climate control and an energy-efficient bathroom. In 2010, they were added to the National Register of Historic Places as an authentic roadside motel. Their conscious renovations in 2016 aimed to preserve Thunderbird's original spirit while also making their lodging attractive to 21st-century customers.
Forsyth Park Inn
Forsyth Park Inn is an 1896 Queen Anne Victorian-style Bed and Breakfast located in Historic Downtown Savannah. Originally owned by a Canadian sea captain, Forsyth Park Inn has a long and colorful history that the hotel is proud to remember. It once served as a boardinghouse in the early- and mid-twentieth century. Forsyth Park Inn was renovated in the '80s to serve modern-day customers as an upscale hotel.
Forsyth Park Inn has 11 unique rooms, and three of them accommodate dogs. For this reason, it's best to book a pet-friendly room far enough in advance and directly with the hotel, not through any third-party sites. Forsyth's dog-friendly rooms include the cottage, which has its own sitting room, kitchenette, and outdoor seating area. There is an additional $75 fee for accommodating your pet at Fornsynth Park Inn.
Guests will receive a full gourmet breakfast, as well as afternoon wine and hors d'oeuvres. Late-night sweets will be set out in the lobby with an array of herbal teas and decaffeinated coffee. Staff recommends that guests enjoy the rocking chairs on the veranda, which looks onto the nearby park.
Forsyth Park Inn has a private courtyard with a bubbling fountain. Here, the hotel sometimes hosts intimate weddings. Who knows? You might witness someone's special day.
Hamilton-Turner Inn
The Hamilton-Turner Inn is a manor-style bed & breakfast with 17 luxurious rooms and one carriage house. Built in 1873, this hotel has preserved its spirit with illustrious vintage décor. Each room has antique wallpaper, large, comfortable four-poster beds, Persian rugs, and 11-foot tall windows. Bathrooms are equipped with claw-foot tubs, marble sinks, walk-in showers, and plush robes so that you can lounge comfortably in the room's historically-inspired atmosphere.
At the Hamilton-Turner Inn, you can wake up to a full Southern breakfast in an upscale Victorian dining room. Enjoy afternoon refreshments, evening wine, and hors d'oeuvres, then port and cookies for a late-night snack (turndown service upon request). Free newspapers are provided in the hotel's lobby. The Hamilton-Turner's ornate parlor is a sight worth seeing- that includes the large, antique fireplace.
Four of the Hamilton-Turner Inn's ground-level rooms accommodate dogs under 25lbs. Pet owners will need to pay a $50 fee and leave a cell phone number at the front desk. If you're booking a stay with your dog, you must contact the hotel directly, because the Hamilton-Turner Inn cannot reserve pet-friendly rooms through third-party sites. Dogs are not allowed in common areas, so you'll have to appreciate the parlor and dining room without your pooch.
The Hamilton-Turner Inn has an excellent location in Historic Downtown Savannah, just one minute from Lafayette square, a short walk to the Savannah College of Art and Design and Forsyth Park.
Register your pet as an Emotional Support Animal with USSA
When working with hotel staff to accommodate your dog, the process is always simpler if you have the proper identification. Register your Emotional Support Animal with US Service Animals to skip complicated and stressful conversations about local policies. Registered members will be able to contact USSA for legal support if their rights have been questioned.
By registering with USSA, you will receive a certification of registration, ESA vest, leash, collar tag, and photo identification card for your Emotional Support Animal. Registration is simple and only $79.98. After entering you and your Emotional Support Animal's information details, you will be required to submit a prescription letter from a licensed medical health professional.