Lowe's is one of the most popular home improvement stores around today, and this store is known for being dog-friendly. However, you may be wondering if Lowe's has an official dog-friendly policy and where service dogs or emotional support animals fall when it comes to the store's policies.
Our article gives you more information on whether or not dogs are allowed in Lowe's and the parameters of their dog policy.
Does Lowe's Have an Official Dog Policy?
While the exact wording of the Lowe's pet and dog policy is hard to pin down, customer service representatives from the store detail that in the United States, both pets and service animals are allowed inside Lowe's stores. However, only service animals are allowed inside Lowe's stores in Canada.
Lowe's does brand itself as a pet-friendly store, as they believe this improves their customer's experience. However, it's important that you check with your local Lowe's store before showing up with your dog, as local rules, state regulations, and management guidance may somewhat alter this broad dog-friendly policy.
It's also important to make sure that your dog can handle the experience of being brought into a Lowe's. Ill-mannered or out-of-control dogs put themselves and others at risk, and if you think that your dog might become overexcited or scared while in a Lowe's store, it's better to avoid taking them in there.
To safely accompany you into a Lowe's, your dog must:
Be properly trained to listen to you and your commands; this doesn't mean they need to be intensively trained, but they should have good public manners and know to stay by your side.
Be adequately potty trained—this helps prevent accidents while in Lowe's.
Not be aggressive, frightful, or destructive. If you think your dog is at risk of running out of control, harassing other customers, or fighting with other dogs they may encounter in Lowe's, you might want to avoid bringing them into the store for both of your safeties. It's crucial to remember that Lowe's can be loud—if your dog doesn't tolerate loud noises, like saws, they should stay at home.
Well-behaved dogs with good manners are likely to have a much better experience at Lowe's, and that makes your experience shopping with your dog better, too.
Always keep an eye out for other dogs in Lowe's, as you never know how dogs will react when they see each other. It's a good idea for your dog to have basic obedience training before you bring them to any public spaces, including Lowe's.
Can Lowe's Turn Away My Dog?
Despite Lowe's dog-friendly policy, your local store may turn away your dog for a few different reasons. As mentioned above, individual Lowe's locations may have different pet policies depending on state regulations and store management. Most stores will require that you adhere to leash laws while in Lowe's with your dog, and violating these regulations may result in you and your dog being asked to leave.
Other reasons Lowe's may turn away your dog include the store only allowing service animals, your dog being out of control or aggressive, or your dog presenting a health and safety threat to other customers.
If you do get turned away with your pet, make an effort to be courteous, get your dog under control, and come back without your pup at another time.
Are Service Dogs Allowed in Lowe's?
Yes. Lowe's, like many other businesses, is required to admit individuals with service dogs regardless of any pet policies or state regulations in place.
The Americans with Disabilities Act (ADA) protects the rights of disabled individuals to access public and private areas with the assistance of their service dogs. Lowe's must admit individuals with their service dogs as part of the accommodations protected by this act.
Do I Need to Show Proof My Dog Is a Service Dog?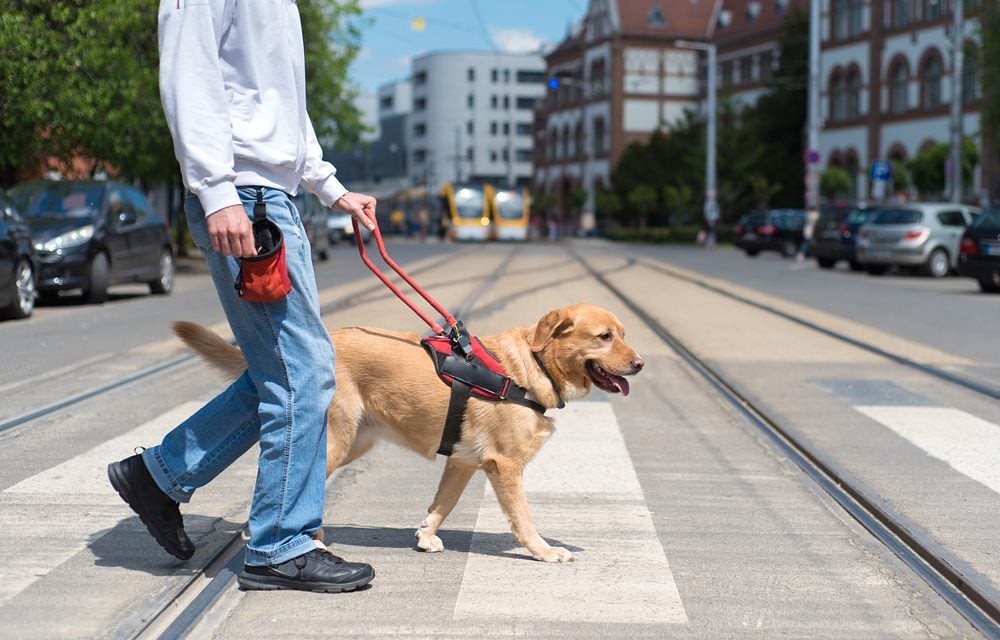 You do not need to show proof that your dog is a service dog, regardless of who asks. The Americans with Disabilities Act only allows two questions to be asked about your service dog:
Is this dog a service dog?
What task or skill is this dog trained to perform?
Any requests that your service dog demonstrates their skills, that you provide certification or ID papers before entering the store, or even requests that your dog wears a vest identifying them as a service dog violate the ADA. If you are denied entry into a Lowe's or another store for these reasons, this can be considered an act of discrimination.
Also note that your service dog does not need to be wearing a vest, leash, harness, or other item identifying them as a service animal. Whether or not your service dog wears an identifying item is a choice that every individual can make for themselves; the ADA does not require identifiers for service dogs.
Can Lowe's Deny My Service Dog Entry?
Lowe's cannot deny service dogs entry in most cases, but some behaviors from your dog might end up with you being asked to leave.
You might not be able to bring your service dog into Lowe's if:
Your service dog is out of control, aggressive, or destructive.
Your service dog is presenting a health or safety risk to other customers.
You are trying to pass off a pet or an emotional support animal as a service dog.
Remember that trying to pass off a pet or an emotional support animal as a service dog in any situation is generally considered a crime; fines and punishments for this act vary by jurisdiction.
Can I Bring an Emotional Support Dog Into Lowe's?
You can bring your emotional support dog into Lowe's due to the company's pet-friendly policy. It's important to note that the ADA does not protect emotional support dogs, and they don't have the same access rights that service dogs do. For the majority of stores that don't have pet-friendly policies in place, you would not be able to bring your emotional support dog into the store with you.
With your emotional support dog, you will need to adhere to Lowe's general pet policy regarding your dog being well-behaved and under your control, and you will also need to listen to store management and state regulations that might not allow pets into the store, with the exception of service dogs.
Are There Other Dog-Friendly Stores I Can Bring My Pup Into?
Dog-friendly stores and patio seating at restaurants are becoming increasingly popular as individuals desire to bring their dogs with them into more spaces. Plenty of local businesses may allow dogs into their stores, and you can locate these shops by browsing the internet or asking other dog parents.
National companies that may allow your pet dog to accompany you inside the store (depending on state regulations) include:
Petco
Home Depot
Tractor Supply Co.
The Apple Store
Nordstrom
TJ Maxx
Macy's
LUSH Cosmetics
As always, make sure your pup has good manners before bringing them into a busy public space. Also note that service dogs are always allowed to enter stores and restaurants, as this is protected by the ADA.
Does My Dog Need To Be Trained To Enter a Store?
The majority of stores don't have any requirements that your dog is trained in a certain way before you enter a store with them, but it is a good idea to properly train your dog with obedience and good manners before you start bringing them into public. A dog with good manners and public skills is likely to be happier accompanying you into busy stores, interacting with other people, and spending time outside.
Dogs that aren't properly trained may end up causing issues as they become frightened, aggressive, or destructive in public. You should also make sure that your dog is potty trained and allowed to relieve themselves before entering a store to reduce the possibility of an accident.
Always adhere to leash laws and keep your dog by your side when navigating stores, as this is safest for both you and your dog while you get your shopping done together.
Keeping Your Canine Companion by Your Side
Our canine companions are beloved members of our families, and keeping your pet by your side is entirely possible when visiting certain stores around the United States. Always make sure that your dog is on their best behavior before taking them into a store, and you will both be able to have a fun shopping experience in Lowe's or other dog-friendly spaces.