When you're out and about with your dog, you may find yourself wanting to stop for a browse in your favorite stores. However, taking your dog into a business or other retail area might not be allowed depending on specific store policies and state laws.
Our article gives you more information on whether or not TJ Maxx is dog friendly and what you can expect if you try to take your dog with you as you browse the items in this store.
The Popularity of TJ Maxx
Founded in 1976, TJ Maxx is one of today's most popular discount department stores, and they are part of a chain of department stores under TJX Companies. TJX Companies also owns stores like Marshalls and HomeGoods, and the corporation has multiple international locations of TJ Maxx and TJX branded stores outside of the United States and Canada.
TJ Maxx quickly rose to popularity for their designer clothing and other valuable finds that are typically priced much lower than other department stores. The company brands itself as a leading off-price retailer, and customers may find apparel, home items, furniture, and pet items in each of the stores.
TJ Maxx Dog Policy
In general, TJ Maxx brands itself as a dog-friendly company, and stores typically accept pets inside.
It's hard to pin down the exact wording of the TJ Maxx dog policy, as there is no way to access information about this via the TJ Maxx website. However, multiple outlets report the company as having a favorable attitude towards dogs and other pets being brought into their store.
While TJ Maxx is generally friendly towards dogs or other pets, this acceptance does depend on the store manager and state laws. Some local stores may not permit pets, and other jurisdictions may have laws that disallow pets from being allowed inside retail areas.
The best way to learn what your local TJ Maxx dog policy states is by calling the store or speaking to a manager in person about what is and isn't allowed.
Can I Bring My Service Animal Into TJ Maxx?
TJ Maxx, like all other businesses or retail facilities, must allow access to service animals. This public access right is protected by the federal Americans with Disabilities Act, and many state laws uphold these regulations. If you have a service animal, you can bring them into TJ Maxx without worrying about pet policies or being denied access.
The only cases in which you may be asked to remove your service dog from the premises are situations where your dog is presenting a serious health or safety threat to others. You may also be asked to leave if your dog is generally acting out of control and destructive.
Can I Bring My Emotional Support Animal Into TJ Maxx?
Because TJ Maxx is a dog-friendly environment, you may be able to bring your emotional support animal into this store. Emotional support animals are not granted the same public access rights as service dogs are, and a store may turn you away with your emotional support animal if they don't allow animals inside.
In most cases, TJ Maxx will allow individuals with emotional support animals inside, but you must check with the store you wish to visit ahead of time for more information.
Tips for Taking Your Dog to TJ Maxx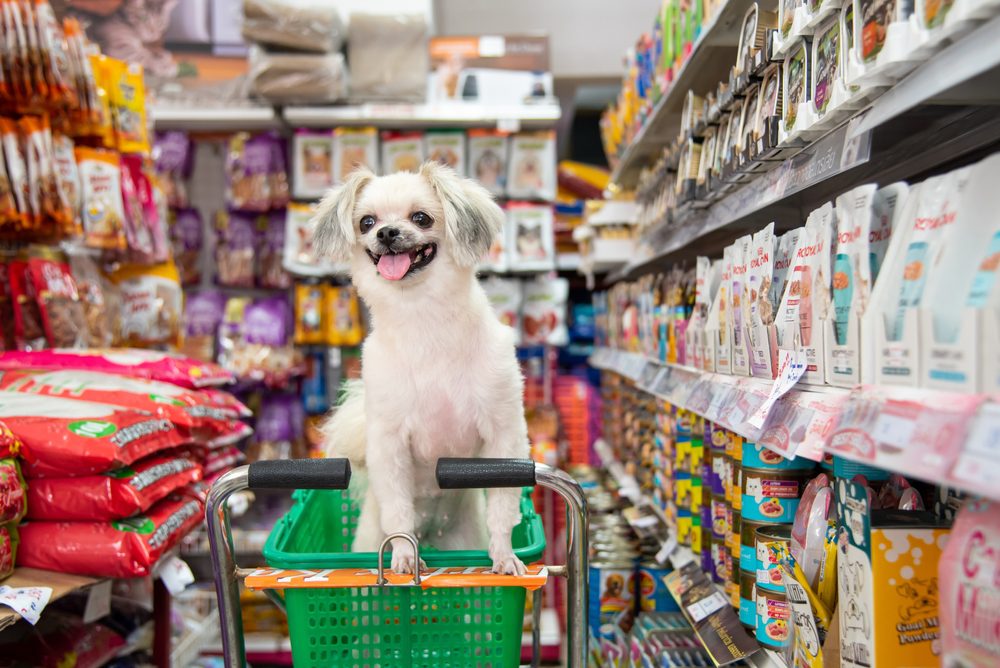 The following tips will help you ensure that both you and your dog will have a great time when visiting the local TJ Maxx.
Keep Your Dog Leashed
Dogs being out of control around the TJ Maxx is sure to lead to problems, and you want to make sure that your dog stays within your sight at all times.
Make sure your dog is leash trained and keep them on their leash or harness the entire time while in the store. This will minimize the chances of your dog becoming loose and causing problems, or your dog finding their way into a harmful situation.
Train Your Dog
Properly trained dogs are happy dogs, and they are able to access public areas you want to take them into more easily. When your dog listens to you and is focused on you, there is less chance of them becoming spooked, anxious, or destructive.
Plus, a dog that listens to your commands is safer. They are less likely to end up in harmful situations by running wild around a store or interacting with other customers that may not want to associate with your dog.
Use the Bathroom Ahead of Time
Taking your dog for a potty break before you enter a TJ Maxx or another store is essential to preventing embarrassing accidents.
If your dog does decide that the clothing aisle is the best place to relieve themself, make sure you have items such as wipes and waste bags on you. Then, you can make clean up easy and prevent any major issues.
Monitor Your Dog's Attitude
Bringing your dog with you into a new place might be frightening for your pup. So, while you may be enjoying your slow browse through all of the items TJ Maxx has to offer, it's important to also be tuned into what your dog might be feeling.
Monitor your pup for signs of distress, fear, or anxiety, and remove them from the store if they seem to be overwhelmed by the experience.
If you are trying to get your dog more acclimated to public places and socialized, visit dog-friendly stores like TJ Maxx in small doses to help improve their confidence.
Are There Other Dog-Friendly Stores I Can Visit?
Once you and your dog are well-versed in visiting stores together and you want to expand the range of areas you visit, you might be wondering if other places allow your dog to enter. Below, we give you some other potential dog-friendly stores:
Lowe's
Home Depot
Michael's
Tractor Supply Co.
Macy's
Nordstrom
Barnes & Noble
Bass Pro Shops
It's important to keep in mind that specific state laws and store managers have the final say on whether or not your dog might be allowed in a business. Always abide by any company policies and follow state laws. If you are visiting stores with a service dog, they will almost always be allowed to accompany you inside a store, regardless of what company policies are in place.
Shopping With Your Canine Companion
Whether you want to go shopping with your dog, or you want to take your service animal, the chances are you will have a stress-free time at your local TJ Maxx.
Service animals are always accepted into TJ Maxx stores. While emotional support animals and pets are up to the store manager's discretion and specific state laws, you can rest assured that TJ Maxx in general is a dog-friendly company.
Make sure to call ahead of time and double-check that the TJ Maxx store you wish to visit accepts dogs or other animals before showing up with your dog to avoid any unnecessary stress.