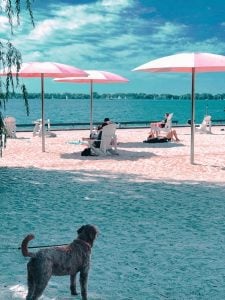 With over 60 miles of beautiful and pristine coastline and a myriad of family activities to choose from, Myrtle Beach, South Carolina is among the top tourist destinations in the United States. If you want an amazing surfing experience with friends or fun in the sand with your family, then Myrtle Beach should be on your list of vacation spots this year.
Unfortunately, as we know very well here at US Service Animals, finding a pet-friendly hotel can be quite difficult and to leave your furry best friend at home is completely out of the question. Whether your buddy is an emotional support, service, or therapy animal, a vacation isn't possible without them. We know and understand your predicament, that's why we've come up with a list of pet-friendly hotels across the city!
We based our list on customer satisfaction, the overall service of the hotel, how great their pet accommodations are, and, of course, their price. We've included great budget options if finances are a bit tight along with some high-end hotels to give you and your fur buddy the royal treatment.
Staybridge Suites Myrtle Beach – West
Location: 303 Fantasy Harbour Blvd. Myrtle Beach, South Carolina 29579
Contact Number: 843-903-4000
Price: Starting at $118.74 + Pet Fee
The Staybridge Suites is one of the best, if not the best, pet-friendly hotels in Myrtle Beach. Within reach of all the popular attractions that the resort town has to offer and located near the airport, this hotel is at the center of it all. It boasts an outdoor pool, a fully-equipped gym/fitness center, a basketball court as well as wired and wireless internet access throughout its premises. If you want to stay connected and productive during your vacation, the hotel also has a 24-hour business center.
Staybridge Suites welcomes up to two dogs per reservation, and they can be as large as 75 pounds. The pet fee varies depending on the length of your stay. It is $75 if you plan to stay for less than a week and goes up to $150 if you plan to stay longer. There are grassy areas within the premises of the hotel where your buddy can run around and frolic. Note that you are not allowed to leave your dogs unattended and that cats are not allowed in the hotel, though.
DoubleTree Resort by Hilton Myrtle Beach Oceanfront
Location: 3200 South Ocean Blvd. Myrtle Beach, South Carolina 29579
Contact Number: 877-411-3436
Price: Starting at $160 + Pet Fee
Like most of the Hilton Hotels of the same name in different locations in the world, the DoubleTree Resort by Hilton Myrtle Beach Oceanfront lives up to the standards of its brand.  Located within a quarter of a mile to the Market Common District and the Myrtle Beach International Airport, the DoubleTree boasts of beautiful private beaches, guest rooms with exterior corridors and private balconies. As with all Hilton Hotels, it features a wide variety of amenities for business convenience, fitness, recreation, and family activities.
Most important for us are their pet-friendly rooms that have tile floors to ensure easy cleanups for any messes. The pet fee is $75 per pet, per night but can't exceed $300 for the duration of a single stay. You can bring up to two dogs to the DoubleTree, and there is no size limit.
There is also a hotel policy that if you have well-behaved dogs, you can leave them in your room unattended, but who would want to do that when there are grassy areas around the hotel and even a fenced park where you can release your best buddies from their leash.  Please note that similar to the Staybridge Suites, cats are also not allowed in this Hilton Hotel.
Myrtle Beach KOA Campgrounds
Location: 613 5th Ave. S. Myrtle Beach, South Carolina 29577
Contact Number: 843-448-3421
Price: Starting at $70 (average rate depending on the length of stay)
If you're looking for a more rugged and outdoor vacation with your service animal, then the lodgings of Myrtle Beach KOA Campgrounds may be the right choice for you. The camping grounds have multiple unique amenities that most hotels don't have, such as fishing, bike rental, hay wagon ride, and an outdoor campfire cinema to keep your family entertained. Unlike the other previous options, both dogs and cats are allowed at the Myrtle Beach KOA, and they have specific pet amenities as well, such as Kamp K9, and a dog park.
Do note that you need to contact the KOA Campgrounds for their specific pet policies, and to find out if there will be any additional charges for your dog or dogs. Additional charges may apply according to the number of pets you will bring with you. Some dog breeds aren't allowed as insurance providers do not cover them due to aggressive behaviors. Service dogs are welcome at the Myrtle Beach KOA Campgrounds, but leash rules still apply.
Bar Harbor
Location: 100 North Ocean Boulevard, Myrtle Beach, South Carolina 29577
Contact Number: 800-334-2464
Price: Starting at $59 per night + $20 Pet fee
If you're looking to stay at a quality pet-friendly hotel but are on a strict budget, then we offer the Bar Harbor of Myrtle Beach. With all oceanfront rooms with private balconies, a lazy river, a kiddie pool, an oceanfront pool, there is plenty of fun in the sun to be had for your family or friends. With fully equipped kitchens, queen-sized beds, and easy access to multiple entertainment attractions in Myrtle Beach, the Bar Harbor is an option worth considering.
Being on a budget does have its toll, Bar Harbor, while considerably cheaper than other hotel options, only allows one pet per room, and only dogs that are less than 30 pounds and 18 inches high are allowed on the premises. Aggressive breeds such as Boxers, German Shepherds, Rottweilers, and the like are also not allowed. The pet fee is quite small, though, at only $20 per night, and Bar Harbor even registers your dog as a guest of the hotel!