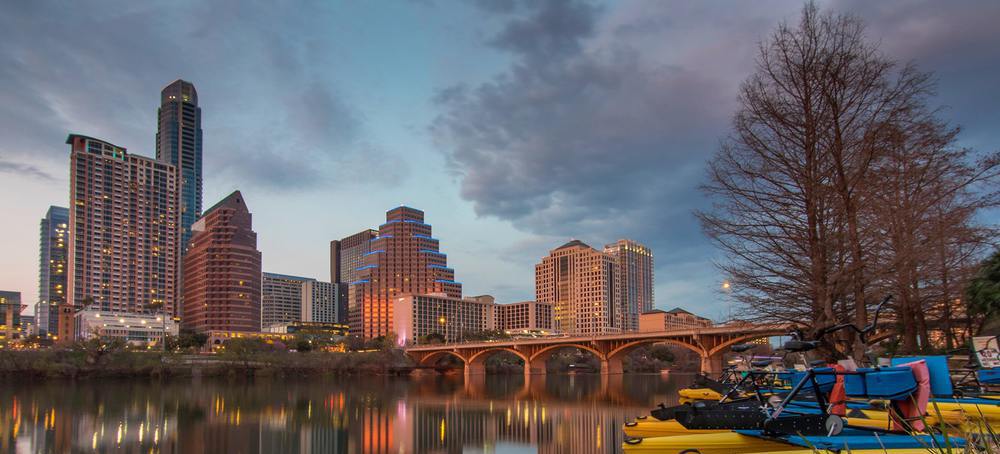 Austin, the state capital of Texas, is a bustling city known for its live music scene with influences from blues, country, and rock music. Austin is a destination city for many travelers, thanks to its energetic nightlife. It is home to more than 250 music venues, earning the nickname the "Live Music Capital of the World." The city also has other forms of entertainment and diverse cuisine offerings.
Austin also offers plenty of outdoor activities for those who prefer the allure of nature from time to time. The Sunset Bat Cruise on Lady Bird Lake is a popular tourist stop for those interested in wildlife. Meanwhile, Butler Hike and Bike Trail are fantastic for active travelers that wish to take a dog along.
Traveling to Austin is a great idea, but doing so with your pet is even better! Consequently, we have put together a list of the five best pet-friendly hotels in Austin, TX worth considering:
1. Fairmont Austin
Stay in a towering icon of the Austin, Texas skyline during your visit to the Fairmont Austin. The Fairmont Austin is a 37-story luxury hotel with over 1,000 guest rooms and suites. Views of the surrounding city welcome you every morning during your stay.
The Fairmont Austin has pet-friendly rooms that allow you to bring your pet with you during your travels. With its convenient location in the heart of the city, you can easily walk to dozens of nearby attractions and restaurants with your pet in tow.
Nearby attractions and restaurants within a five-minute walk of the Fairmont Austin include:
Gus's World Famous Fried Chicken
The Escape Game Austin
Rainey Street
Moonshine Patio Bar & Grill
Craft Pride
The Austin Visitor Center
The hotel amenities provided at the Fairmont Austin include valet parking, Wi-Fi, fitness center, bar and lounge, business center, and children's activities. The rooms also feature a safe and minibar. As a result, the Fairmont Austin is a great base of operations for your time spent in Austin with a pet.
2. Archer Hotel Austin
Billing itself as "Texas Chic," the Archer Hotel Austin is a destination unlike any other. The eight-story boutique offers Southern hospitality that includes nightly turndown treats and complimentary in-room coffee. The Archer Hotel Austin has plenty of pet-friendly rooms.
Archer Hotel Austin rooms feature private balconies where you can enjoy restful moments while looking out across the city. The rooms also feature bathrobes, fully stocked refreshment bars, complimentary whimsical slippers, five-star bedding, and room service from the renowned Second Bar + Kitchen.
Archer Hotel Austin's Second Bar + Kitchen is home to world-renowned chef David Bull and features farm to table offerings that are second to none. Residing on the ground floor of Archer Hotel Austin, Second Bar + Kitchen serves seasonal ingredients paired with local artisan products along with cocktails, fine wines, and eclectic beers. Enjoy a casual dining experience or sample the adult beverages at the poolside patio, which houses a 14-foot television.
Take a step outside the Archer Hotel Austin doors and you will find yourself in The Domain, a fashion and culinary destination in northwest Austin. The Domain is full of world-famous retailers and restaurants. The Viva Day Spa is a short walk away if you have a hankering for a much-needed spa day during your visit.
The Archer Hotel Austin is well-positioned and appointed to offer you and your pet an amazing stay during your time in Austin.
3. Drury Inn & Suites Austin North
The Drury Inn & Suites Austin North is an affordable option for staying with your pet during a visit to Austin, Texas.
Though it is not as lavish as some of the other hotels on the list, the Drury Inn & Suites Austin North still offers all the modern perks. The room amenities include Wi-Fi, HD LCD TV, microwave, refrigerator, and coffee maker. The rooms are neat and clean and the staff is friendly.
Pet-friendly rooms can be found at the Drury Inn & Suites Austin North so you can remain in the company of your animal throughout your stay in Austin. Whether you have a service dog, emotional support animal (ESA), or just a pet, all are welcome at the Drury Inn.
The Drury Inn & Suites Austin North is host to an on-premise restaurant that serves food and adult beverages. A complimentary hot breakfast is available every morning. In the evenings, the hotel hosts a Kickback where you can sample free food and drink from a rotating menu. You can also enjoy free soda and popcorn in the lobby every day.
The Drury Inn & Suites sits only 15 minutes from the Austin Convention Center. Consequently, you can remain close to all the downtown action. The notable attractions near the Drury Inn & Suites Austin North include:
6th Street (5 miles)
Arboretum Shopping Center (7 miles)
Austin City Limits Live at Moody Theater (6 miles)
Threadgill's (2.5 miles)
La Madeleine (2 miles)
Kerbey Lane Cafe (4 miles)
Take a load off with your pet at the Drury Inn & Suites Austin North, where you can find clean and affordable rooms during your time in Austin.
4. Aloft Austin Downtown
Aloft Austin Downtown is located within the buzzing 6th Street Entertainment District. Aloft locations across the country are known for their pet-friendly rooms and services, which offer guests and their pets a great experience during their stay. Equipped with modern amenities such as smart TVs, ergonomic workspaces, and state of the art gym equipment, Aloft Austin Downtown has something for everyone (and their pets).
Aloft Austin Downtown is topped off with the cherry known as Caroline, an indoor/outdoor rooftop dining and drinking experience where you can enjoy handcrafted cocktails and Mexican-inspired dishes like street tacos or ceviche. Caroline is also host to entertainment such as cornhole games, foosball, and shuffleboard.
For a more relaxed experience, the Coffeehouse at Caroline offers delicious caffeinated beverages and breakfast tacos alongside fresh-baked pastries and desserts. No matter your preferences, you are sure to find something to your liking at Aloft Austin Downtown.
5. Hotel Granduca Austin
The Hotel Granduca Austin provides a luxurious environment reminiscent of Italian Villas. Its location is in the heart of Texas Hill Country. The Hotel Granduca Austin features nearly 200 rooms and suites. It combines the comforts of home with the elegance of Italian accents. The Hotel Granduca Austin also offers pet-friendly rooms.
The Hotel Granduca Austin's nine stories sit atop a hillside that is only a short distance from Downtown Austin. Guests can ride in style inside the hotel's complimentary Granduca Cadillac Escalade car service, which provides free local transportation within a 3-mile radius of the establishment.
The Visconti Ristorante also is nestled within the elegant arches of Hotel Granduca Austin. It offers authentic northern Italian cuisine as well as local dishes from Texas.
The Hotel Granduca Austin boasts a beautiful view of the surrounding city from its hilltop perch that is removed from the busy streets down below. The whole family (including pets) are sure to find something to like in the various amenities and services offered by the Hotel Granduca Austin.
Final Thoughts
Austin is an energetic city that is slowly becoming one of the most popular destinations in the United States, thanks to its vibrant music scene. A trip to Austin is a fantastic opportunity to experience a diverse sampling of music, culture, and cuisine.
Bringing your pet or ESA along with you can help increase your enjoyment by providing you with a constant companion and base of strength from which you can draw comfort and stability. Registering your pet as an ESA may help ease some of the more annoying aspects of traveling with a pet by allowing you the ability to keep your animal by your side in places pets would otherwise not be permitted.
Keeping your emotional support animal by your side can vastly improve your psychological health and give you the confidence you need to tackle new challenges and experiences. ESAs are especially valuable for those who suffer from anxiety and panic disorders, post-traumatic stress disorder (PTSD), or depression. An ESA is a great treatment option if you suffer from any of these or other emotional disorders.
Learn more about registering an animal as your ESA by contacting the experts at U.S. Service Animals.