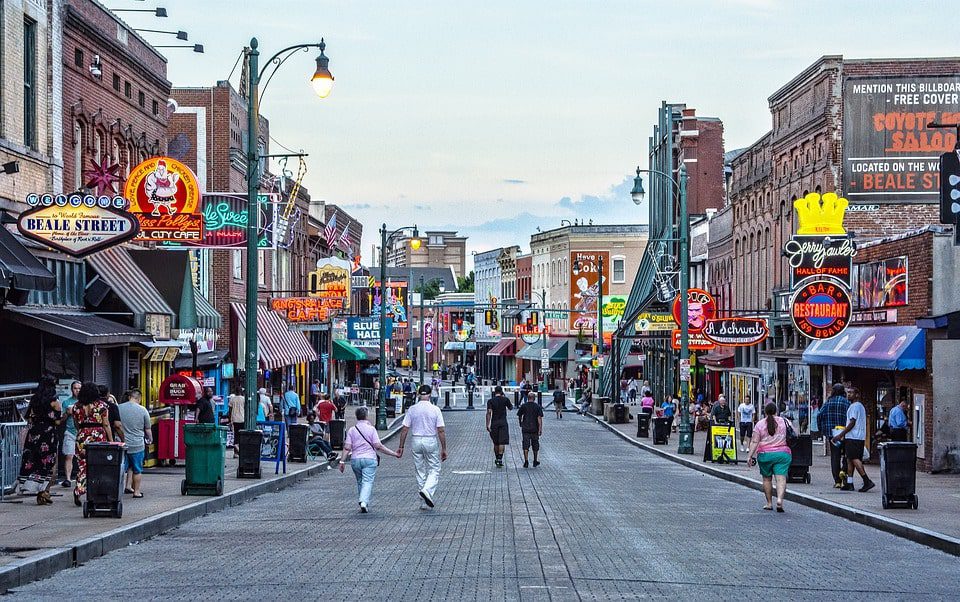 Memphis, Tennessee, is a well-received destination for tourists, weekend travelers, and music enthusiasts. The city is known for its culture and musical history, which makes it an ideal destination for anyone looking to have a terrific time away from home. There is something in Memphis for everyone.
Memphis offers a wide selection of hotels to meet the ever-increasing demand for high-end accommodations. Due to heavy tourism throughout the year, Memphis has several great hotels worth considering. Though the city is mostly known for its four and 5-star hotels, there are plenty of accommodations for travelers on a budget as well.
If you're traveling with your pet, you'll be happy to discover there are plenty of pet-friendly hotels near the most important attractions in Memphis. With that said, just because a hotel market itself as "pet-friendly" doesn't always mean the same thing in every place. In some cases, visitors are disappointed to learn "pet-friendly" is nothing more than providing a place for animals to stay with no other pet amenities.
What is a Pet-Friendly Hotel?
What should you request from a pet-friendly hotel? The establishment should provide accommodations, facilities, and amenities for pets and their owners. While these hotels traditionally cater to dogs or cats, some locations may allow domesticated pets too.
Here are some examples of the perks you can find at a pet-friendly hotel:
Bedding – While pets can stay in crates or cages, it is not very enjoyable for the animals. Pet owners generally prefer something more comfortable. As a result, most pet-friendly hotels offer bedding, like a designated dog or cat bed, to guarantee that the animals have somewhere comfortable to sleep. Some hotels even provide small blankets and pillows for animals.
Leashes & Collars – Memphis, and many other tourist communities have laws that require dog owners to use a leash when walking their pets around the city. To help ensure that pet owners can take their dogs or cats anywhere without worrying about breaking leash laws, many pet-friendly hotels provide extra leashes and collars. It is a great luxury if a dog owner accidentally leaves a leash at home. Additionally, a collar with identification information attached is extremely useful if your pet gets lost.
Litter Boxes & Clean-Up Supplies – Most domesticated cats need a litter box to go to the bathroom, which can make it complicated for cat owners to travel with their pets. Fortunately, some pet-friendly hotels provide litter boxes and extra litter. They also supply disposable gloves so that dog owners can clean up after their animals.
Treats – Pet-friendly hotels want pets and their owners to enjoy themselves. Hotels understand that pets love treats, which is why many establishments offer them. Try requesting cat treats, rawhide bones, catnip, or other kinds of edible goodies for your pets.
Toys – Toys are another outstanding way to keep pets happy and entertained on vacation. Many pet-friendly hotels provide chew toys, rope bones, rolling balls, scratching posts, and other fun items. This way, pets are less likely to get bored and cause damage to hotel furniture by scratching or chewing on it.
Outdoor Play Areas – Animals, like dogs, enjoy getting outside and exercising. Therefore, the hotel must have grounds specially reserved for animals. At the very least there should be a park nearby. The owner should supervise his or her pets at all times while they play and use the restroom outdoors.
Pet-Sitting Services – When you're on vacation, it may not always be convenient to take your pet with you to every attraction. For example, many restaurants and buildings do not allow animals. Thankfully, some pet-friendly hotels provide pet-sitting services (for an additional cost).
It is important to remember that not every pet-friendly hotel provides the same pet amenities and services. Some pet-friendly hotels are merely labeled as such because they allow pets on the property. Consequently, there are no other amenities for your pets to enjoy.
Additionally, almost every pet-friendly hotel has limitations when it comes to the kinds of pets allowed on the property. Generally, dogs and cats are allowed, but many large or exotic animals are not. Some hotels have very tight restrictions on the type and size of animals. For example, a hotel may only allow a room to have one dog that weighs less than 25 lbs.
We recommend speaking to the hotel directly to find out exactly what type of pet amenities and services are available. That way you won't be surprised when you arrive for your trip.
Top 5 Pet-Friendly Hotels in Memphis
Now that you know more about the different types of pet amenities, let's take a look at five top pet-friendly hotels in Memphis, in no particular order:
1. Hyatt Place Memphis
The Hyatt Place Memphis is located just east of Interstate 240, near its intersection with Highway 72. The hotel is close to many notable attractions, including:
Lucius Burch State Natural Area
Memphis Botanic Garden
The Links at Fox Meadows
Sprock 'n Roll
Like most Hyatt hotels, the Hyatt Place Memphis gives guests a great experience from start to finish. The hotel offers clean, modern rooms, fine dining, and special events.
The Hyatt Place is also one of the best hotels in Memphis to bring your pet. However, Hyatt Hotels only allow dogs on the property. Additionally, your dog must weigh less than 50 lbs. and be housebroken.
2. The Peabody Memphis
The grand 4-star hotel sits in the heart of Memphis, just a few blocks from the Mississippi River. The Peabody Memphis is close to several points of interest, including:
National Civil Rights Museum
Orpheum Theatre
Mud Island River Park
Cannon Center for the Performing Arts
The Peabody Memphis originally opened in 1869. The impressive and historic building overlooks the Mississippi River, providing an unforgettable experience for guests. Moreover, the Peabody Memphis allows dogs in many rooms. It is advised you contact the hotel before your stay for more information.
3. Wingate by Wyndham Memphis
The Wingate by Wyndham is east of the Berclair neighborhood. It is also not far from several Memphis attractions, including:
Shelby Farms Park
Golf and Games Family Park
Galloway Golf Course
Chickasaw Country Club
While the Wingate by Wyndham is only a 2-star hotel, it offers visitors a clean, comfortable, and affordable place to stay. Most importantly, Wingate by Wyndham allows pets! Guests can bring dogs or cats, though each room can have no more than two pets at a time, with a combined weight of 50 lbs. or less.
4. Sonesta ES Suites Memphis
The Sonesta ES Suites Memphis Hotel is near the Fountain Square district in eastern Memphis. There are several attractions nearby, including:
Lichterman Nature Center
Sea Isle Park
Wolf River
The Links at Fox Meadows
Though Sonesta ES Suites is far from the city center, it still has plenty to offer guests. The suites feature kitchens for longer-term visitors. Additionally, guests can bring up to two pets (dogs or cats) for an extra, non-refundable fee.
5. Staybridge Suites Memphis
Staybridge Suites Memphis Hotel is located on Poplar Avenue East, south of the Ridgeway Townhouse neighborhood. It is also close to several points of interest, including:
Sprock 'n Roll
Crystal Shrine Grotto
Memphis Hunt & Polo Club
Shelby Farms Park
Though the Staybridge Suites Memphis Hotel has been around for a while, the building recently got rennnovated with upgraded rooms and lobby. Each apartment-style suite is perfect for travelers of any kind.
Staybridge Suites Memphis allows both dogs and cats and even provides treats, cleanup bags, and designated bathroom areas in the front and back of the hotel.
Final Thoughts
Memphis is one of the most popular tourist cities in Tennessee. It has a vast selection of world-class attractions, including Graceland, Beale Street, and the National Rights Museum. Thankfully, you can enjoy many of the best attractions in Memphis with your pet right by your side!
The city has many pet-friendly hotels that offer first-rate services and all the amenities necessary to make you feel at home. You and your pet will surely feel welcome during your stay in Memphis. If you can't find any suitable pet-friendly hotels on your own, we recommend considering our selections for the five best pet-friendly hotels in Memphis.
If you'd like to certify your four-legged companion, consider registering your pet as an Emotional Support Animal (ESA). ESAs are animals that offer support and comfort to people suffering from mental or emotional conditions. The presence of an ESA may assist individuals in dealing with issues that might otherwise compromise their quality of life. These issues include depression, anxiety, phobias, and bipolar disorder. You can register your pet as an ESA with U.S. Service Animals (USSA) today!