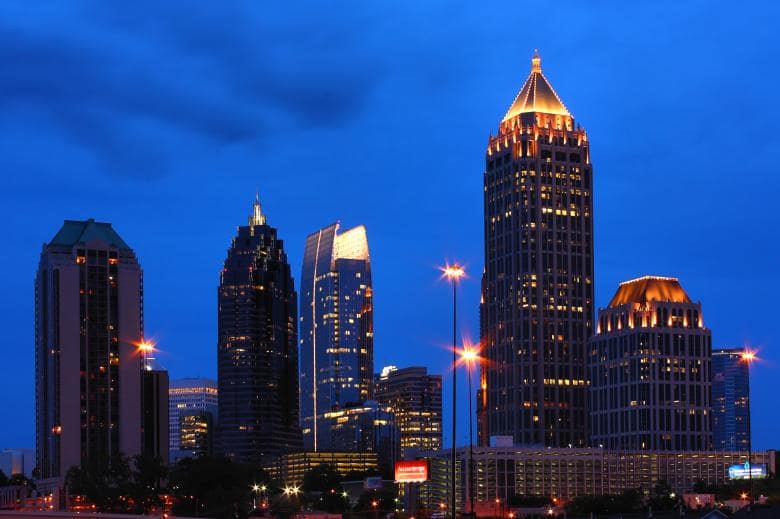 Atlanta – also known as A-town, Hotlanta, or simply ATL – is state capital of Georgia and its biggest city. It is home to attractions like the Georgia Aquarium, Center for Puppetry Arts, and Coca-Cola's historic first factory.
The birthplace of the United States civil rights movement, Atlanta has a rich culture and history. Whether you're visiting Atlanta for work or pleasure, or to participate in one of the world's largest 10k foot races – the Peachtree Road Race – Atlanta is a great destination. You can find food, entertainment, and lodging at affordable rates.
Traveling with an animal or two is cumbersome and frustrating at times, but the added benefit of bringing your best furry friend along with you is well worth the trouble. It is especially the case for people who have emotional disorders such as anxiety, depression, or post-traumatic stress disorder (PTSD).
An emotional support animal is a wonderful treatment option for many patients of emotional disorders. Bringing a pet along on your trips can help you feel calm and collected throughout your travels.
To help ease the burden of travelling with a pet, we have put together a list of the top five pet-friendly hotels in Atlanta. Consider the five options if you need a place to crash.
1. Aloft Atlanta Downtown
Aloft Atlanta Downtown is a pet-friendly hotel that allows guests to bring up to two pets as long as the animals are 40 lbs or less. There is no additional pet fee at Aloft Atlanta Downtown, which makes it even easier to bring a dog or cat along on your travels.
Pet-friendly rooms are on the third floor of Aloft Atlanta Downtown. If you leave your pets alone in the room, you need to keep them in a crate. Feeding bowls and pet treats are available at the front desk upon request. There is a grassy pet relief area on the property for convenient potty trips.
Aloft Atlanta Downtown is positioned in the heart of downtown Atlanta and directly across the street from AmericasMart. Aloft Atlanta Downtown is located only steps away from the World of Coca-Cola Museum, the Georgia Dome, and the Georgia Aquarium. The stylish hotel is decorated with a modern sensibility and appointed with walk-in showers as well as a custom Bliss Spa.
Rooms feature recharging docks that can synch to the 42-inch LCD TV. Enjoy all the amenities you'd expect from a modern hotel such as a fitness center, business center, and free high-speed Wi-Fi. Spend some relaxing time at the pool or in the bar/lounge on the premise. Then go explore Atlanta with your animal in tow.
Aloft Atlanta Downtown provides great value if you're looking for a place to stay in downtown Atlanta with your pet.
2. The Westin Buckhead Atlanta
The Westin Buckhead Atlanta is on Peachtree Road in the Buckhead area of Atlanta. Considered to be one of the city's best neighborhoods, Buckhead is full of world-class shopping venues. The Westin Buckhead Atlanta is a pet-friendly location that allows guests to bring one dog that weighs up to 50 lbs with them during their stay.
No additional pet fee exists; however, dogs cannot be left unattended in the rooms. Pet bowls and bedding are available at the front desk upon request. The Westin Buckhead Atlanta does not permit cats to stay in the rooms, unfortunately. There is a designated pet relief area for using the restroom.
Westin Buckhead Atlanta is conveniently near the Lenox Mall and Phipps Plaza. Consequently, it provides immediate access to numerous options for shopping, entertainment, and dining. Amenities offered at the Westin Buckhead Atlanta include a business center, meeting rooms, and babysitting services.
The Westin Buckhead Atlanta is a fantastic place to stay with your dog during your time in Atlanta.
3. Loews Atlanta Hotel
The Loews Atlanta Hotel permits pets to stay with guests for an additional pet fee of $75 per stay. Guests are allowed to bring cats and dogs and may bring up to two animals of any size. Adjacent to the property is a grassy area for exercise and using the restroom.
Included with the pet fee are treats, waste bags, bowls, and a food mat. Pets are welcomed with warm arms at the Loews Atlanta Hotel and treated as guests during their stay. The Loews Atlanta Hotel offers 414 rooms and 44 suites, all of which have the utmost comfort in mind. Amenities provided by the Loews Atlanta Hotel include a restaurant, spa, bar, business center, and fitness center.
Located in the heart of Midtown Atlanta, the Loews Atlanta Hotel is within walking distance of dozens of restaurants and entertainment destinations. It is also a short walk from Piedmont Park. Take in wonderful views of the surrounding city from the comfort of your room with your favorite animal beside you.
4. Four Seasons Hotel Atlanta
The most expensive option on our list, the Four Seasons Hotel Atlanta is a destination unto itself. There is an added pet fee of $100 per stay. Guests are allowed up to two pets. Pets are permitted 35 lbs or smaller and may not get left unattended in the rooms.
Pets receive homemade treats, bedding, and bowls at check-in. There are grassy pet relief areas nearby and Piedmont Park is within walking distance. Pets and guests get treated to the utmost courtesy and professionalism during their stay at the Four Seasons Hotel Atlanta.
The Four Seasons locations get appreciated around the world for their elegant and comfortable rooms. The Four Seasons Hotel Atlanta is no exception and is a sight to behold. Positioned on the first 19 floors of a 50-story Midtown tower, the Four Seasons Hotel Atlanta offers 244 guest rooms, including 18 suites.
All the rooms are beautifully decorated and incredibly spacious. Located in Midtown, the Four Seasons Hotel Atlanta is only a short distance away from landmarks such as Centennial Olympic Park and the Center for Civil and Human Rights.
As a result, you can enjoy the history of Atlanta and the rich comfort of the Four Seasons Hotel Atlanta with your pet alongside you the whole time.
5. Artmore Hotel
While the Artmore Hotel does have a pet fee, they allow animals larger than most of the other hotels. The Artmore Hotel welcomes pets up to 75 lbs for an additional fee of $75 per night. Only one pet is allowed per room but both cats and dogs are welcome. Animals may not get left unattended in the rooms. There is a grassy relief area for restroom breaks on the grounds.
The Artmore Hotel exists in Midtown Atlanta, right in the center of the Cultural Arts District. The hotel is a reinvention of a historic 1924 building whose design is influenced by Spanish Mediterranean aesthetics. Inside, you'll find the Studio Bar & Lounge where you can enjoy handcrafted cocktails before hitting the town.
Located across the street from the MARTA, the Artmore Hotel offers direct access to the Georgia Aquarium, the World of Coke Museum, and the Atlanta Symphony Orchestra. There are several other attractions within proximity.
The Artmore Hotel allows you to stay in style with your pet at an affordable rate while visiting the city.
Final Thoughts
Pets can make trips all the more memorable thanks to their loving and constant presence. It is especially important for people that have emotional disorders. Those struggling with anxiety and depression can have their quality of life improved through the tender love of an emotional support animal (ESA).
Registering your pet as an ESA can help ease the stress and pressure of travel. It allows you to bring the animal in places that otherwise would refuse entry. Registration is not mandatory but can go a long way in smoothing the process of gaining lawful access to travel accommodations while spending time away from home.
Don't let your emotional disorder control your life. For more information regarding registration of your pet as an emotional support animal, contact the experts at U.S. Service Animals. You can get the process started immediately by filling out this form on USSA's site.