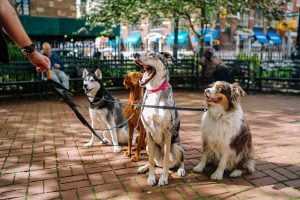 Do you love hanging out with friends and enjoying the community? Are you a big animal owner as well? If so, you might have run into a problem over the years. Pets are not allowed to roam everywhere that humans have access to. In fact, there might be times where you really want to hang out with friends and bring your dog but you can't because animals are restricted.
Restrictions on animals can be extremely frustrating and completely ruin a great day. So what are some restrictions that you should keep in mind? Well, often hiking trails are no dog zones. Especially trails that are located near the city. The farther you get out into the countryside the more likely that the trails will be pet-friendly.
Some beaches and shopping centers place restrictions on pets as well. On the beach make sure you can take your dog out on the sand by checking the signs that are located near the beach. With the shopping center, odds are they aren't going to let your dog or cat roam around. It is helpful to check signs, but most shopping centers are not pet-friendly.
The other two places to note are offices, public transportation, and some housing options. Often apartments or rental homes charge fees for keeping a pet. Public transportation rarely allows for animals. Buses, subway trains, and amtraks are pet-free because of the city. The government doesn't want to have to spend extra money to clean up after the pets that would make a mess.
While all of those are places that you can't take your pet, here are tips to enjoying community places where you can take your pet.
Waterpark/Beach
If you do take your pet to the beach, make sure you check online before going. You want to make sure that you can take your animal out with you. Leaving a dog, cat, or other creature in a hot car during a summer day is animal negligence and could kill the pet.
That being said, some beaches and waterparks have "bring your pet" days, and it can be a great time to enjoy the water with your animal.
Don't let your pet drink ocean water or water at a waterpark. Both can make them extremely sick in a heartbeat. You can use this website feature to search for a pet-friendly beach in your state.
Camp Grounds
Who doesn't love camping? If you have an animal you want to bring along you need to check with the campgrounds. It is also a good idea to check and make sure that your pet is allowed on any trails or attractions that are near the campsite. The good news is that many campgrounds do allow you to bring pets along. Some of them might charge a fee but normally it isn't a sizable expense. You will also want to make sure your dog is up-to-date on all of his shots and vaccinations before taking the trip.
National Parks
Many National Parks across the United States are pet-friendly. They allow specific pets to accompany you around the park. National Parks do allow pets but they must have an attached leash that is at least 6 feet long. Often, they only allow pets to stay on a campsite in a specifically designated area. So you might want to check where you are staying at the park and confirm that your housing allows your pet to come along.
Various Activities
There are a bunch of diverse places you can take your pet in public. Especially in dog parks. Obviously, these parks are specifically for canines, but you can bring a different pet along if you want.
I know shopping centers were mentioned above as a place that normally doesn't allow pets. But some of them do. Here are a few stores that are pet-friendly.
Home Depot
Lowes
Apple
Petco
Bass Pro Shops
Macy's
TJ Maxx
Barnes & Noble
PetSmart
Old Navy
If you are considering your options, there are things like museums, outdoor pavilions, and other attractions that also make awesome attractions for dogs and other pets alike.
Conclusion
Taking your pet with you to local attractions can be an awesome fun experience. We recommend a few tips to make sure that you have a good time in public spots.
First, always clean up after your animal. No one likes animal waste anywhere, and it shows that you are a responsible pet owner when you get things cleaned up.
Second, always bring the correct sustenance for your animal. Whether that be food or water, you don't want your pet to be hungry and thirsty throughout the day. Prioritize these things before you go out so that you don't have to scramble last minute.
Finally, make sure your pet is well-trained. If your pet cannot approach strangers and be amicable then public places might not be the best places to go together. There are many training tutorials online that you can reference, and if you need to, you can find training services all over the United States for various pets.
Overall, making sure you are obeying the rules with a well-trained pet is key to having a good time in public places. There are plenty of pet-friendly community activities out there. You just have to look for them.