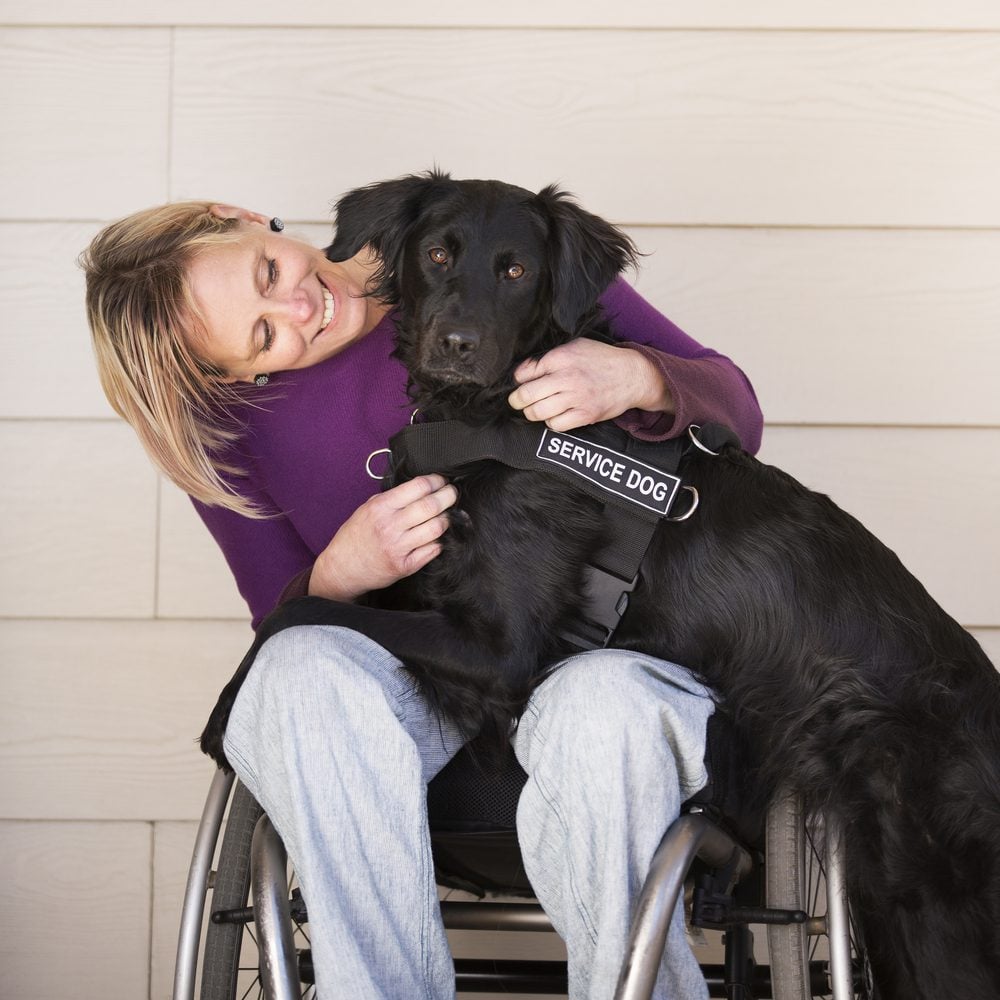 If you're living with a disability in Arizona, it might be worth training your pooch (or a new puppy) to become a service dog. Not only do these lovable creatures provide invaluable assistance with everyday tasks, but they also receive legal protections under federal and state laws.
The Americans with Disabilities Act (ADA) affords anyone with an eligible disability the civil right to bring a service dog into any "public accommodations" (restaurants, entertainment venues, retail stores, educational institutions, etc.). Businesses, including landlords and airlines, cannot charge for a service dog or treat the owner differently, providing the animal is housebroken and well-behaved.
Arizona's service animal law also includes similar protections, meaning a trained animal assisting a person with an eligible disability is covered by both federal and state law.
Although there are no formal certification or registration requirements, a canine must be adequately trained to qualify as a service dog. In this article, we'll cover what to consider when searching for a service dog trainer and then review the top five providers in Arizona.
What to Look for When Choosing Service Dog Training
Choosing an appropriate service dog training center is the first step towards turning a canine companion into a bonafide service animal.
Regardless of whether you choose an online or in-person trainer, it's best to stick with an established operator with years (or decades) of industry experience. Look for a provider with a proven track record with your specific disability.
Not all trainers work with every dog. But that's not necessarily a bad thing—it could mean they excel at training a specific breed. Some insist on working with a custom-bred puppy, while others accept existing pets (after a rigorous evaluation) or source animals from a local shelter. In any case, check whether these conditions align with your needs.
For a brick-and-mortar establishment, it's worth assessing the facilities in person before committing. Are the kennels in good shape? Do the dogs have plenty of open space? A low-quality trainer will cut corners and deliver subpar results.
While a sizable waiting list is indicative of a successful business (or a popular non-profit), you should consider your own timeline, as well. If you need an animal trained in a hurry, there's no point joining a five-year waiting list.
Finally, cost is a crucial consideration. While the law requires a service dog to be capable of supporting its owner, there's no legal requirement to enlist a professional trainer. An online training course gives you the necessary tools to train your animal at home and saves you thousands compared to an in-person program.
Online vs. In-Person Service Dog Training
So, what's the best option for training a service dog: in-person or online? Both methods have their advantages, which we'll discuss below.
While an in-person course requires you to attend scheduled classes, an online program lets you train your animal at your convenience—you don't even need to leave the comfort of your own home. The most significant benefit, however, is cost. Online programs give you all the support and guidance you need at a fraction of the price of an in-person course.
Although rigid and expensive, in-person programs may achieve better results because an experienced professional provides expert, tailor-made training sessions. Furthermore, the in-person option puts less burden on the owner, which is essential when a severe disability renders self-training impractical. Both humans and canines also get ample opportunity to socialize and exercise—active and outgoing owners often find in-person training more fun.
| | |
| --- | --- |
| Pros of Online Service Dog Training | Pros of In-Person Service Dog Training |
| Cost-effective: online courses cost a fraction of the price of in-person programs | Less owner burden: trainers do most of the work, essential for people with severe disabilities. |
| Convenience: train your dog at a time that's suitable for you | Expertise: in-person trainers draw on years of experience to achieve optimal results |
| Comfort: no need to leave the comfort of your own home | Exercise and socialization: you and your dog will get out and about |
The Best Service Dog Training in Arizona
Now you're up to speed, it's time to check out the top service dog training programs in Arizona—both in-person or online. We've searched long and hard to identify and review the top courses in the state to make the selection process easier for you.
US Service Animals Online Training
The top dog in virtual training, US Service Animals Online Training gives you everything you need to teach your canine to become a service dog from home. The six-module program consists of 12 easy-to-follow videos that outline cutting-edge animal behavior theories and how they apply to your four-legged friend. Unlike other online programs, you'll get customized support from a professional service dog trainer throughout the course.
The comprehensive program teaches your pet to assist with various disabilities, including blindness, hearing loss, diabetes, mobility issues, and epilepsy. No breed or size restrictions apply, and you get a handy certificate at the end (there's also an optional service vest, collar, collar tag, and leash).
Cost: $349
Location: Online only (6 video modules)
Certificate: Yes
1:1 Support: Yes
Equipment Provided: Clicker, plus optional service vest, collar, collar tag, and leash
Link: www.usserviceanimals.org
All 4 Paws Training
All 4 Paws Training is a small, local business that provides specialist training services in Arizona, including a comprehensive service dog program. The course content depends on the age, breed, and individual needs of the client, typically taking up to two years to complete. Unfortunately, there's no option to purchase a fully trained dog, because applicants must undertake much of the training themselves (with expert guidance from the team).
Founder Myra Markley launched the business upon discovering the immense benefits her own service dog provided for her physical disability. She now runs courses, seminars, and private training sessions from two locations in the state. Clients' present dogs are also considered.
Cost: 4-month-old puppy $2,600 / 10-month-old puppy $2,100
Location: Tempe and Phoenix
Certificate: Unspecified
1:1 Support: Yes (limited as most courses consist of group classes)
Equipment Provided: Unspecified
Link: www.all4pawstraining.com
AZ Dog Sports (AZDS)
Although this well-regarded business specializes in training canines for competitions, it also runs a rigorous service dog program. Specifically, the company prepares dogs to help people with diabetes, mobility impairments, PTSD, or other psychiatric conditions. The program consists of three components: an eight-week starter session, a 4-month puppy training program, and a 2-6 month service dog program.
The staff teaches customers how to train their own dogs at group and private classes, which occur at their Phoenix facility or public access locations around the city. All canine candidates are screened for their suitability before training begins, and each program adheres to strict guidelines by the Association of Professional Dog Trainers (APDT). It's a great low-cost option in Arizona, if you want in-person support.
Cost: Starter Package $995 / Phase 1 $1,295 / Phase 2 $1,500
Location: Phoenix, Arizona
Certificate: Yes, Good Canine Citizen (GCC) certification included
1:1 Support: Yes
Equipment Provided: Yes, 8-way lead, treats, treat pouch, clicker, placemat
Link: www.azdogsports.com
Northern Arizona Service Dogs
This well-established local non-profit sources its funding from scholarships and sponsorships to train and place service dogs around the state. The Verde Valley-based organization works with children in need and adults diagnosed with autism, PTSD, mobility impairments, and hearing/sight loss.
Almost all canine candidates are of a select breed: Cream Retrievers, Golden and Black Labs, or German Shepherds. Although some other species may be considered on a case-by-case basis, there's no BYO dog option. Founder and lead trainer Shawn has over 30 years of experience in the field and is famed for his outstanding results. The program typically entails up to 360 hours of training spread over six months.
Cost: Free or heavily subsidized (expect a long waitlist).
Location: Campe Verde, Arizona
Certificate: Yes
1:1 Support: Yes
Equipment Provided: Unspecified
Link: www.northernazservicedogs.com
Dogs4Vets
Dogs4Vets, as the name suggests, is a non-profit organization that trains service dogs for veterans with disabilities—mobility impairments, PTSD, and other psychiatric conditions. Unlike other providers, Dogs4Vets strives to prepare the veteran's present dog for the position, wherever possible. If the animal is unsuitable (or if the client doesn't own one), the organization will supply a puppy from a local shelter.
Dogs4Vets places fully-trained service animals with over 100 veterans per year, all of whom receive their new companion free of charge. Training involves an in-depth, six-step program—application, fundamentals, public access, task-based, certifications, and lifetime support—and takes place at their fully equipped Gilbert facility. Veterans take a hands-on approach and get the chance to network with fellow heroes.
Cost: Free of charge (except for a $25 application fee)
Location: Gilbert
Certificate: Unspecified
1:1 Support: Yes
Equipment Provided: Yes
Link: www.dogs4vets.org