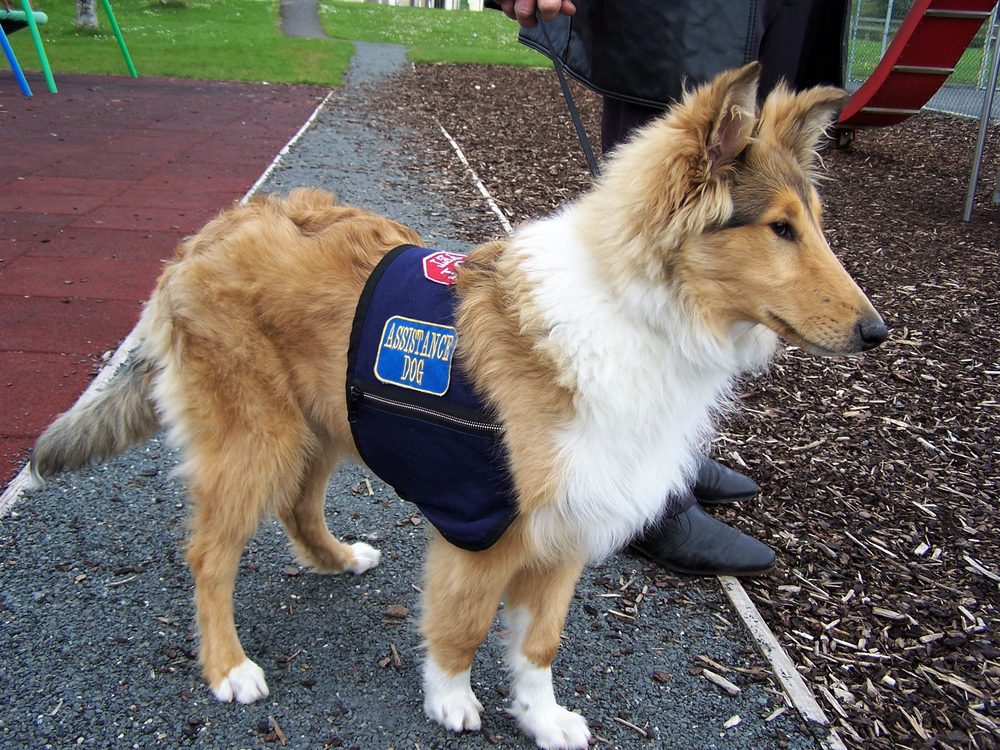 The Americans with Disabilities Act (ADA) states that people with disabilities have a civil right to bring a service dog into any "public accommodations" even if that establishment normally prohibits animals. Furthermore, the Texas Human Resources Code provides similar protections.
Public accommodations include hotels, retail outlets, entertainment venues, transportation services, and educational institutions, although religious organizations and membership-based clubs are exempt. All public accommodations, including rental properties and airlines, cannot legally charge for or prohibit entry to their premises, or discriminate against an accompanying service animal.
Therefore, if you're living with an eligible disability in the state of Texas, it's worth training your canine companion to become a fully-fledged service animal. Eligible disabilities include visual impairment, hearing loss, seizures, mobility issues, and balance or stability problems. Service animals that assist with psychiatric conditions receive protections, but emotional support animals are treated separately.
Under federal and Texas law, a service animal must be adequately trained, although there is no formal certification or registration requirement. Nonetheless, Texas law applies heavy penalties to anyone who falsely claims to be in the company of a service animal.
What to Look For When Choosing Service Dog Training
Choosing an appropriate service dog training center is the first step towards turning a canine companion into a bonafide service animal.
Regardless of whether you choose an online or in-person trainer, it's best to stick with an established operator with years (or decades) of industry experience. Look for a provider with a proven track record with your specific disability.
Not all trainers work with every type of dog. But that's not necessarily a bad thing—it could mean they excel at training a specific breed. Some insist on working with a purpose-bred puppy, while others accept existing pets (after a rigorous evaluation) or source animals from a local shelter. In any case, check whether their conditions align with your needs.
For a brick-and-mortar establishment, it's worth assessing the facilities in person before committing. Are the kennels in good shape? Do the dogs have plenty of open space? A low-quality trainer will cut corners and deliver subpar results.
While a sizable waiting list is indicative of a successful business (or a popular non-profit), you should consider your own timeline as well. If you need an animal trained in a hurry, there's no point joining a year-long waiting list.
Finally, cost is a crucial consideration. While the law requires a service dog to be capable of supporting its owner, there's no legal requirement to enlist an in-person trainer. An online training course gives you the necessary tools to train your animal at home and saves you thousands compared to an in-person program.
Online vs In-Person Service Dog Training
So what's the best option for training a service dog: in-person or online? Both methods have their advantages and disadvantages, which we'll discuss below.
While an in-person course requires you to attend scheduled classes, an online program lets you train your animal at your convenience—you don't even need to leave the comfort of your own home. The most significant benefit, however, is cost. Online programs give you all the support and guidance you need at a fraction of the price of an in-person course.
Although rigid and expensive, in-person programs may achieve better results because an experienced professional provides expert, tailor-made training sessions. Furthermore, the in-person option puts less burden on the owner, which can be essential when a severe disability renders self-training impractical. Both human and canine also get ample opportunity to socialize and exercise—active and outgoing owners often find in-person training more fun.
| | |
| --- | --- |
| Pros of Online Service Dog Training | Pros of In-Person Service Dog Training |
| Cost-effective: online courses cost a fraction of the price of in-person programs | Easy: trainers do most of the work, essential for people with severe disabilities. |
| Convenient: train your dog at a time that's suitable for you | Effective: in-person trainers draw on years of experience to achieve optimal results |
| Comfort: no need to leave the comfort of your own home | Exercise: you and your dog will get out and about |
The Best Service Dog Training in Florida
Now that you're up to speed, it's time to check out the top service dog training programs in Florida, both in-person or online. We've searched long and hard to identify and review the top courses in the state to make the selection process easier for you.
US Service Animals Online Training
The top dog in virtual training, US Service Animals Online Training gives you everything you need to teach your canine to become a service dog from home. The six-module program consists of 12 easy-to-follow videos that outline cutting-edge animal behavior theories and how they apply to your four-legged friend. Unlike other online programs, you'll also get customized support from a professional service dog trainer throughout the course.
The comprehensive program teaches your pet to assist with various disabilities, including blindness, hearing loss, diabetes, mobility issues, and epilepsy. No breed or size restrictions apply, and you get a handy certificate at the end (along with an optional service vest, collar, collar tag, and leash).
Cost: $349
Location: Online only (6 video modules)
Certificate: Yes
1:1 Support: Yes
Equipment Provided: Clicker, plus optional service vest, collar, collar tag, and leash
Link: www.usserviceanimals.org
Dog Training Elite
This San Antonio-based in-person service animal trainer has a stellar reputation for achieving outstanding results, particularly with their service dog training program. The company offers six separate programs—psychiatric support/PTSD, mobility support, autism assistance, diabetic alert training, service puppies, and fully-trained service dogs. Each is individually tailored towards specific needs and focuses on achieving sustained obedience and a long-lasting bond.
Dog Training Elite bases its work on the "Classical Conditioning" model, which sees the animal develop instinctive responses to specific commands. Training occurs both on-site and in public places, and the schedules are flexible. Following up training regimes can be arranged if required.
Cost: Psychiatric/PTSD: $3,595, mobility: $5,695, autism: $6,295, diabetes: $6,595, service puppies: $5,595+, fully trained service dogs: $24,995+. Funding support may be acquired via the Malinois Foundation.
Location: San Antonio, Texas
Certificate: Yes
1:1 Support: Yes
Equipment Provided: Unspecified
Link: www.dogtrainingelite.com
Service Dog Express
This popular doggy training provider links needy customers with skilled trainers throughout Texas. All trainers operate independently, although each adheres to the company's directive and price structure. Service Dog Express primarily works with existing pets and mandates an in-depth assessment to determine suitability before training can begin.
You'll first pay a nominal fee for an e-manual, which allows you to undertake some of the training yourself. You then pair up with an experienced service dog trainer in your local area who takes care of the more intricate details. The service is a superb value for dog owners who already have a well-trained and obedient pet—you only pay for the hours you need.
Cost: E-manual: $25, training (per hour): $60
Location: San Antonio, Dallas, Houston, Beaumont, El Paso, Austin, Austin, San Marcos, Lubbock
Certificate: Unspecified
1:1 Support: Yes
Equipment Provided: 15% off all service dog equipment
Link: www.servicedogexpress.com
Scout's Legacy Service Dogs
Scouts Legacy is a small Texan non-profit that achieves big results. The organization trains service dogs in three key areas: mobility support, medical response, and psychiatric support. You'll need to look elsewhere for seeing-eye, diabetic alert, and allergen detection dogs, however, as they don't currently offer these services. Training takes place online and at the Trenton facility.
Founder and lead trainer Amanda named the organization after her beloved companion (and self-trained service dog) Scout. With eight years of experience spanning the full doggy-training spectrum, Amanda has the expertise to train numerous breeds. As a person with a disability herself, she's passionate about helping others regain their freedom and independence.
Cost: Contact for a quote
Location: Trenton, Texas
Certificate: Unspecified
1:1 Support: Yes
Equipment Provided: Unspecified
Link: http://www.scoutslegacy.com/
Aretas Assistance Dogs
Aretas Assistance Dogs is a charitable organization that works exclusively with youngsters, a perfect option for parents seeking a service dog to support their disabled child. All puppies are rescued from shelters and raised by a professional in-house team before being paired with an appropriate candidate a few months into the regime. Weekend visits are first offered to create an initial bond, and training continues after the canines are placed permanently into their new homes.
The staff has extensive experience working with children, boasting backgrounds spanning social work to education and child development. Rigorous public access and service dog tests are held at the end to ensure all animals are up to the task.
Cost: If Aretas selects the dog: $4500, if owner selects the dog: $5000
Location: Poolville, Texas
Certificate: Yes
1:1 Support: Yes
Equipment Provided: Unspecified
Link: www.aretas.org