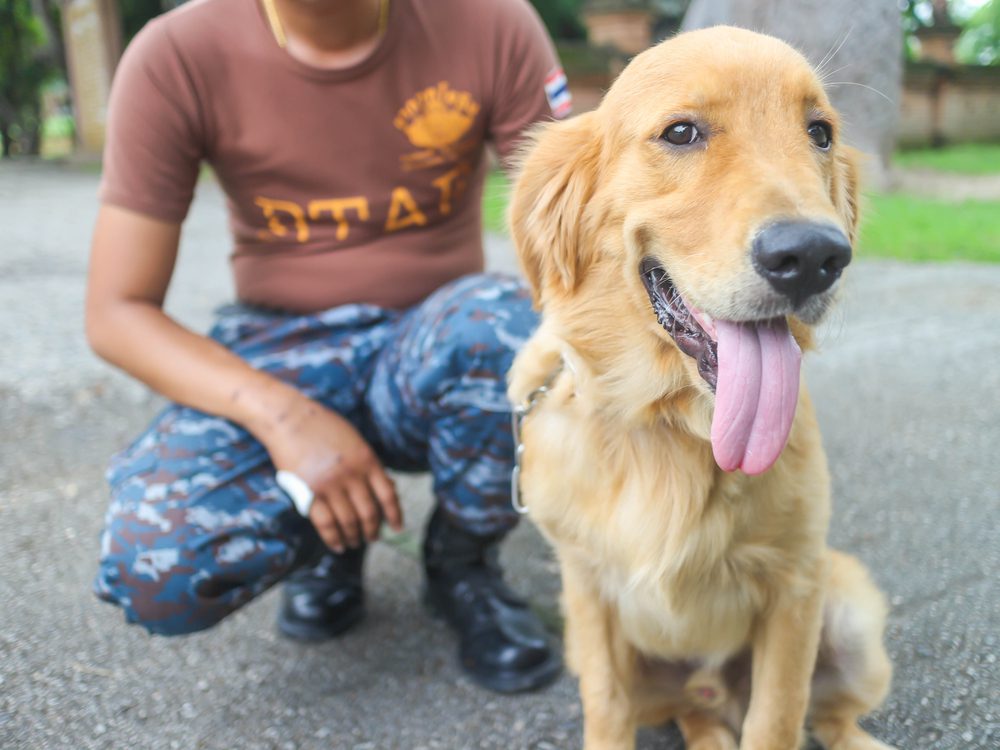 The Americans with Disabilities Act (ADA) states that people with disabilities have a civil right to bring a service dog into any "public accommodations," even if that establishment normally prohibits animals. Furthermore, Maryland's service animal law grants similar rights to individually trained animals that provide support to people with disabilities.
Public accommodations cover various venues, including hotels, stores, transportation services, and educational institutions. Exceptions include religious organizations and private, membership-based clubs. Businesses, including landlords and airlines, cannot legally charge a disabled person for an accompanying service animal.
Therefore, if you're living with an eligible disability in the state of Maryland, it's worth training your canine companion to become a fully-fledged service animal. Eligible disabilities include visual impairment, hearing loss, seizures, mobility issues, and balance or stability problems. Service animals that assist with psychiatric conditions receive the aforementioned protections under federal and Maryland laws, but emotional support animals are not.
A service animal must be adequately trained in Maryland, although there is no formal certification or registration requirement. Under federal and Maryland law, public accommodations cannot demand documentation for a service animal, although they may request verbal confirmation regarding the status of the service animal and enquire about the specific tasks it performs.
The MD Veterans Service Animal Program provides grants to various training programs to assist veterans in obtaining a service dog.
What to Look for When Choosing Service Dog Training
Choosing an appropriate service dog training center is the first step towards turning your canine companion into a bona fide service animal.
Regardless of whether you choose an online or in-person trainer, it's best to stick with an established operator with years (or decades) of industry experience. Look for a company with a proven track record of training your specific breed for your unique disability requirements.
For a brick-and-mortar establishment, it's worth assessing the facilities in person before committing. Are the kennels in good shape? Do the dogs have plenty of open space? A low-quality trainer will cut corners and deliver subpar results.
While a sizable waiting list is indicative of a successful business (or a popular non-profit), you should consider your own timeline. If you need your animal trained in a hurry, there's no point joining a year-long waiting list.
Not all service dog trainers work with every breed and age. But that's not necessarily a bad thing—it could mean they excel at training a specific type of dog. In any case, double-check whether your trainer of choice will work with your animal.
Finally, cost is a crucial consideration. While the law requires a service dog to be capable of supporting its disabled owner, there's no legal requirement to enlist an in-person trainer. An online training course gives you the necessary tools to train your animal at home and saves you thousands compared to an in-person program.
Online vs In-Person Service Dog Training
So what's the best option for training a service dog: in-person or online? Both methods offer distinct pros, which we'll cover below.
While an in-person course requires you to attend scheduled classes, an online program lets you train your animal at a time that's convenient for you—you don't even need to leave the comfort of your own home. The most significant benefit, however, is cost. Online programs give you all the support and guidance you need at a fraction of the price of an in-person course.
Although rigid and expensive, in-person programs tend to achieve better results because an experienced trainer can provide expert, tailor-made advice. Also, both humans and canine get ample opportunity to socialize and exercise—active and outgoing owners often find in-person training more fun.
| | |
| --- | --- |
| Pros of Online Service Dog Training | Pros of In-Person Service Dog Training |
| Cost-effective: online courses cost a fraction of the price of in-person programs | Bespoke advice: a trainer can offer tailor-made tips in real-time |
| Convenience: train your dog at a time that's suitable for you | Expertise: in-person trainers draw on years of experience to achieve optimal results |
| Comfort: no need to leave the comfort of your own home | Exercise and socialization: you and your dog will get out and about |
The Best Service Dog Training in Maryland
Now that you're up to speed, it's time to check out the top service dog training programs in Maryland, both in-person or online. We've searched long and hard to identify and review the top courses in the state to make the selection process easier for you.
US Service Animals Online Training
The top dog in virtual training, US Service Animals Online Training gives you everything you need to teach your canine to become a service dog from home. The six-model program consists of 12 easy-to-follow videos that outline cutting-edge animal behavior theories and how they apply to your four-legged friend. Unlike other online programs, you'll get customized support from a professional service dog trainer throughout the course.
The comprehensive program teaches your pet to assist with various disabilities, including blindness, hearing loss, diabetes, mobility issues, and seizures. No breed or size restrictions apply, and you get a handy certificate at the end (there's also an optional service vest, collar, collar tag, and leash).
Cost: $349
Location: Online only (6 video modules)
Certificate: Yes
1:1 Support: Yes
Equipment Provided: Clicker, plus optional service vest, collar, collar tag, and leash
Link: www.usserviceanimals.org
Premier Dog Training
This large in-person facility offers a wide range of dog training courses, including two separate service dog programs. With years of experience serving the region and a massive (13,000 sq ft +) kennel and doggy play area, it's one of the top canine training facilities in the state.
Customers can choose from the Service Dog Program and the Owner Training Program. The former primarily occurs at the Jessup facility, where highly skilled trainers fine-tune the animal's behavior to assist with autism, diabetes, psychiatric illnesses, mobility issues, and medical response. The latter gives the owner a more hands-on training experience, focusing on temperament testing, public access training, and puppy raising support.
Cost: Contact for a quote
Location: Jessup, Maryland
Certificate: Yes
1:1 Support: Yes
Equipment Provided: Unspecified
Link: www.thedogtrainingpro.com
AmericanK9
AmericanK9 is a popular Crownsville-based business that runs an Owner Trainer Service Dog program to provide much-needed support for people with various disabilities. The company is particularly well-regarded for training dogs to assist with autism, depression, anxiety, multiple sclerosis (MS), epilepsy, diabetes, traumatic brain injuries (TBI), and spinal cord injuries.
The program focuses on nurturing a partnership to help people with disabilities overcome the challenges of home and public life. Using various training techniques, both at the facility and in public spaces, the ultimate aim is to help customers regain their freedom and independence. The business offers a customized puppy placement program to increase your chance of success.
Cost: Contact for a quote
Location: Crownsville, Maryland
Certificate: Contact for a quote
1:1 Support: Yes
Equipment Provided: Unspecified
Link: www.americank9.com
Fidos for Freedom
This fabulous volunteer-run outfit strives to improve the quality of life for people with disabilities in the Washington and Baltimore metropolitan areas. The company specializes in training dogs to assist with mobility issues, hearing loss, and psychiatric conditions such as PTSD. It doesn't, however, train dogs to support people with visual impairments, autism, seizures, or diabetes. Customers are also required to accept a puppy placement—there's no BYO dog option for training.
Although Fidos for Freedom works primarily with veterans (it's part of the MD Veterans Service Animal Program), the company serves the greater community as well. All volunteers are experienced puppy raisers and trainers with a genuine passion for improving the lives of people with disabilities.
Cost: Contact for a quote. Veterans may receive sponsorship.
Location: Laurel, Maryland
Certificate: Yes
1:1 Support: Yes
Equipment Provided: Unspecified
Link: www.fidosforfreedom.org
Shore Service Dogs
As a non-profit corporation, Shore Service Dogs provides a valuable public service to the people of Maryland by rescuing abandoned or abused animals and training them to become service dogs. Above all else, the small local outfit prepares dogs to assist with mobility issues, allowing people with disabilities to achieve greater autonomy and freedom. Assistance with housework, stability, item retrieval, wheelchair propulsion, and clothing removal are among the most commonly trained tasks.
The organization doesn't charge needy customers to receive well-trained puppies, but you can expect a long waiting list. Funds are raised through charity drives and donations from the local community.
Cost: Free
Location: Salisbury, MD
Certificate: No
1:1 Support: Yes
Equipment Provided: Unspecified
Link: www.shoreservicedogs.com