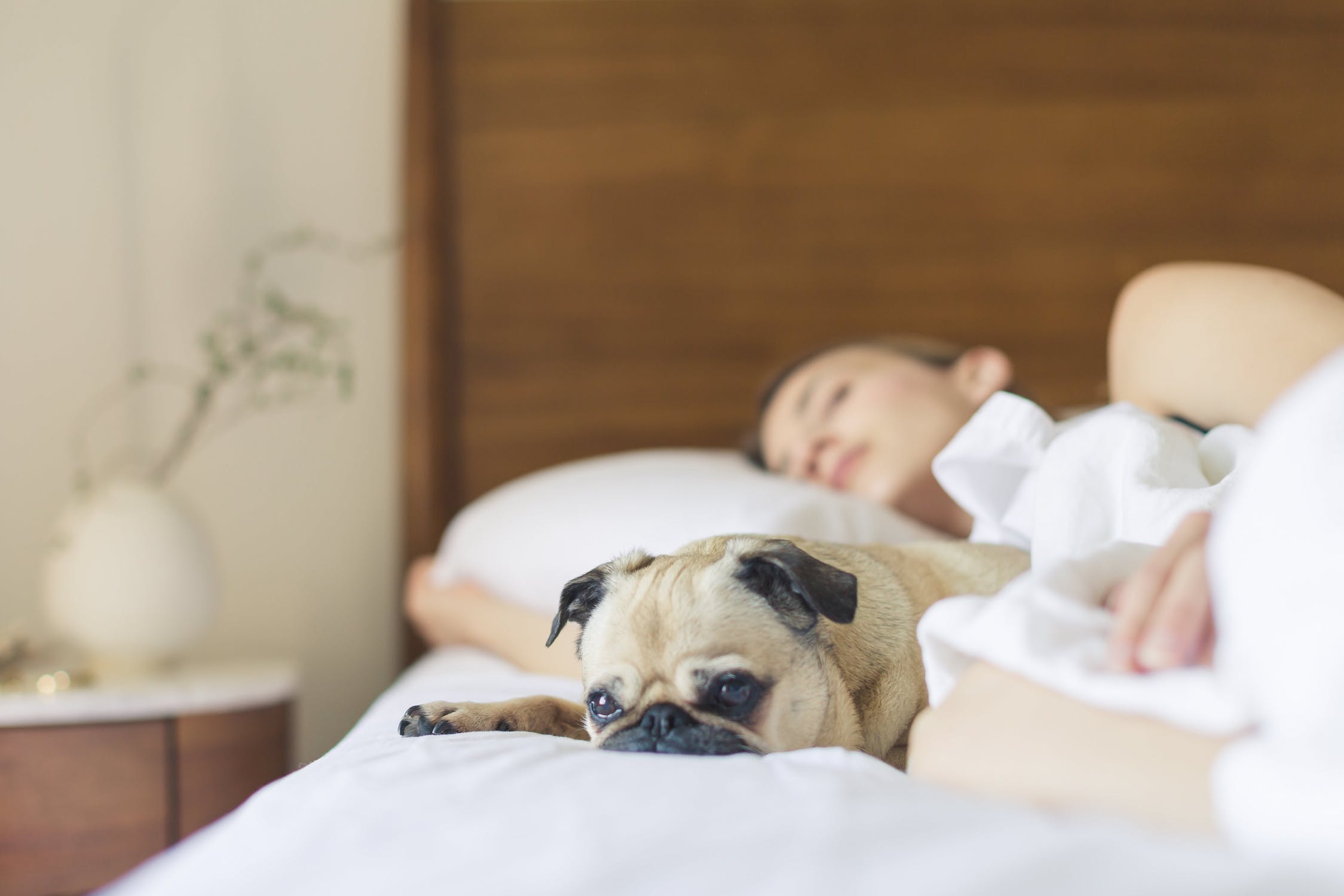 There aren't many hotels that understand the inseparable bond that pets and their owners enjoy. You may struggle to find a hotel that treats you and your pet like royalty, but if you're planning to spend a couple of nights away in Chicago with your pets, you can't go wrong with the nine hotels below. You will find their services outstanding and the prices fair.
1. Kinzie Hotel
Kinzie Hotel knows what it's doing when it comes to customer service. Recently renovated, it offers an excellent array of services for both pets and owners.
It is famous for its continental breakfast, which you can get on every floor. The night reception also offers complimentary drinks and appetizers.
One of the perks of staying here is they offer a pet concierge and an in-room gourmet dog menu. The menu was designed by the founder of Chestnut & Grace, Chef John Nelson-Alden. It consists of banana blueberry smoothies, Alaskan wild salmon, hand-made granola, truffle dessert, and turkey casserole, to mention a few morsels.
Your pets will receive a unique gift bag with treats. These include an "I Explored Chicago" bandana, spa amenities, chew toys, some copies of FIDO Friendly magazines, and Pet lovers Guide to the City by Kinzie. Each room comes with food and water bowls and a comfortable pet bed.
There are some beautiful pet attractions nearby, such as the Chicago River Walk and the pet-friendly Harry Caray's Italian Steakhouse.
Verdict: Best pet policy, amenities, and price in the area.
2. Conrad Chicago
Are you looking for a marvelous hotel around the famous shopping district, Magnificent Mile? Hotel Conrad Chicago is it. Guests enjoy spacious rooms with virtual concierge and modern amenities.
Booking into any of the twelve suites accords you a private check-in that is a splendid experience for your pets. Suites have a different living area and offer magnificent views of the city.
You'll have to part with a $100 pet fee if you're bringing your four-legged friend with you. Only trained dogs and those less than 50 pounds are allowed into the hotel.
You can get doggy bags at the concierge's desk and request additional services such as dog walking or grooming. On your lazy day, you can catch a few sights within a two-mile radius. The hotel offers a complimentary drop-off in a luxurious Fisker house car to Oak Street and the North Avenue beaches.
Verdict: Excellent rooms. Not suitable for large-breed dogs.
3. Kimpton Hotel Chicago Allegro
Located in the downtown theatre district, Kimpton Hotel Chicago has one of the best pet services available. Your pets will receive the royal treatment.
What makes this hotel tick with pet owners is they have pet-friendly policies and don't enforce a weight restriction. You can bring your cats, dogs, and birds into their facility, without a limit on headcount or breed. The only requirement they have is that you notify them in advance.
Premium services such as massages, pet walking and sitting, and limousines are all available. Unlike other hotels that charge you for pets, Kimpton Hotel Chicago goes the extra mile of giving you complimentary perks, such as pet treats, plastic bags, and food and water bowls for your pets.
During your stay, you can visit a couple of places, such as the Grant Park and Chicago Riverwalk.
Verdict: Best value for money and excellent services. No pet restrictions.
4. Fairmont Chicago, Millennium Park
Are you still looking for alternatives where your pets can find the royal treatment? Fairmont Chicago, Millennium Park, could be the place for you.
It has a "Bark Near the Park" program meant for the four-legged guests in the hotel. The package includes overnight accommodation for canines, treats, toys, full-spread dinners with delicious servings of chicken rotisserie and Atlantic poached salmon, and a two-hour dog sitting opportunity. Don't worry about pet-cleaning; it is part of the package, too.
One of the highlights of Fairmont Chicago is the dog concierge. They recommend all the fancy places around the city where you can take your dogs. Maggie Daley Park is an ideal starting place if you'd like to explore the outdoors.
Verdict: Great canine packages. Only caters to dogs.
5. Claridge House Chicago
It is one of the few hotels that has a special menu for dogs. Claridge House Chicago's Juniper Spirits and Oysters serve the special dog menu that includes SharDognay, Heifenwoofen, Malbark, and DogPerignon cocktails. That's a whole lot of canine-inspired cocktails.
The hotel has pet-friendly packages, including two dog cocktails, late checkouts, a marvelous gift bag for your pet, and a waiver on your pet fee. The location of the hotel is incredible, and there are many beautiful places to visit in the vicinity. You can walk around the gorgeous Chicago neighborhood or visit the farmers market, or pop into any of the pet-friendly restaurants and grab a treat.
Verdict: Great location and dog-friendly restaurants abound. Fairly priced.
6. Kimpton Gray Hotel
Though relatively new, the Kimpton Gray Hotel is an elegant hotel that offers satisfactory services to pet and master. It borders the West Loop Neighborhood and the Chicago Theatre District. These attractions provide a wonderful place to walk with your dog and enjoy the serenity.
Like the Allegro Kimpton Hotel, there is no limit to the number of pets you can bring, no weight limit, and no additional charges. The concierge is friendly and will call your pets by name—no "hey doggie dog" or other annoying misnomers. You can also ask for courtesy bags for your dogs.
Take a walk around the Kimpton Gray Hotel and let your pet enjoy the excellent Chicago architecture. Other goodies include bed liners for your pet beds, food, and water bowls, plus mats. There is a nightly wine reception party from 5 to 6 p.m. for all pets to attend.
Verdict: Pets receive the royal treatment. Guests have access to amenities at no additional cost.
7. Roscoe Village Guesthouse
Aside from the benefits of massive hotels, quaint bed and breakfasts are a favorite for many pet-friendly travelers, too. For pet explorers in Chicago, your home away from home is the Roscoe Village Guesthouse. It is located near the Southport Corridor and Wrigley Field, which owned by the Chicago Cubs.
The guesthouse has eighteen suites feature a jacuzzi, a fully decked kitchen with granite tops and steel appliances, and a fireplace for colder evenings.
The highly-rated guest house has a few pet-friendly rooms available, but make sure you book in advance. Here is the caveat—they do have a weight limit, and you can only bring in a pet that is 50 pounds or lighter.
One of the perks of staying in a guesthouse, as compared to a standard hotel, is the abundance of space for your pet. Your pets can move around the house freely as they do back home. When you're free, you can take your dog to the Wiggly Field Dog Park or the Logan Square Dog Park, which are both within walking distance.
Verdict: Great location with ample space and awesome dog parks nearby.
8. Virgin Hotels Chicago
Recipient of the 2018 Romantic Hotel Trip Savvy's Choice Awards, the Virgin Hotels at the heart of Chicago has established itself a go-to place for guests with pets. It prides itself on offering a lifestyle experience for both you and your pet. Holding the position of the first-ever Virgin hotel, it also spares no cost in delivering remarkable service.
There are no restrictions when it comes to pets. You can bring any dog size or breed, and they'll be happy to pamper your dog for you. Your dog can lie down on comfortable dog beds sporting a Virgin-branded bandana and enjoy any of their tasty treats.
Water bowls are available and continuously refilled. You can take your dog to the Grant Park or the Maggie Daley Park, which are both within walking distance from the Virgin Hotels Chicago.
Verdict: Great facility and amenities. Walking distance to great parks.
9. W Chicago-Lakeshore
W Chicago-Lakeshore completes our list of hotels with a dedicated program for pets. The Pets Are Welcome (P.A.W) program allows you to bring both your dogs and cats as long as they weigh less than forty pounds. They will enjoy lots of treats, comfy pet beds, and a range of toys for playtime.
When you bring your pet with you to the W Chicago-Lakeshore, be ready with a $25 pet fee plus a further $100 for cleaning for every day you stay. The price may seem costly, but it's worth it as you'll be awarded a concierge who'll cater to your dog, arrange a sitter, organize vet visits, grooming, and even order a pet birthday cake.
Emotional Support Animals with USSA
Consider registering your beloved pet as an Emotional Support Animal (ESA) with the US Service Animals (USSA). These unique animals offer support and comfort to people experiencing mental or emotional struggles. The presence of an ESA can help tremendously with depression, anxiety, phobias, and bipolar disorder.
Contact USSA for more information today.