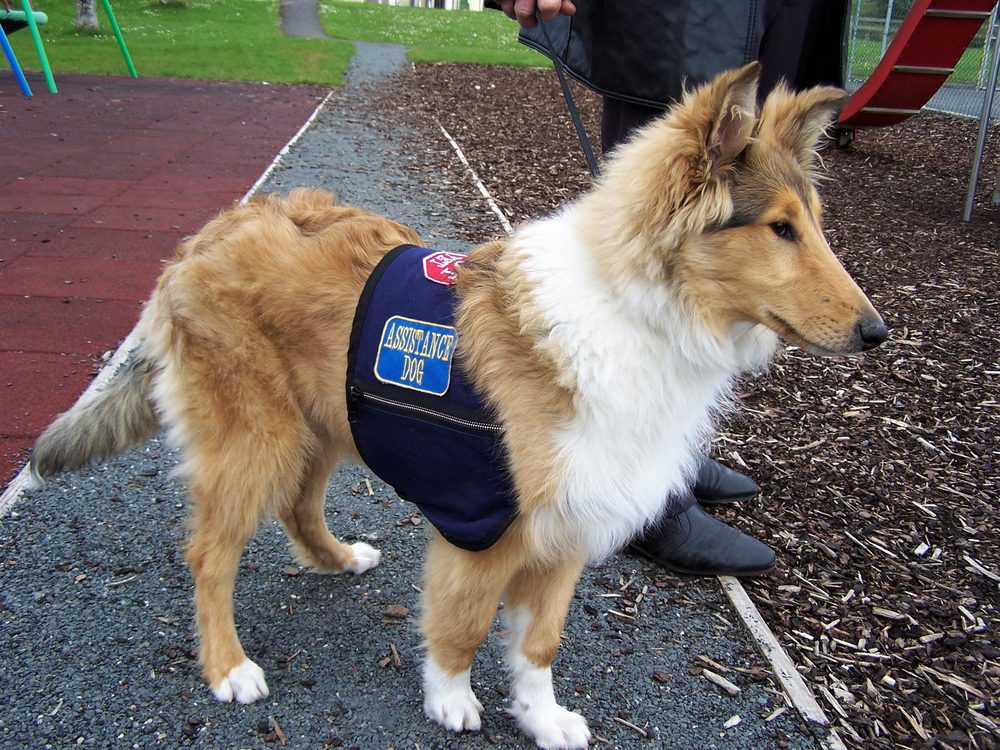 There are many organizations that train service dogs and place them with those in need. However, these pre-trained service dogs are incredibly expensive and not everyone is able to receive enough financial help to obtain one. If you're living in Wisconsin and you have a disability, you may want to consider training your own service dog.
Aside from the tasks a service dog performs to help you, there are a few other benefits that a fully trained service dog affords you. The Americans with Disabilities Act (ADA) allows anyone with an eligible disability to bring their service dogs into any "public accommodation." This includes restaurants, retail stores, schools, entertainment venues, and more. You will also have the right to live anywhere with your service animal—even in housing that does not allow dogs. Businesses, landlords, and airlines cannot charge you a fee for having your dog with you, either.
In the state of Wisconsin, service dogs should always wear a vest that designates them as such when in public. Business owners are allowed to ask only two questions: if the dog is needed for a disability and if it is trained. They are not allowed to ask for any type of documentation, whether it be about the handler's disability or the dog's training. However, for service dogs that are still undergoing training, business owners are allowed to ask for documentation regarding the dog's training school.
The state of Wisconsin protects both fully-trained service dogs and service dogs in-training from harassment. Anyone who recklessly or intentionally harasses, interferes with, injures, takes possession of, or causes the death of a service animal can be charged and punished under Wisconsin state law.
Although there are no formal certification or registration requirements, a canine must be adequately trained to qualify as a service dog. Under Wisconsin law, a service animal is one that is trained to perform an individualized task to aid a person with a disability.  In this article, we'll cover what to consider when searching for a service dog trainer and then review the top five providers in Wisconsin.
What to Look for When Choosing Service Dog Training
Choosing an appropriate service dog training center is the first step towards turning a canine companion into a bonafide service animal.
Regardless of whether you choose an online or in-person trainer, it's best to stick with an established operator with years (or decades) of industry experience. Look for a provider with a proven track record with your specific disability.
Not all trainers work with every dog. But that's not necessarily a bad thing—it could mean they excel at training a specific breed. Some insist on working with a custom-bred puppy, while others accept existing pets (after a rigorous evaluation) or source animals from a local shelter. In any case, check whether these conditions align with your needs.
For a brick-and-mortar establishment, it's worth assessing the facilities in person before committing. Are the kennels in good shape? Do the dogs have plenty of open space? A low-quality trainer will cut corners and deliver subpar results.
While a sizable waiting list is indicative of a successful business (or a popular non-profit), you should consider your own timeline, as well. If you need an animal trained in a hurry, there's no point joining a five-year waiting list.
Finally, cost is a crucial consideration. While the law requires a service dog to be capable of supporting its owner, there's no legal requirement to enlist a professional trainer. An online training course gives you the necessary tools to train your animal at home and saves you thousands compared to an in-person program.
Online vs. In-Person Service Dog Training
So, what's the best option for training a service dog: in-person or online? Both methods have their advantages, which we'll discuss below.
While an in-person course requires you to attend scheduled classes, an online program lets you train your animal at your convenience—you don't even need to leave the comfort of your own home. The most significant benefit, however, is cost. Online programs give you all the support and guidance you need at a fraction of the price of an in-person course.
Although rigid and expensive, in-person programs may achieve better results because an experienced professional provides expert, tailor-made training sessions. Furthermore, the in-person option puts less burden on the owner, which is essential when a severe disability renders self-training impractical. Both humans and canines also get ample opportunity to socialize and exercise—active and outgoing owners often find in-person training more fun.
| | |
| --- | --- |
| Pros of Online Service Dog Training | Pros of In-Person Service Dog Training |
| Cost-effective: online courses cost a fraction of the price of in-person programs | Less owner burden: trainers do most of the work, essential for people with severe disabilities. |
| Convenience: train your dog at a time that's suitable for you | Expertise: in-person trainers draw on years of experience to achieve optimal results |
| Comfort: no need to leave the comfort of your own home | Exercise and socialization: you and your dog will get out and about |
The Best Service Dog Training in Wisconsin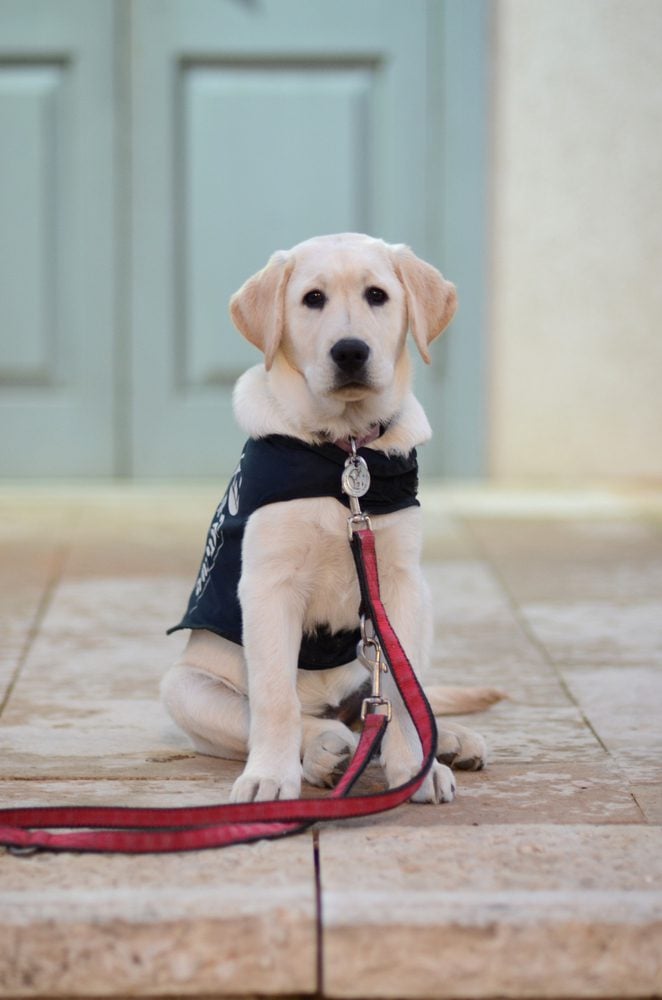 Now you're up to speed, it's time to check out the top service dog training programs in Wisconsin—both in-person or online. We've searched long and hard to identify and review the top courses in the state to make the selection process easier for you.
US Service Animals Online Training
The top dog in virtual training, US Service Animals Online Training gives you everything you need to teach your canine to become a service dog from home. The six-module program consists of 12 easy-to-follow videos that outline cutting-edge animal behavior theories and how they apply to your four-legged friend. Unlike other online programs, you'll get customized support from a professional service dog trainer throughout the course.
The comprehensive program teaches your pet to assist with various disabilities, including blindness, hearing loss, diabetes, mobility issues, and epilepsy. No breed or size restrictions apply, and you get a handy certificate at the end (there's also an optional service vest, collar, collar tag, and leash).
Cost: $349
Location: Online only (6 video modules)
Certificate: Yes
1:1 Support: Yes
Equipment Provided: Clicker, plus optional service vest, collar, collar tag, and leash
Link: www.usserviceanimals.org
Custom Canines Owner Trainer Academy
Custom Canines Owner Trainer Academy (CCOTA) offers service dog training tailored to the needs of each individual. CCOTA specializes in many different training methods and will use whichever is most successful for you and your dog. Only those with a medically substantiated disability can participate in CCOTA.
The curriculum is spread out over a three-month semester, during which owner-trainers will attend 6 one-on-one sessions, as well as three group lectures. Service dog trainees are required to attend two semesters of training before they can receive certification. Your dog will be trained to perform at least three tasks that can help mitigate your disability.
After certification, CCOTA will follow up with you monthly for six months, and then once every three months, in order to ensure your dog maintains the skills it learned. Should you and your dog have any issues, they will help you solve them via phone, video conferencing, or in-person training. Yearly recertification is required for new handlers.
Cost: $2,625 minimum
Location: In-person (Madison, WI)
Certificate: Yes
1:1 Support: Yes
Equipment Provided: Training manual
Link: www.customcanines.org
My Service Dog and Me
My Service Dog and Me is located in Sparta, WI and offers both in-person and online training classes. The online training option is unique in that, instead of being a structured curriculum including a set number of modules, it is more like a catalog of training material that you pay a monthly fee to have access to.
Every month, new content is added in the form of web classes, live Q&A calls, and unedited videos of professionals demonstrating techniques to train budding service dogs. With the monthly membership, you gain access to all past training content, as well.
In-person training is tailored to the individual. My Service Dog and Me will help you come up with a training plan appropriate for your dog and your lifestyle, and then stick around to offer as much assistance as you need. If you don't need a lot of help, they won't force it on you.
My Service Dog and Me specializes in training Diabetic Alert Dogs and Psychiatric Service Dogs. However, they may be able to help train other types of service dogs, which is determined on a case-by-case basis.
Cost: Contact for details
Location: Online and in-person (Sparta, WI)
Certificate: No
1:1 Support: Yes for in-person, no for online
Equipment Provided: None
Link: www.myservicedogandme.com
Service Dog Training School International
Service Dog Training School International offers a few different courses for training service dogs. One is a more general service dog class, one focuses on Psychiatric Service Dogs, and one helps you train Diabetic Alert dogs.
Each class differs in cost and has a different number of training modules and videos included. However, every class comes with one-on-one support and is available to you for two years from the time you purchase, so you can go at your own pace.
After completing a training session, you will be required to do an assignment to prove that you and your dog have mastered the skills taught during the session. Some assignments will require you to take pictures or videos that instructors will then assess. After you complete all assignments and tests, you will receive a certificate that details the tasks your dog has been trained for.
Cost: $349 – $599
Location: Online
Certificate: Yes
1:1 Support: Yes
Equipment Provided: None
Link: www.servicedogtrainingschool.org
Animal Behavior Institute Service and Therapy Dog Training
The other courses on our list teach you how to train your own dog to be a service animal. The Animal Behavior Institute, however, is an online college offering courses to those who want to become professional dog trainers. While you may not want to become a dog trainer, such a program will offer all of the tools you need to successfully turn your dog into a service animal.
Service and Therapy Dog Training is a certificate program that includes a total of five different courses. Though the classes are all online, you will be required to spend 40 hours gaining hands-on experience by working or volunteering at an approved establishment, such as a shelter.
The program will teach you how to interpret canine body language, assess which dogs would be suitable for use in service training, train dogs in obedience, public access, and tasks, and much more. If you successfully pass the program, you'll have earned the title CSTDTP, or "Certified Service and Therapy Dog Training Professional."
Cost: $6,300
Location: Online
Certificate: Yes
1:1 Support: Yes
Equipment Provided: None
Link: www.animaledu.com