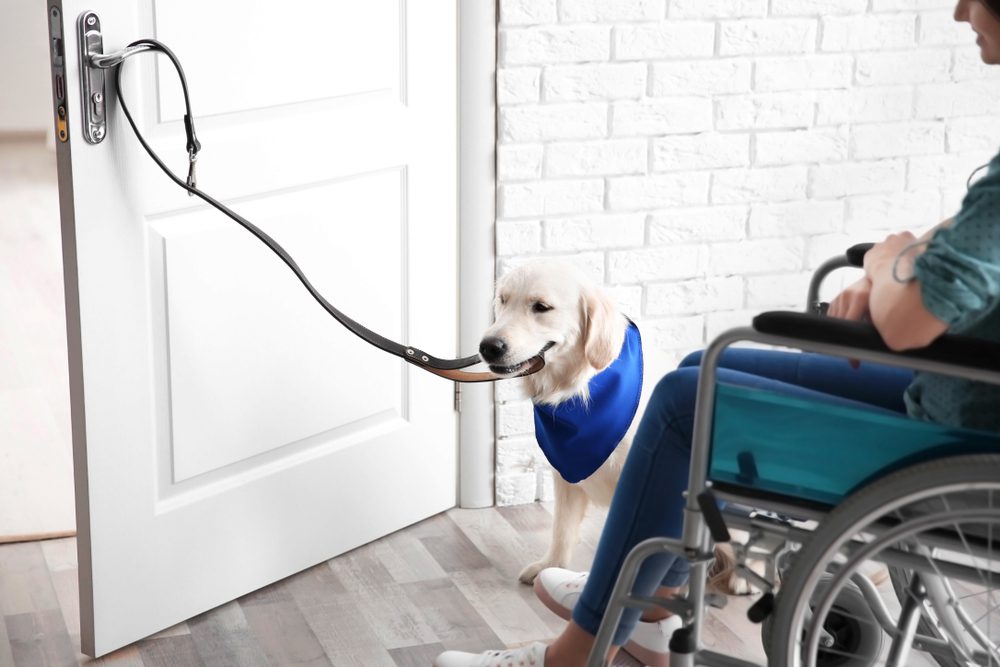 Service dogs make living with a disability much easier and safer. Not only can they help you with everyday tasks, but they can also accompany you to public accommodations, including hotels, restaurants, and retail stores.
This is covered under the Americans with Disabilities Act (ADA), so businesses, including your landlord, cannot refuse to do business with or discriminate against you because of your service dog. New York's Civil Rights Law offers similar legal protections, so those with service animals are covered by both state and federal statutes.
If you already have a pet pooch, you can just give them adequate training so they can qualify as a service dog. Note that the ADA doesn't require service dogs to be professionally trained, but it is encouraged to hire a professional to do the training. Here, we'll talk about what makes a good service dog trainer and review your best options in New York state.
What to Look for in a Good Service Dog Trainer
Your options may be limited, but that doesn't mean you should go for the first one you find. Here are the primary factors you should consider:
The Breeds They Train
You should contact potential trainers and ask if they train your dog's specific breed. Some trainers only specialize in training certain breeds.
Their Track Record
Make sure you go with a reputable trainer with years of experience under their belt, especially when it comes to training dogs that help with your specific disability.
The Facilities
Before committing, check out the trainer's facilities in person to ensure everything is in good shape, including the kennels and every environment the dogs are trained in.
The Waiting List
If a trainer has a long waiting list, that usually means people trust them and they know what they're doing, but you don't need to wait months or years if it's going to make your life easier to have a service dog as soon as possible.
The Cost
The best training program is something that doesn't break the bank, but also meets the specific needs for your disability. If your budget is tight, consider choosing an online training program, since it's often considerably cheaper than in-person training.
Online vs. In-Person Service Dog Training
The better option really depends on your budget, personal preferences, and which option meet your needs more effectively.
Online Dog Training
This is the more convenient option since it doesn't require you to go anywhere. As long as you have a computer with a webcam or a smartphone, you'll be able to train your dog at home. The trainer will teach you to train your dog in a one-on-one session and critique you as well as tell you what you're doing right.
In-Person Dog Training
Here, it's the trainer who will be training your dog, lessening the burden on you, whose disability may be limiting your capability to train. Every session is custom-tailored to your dog and you, and there will be plenty of chances for both of you to socialize and have fun. Because of these benefits, in-person dog training typically costs more than online dog training.
| | |
| --- | --- |
| Pros of Online Service Dog Training | Pros of In-Person Service Dog Training |
| Affordable | Less burden on you |
| Works with your schedule | Trainer uses his expertise in person |
| Done at home | Lots of socialization and fun for you and your dog |
The Best Service Dog Training in New York State
Now that you know what to look for in a service dog program and trainer, here are the top five best service dog training providers in the state:
US Service Animals Online Training
The top dog in virtual training, US Service Animals Online Training gives you everything you need to teach your canine to become a service dog from home. The six-module program consists of 12 easy-to-follow videos that outline cutting-edge animal behavior theories and how they apply to your four-legged friend. Unlike other online programs, you'll get customized support from a professional service dog trainer throughout the course.
The comprehensive program teaches your pet to assist with various disabilities, including blindness, hearing loss, diabetes, mobility issues, and epilepsy. No breed or size restrictions apply, and you get a handy certificate at the end (there's also an optional service vest, collar, collar tag, and leash).
Cost: $349
Location: Online only (6 video modules)
Certificate: Yes
1:1 Support: Yes
Equipment Provided: Clicker, plus optional service vest, collar, collar tag, and leash
Link: www.usserviceanimals.org
All Dawgs
Led by Diane Blackman, a dog trainer with over 20 years of experience, All Dawgs is a dog training center that also offers doggy daycare and pet-sitting services. Their facility in Albany has two classrooms and 5200 square feet of training space.
Unlike other dog training programs, All Dawgs works with all breeds, spayed and neutered or otherwise, and will accommodate your needs, as well as your comfort level and abilities. They also offer a personalized service to ensure the success of your pooch's training.
Your dog will need to undergo their Service Dawg Evaluation, which costs $55, to see if they have what it takes to be a successful service dog. If they pass, they can enroll in the training program, which will teach them a variety of tasks, such as calling for help, balance assistance on stairs, bracing, pulling wheelchairs, retrieving objects, and opening doors and drawers. Note that your dog has to be under two years old to get accepted.
Cost: $4000-$6000 for 24 months or $200-$300/month
Location: Albany, NY
Certificate: Contact for details
1:1 Support: Yes
Equipment Provided: Contact for details
Certified Canine Services Inc.
A dog training center that takes the time to get to know every dog they train, Certified Canine offers personalized camp training that caters to the dog's personality, needs, behavioral issues, and the owner's needs.
Their basic service dog training program is broken down into segments, starting with four weeks of obedience training, where your dog will learn basic commands like heel, come, sit, and down in different situations. The training will also correct any behavioral issues and include off-leash training. This is followed by a two-week public access program that teaches the dog how it should behave in public places.
They also offer specific task training after the basic training is completed, which is individualized and catered to the owner's disability. The price depends on what tasks you want your service dog to learn and the amount of your participation. These tasks could be opening doors, retrieving objects, pulling your wheelchair, diabetic alert, and balance work.
Once your dog finishes a program, they will complete a Canine Good Citizen (CGC) test then be awarded a certificate.
Cost: $4900 for basic service dog training
Location: Pulaski, NY
Certificate: Yes
1:1 Support: Yes
Equipment Provided: leather leash, Dogtra e-collar, and service dog vest and patches
Link: www.certifiedk9.com
Rochester NY Dogs
Rochester NY Dogs provides individualized, extensive service dog training in New York State that includes teaching dog owners dog psychology to better understand and train their canines. Their main offering is their Board and Train program, a labor-intensive, 24-hour training program that takes place in the trainer's home for three weeks (or five, depending on the situation). This includes a few private sessions, where you can see and discuss your dog's progress.
Don't want to send your pooch off to dog boarding school? No problem. They offer an online program where you train your dog one-on-one with a trainer during hour-long sessions. They offer a free consultation, as well as answer whatever questions you may have about training.
Just some of the commands and tasks your dog will learn from either program are medical alerts and pressing a doggy 911 device to call for help, retrieving medications and picking up other objects, and walking support.
Cost: Online – $165/hr or $500 for 5 sessions, Board and Train – $3000 for 3 weeks or $4500 for 5 weeks
Location: Pittsford, NY
Certificate: Yes
1:1 Support: Yes
Equipment Provided: Contact for details
Link: www.rochesternydogs.com
Link: https://alldawgs.com/
Canine College
Canine College offers a variety of private and group classes for training dogs of all breeds, ages, and skill levels at their facility in Watertown. However, your dog has to be under two and a half years old to be accepted into their service dog program, which trains mobility service dogs, psychiatric service dogs, and seizure response dogs.
Once they pass the initial evaluation, they will have to undergo Basic Obedience training, Advanced Obedience training, and Task training. A Temperament Test and Public Access Test will follow. The whole program will teach your dog commands like sit, down, come, heel, stand, and stay under any distractions, as well as at least three specific tasks that will help with your disability.
Their new facility has a large and open area for training, and features an odor-detection wall used for training, as well as a coffee and snack area.
Cost: Depends on the package, contact for details
Location: Watertown, NY
Certificate:
1:1 Support: Depends on the package, contact for details
Equipment Provided: No
Link: www.k9college.net