Dogs are allowed in Zion National Park but with some restrictions. This guide will help you and your doggo enjoy your visit here to the fullest and save you from ending up in pet-restricted areas.
We have also listed some alternative parks with trails for you and your pet, as well as some dog-boarding options if you want to explore Zion National Park alone.
Are Dogs Allowed in Zion National Park?
Dogs are allowed in Zion National Park in limited areas. The Pa'rus Trail is the only trail you can explore with your furry friend. All other hiking trails are off-limits. Dogs are allowed on paved roads, parking areas, and in developed campground and picnic areas.
However, don't let that stop you from visiting this National Park with your dog. The 3.5 miles round-trip Pa'rus trail is worth exploring. The trail follows the Virgin River and gives a spectacular view of The Watchman sandstone mountain. After completing the Pa'rus trail, you can explore this national park by walking on the paved roads.
You can spend an entire day camping, eating, hiking, and absorbing the scenery. There are wildflowers to smell, bridges to trot on, and mule deers playing with their kin to witness.
The Zion Canyon Scenic Drive opens to private vehicles from December to February when the shuttle buses are not operating. If you visit the park in these months, you and your doggo can enjoy the drive and stop at the many pull-outs along the route to observe Zion's ancient beauty. The catch is that you should get there by early morning because the Zion Canyon Scenic Drive closes once it gets too crowded.
Service dogs are an exception to this no-dogs rule. They can accompany their owner everywhere in Zion National Park, including public spaces, shuttles, and trails. So ensure that your service dog is registered and keep its identification handy while visiting this national park.
Note that emotional support dogs don't have the same permissions as service dogs. All the rules applying to regular pets apply to emotional support dogs, too.
Important Laws and Regulations Related to Dogs
National Parks have some rules and regulations to protect the integrity of wildlife and ecosystems. In Zion National Park, you need to abide by the following rules:
Keep Your Dog on a Six-Feet Leash
Keep your dog on a leash no longer than six feet in public areas such as the roads, Pa'rus trail, campgrounds, and picnic areas.
Clean Up After Your Dog
Every dog owner is responsible for cleaning up after their dogs in any public place. The vast open areas and the solitude might tempt you to do otherwise, but you must preserve the ecosystem and leave no trace.
Stick to the Paved Roads
Do not let your dog wander into the wilderness areas. It poses a threat to both your dog and the wildlife. Also, toxic cyanobacteria are detected in the Virgin River, and drinking its water can make your pet sick.
Pets Are Not Allowed on Shuttle Buses
Except for service dogs, dogs are not allowed on shuttle buses. Thankfully, the Pa'rus trail entrance is a walkable distance (approx. 1 mile) from the Zion Canyon Visitor Center. The South Campground and Watchman Campground are also nearby.
Parking spaces are available near the Visitor Center, but it fills fast. Arrive early in the morning to reserve a spot.
Don't Leave the Dog Unattended
Considering the weather can get scorching hot during certain times of the day, do not leave your dog unattended in the car or inside the camping tent (if you are camping).
Observe Silence
Make as little noise as possible for the convenience of your fellow visitors.
Tips for Visiting a National Park With a Dog
If you have not been on strenuous hikes with your dog before, these tips will help you get started. Veterans can read these tips as a refresher.
Pack for Your Dog
Start putting together a list of things your dog might need on the road a day or two before the journey. Getting medical supplies, water, and food will be difficult in the middle of magnificent stretches of wilderness.
Carry enough supplies to last through the day and a little extra. Make your dog wear boots if the temperature is too cold or hot.
Learn Your Dog's Physical Limits
Go together on easy hikes and park walks to gauge your dog's physical fitness. Also, take note of your dog's reaction to high and low temperatures.
Respect Wildlife and Other Visitors
Keep your dog on a leash and under control at all times to avoid disturbing wildlife or other park visitors. Always clean up after your dog.
Plan for Pet-Friendly Accommodations
The South Campground and Watchman Campground are the closest to the Pa'rus trail. You can stay overnight if you reserve a spot in advance. The nights can get cold, so don't forget your doggo's blanket.
Nearby Trails to Explore With Your Dog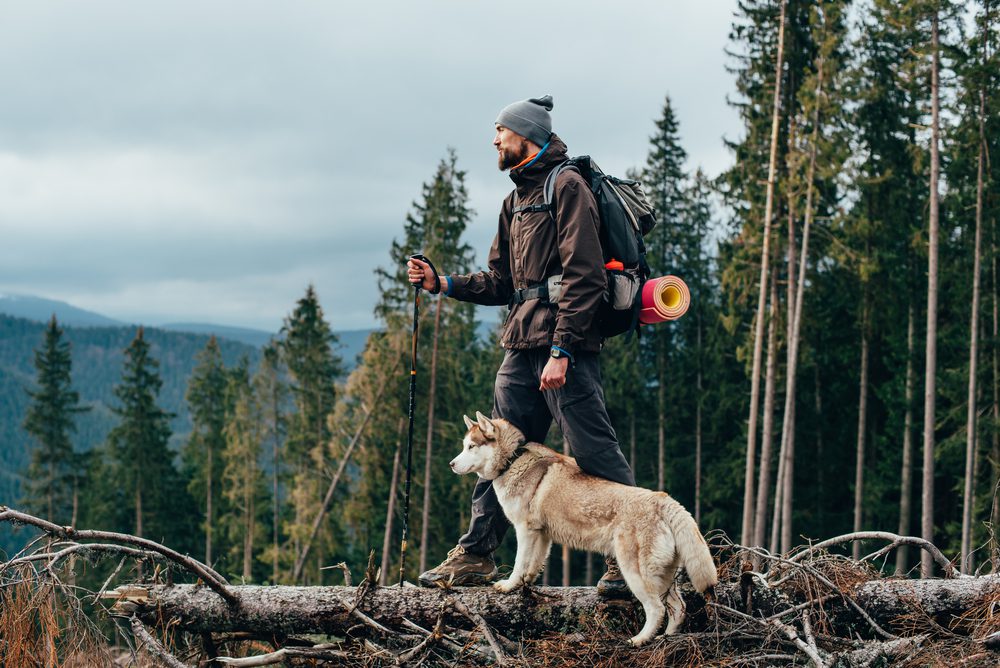 Completed the Pa'rus trail and still can't get enough of Utah's magical beauty? We recommend you try other nearby hiking trails. You can visit other National and state forests that have dog-friendly trails. In fact, the Utah State Parks website states that pets are allowed in most state parks in Utah.
Below are a few state and national parks you can reach in about an hour's drive from Zion Canyon Visitor Center.
Snow Canyon State Park
This state park features seven easy-to-moderate trails. With over 38 miles of trails crisscrossing the state park, you won't run out of things to do. The park's geology consists of a desert environment with Navajo sandstone cliffs and canyons, lava tubes, dunes, and petrified dunes. You can also try mountain climbing here.
Coral Pink Sand Dunes State Park
As you can judge by the name, this state park is home to uniquely orange and pink-colored dunes. The park is not so big, per se, but the entire state park will be your doggo's playground. Go in the evening or morning when the sand is not too hot.
The park offers many recreational activities such as hiking, ATV riding, sandboarding, and camping to make your visit fun and memorable.
Dixie National Park
The Dixie National Park will spoil you with its hiking and backpacking options. This national park has hundreds of miles of trails. It is a better option than the Snow Canyon State Park for seasoned hikers since the hiking trails are generally four to five miles long, and several connect to form chains. Leashed dogs are allowed on all hiking trails.
The forest is known for its varied landscape, including canyons, plateaus, high-altitude forests, and unique geological formations like natural arches and hoodoos. A day is not enough to explore this area. But don't worry! This park has many cabin rental and camping options.
You'll also want to pack one or two liters of water as clean water sources can be far between.
Red Cliffs National Conservation Area
This place has striking red rock formations, scenic canyons, diverse desert landscapes, and miles and miles of trails for you and your bud to explore. Pets can access all trails on a leash.
The conservation area offers a range of recreational activities, including hiking, rock climbing, camping, and wildlife viewing.
Dog Boarding Near Zion National Park
Watching people indulge in recreation and adventure activities at these parks might tempt you to try something for yourself. You may want to try riding ATVs in the dunes or horseback riding on the equestrian trails.
The Zion National Park Lodge doesn't admit pets. The good news, though, is some fantastic dog boarding sites run by dog-loving people are located nearby. Here are a few of them:
Zion Canyon Canine Recreation Center & Spa
Website: https://zioncanyoncanine.com/
Location: Hurricane, Utah
Price:
Night boarding: $66/night/dog
Day boarding: Half Day; $22, Full Day; $36 Mon-Fri and $46 Sat-Sun
This day-boarding facility is a half-hour drive from the Zion National Park Visitor Center. They offer DayCamp and Overnight Lodging facilities for dogs of all breeds.
And while you are enjoying your trip, you don't have to worry about your pupper getting bored. The caretakers of this dog-boarding facility conduct private and group-play sessions for the dogs. You can also purchase add-on packages, including frozen treat toys, massages, exercise, nail trims, and more!
They don't accept walk-ins, so reserve your spot in advance.
On the Spot Play and Stay
Website: onthespotplayandstay.com
Location: Hurricane, Utah
Price:
Night boarding: $40/night/dog
Day boarding: $6/hour
It is another excellent dog-boarding facility, located about 30 minutes from Zion National Park. Here your dog will socialize, play, swim, and celebrate life.
The staff can serve special diets, vitamins, and medications at no extra cost. They accept walk-ins and charge by the hour.
Canyon Paws
Website: canyonpaws.com
Location: Rockville, Utah
Price:
Daycare Hourly Rate: $8.00/hr
Daycare Half-Day Rate: $35.00/4 hours
Daycare Full Day Rate: $50.00/8 hours
Located just 10 minutes from Zion National Park, Canyon Paws offers only day boarding for dogs. You can pay an hourly rate or book 4- or 8-hour slots at discounted prices.
The facility is fully air-conditioned, and pools and sprinklers are set up in the summer to help the dogs beat the heat. You can rest assured that your dog is socializing and playing in a comfortable environment while you are away.
Animal Tender Pet Resort
Website: animaltenderpetresort.com
Location: St. George, Utah
Price: Paradise and Canyon Suites $52/day, Residences $42/day
This pet boarding option is a one-hour drive away from Zion National Park. Here, you can book an 8' x 8' room with a TV playing your dog's favorite shows. It's the ultimate lounge and chill destination for your dog.
Additionally, your dog will get plenty of opportunities to play and socialize. They will also provide access to their private webcams so that you can check on your dog when you stop to catch a breath during your hike.
Why Do National Parks Have Strict Regulations?
Taking out your dog on the trail seems benign on the surface, but before that, consider the role national parks play in preserving the habitats of endangered species within fragile ecosystems. Here are a few reasons why dogs might not be allowed in certain areas:
Protection of Wildlife
National parks are home to different wildlife species, many of which are endangered or vulnerable. Your furry friend can threaten these animals by hunting or harassing them or introducing diseases to which they have no immunity.
Zion National Park houses several endangered species, such as the California Condor, Mexican Spotted Owl, Southwestern Willow Flycatcher, and Desert Tortoise.
Preservation of Natural Habitats
National parks protect and preserve natural habitats. Dogs can cause damage to these habitats by trampling on plants or disturbing the soil, which can harm delicate ecosystems.
Safety Concerns
The last thing you would want is your dog hurting its feet or falling ill from drinking unclean water. Many things can go wrong with your sweetheart, such as slipping off a cliff, encountering a wild animal, contacting a poisonous insect or plant, a water current dragging it downstream or hurting its feet on rough ground.
Thus, dogs are allowed on trails depending on the risk, and a leash is mandatory.
Consideration for Other Visitors
The presence of loose dogs can make some people uncomfortable. Even though your dog is friendly, others don't know that. Some people may be uncomfortable around pets or have allergies, and allowing pets in national parks can spoil the experience of these visitors.
Unleash the Adventure: Exploring Zion National Park With Your Four-Legged Friend!
Even though dogs are only allowed in certain areas of Zion National Park, there is still so much to explore, experience, and enjoy. The park is so big that you can easily spend an entire day sightseeing on the Pa'rus trail and the paved roads.
And with so many hiking options a short drive from Zion National Park, you can turn your vacation into a tiring but rewarding one.
You don't have to worry about these restrictions if you bring a service dog. Although, you will still have to look after its safety and not let it harm itself by venturing into the wild.
We hope this guide cleared your doubts regarding what you can and can't do with your dog at Zion National Park. Happy hiking!