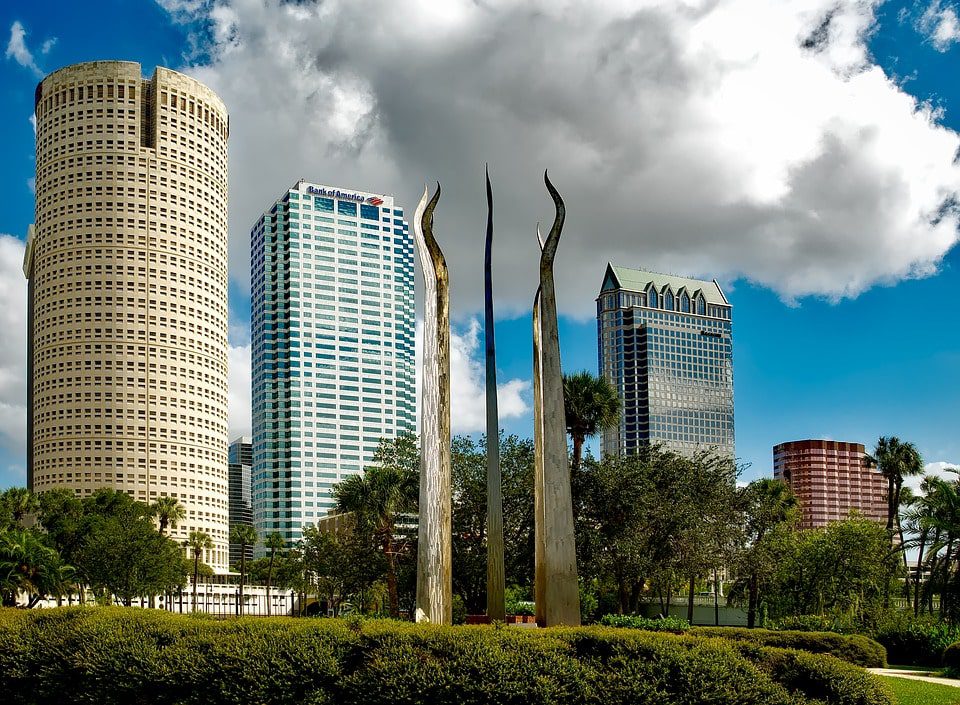 Tampa exists along the Gulf Coast of Florida and is a popular destination for weekend travelers and beach lovers. The city is the home of Busch Gardens amusement park, which makes it an ideal destination for anyone looking to have a fun vacation. Additionally, the city has gorgeous scenery and intriguing history. There is something in Tampa for just about everyone.
Tampa offers a wide selection of hotels to meet the increasing demand for top-end accommodations. The city receives a high volume of tourists each year and hotels must meet the high demand. While Tampa is known for its four and 5-star hotels, there are plenty of accommodations for travelers on a budget.
Those that plan to travel with a pet need a hotel that supports animals. Fortunately, there is a wide selection of options; however, not every "pet-friendly" hotel has a complete list of amenities. In some cases, visitors are surprised to learn that a hotel's "pet-friendly" status is not as accommodating to pets as they would have imagined.
Therefore, before we dive into the five best pet-friendly hotels in Tampa learn more about what the term "pet-friendly" hotel means:
What is a Pet-Friendly Hotel?
In short, a pet-friendly hotel aims to offer special accommodations and amenities for pets and their owners. Generally, pet-friendly hotels cater to dog or cat owners, though other types of domesticated pets are sometimes allowed.
Here are a few examples of the perks you can expect to find at a truly pet-friendly hotel in Tampa:
Bedding – Though pets can spend a night in crates or cages, it is not the most comfortable. Owners traditionally prefer something more cozy like a designated cat or dog bed. Fortunately, most pet-friendly hotels provide some type of bedding specific for animals. Small blankets and pillows are also available upon request.
Leashes & Collars – Tampa has laws that require dog owners to use a leash when guiding their pets around the city. To help ensure that pet owners can take their dogs or cats anywhere without worrying about breaking leash laws, many pet-friendly hotels provide extra leashes and collars. If you bring a collar from home, one with identification attached to it is extremely useful if your pet gets lost.
Litter Boxes & Clean-Up Supplies – Most domesticated cats need a litter box to use the bathroom, which is a hassle to pack for a trip. Fortunately, pet-friendly hotels may offer litter boxes and extra litter. Doggie bags and disposable gloves for dog cleanup is also available at some establishments.
Treats – Pet-friendly hotels want pets to enjoy themselves which is why many of them offer fun treats like rawhide bones and catnip for your furry friend.
Toys – Dog and cat toys are a great way to keep pets happy and entertained on vacation. Pet-friendly hotels may offer chew toys, scratching posts, and rolling balls for entertainment. It is a good way to entertain a dog or cat to keep them from scratching or chewing on furniture inside a room.
Outdoor Play Areas – Pets, like dogs, want to get out of the room and appreciate some fresh air. As a result, most pet-friendly hotels have designated areas for animals to run free and use the restroom. All the hotel asks is that you supervise your pets while they play.
Pet-Sitting Services – Pets are not allowed at every type of tourist attraction. Therefore, you may have to leave them behind and if that is the case, a hotel with pet-sitting services is ideal.
Please note that not every pet-friendly hotel features the same amenities. There are pet-friendly hotels that allow dogs and cats to stay in a room yet don't feature any additional services or amenities. Additionally, almost every pet-friendly hotel has limitations when it comes to the kinds of pets allowed on the property.
Generally, dogs and cats are permitted yet sometimes with size restrictions. For example, several pet-friendly hotels only allow guests to have one or two dogs with a certain weight limit. You should contact the hotel directly for more information on its pet policy.
Top 5 Pet-Friendly Hotels in Tampa
Now that you know more about the types of pet amenities and services offered at a hotel, let's dive into the specifics. Here are the best pet-friendly hotels in Tampa, in no particular order:
1. Hampton Inn Tampa Downtown Channel District
The Hampton Inn (Tampa Downtown Channel District) is west of the Ybor Channel in Downtown Tampa. The Hampton Inn provides easy access to numerous attractions thanks to its central location:
Palmetto Beach
Tampa Bay
The University of Tampa
The Florida Aquarium
As one of the top-rated hotels in Tampa, the Hampton Inn offers visitors great rooms and ample amenities, including complimentary breakfast, free Wi-Fi, a gym, and a business center.
More importantly, the Hampton Inn is a pet-friendly hotel. In addition to service dogs, the hotel allows other small-to-medium sized pets, though you will need to contact the hotel ahead of your stay to confirm the availability of a pet-friendly room.
2. Grand Hyatt Tampa Bay
Situated on the tranquil waters of Tampa Bay, the Grand Hyatt is a terrific hotel for pet owners who love to have a view of the water. The hotel is close to several attractions and points of interest, including:
Tampa International Airport
Cypress Point Park
Beach Park Isles
Pelican Island
The Grand Hyatt in Tampa Bay is a luxurious waterfront resort. In addition to its many amenities, the Grand Hyatt also allows both dogs and cats to stay on the property for a fee. However, certain suites cannot accommodate animals, so you will need to contact the hotel before your stay to make sure you book the right room for your pet.
3. The Westin Tampa Waterside
The Westin Tampa Waterside Hotel is on the northwest corner of Harbour Island. Thanks to a great location, the hotel is near several attractions, including:
Tampa Riverwalk
The Florida Aquarium
Tampa Convention Center
Tampa Bay History Center
The 4-star hotel presents guests with beautiful accommodations at a reasonable price. With gorgeous rooms, great views of the bay, and fine dining, you won't want to leave the hotel!
As a bonus, the Westin Tampa Waterside Hotel does allow dogs that weigh less than 40 lbs. However, guests must sign a waiver and agree to pay for any damage caused by the animal. Additionally, dogs are only allowed to stay in King and Double Traditional rooms.
4. Comfort Suites at Fairgrounds
The Comfort Suites at Fairgrounds is a hotel and casino located northeast of Orient Park. Even though it's a little far from downtown Tampa, the hotel is still close to several points of interest, including:
The Florida State Fairgrounds
Myrtle Hill Memorial Park
Tampa Executive Airport
Bellows Lake
As a casino, the Comfort Suites at Fairgrounds offers guests a wide range of gaming activities, from slot machines to Texas Hold 'Em. While the Comfort Suites at Fairgrounds does not officially market itself as a "pet-friendly" hotel, it does allow certain types of pets to stay on the property.
You should contact the hotel to ensure that your pet meets the requirements.
5. Residence Inn Tampa Westshore/Airport
The Residence Inn (Tampa Westshore/Airport) is between the Westshore and Lincoln Gardens neighborhoods. It is close to numerous Tampa attractions, including:
International Plaza and Bay Street
Raymond James Stadium
Beach Park
Tampa International Airport
The 3-star hotel is outstanding for both short and long-term travelers. The Residence Inn offers free airport shuttle service, one and two-bedroom suites, and pet-friendly rooms.
There are no size restrictions for pets and both cats and dogs are allowed. However, each room can only have a maximum of two animals, and pet owners will need to pay a non-refundable fee for each animal.
Final Thoughts
Tampa is one of the most popular tourist cities in Florida. It has a vast selection of world-class attractions, including Busch Gardens, The Florida Aquarium, and Adventure Island. Thankfully, you can enjoy many of the best attractions in Tampa with your furry friend.
The city has numerous pet-friendly hotels that offer first-rate services and all the amenities necessary to make you feel at home. You and your pet will surely feel welcome during your stay in Tampa. We recommend considering our selections for the top pet-friendly hotels in Tampa.
If you'd like to certify your dog, consider registering your pet as an Emotional Support Animal (ESA). ESAs are animals that offer support and comfort to individuals suffering from mental or emotional conditions. The presence of an ESA can help people deal with issues that might otherwise compromise their quality of life. These issues may include depression, anxiety, phobias, and bipolar disorder. You can register your pet as an ESA with U.S. Service Animals (USSA)!