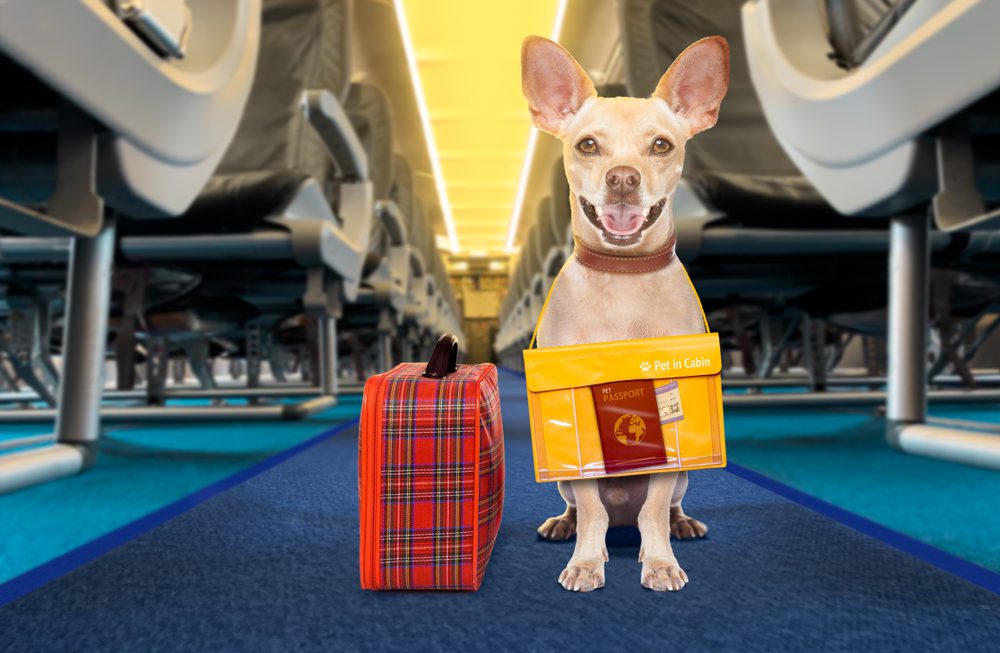 Traveling with an emotional support animal (ESA) has become more complicated following a recent revision by the Department of Transportation (DOT) to legislation in the Air Carrier Access Act (ACAA).
On top of the additional paperwork that must now be provided for trained service animals (SA)  on Delta and United Airlines flights, the policy change also means that ESAs are subject to fees and can no longer travel with the same rights as SAs.
What Are the New Requirements?
As of January 2021, the DOT deemed it the prerogative of any airline to choose whether they treat ESAs as regular pets or service animals. As a result, Delta and United Airlines now only accommodate trained service animals for free on their flights. That means anyone with an emotional support animal (ESA) must register their animal as a pet and pay a fee for their animal to travel in the cabin or the cargo hold.
However, this rule has not been applied to psychiatric service dogs, which means customers traveling with a PSD can still travel with their animal in the cabin for free. A psychiatric service dog differs from an ESA in that they're trained to perform a specific task to help their owner manage a specific disability. In comparison, an ESA does not need to perform a specific role beyond the provision of comfort and support to its owner.
While it may be disheartening to hear that your ESA can no longer travel for free, you do have options. To clarify the new changes, below is a summary for ESAs and service animals below.
Temporary Suspension of High-Risk Dogs
Before going into the specific changes for ESAs and SAs, it's worth being aware that as of July 2021, the Centers for Disease Control and Prevention (CDC) has issued a temporary suspension of dogs from countries that are considered a high-risk for rabies. This includes service dogs and pets (both carry-on and checked).
If you have a dog from a high-risk country, you'll need an approved CDC Dog Import Permit, or you'll be required to meet the CDC vaccination and microchip requirements to fly. Cats from high-risk rabies countries are also not accepted onto flights as carry-on or checked pets.
Emotional Support Animals
Due to recent legislation changes from the Department of Transportation (DOT), ESAs are no longer allowed to fly for free on Delta and United Airlines. Instead, they must travel as pets and incur a fee while abiding by certain rules. These include:
Passengers are permitted to bring a small cat or dog into the cabin as long as they travel in a ventilated crate or kennel.
The ESA must be at least 10 weeks old (domestic travel) and 16 weeks old (if traveling to the US from another country; 15 weeks from the EU).
Only 1 pet is allowed per kennel unless they are the same breed (in that case, they can travel if they're small enough and are at least 10 weeks old).
The pet kennel must fit under the seat in front of you and have ventilation.
The maximum carry-on dimensions for your kennel varies by aircraft. However, standard dimensions are typically no larger than 18" x 11" x 11".
Note: If your ESA is from any of the countries below, they are not permitted in the cabin and must travel via the cargo area:
Australia
Barbados
Brazil – Exit Brazil
Colombia – Exit Colombia
Dubai
Hong Kong
Iceland
Jamaica
New Zealand
Republic of Ireland
South Africa
United Kingdom
United Arab Emirates
Carry-On Pet Fees
Pet fees are fairly standard across most airlines. Below is a breakdown for Delta and United:
Delta Airlines
US/Canada: $125 USD each way
US Virgin Islands/International: $200 USD/EUR each way
Brazil: $75 USD each way
United Airlines
If you want to bring your ESA onboard your flight, check the individual pet policies for United Airlines and Delta Airlines.
Psychiatric Service Dogs
If your emotional support animal is too large to meet the requirements for in-cabin travel, or if you are unhappy with paying a fee, you could register your ESA as a psychiatric service dog instead. This will require additional training and paperwork, but it could give you peace of mind down the line.
Psychiatric service dogs are treated the same as other service dogs, which means they are granted more public access rights than ESAs.
Service Animals
Delta and United Airlines recently announced a new set of guidelines for service animals traveling on their flights. Any customer traveling with a trained service animal on a Delta flight is required to prove their companion's health, training, and overall temperament with supporting documentation from a registered veterinarian. This done by filling in the US DOT Service Animal Air Travel Form with the relevant information for Delta and United Airlines.
While this policy change may seem harsh at first glance, it does mean that individuals with certified service dogs can ride in the cabin for free.
If you are traveling with a service dog or a psychiatric service dog, you'll need to adhere to the following guidelines:
Only dogs qualify as service animals on Delta and United airlines. The service dog must be at least 4 months old and trained to perform a specific duty that supports a physical or mental disability.
Passengers must submit their DOT forms outlining the relevant vaccination and training information at least 48 hours prior to departure. If the flight is in less than 48 hours, this form must be presented at the check-in counter or departure gate.
Customers on flights 8 hours or longer must also submit a DOT Relief Attestation Form, which confirms the dog will not relieve itself in the aircraft (or that it can do so in a sanitary way).
Your service dog can be refused travel if they display disruptive or aggressive behavior such as biting, growling, jumping on passengers and staff, relieving themselves in the cabin, barking excessively, etc.
Passengers with service dogs should select a seat that offers enough space for the animal. This means your SA must be seated on the floor below a seat and not be blocking aisles or exits. They must also not encroach on other passengers' space.
Flying With Your ESA
Although the recent changes to ESA policy mean that your animal can no longer fly for free, you do have the option of bringing them on board as a pet. This can reassure some handlers if they prefer to have their ESA close to them while traveling. Alternatively, you may want to consider training and registering your ESA as a psychiatric service dog.
When it comes to flying with an ESA or psychiatric service dog, keeping up with the ever-changing rules can be confusing and daunting. Luckily, we can help you stay up to date with the latest in airline requirements.
Our friendly customer service team can not only help you obtain the correct documentation for your ESA or psychiatric service dog, but they can also help put together a mental health evaluation to streamline ESA registration and certification.
If you want to get in touch today, give our team a call at (985) 242-7207.