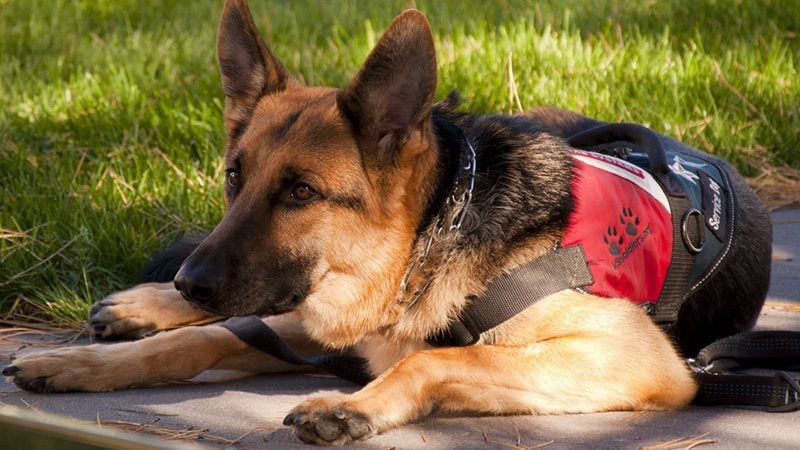 Most animal owners love to spoil their pets by making sure they have the best supplies and equipment available, and it's no different with service dogs. However, while all dogs require basic supplies any pet would need, there are more specific supplies necessary for service dogs. It's easy to become overwhelmed with so many products available, so we've decided to help by narrowing it down to a list of must-have products every service dog needs.
Service Dog Vest
A vest is one of the most common items worn by a service dog. The main purpose of service dog vests is to identify your animal as a service dog. Although this is not required, it's a courtesy to the public and also lets people know the dog has a responsibility to his owner and is not a normal pet. There are a variety of styles and colors of vests to choose from.
Harness
For a normal pet owner, a harness helps keep the dog under control while on walks. For service dogs, there are many other uses for a harness. There are different types of harnesses made for specific uses, including easy walk harnesses, wheelchair pull harnesses, safety harnesses, or brace mobility harnesses which can assist the owner with standing and walking.
Collar
As with any dog, it's important to make sure your dog is always wearing a collar, as this could be the only thing to reunite you with your animal should you become separated. Make sure the collar includes a tag that identifies your dog as a service dog and includes its information of how to find the owner.
Head Collar
A head collar is often used for training service dogs to use a leash and be handled by their owner. Some service dog owners continue to use the head collar after training, for reasons specific to the owner's needs, such as allowing the dog to provide medical alerts more easily.
Muzzle
A muzzle is something every dog should be trained to wear, and although not necessary often or for long periods of time, could be needed in an emergency. For example, if a dog is injured they are often inclined to bite or nip. A muzzle keeps everyone safe while the dog receives medical care. There are many types and sizes of muzzles available, and it's important for each dog to have its own muzzle he feels comfortable with.
Coat
A coat is useful for service dogs to wear under a vest if the dog spends time working in cold, wet or harsh weather conditions. It's important for the coat to cover the belly and be thick enough to keep the dog warm but thin and form-fitting enough to be worn under a vest. \
Boots
Boots may be useful for service dogs that often work on environments with a slick, hot or cold floor, such as on tile, on hot asphalt or in a cold environment with ice and snow. Boots also protect your animal's feet from things like debris, glass or chemicals that may be found on the ground, road or sidewalk.
It's important for each owner to decide what gear or products are necessary and most useful for their service animal. Each service dog is different, and may require different brands or types of each product depending on its size, shape and what's most comfortable. For a more extensive list of the many products available and potentially needed for service dogs, check out this supply list by Service Dog Society.