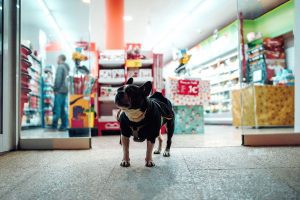 Taking your pet shopping can be a fun adventure for everyone involved. However, that doesn't mean that you should go unprepared! Make sure your pet is fed and goes to the bathroom before you go out in public together. If your dog or cat is really hungry while you are shopping it is going to have a really bad attitude.
We recommend that you keep your creature on an appropriate leash so that you can establish control and keep them focused while you are working. Some people use a backpack or a harness to make it more comfortable for their furry friends. Whatever you decide on, make sure it is appropriate for keeping your animal close during your public endeavor.
We have compiled a list of the top twelve places that you can shop and hang out with your pet all at the same time. Here are just a few of the great places that will let you bring your pet.
Top Twelve Stores
Petco
What is better than an actual pet store to start off the list? The best part of this place is that your pet will be overwhelmed with the different smells, and you can even have them help you pick out the food, treats, and toys. It's almost like taking your pet to paradise when you visit Petco with them. They normally have treats at the front register to make it an even better shopping experience.
Home Depot
Need to do some fixing up around the house? No worries, just hop in the car, head over to Home Depot, and bring your pet too. Home Depot is set up in a pretty mechanical, outdoors style, fix-it-up layout, and it's very accommodating to pets. Just be sure you bring your leash and maybe a treat!
Lowes
Lowes is the other big construction/hardware store on this list. Its building doesn't quite feel like the Home Depot warehouse but it's still the perfect place to bring your pet. Need new lighting or a new shower head? Go to Lowes first!
Tractor Supply Co.
Pets love going shopping, and many pet owners love tractors. That combination makes Tractor Supply Co. a great option for bring-your-pet-shopping day. With great staff, and incredible products, this store has everything you could need on a farm and they specialize in tractors. They recently posted an Instagram photo with a dog to show that their stores are all pet-friendly.
Nordstrom
The clothing store welcomes dogs that are "well-behaved and on a leash." They are a little specific so don't think you can just bring any pet into the store. The clothing line specifies that dogs are the pets that they cater to so keep that in mind. So if you decide that you want a new pair of shoes, or you realize that you need a new hoodie, grab the leash for Fido, and head on over to the nearest Nordstrom. You can get the hottest clothing while hanging out with your favorite pooch.
The Apple Store
Who doesn't love technology? You might be thinking, the Apple store has so much high-priced tech nobody in their right mind would want a pet running through the store. Quite the opposite, Apple actually allows and encourages you to bring your pet into the shop. Just be sure to keep them leashed. You might want to make sure they are adequately trained as well. Barking in an Apple Store can get really annoying, really quickly. Not all of these stores that are located in malls or big shopping centers allow pets, so be sure to double-check before you go!
Bass Pro Shops
Bass Pro actually encourages young dogs and other animals to come to their stores. They have a Dog Days event, and they supply multiple different pet products. Next time you're going out for some outdoors stuff you can bring your pet with you!
Macy's
What's the first thing you think of when I say the word Macy's? It might be the great clothes, awesome accessories, or incredible prices you can find on a daily basis, but most people think of the Thanksgiving Day Parade. The cool part is that Macy's has actually done work with the SPCA in the past, and they are currently very accepting of pets in their store.
Barnes & Noble
Coffee and books are great reasons to go shopping anywhere. But specifically, some Barnes and Noble locations also allow you to bring your furry friend along. Be sure to check the website to make sure your Barnes and Noble accept pets. Then go explore the "world of words" with your pet at your side.
Cabela's
Back to the outdoors shops, Cabelas also allows pets in its store. Being primarily a hunting store, Cabelas aims to provide hunters with top of the line dog equipment, so it is no surprise that they allow dogs at most of their locations. Some of them even have kennels that you can put your animal in until you are finished shopping. This store is one of the most pet-focused on our list.
PetSmart
This list honestly wouldn't be complete without Petsmart making an appearance. As one of the world-famous pet stores, Petsmart is a great place to bring your friendly creature to hang out. They offer all sorts of various pet-accessories that you might need for your furry friend. Going to PetSmart with your pet is basically like taking them to Disney World, so just make sure they are ready for a good time.
Conclusion
That is just a few of the many pet-friendly stores that are located across the United States. We tried to compile as many into this list as we could, but there are more that we didn't list. Be sure to keep your animal on a leash or properly restrained. You should also make sure that your pet is adequately trained before you go out into public. Shopping is fun in general, but if you want to have a blast, consider bringing your pet along too.