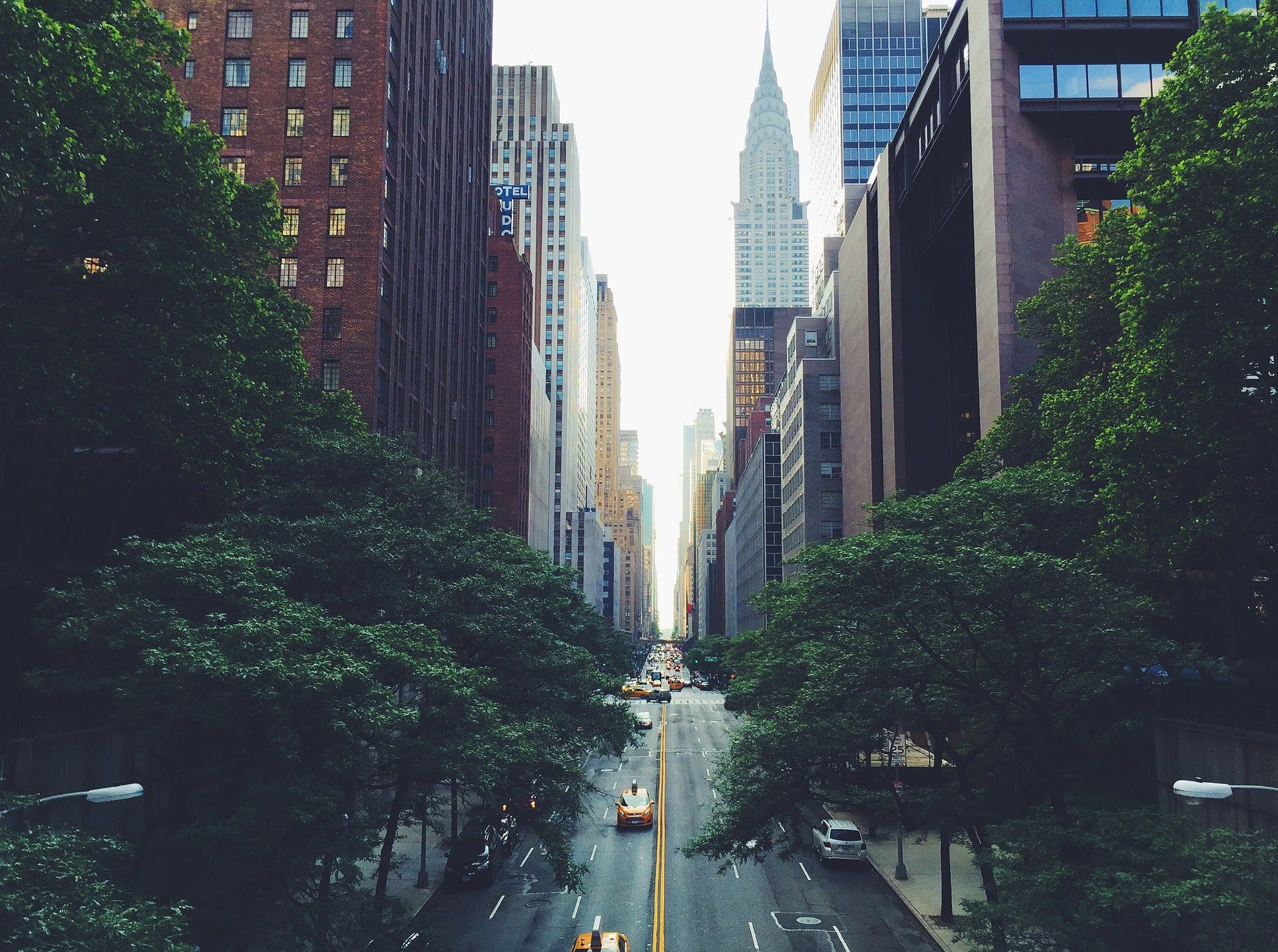 New York City, the Big Apple, the City That Never Sleeps. Whatever you prefer to call it, NYC is a city notorious for glamor and history. New York City is known for having a personality all its own that is unrivaled across the globe.
The hustle-and-bustle of daily life in New York City makes it one of the top destinations for travelers from around the world. The city is home to a plethora of dinining, shopping, and entertainment options. It is no wonder that New York City is on most bucket lists.
However, all the excitement can be a little too much to bear for people not accustomed to so much stimulation. It is why bringing a pet along on your trip to NYC can make all the difference. The article presents the five best pet-friendly hotels in New York City. We recommend using it to find the most appropriate place to stay with a cat or dog.
1. Kimpton Ink48 Hotel
The Kimpton Ink48 Hotel is a pet-friendly accommodation where you can bring two pets of any size at no additional fee. Dogs and cats alike are allowed in the room. Bowls, bedding, and treats are available for your animals upon request to help make the stay that much more comfortable.
Unfortunately, there are no designated areas for pets to use the restroom; however, a park is only four blocks away from the hotel.
The Kimpton Ink48 Hotel exists near the heart of Hell's Kitchen and only a block away from the Hudson River. It is within walking distance of many of the world's most popular landmarks like the Empire State Building and Museum of Modern Art. Time's Square is also a short walk (less than a mile) from the Kimpton Ink48 Hotel.
Complete with a rooftop terrace and bar, the Kimpton Ink48 Hotel is a destination in itself worthy of a visit. Add onto that the ability to bring your pet along with you and you've got a recipe for an amazing time in New York City.
2. Roxy Hotel Tribeca
If you're looking for an untraditional New York City experience, look no further than the Roxy Hotel Tribeca.
The hotel features a 4,300 square foot "Living Room" that shifts in purpose depending on the time of the day. It is a collaborative workspace during the day hours and a live jazz and blues music hall at nights. As a result, the Roxy Hotel Tribeca is full of surprises.
The hotel also houses numerous bars and lounges such as Paul's Cocktail Lounge, The Django Jazz Club, Jack's Stir-Brew Coffee, and The Roxy Cinema. Both cats and dogs are welcome in the Roxy Hotel Tribeca with no limit on the size of your dog or the number of pets. No additional pet fee exists. While there is no pet relief area, there is a park within a five-minute walk where you can take your dog for potty breaks while you take in the sights and sounds of the city.
Renowned for its quirky atmosphere and various evening entertainment options, the Roxy Hotel Tribeca is sure to delight those who are a bit more on the adventurous side. Bring your pet along for a night of bar-hopping inside the hotel and you're sure to make all kinds of friends along the way.
3. Stewart Hotel
The rooms of the Stewart Hotel feature a flair that speaks of Broadway and captures the spirit of the theater. High, airy ceilings and spacious suites are available at the Stewart Hotel for guests looking for a bit of refinement and poise.
While the Stewart Hotel does have an additional pet fee, it permits up to two pets of any size to stay with guests. Additionally, well-mannered pets can get left unattended in the rooms.
The Stewart Hotel is found in Midtown and close to Chelsea, Penn Station, and Madison Square Garden. Historic Fifth Avenue shopping district is also in the backyard of the Stewart Hotel. It presents the iconic downtown images of NYC you have seen on film and TV.
Lastly, the Stewart Hotel is complete with an on-site fitness center, self-service laundry, and suites with full kitchens. It is a great selection if you are seeking an extended stay in New York City with a pet.
4. Greenwich Hotel
The priciest of the options on our list, the Greenwich Hotel offers 88 rooms and suites. No two suites are exactly alike making the Greenwich Hotel world-renowned.
It is a romantic and sophisticated property with the famous Shibui Spa and indoor pool. The lantern-lit Shibui Spa gets dominated by a 250-year-old bamboo farmhouse imported from Japan.
For those looking to experience elegance and tranquillity within the buzzing city-limits of New York City, look no further than the Greenwich Hotel. It is less than 1.5 miles from The High Line and a little over two miles from the Manhattan Skyline. The hotel is walking distance to several famous attractions.
Pets are permitted within the Greenwich Hotel at no additional cost. Guests may bring up to two pets of any size with them during their stay. While both cats and dogs are welcome, animals may not be left unattended in the rooms. Pets are gifted treats, bowls, and bedding for their stay so they can feel right at home alongside you.
5. City Club Hotel
The City Club Hotel is the most affordable option on the list and welcomes pets at no additional charge. Guests may bring up to two pets, but each animal needs to weight less than 50 lbs.
While there is no direct fee, a $150 refundable deposit is required to cover the costs of any damage the pets might cause. Well-behaved pets will ultimately stay free of charge barring any accidents that might occur. Pets are not allowed to get left in the rooms unattended. There are no pet relief areas on-site; however, Bryant Park is within walking distance for restroom visits.
The City Club Hotel exits in Midtown, near the Theater District on West 44th Street. An eatery called DB Bistro Moderne, from award-winning chef Daniel Boulud is inside the hotel. French American fare is available for breakfast, lunch, and dinner.
The City Club Hotel offers a subtle chic sanctuary for you and pets. Once a private political club, the City Club Hotel has been reborn as a quaint luxury hotel that focuses on providing excellent service and comfortable accommodations. Its proximity to Fifth Avenue shopping and views of the Empire State Building make the destination worth considering.
Final Thoughts
While the electric energy of the City That Never Sleeps is enticing, it is also equally daunting. The experience is especially true for those who have emotional disorders such as anxiety or post-traumatic stress disorder (PTSD). The millions of sights and sounds blaring down the city streets at all times of day and night may be overwhelming for those who are unprepared.
However, bringing your best furry friend along for your trip to New York City can help you take in the splendor of the Big Apple while enjoying the comforting presence of an animal. However, bringing your pet along with you to NYC may seem like a daunting task. It is why we have put together a list of the five best pet-friendly hotels in New York City.
Registering your pet as an emotional support animal (ESA) can help smooth the process. The registration is a fairly straightforward process that should get completed before your travels to ensure you have the proper documentation.
While registration is not mandatory, it can go a long way in proving your legitimacy and navigating frustrating situations that tend to arise. You can learn more about how to register your pet as an emotional support animal by contacting the experts at U.S. Service Animals.