Living in a growing city like Portland, Oregon, can be extra stressful if you're dealing with mental and emotional disabilities. The hustle and bustle of city life can exacerbate symptoms, especially related to social anxiety and agoraphobia, and coming up with a symptom management plan can be stressful. Luckily, emotional support animals are here to help make city living easier to manage.
Understanding how to get a legitimate emotional support animal letter and its exact legal protections can be difficult, especially because each state has its own rules. Here, we'll break down everything that you need to know about emotional support animals, their accompanying letters, and what you can expect once you have a legally valid letter to submit to landlords and other authorities.
What Is an Emotional Support Animal?
An emotional support animal, or ESA, is an animal that offers emotional support by providing comfort and companionship without specialized training. For an ESA to be legitimate, they must be prescribed to someone suffering from a mental or emotional disability via an ESA letter. In order for an ESA letter to be legally valid, it must be written by a mental healthcare professional licensed in your state of residence.
ESAs can be any animal and do not have to be trained to perform any specific tasks to be recognized as ESAs.
Who Can Qualify for an ESA in Portland?
In order to qualify for an ESA, you must have a relevant diagnosis from a licensed mental health professional. Relevant diagnoses can be anything that impacts your mental or emotional health, such as anxiety, PTSD, or depression. If you have been diagnosed with a disability that impacts your physical health, a service dog is likely better suited than an ESA. More on service dogs later.
Whether you have a diagnosis already but don't have connections to a mental healthcare provider in the state of Oregon or you're still seeking a diagnosis, US Service Animals can help. Our network has mental healthcare professionals licensed in each of the 50 states, so there's no need to shop for a suitable professional.
What Are the Benefits of Having an ESA Letter in Portland?
There are many benefits to having an ESA letter on hand, the biggest of which has to do with housing. ESAs are always allowed to live with their handler under the Fair Housing Act, regardless of no-pet policies or restrictions on size, weight, or breed. Under the Fair Housing Act, landlords are also not allowed to charge any additional fee for your ESA, including pet rent, pet fees, or pet deposits.
ESAs also enable their handlers to have confidence when they're moving through the world with a mental or emotional disability. They may make it easier for handlers to wind down after a long day, or they may establish a routine that keeps their handler energetic and content. Ultimately, if a handler needs an ESA letter, getting one will improve their quality of life.
How to Get an Emotional Support (ESA) Letter in Portland
The first step in getting an ESA letter is to talk to a mental healthcare professional. If you're already connected with one, most of the work is already done for you! However, finding a suitable mental healthcare professional can be difficult, especially as many professionals have waitlists before they take on new clients. This is particularly so if you're searching for a mental healthcare professional for the first time.
If you need help connecting to a mental healthcare worker, US Service Animals can help. US Service Animals has a network of mental health professionals licensed in every state, making the mental healthcare connection effortless.
When you do set up your appointment and talk to a mental healthcare provider about getting an ESA letter, be prepared to speak about your symptoms and why an ESA may help improve your life. If you have a diagnosis from the past, you should bring that to your appointment, along with any information about past treatment plans and their effects on your symptoms.
Your mental healthcare professional will give you a timeline of when to expect your letter. This will vary highly depending on the professional–some will write your letter right away, and some will want you to do multiple sessions with them to ensure that an ESA is the right course of action for you. At US Service Animals, you'll have your letter swiftly so long as you're qualified to have it.
Once you have your ESA letter, you'll be able to submit it to landlords or anyone else who needs a copy of it for their records.
How to Get an Emotional Support Letter (ESA) in Portland With U.S. Service Animals
When you reach out to US Service Animals, you'll instantly be able to connect with a licensed mental health professional in your state of residence (or you'll be able to set an appointment with one). There won't be any waiting lists or need to shop around for a suitable provider, which is often the longest part of the ESA letter process.
During your consultation, the healthcare professional will ask you some questions about why an ESA letter is right for you and ensure that you have a relevant condition. This is when you'll talk about your symptoms as well as any past treatment plans and how those worked for you.
It's also risk-free; if you don't qualify for an ESA, your consultation is free. However, if you have a relevant condition and an emotional support animal would help alleviate your symptoms, you'll pay a fee and receive your official letter. Once you have your letter, your ESA is legally valid, and you'll be able to submit it to your landlord or anyone else who needs it.


What Are the Laws About ESAs in Portland?
ESAs have some federal protections, but they're largely unrecognized regarding public access rights. The laws around ESAs in Portland can sometimes be difficult to navigate, which is why we've broken them down for you here:
Can I Fly With an ESA in Portland?
Portland doesn't have any legislation protecting ESAs regarding air travel. Under the federal Air Carrier Access Act, ESAs are treated the same way pets are when it comes to fees and size restrictions. However, small ESAs may still be able to travel in the cabin of the plane with you (for a price), but large ESAs may have to fly in the cargo portion of the plane.
If air travel highly exacerbates symptoms of your mental illness, you may want to look at the training process for a psychiatric service dog. Psychiatric service dogs, like all other service dogs, have legal public access protections under the Americans with Disabilities Act, which includes being able to fly by your side for free (no matter their size).
Can I Live With an ESA in Portland?
The Fair Housing Act is a federal law that protects the right to live with an emotional support animal without being charged pet fees (or pet rent), regardless of whether or not the property allows pets. The Fair Housing Act also protects ESAs from size, weight, and breed restrictions, ensuring that no matter what breed of dog your pooch is, they won't be denied housing because of it.
It's important to note that the FHA does not protect emotional support animals when it comes to temporary lodging like hotels. If you plan on staying at a hotel in Portland or anywhere else in Oregon, you should check the hotel's pet policy. Many hotels allow pets, though you'll likely still have to pay a fee, and you may be subject to breed restrictions.
Portland doesn't offer additional protections for ESAs, but since the Fair Housing Act is federal, the state of Oregon must abide by it.
Can I Bring My ESA to Work With Me in Portland?
ESAs aren't granted public access, which makes bringing one to work a bit complicated. Legally, your employer doesn't have to allow your ESA at your workplace, but you can still ask your employer for accommodations.
Disability accommodations are typically requested with a form your employer has on file. Even though your ESA's presence isn't legally protected, it's always worth asking.
What Exceptions Are There to ESA Laws in Portland?
There are two big exceptions to ESA laws in Portland, both having to do with your ESA's behavior. The first exception is that landlords have a right to deny your ESA housing if they find that your ESA is destructive to their property. This includes ripping up carpet, causing wall damage, or causing damage to kitchen appliances.
The second exception is that a landlord can evict an ESA if they're found to be aggressive toward other people. Landlords, especially those that run apartment complexes that house lots of people, must ensure that all tenants feel safe in their residences.
Where Can You Take Your ESA in Portland?
ESAs are only legally guaranteed housing rights, so it's important to look at hotels with pet-friendly policies if you need somewhere to stay in the city. The Hotel Zags in downtown Portland allows up to 2 pets per room, and dogs and other pets are allowed on their patio so long as the pet is on a leash or in a kennel. For dogs, there is a weight limit of 80 pounds. If you're staying in the northern part of the city, the Hampton Inn has a 2 pet per room policy that covers dogs and cats.
For dog-friendly dining, the Tin Shed Garden Cafe has a patio where dogs can eat off their very own doggie menu! If breweries are more your thing, the Lucky Labrador Brewing Company has a dog-friendly patio that's known to attract friendly dogs (and dog owners) from around the neighborhood!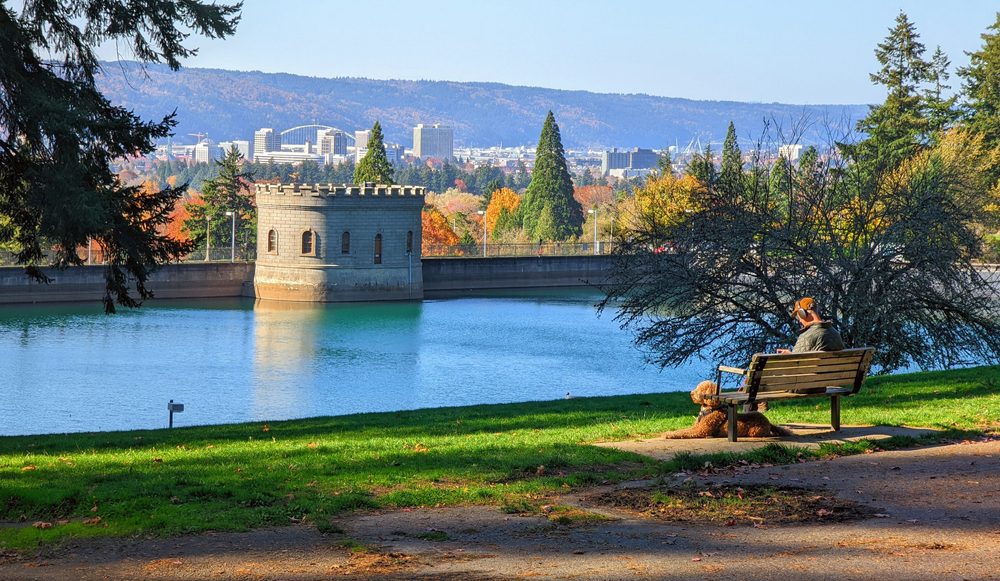 Important Facts About ESAs in Portland

Emotional support animals have different legal rights than service dogs. The ADA protects service dogs for public access, so they'll always be able to go with their handlers anywhere for free, whereas ESAs do not have that right.
Service dogs must undergo 120 hours of training and be trained to perform a specific task that aids their handler. ESAs are not required to have any specialized training to be legitimate, but they must be non-destructive and non-aggressive.
ESA certificates and registrations are not legally binding. What makes an ESA legitimate is a legally valid ESA letter written by a mental health professional licensed in your state of residence. In order to receive this letter, you must be diagnosed with a relevant condition.
ESAs aren't restricted by species. Though cats and dogs are the most popular choices, an ESA can be any animal, from birds to fish!
Get an Emotional Support Animal (ESA) Letter in Portland Today
An emotional support animal can be a great addition to your treatment plan to manage symptoms of a mental or emotional disability. ESAs can enhance the lives of their handler by helping them gain confidence and being comforting when the time calls for it. If you think an ESA would be beneficial for your symptom management, schedule your risk free consultation with US Service Animals today!