Chicago is one of the biggest cities in the United States, and like all big cities, it can be a stressful place to live. If you find that city living exacerbates symptoms of your mental illness, an emotional support animal letter might be worth pursuing. An emotional support animal letter, or an ESA letter, is a letter written by a mental health professional affirming that an ESA would be beneficial to your emotional health.
In the following article, we'll walk you through what an ESA letter is, how to obtain one legally, what rights you gain by acquiring this letter, and how to avoid scams. Let's dive in!
What Is an Emotional Support Animal?
An emotional support animal is an animal that improves someone's emotional or psychological wellness simply by being a companion. Unlike service dogs, ESAs don't have to have any specialized training to be legitimate, but they do need to be approved by a mental healthcare professional licensed in your state of residence, who will write a letter affirming this approval.
An ESA can be any animal. Though cats and dogs are the most popular choices, ESAs can also be birds, rabbits, fish, or anything in between (so long as the animal is legal in the U.S. to be domesticated).
Who Can Qualify for an ESA in Chicago?
All it takes to qualify for an ESA in Chicago, or any other U.S. city, is a relevant diagnosis. Relevant diagnoses are conditions that impact your psychological well-being, such as anxiety, depression, bipolar disorder, PTSD, and other related disorders.
You'll also want to be aware of what symptoms your ESA would help alleviate. For example, if structure gives your mind an anchor to help you through depression symptoms, an animal that needs regular play will likely help you. However, if the idea of caring for a companion heightens your anxiety, an ESA may not be the right fit.
To obtain a legitimate diagnosis, you must speak with a mental healthcare professional licensed in your state of residence. If you're having trouble connecting with a therapist (or another mental health worker) in the state of Illinois, U.S. Service Animals can help. U.S. Service Animals has professionals licensed in all 50 states, so you'll never have to deal with waiting lists or other inconveniences that come with seeking a new therapist.
What Are the Benefits of Having an ESA Letter in Chicago?
The most important benefit of having a legally valid ESA letter is that it will help alleviate your symptoms and bring you a stronger sense of mental and emotional wellness.
A bonus of having a valid ESA letter is that emotional support animals can't be charged pet deposits, pet rent, or pet fees, which is great in a city like Chicago. The right to live with an ESA for free is legally protected by the Fair Housing Act.
The Fair Housing Act also protects your emotional support dog from breed or size restrictions. While Chicago doesn't have breed restrictions, some apartments do have size, weight, or breed limits. ESAs are not subjected to any of these limitations and will always be allowed to live with you as long as you have a valid letter.
How to Get an Emotional Support (ESA) Letter in Chicago
The first step to getting an ESA letter in Chicago is finding a mental healthcare professional licensed in Illinois. If you're already connected with a therapist in Chicago, that's great! If not, you'll need to start searching.
When you're looking for a therapist licensed in Illinois that can provide an ESA letter, you'll need to be aware of scams. Any website that claims ESA legitimacy by way of registration or certification is likely a scam to get your money.
Be wary of websites that offer ESA letter turnaround within 24 hours–make sure that you have a consultation, have a relevant diagnosis,  and that the mental healthcare worker is licensed in your state.
Many websites promising ESA letters aren't legally valid because the healthcare worker's license is outside the United States. When you reach out to U.S. Service Animals, you can rest assured that each of our professionals' licenses are up to date and will be valid for your state of residence.
Once you're connected with a mental healthcare professional, the next step is to ask for an ESA letter. Some healthcare professionals will want to work with you for a while before writing your letter, and some will simply want to hear about how an ESA will aid your emotional well-being. If you have prior diagnoses, this conversation is a great place to bring that up.
Each mental healthcare professional is different, so the time it takes to get your letter will vary depending on who you see. When you do get your ESA letter, it should be on your healthcare provider's letterhead and should include your name, your diagnosis, and a recommendation for an emotional support animal.
Upon receiving this letter, it's valid to be copied and submitted to anyone who needs to see it!
How to Get an Emotional Support Letter (ESA) in Chicago With U.S. Service Animals
U.S. Service Animals helps ease the process of seeking out a new therapist and getting your letter to you. The first step is to give us a call and set up a consultation with one of our mental healthcare professionals who is licensed in the state of Illinois. This consultation is to ensure that you have a relevant diagnosis and that an ESA would be a good fit for it.
During your consultation, be prepared to talk about why an ESA would improve your life and your emotional well-being. If you've previously been diagnosed with a relevant condition, bring this information to your consultation as well.
If you believe you have a relevant condition, but haven't previously been diagnosed, you'll receive notice about how long it will take to get your letter to you as well as what information it will contain. Once you've received your letter by email, it's ready to be printed and submitted to landlords or any other authorities.

What Are the Laws About ESAs in Chicago?
When it comes to the legal side of emotional support animals, understanding what rights you have in what places can be tricky. Chicago, unfortunately, doesn't have any additional city-wide laws that offer legal protections, but there are some important federal laws to note.
Here's a brief breakdown of ESA-related laws and what they mean for you.
Can I Fly With an ESA in Chicago?
Due to changes to the Air Carrier Access Act, ESAs are treated the same as regular pets when they're on airplanes. This means that despite them being legitimate emotional support animals, they can still be subjected to pet fees, and depending on their size, they may need to ride in cargo.
If air travel is something that worsens symptoms of your mental illness, it may be worth looking into training your dog for psychiatric service work! Psychiatric service dogs (PSDs) are a type of service dog, so they're covered under the ACAA when it comes to riding with you in the plane cabin for free. Even though they travel in the cabin with you, psychiatric service dogs aren't subject to breed/size restrictions on planes.
Can I Live With an ESA in Chicago?
ESAs are protected under the Fair Housing Act (FHA), which is a federal law. The FHA specifically states that landlords cannot charge pet-related fees for having an ESA, no matter the animal's breed, weight, or size. This is true even if landlords have a no-pets policy; ESA letters always supersede this.
As long as you have a valid ESA letter, you will always be allowed to reside with your emotional support animal free of charge in any apartment, condo, or house in the U.S.
It's important to note that the Fair Housing Act does not cover temporary lodgings like hotels or Airbnbs. If you're planning on traveling with your ESA, double-check that your lodging allows animals. In this case, breed, weight, and size restrictions do apply.
Can I Bring My ESA to Work With Me in Chicago?
Unfortunately, Illinois doesn't have legal protections for bringing your ESA to work with you. Depending on your employer, you may be able to ask for an accommodation–typically, you do this by filling out a form that your employer or HR department has on hand.
When filling out this form, you should be prepared to show a copy of your ESA letter and discuss the training your emotional support dog has had. You should note that legally, your employer does not have to approve this accommodation, but it can't hurt to ask!
What Exceptions Are There to ESA Laws in Chicago?
It's important to understand that landlords can make a couple of exceptions when it comes to allowing your ESA residence.
The number one exception to ESA laws is aggression. If your ESA, particularly an emotional support dog, is shown to be aggressive toward other people or pets, they can be seen as a danger to the property. To avoid this, it's recommended to have your dog complete obedience training and aggression training, if necessary, before getting your ESA letter.
The other big exception a landlord can make is if your ESA is destructive to the property. This is another reason why training an emotional support dog for basic obedience is very important.
Where Can You Take Your ESA in Chicago?
Even though ESAs don't have public access rights, there are still plenty of places to take your dog in Chicago!
If you're looking to grab a bite to eat with your emotional support dog, The Dog Haus serves American fare and has a dog-friendly patio.
Chicago also has a wide array of dog parks and dog-friendly parks (so long as your pup is on a leash). If you're looking for a unique way for your dog to get exercise and do a little parent-pup-bonding, check out Bosly's Backyard! Bosly's is a big indoor dog play place that has ball pits, agility courses, and more. You can even bring your own toys and treats!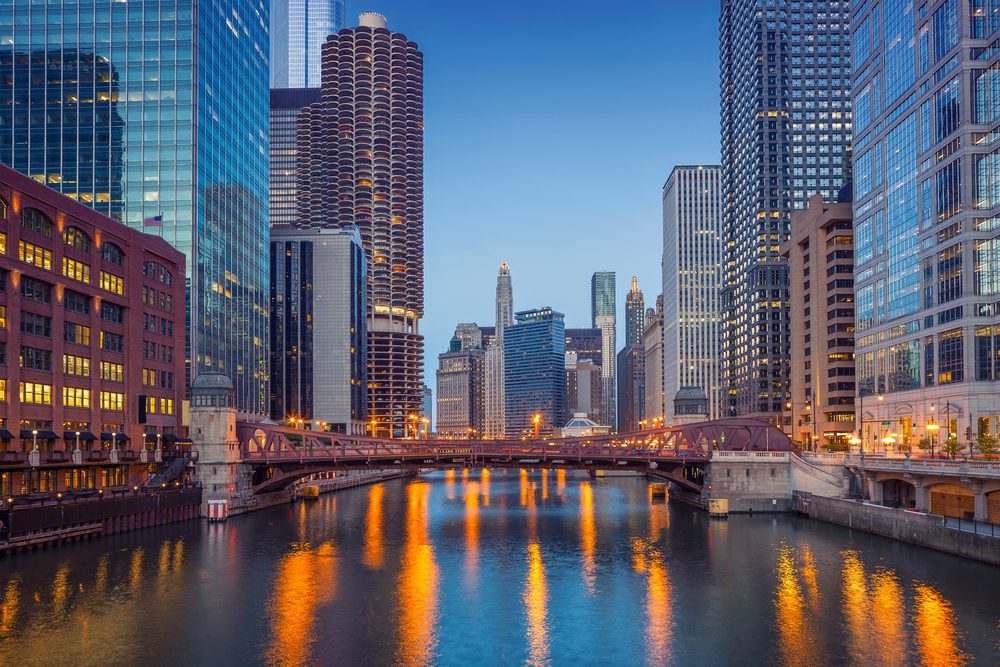 Important Facts About ESAs in Chicago
ESAs can be any animal, they're not restricted to dogs, cats, or other mammals.
ESAs are not the same as service dogs. Service dogs need to have specialized training, whereas ESAs do not.
ESAs, unlike service dogs, do not have public access rights, which means that you are not legally allowed to take them everywhere.
You must be diagnosed with a relevant condition to receive a legal ESA letter (and furthermore, for ESA rights to be granted).
Certificates and ESA registration are not the same as an ESA letter, and they aren't legally binding. The only thing that can make an ESA legally valid is a valid ESA letter.
ESAs do not require specific training to gain ESA rights, but they must not be aggressive, destructive, or badly behaved. This goes for public places, as well as residences like apartment buildings.
ESAs can't be subjected to breed, size, or weight restrictions on a state, city, or residence-wide scale. Additionally, they can't be charged fees or rent associated with having a pet.
Get an Emotional Support Animal (ESA) Letter in Chicago Today
ESAs are a great option for people who need help managing mental health symptoms. Having an ESA can improve your emotional well-being and give you the confidence to enjoy Chicago fully. If you still have questions, schedule your risk-free consultation with U.S. Service Animals today–we're here to help!