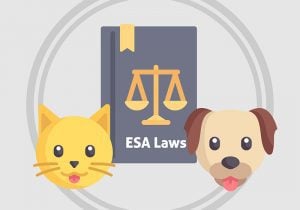 An emotional support animal is truly a life-saving asset for hundreds of thousands of Americans. From rabbits to dogs (and many species in between), emotional support animals provide assistance and therapeutic benefits to help those living with mental disabilities or emotional trauma. Anxiety, depression, or post-traumatic stress disorder, just to name a few, can make it extremely difficult to perform everyday activities. However, an emotional support animal can help ease the burden and make life a bit easier for those struggling with these issues. Thankfully, getting an emotional support animal in Massachusetts is relatively easy, especially if you acquire a hassle-free ESA letter through US Service Animals.
It is important to note the difference between a service animal and an emotional support animal. Service animals (typically dogs) have been trained to perform specific tasks that a person is incapable of performing on their own. For this reason, service animals are allowed in public spaces where other animals (possibly including emotional support animals) may not be allowed to go.
Alternatively, emotional support animals are not trained in specific tasks, nor are there as many limitations on the types of animals that qualify; dogs, cats, birds, and even miniature horses can qualify as emotional support animals. In Massachusetts, as with other states, the Fair Housing Act covers the legal definitions of emotional support animals. These laws help protect emotional support animals and their owners when attempting to rent a living space.
Travel Laws
The Air Carrier Access Act protects owners and their emotional support animals in Massachusetts. The law allows anyone with a disability to travel with their emotional support animal as long as they have an ESA letter. All airlines require this letter as proof that the animal is, in fact, an emotional support animal, and that the owner has legitimate reason for bringing their animal onboard the flight. Even if the airline does not allow pets, an emotional support animal must be allowed into the cabin of the plane, free of charge. The ESA letter and any relevant medical documentation must be presented to airline staff in advance. It is also generally recommended that you notify the airline at the time that you purchase your ticket.
Unfortunately, ESAs are not provided much protection when it comes to traveling. The Air Carrier Access Act no longer requires airlines to allow emotional support animals in the cabin. Now, only trained service dogs are permitted to ride in the cabin for free with their handlers. Even then, airlines are allowed to require handlers to fill out a form providing information about the dog's training as well as agreeing to airline policy that aggressive or unruly dogs can be removed or made to travel in a carrier.
If you want to bring your ESA into the cabin of an airplane, you now have two options. If your animal is small enough, you may be able to pay a fee and bring it as a carry-on that gets stowed under your seat. If you have a dog, you can train it to be a psychiatric service animal (PSA). PSAs perform tasks that provide relief to patients with mental health disabilities. For example, a PSA can help an owner ground themselves during a panic attack by licking, pawing, or even laying on them. Because PSAs are service dogs, they are protected by the Air Carrier Access Act.
Employment Laws
Although employment is covered under the Americans with Disabilities Act, which states that employers cannot discriminate against anyone with a disability, emotional support animals are not protected under this law. However, if you have an ESA letter to show your employer in Massachusetts, you may be allowed to bring them into the workplace. This is determined on a case-by-case basis, so if your employer does not approve of having an emotional support animal in the workplace, unfortunately, you must abide by their decision.
Similarly, Massachusetts does not protect the right to bring emotional support animals into public spaces. According to the Massachusetts state government website, "ESAs are not considered service animals under the ADA or the Massachusetts law regarding service animals." This means ESAs are not permitted to go anywhere the public is allowed to go under the definition of 'service animal.' For example, while a service animal must be permitted to enter a restaurant with its handler, an ESA would not be permitted under federal and state law permitting service animals because it would not meet the definition of 'service animal.'
However, places that are open to the public and covered under these laws still have an obligation to consider modifying their policies when necessary to ensure equal access to a person with a disability. In some cases, this could mean an obligation to modify a policy to allow for an emotional support animal. MOD encourages covered entities to use such situations as opportunities to educate patrons about which animals meet the definition of a service animal and to modify their policies on a case-by-case basis. Emotional support animals are not automatically entitled to access public places the way service animals are. It is important to note that individual states other than Massachusetts may have laws that do recognize emotional support animals as service animals.
Housing Laws
In Massachusetts, the Fair Housing Act protects those with an emotional support animal. Specifically, this law outlines rules related to "assistance animals," which includes both service animals and emotional support animals.
According to the Fair Housing Act, landlords have the right to request an ESA letter when applicant's request accommodations for their service animal. However, they are limited in how and what they can ask of a potential tenant. They are only permitted to ask the following questions:
"Does the person seeking to use and live with the animal have a disability (a physical or mental impairment that substantially limits one or more major life activities)?
Does the person making the request have a disability-related need for an assistance animal? (afford a person with disabilities an equal opportunity to use or enjoy the dwelling)."
Additionally, landlords must abide by the following guidelines related to assistance animals:
"Breed, size, and weight limitations may not be applied to assistance animal.
Animals other than dogs can be assistance animals.
Housing providers may ask for documentation of the disability-related need for an assistance animal if the disability is not apparent.
Decision must be based on individualized assessment relying on objective evidence about the specific animal's actual conduct–not based on mere speculation that the animal may cause harm or on evidence of harm or damage caused by other animals.
Landlords can request proof of current vaccination and/or license for the assistance animal.
Landlords can expect the tenant to conform to the rules of the complex, i.e. picking up animal waste, maintaining the unit to the extent expected of every other tenant.
A landlord cannot require the assistance animal to have any specific training or certification.
A landlord cannot require the assistance animal to wear or carry any special collar, harness, vest, emblem or other means of identifying it as such.
Pet deposits or pet fees are not allowed."
However, in certain circumstances, landlords are allowed to refuse an emotional support animal if it "would impose an undue financial and administrative burden, if it would fundamentally alter the essential nature of the housing provider's services, or if the specific assistance animal poses a direct threat to the health or safety of others."
In any case, you should make sure to get your ESA letter with US Service Animals as soon as possible, especially if you plan to travel with your pet. You can also learn more about Massachusetts' state requirements and regulations for emotional support animals right here.
How to get an emotional support animal in Massachusetts
It is quite easy to get an emotional support animal in Massachusetts. Simply contact US Service Animals to speak with one of our medical professionals. They will assess your situation to see if you and your animal qualify. If you do, you will be permitted to continue the registration process and receive your ESA letter. This letter is very important, as many landlords in Massachusetts will require you to present it.
With US Service Animals, you can talk to a mental health professional and register your emotional support animal quickly. Simply follow the steps provided on our website. You won't have to pay anything unless the mental health professional approves your request. Then, you will receive your ESA letter, granting you all of the rights and benefits associated with an emotional support animal!