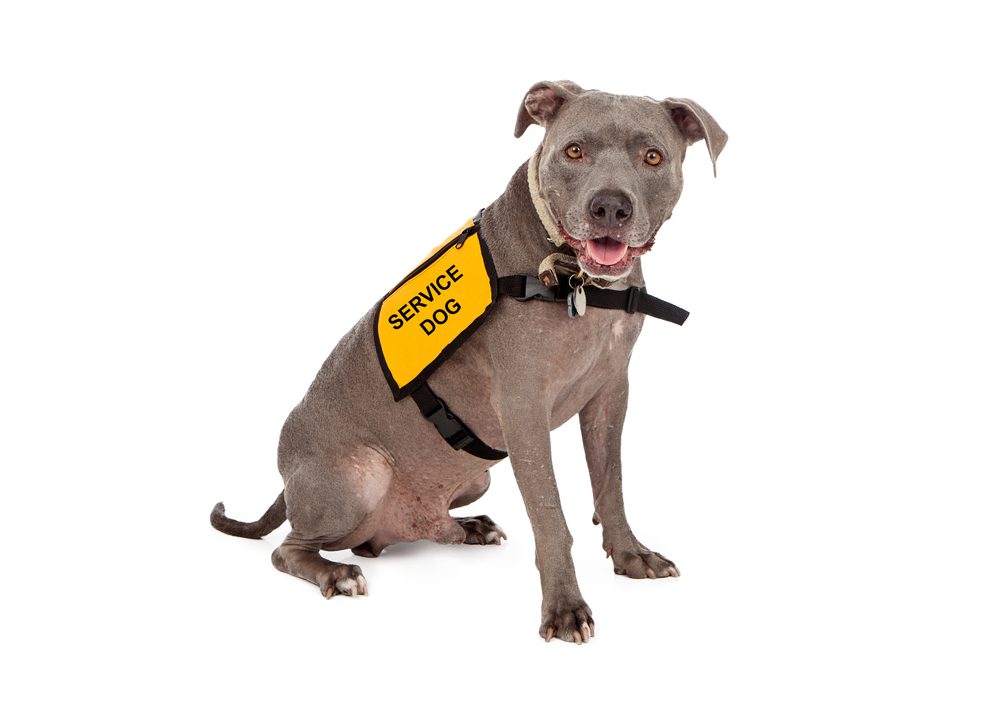 Service animal laws in Massachusetts, as in most states, are written to the benefit of individuals with disabilities. Massachusetts service animal laws adhere to ADA ("Americans with Disability Act") guidelines, meaning service dogs are accessible to individuals with sensory, physical, and psychiatric disabilities. Under ADA law, service animals must be dogs, with exceptions made for miniature horses.
In Massachusetts, service dogs are allowed in all locations their handler may access, including all public areas, provided the service dog is on a leash, harness, or another mechanism of control. In addition, both ADA and Massachusetts law differentiate between service animals and emotional support or companion animals, whose primary purpose is to provide comfort to their handlers.
Service dogs are trained with a variety of skills to enhance the quality of life of individuals with disabilities that might impair or detriment their ability to perceive, move, or engage with certain environments. Depending on the training, dogs may have a variety of skills. For example, a service dog trained to assist a handler with diabetes or epilepsy can detect and alert their handler of physiological changes in their body. Having and training a service dog has many benefits, including physical benefits such as guidance and emotional benefits such as reduced rates of anxiety and depression.
Massachusetts offers many formal training programs for service animals, but disabled persons are permitted to train their service dog themselves. Handlers are not required to carry or possess any certificate verifying their disability or service animal, nor are others allowed to inquire about their disability or documentation certifying their service animal.
What to Look For When Choosing Service Dog Training
Choosing a training program for your service dog can be overwhelming, but the basic tenets to consider when selecting are simple: accessibility to you and your dog and the effectiveness of the program. Accessibility of a program can involve a range of factors, including the location of the training, cost, and online vs. in-person lessons.
Another factor to consider is the breed of dog that training programs accept into training. Certain training programs allow and celebrate the training of previously owned or adopted dogs of any breed and size, giving handlers the freedom to select a dog that melds with their personality and needs. However, other training organizations promote the merit of specially bred dogs as the product of a long genealogy of carefully curated temperaments and skillsets designed to maximize a dog's service potential. Both means of acquiring and training a dog have their pros and cons, but ensuring your program of choice can support you and your dog's needs is the top priority.
Testimonials are helpful to review when considering a service program, as clients' past experiences with an organization, their trainers, and their training style can indicate the program's true success rates and results. Waitlist times are additionally important to consider. Many service dog training programs are highly coveted, though; therefore, waiting list times can be lengthy depending on the program, service, and location.
Luckily, there are as many programs as types of dog and disability; therefore, it's extremely important to consider what you as a handler are seeking from your dog and their training.
Online vs. In-Person Service Dog Training
Service dog training can successfully occur online or in-person, depending on a raiser's availability and location. Both mediums have benefits and drawbacks, and choosing between the two can only be decided based on individual needs and limitations. In-person training has long been the method of service dog training, as the hands-on professional assistance allows for efficient and controlled growth for the dog and their skills.
However, online service dog training offers flexibility that in-person training cannot, as service dog raisers can access information from anywhere and on their own schedule. Online courses are often more affordable to customers. Training dogs via online courses doesn't mean handlers won't have access to personalized training or advice, as many programs provide virtual meetings via Zoom, Skype, or other programs, allowing handlers to ask questions and get advice on complications specific to their dog.
| | |
| --- | --- |
| Pros of Online Service Dog Training | Pros of In-Person Service Dog Training |
| Accessible from anywhere | Hands-on learning |
| Flexible schedule | Professional guidance |
| Immediate access to professional help | Trained socialization and exposure to other people and dogs |
| Video and phone access to professionals |  Access to more tools and equipment |
| Cost-effective | |
The Best Service Dog Training in Massachusetts
US Service Animals is recognized nationally by federal and state laws, in addition to airline and housing requirements. Both effective and cost-efficient professionals with over two decades of experience designed this online course. Through US Service Animals Online Training, users will have access to online modules and individual training experts in order to create an experience accessible to every breed and disability. Training programs deliver incredible results for dog and handler alike, preparing animals to guide visually- and hearing-impaired persons, to provide physical support, to assist in case of seizure, and to retrieve needed items, among other skills.
Cost: $349
Location: Online only (6 video modules)
Certificate: Yes
1:1 Support: Yes
Equipment Provided: Clicker, plus optional service vest, collar, collar tag, and leash
At Your Service Dog Training is a local Massachusetts organization founded by Sharon Waschler, a certified professional dog trainer with nearly 25 years of experience working with service dogs. The organization offers various services for handlers to train their dogs, including group classes, board-and-train programs, daily in-person training, online modules, and consultation services to assess a dog's aptitude or readiness.
For those in the Pioneer Valley area, At Your Service offers in-home or on-site lessons and day school for intensive skill learning for service dogs-in-training. With At Your Service, dogs can be trained for physical, sensory, and psychiatric disabilities with skills including retrievals, get help commands, physical support, and self-harm behavior interruption, among other tasks.
Cost: Ranges per program. $90-115 / hour for private lessons. $125-230 for group lessons.
Location: Pioneer Valley
Certificate: Yes
1:1 Support: Yes
Equipment Provided: Varies by service
Service Dog Academy blends personal and professional training experiences. Their training methods are based on positive reinforcement and non-aversive methods in order to support the best relationship and learning experience between dog and handler. Service Dog Academy offers in-person and online services for clients who cannot train in-person. For online clients, Service Dog Academy offers Zoom and Google Hangout meetings with clients and their dogs in order to maintain a proactive communicative training process, in addition to a pre-recorded video training course.
Service Dog Academy also offers board and train services, in which handlers can board their dog with Service Dog Academy for two months for intensified growth opportunities. Service Dog Academy assists people with acquiring specially bred dogs and previously trained service dogs but specializes in training independently owned or adopted dogs of all breeds.
Cost: Class rates begin at $250
Location: Online
Certificate: No
1:1 Support: Yes
Equipment Provided: No
Since its founding in 1975, NEADS has trained over 1,800 service animals across the country and is an internationally recognized organization that provides dogs with the skills to serve deaf, blind, and physically and mentally disabled handlers—including PTSD and autism. NEADS customizes their training according to disability needs, offering training for dogs and handlers in order to create the most efficient and mutually beneficial experience. NEADS does not train independently owned or adopted dogs, training only dogs bred and born from its own breeding program to maximize success. With NEADS, handlers must adopt a previously bred or trained dog rather than train an independently acquired dog.
Cost: $8,000
Location: Princeton, MA
Certificate: Yes
1:1 Support: Yes
Equipment Provided: No
Doggy U combines online learning with personalized attention. Through access to extensive video learnings and readings, service dog raisers can peruse learning techniques on their and their dog's timeline, accessing the skills and assistance they need independent of a classroom schedule. Beyond online resources, Doggy U offers highly focused individualized consulting on all aspects of service dog raising, from selecting a prospective service dog as well as throughout the training process. Their programs vary in the time, finances, and intensity they require, providing a thorough but warm training experience to all who are interested. In addition, Doggy U trains dogs to support a variety of disabilities, including mobility and balance, hearing, anxiety, and PTSD.
Cost: $49.99 for first consulting appointment; Membership options starting at $3 per month for tiered access to video learning content.
Location: Online
Certificate: No
1:1 Support: Optional
Equipment Provided: No