If you're interested in training or owning a service dog in Montana, then it is good to know about the laws that regulate service dogs. The most important law is called the Americans with Disabilities Act (ADA). This is a federal law and supersedes all state laws.
Where possible, you should abide by both state and federal laws. Luckily, Montana's state laws are very similar to those put in place by the ADA. Both the ADA and Montana state law require that service dog users are allowed equal access to public areas.
Service dog users are also allowed to live with their service dogs in housing without any pet charges and can even live in housing where pets aren't usually allowed. The Fair Housing Act is another law that protects these housing rights alongside the ADA and Montana law.
When you visit a business in Montana with your service dog, the employees are not allowed to ask about your disability. They can only ask if you need the dog because of a disability and what tasks your dog is trained to perform. Montana state law differs from the ADA in two notable ways. The first is that Montana law also protects service dogs in training and gives them the same rights as fully-fledged service dogs.
The second is that Montana law requires service dogs to wear visible identification such as a harness, collar, or leash. The ADA does not require service dogs to be labeled or wear any sort of identification. Many service dog users prefer to use identification so that the general public can easily tell their dog is a working animal and should be left alone.
Now that you have a basic understanding of the laws surrounding service dogs in Montana, let's get to the training! We'll let you know what to look for when choosing a trainer, the differences between online and in-person training, and finally, what the best training options in Montana are.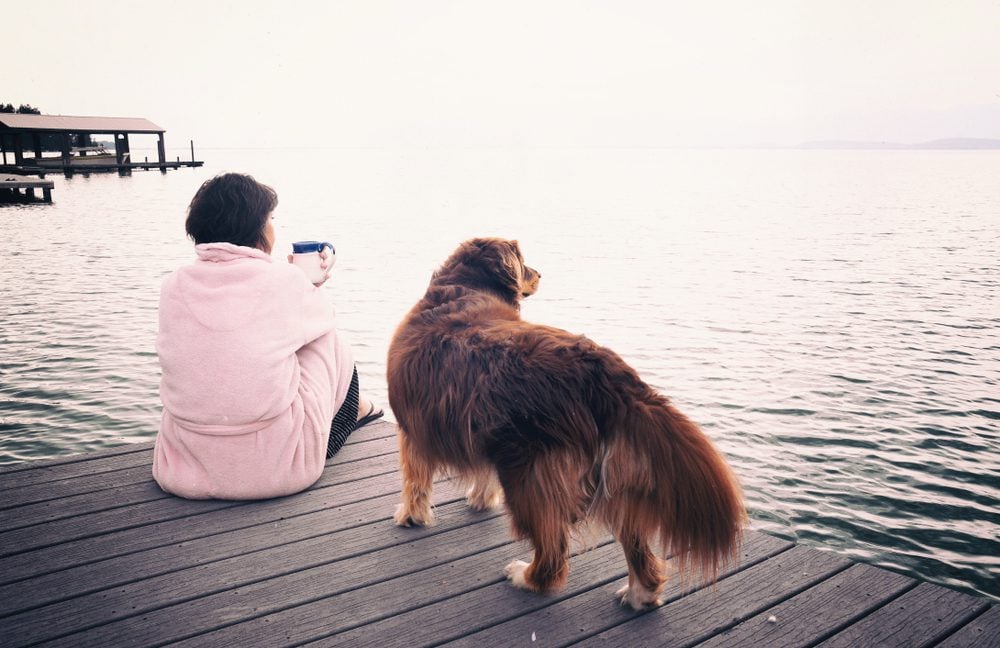 What to Look for When Choosing Service Dog Training
Training your own service dog is a great way to save some money and bond with the dog. However, it can be a bit risky as not all dogs are cut out for service work, even those that initially seem like they are. That's why it is important to find the right service dog trainer.
Working with a knowledgeable and experienced trainer can help increase your chances of success. Many trainers will help you pick out a dog or can assess whether a dog you already own might be fit for service work. There are many different types of training methods, and you'll want to know what you're comfortable with.
Some trainers used balanced training, which pairs rewards with punishment. Others use tools like e-collars or prong collars, which can do more harm than good when used improperly. Lastly, there are force-free trainers who work with a dog's motivations rather than using fear, intimidation, or physical force. USSA's courses are all force-free!
The last thing you'll want to consider is how far you're willing to travel. Luckily, there are many great online training opportunities for those who do not live near any service dog trainers.
Online vs In-Person Service Dog Training
The internet has taken the world by storm and has become an amazing resource. Now, it is possible to train your dog from the comfort of your own home using online dog training. Online training can be just as effective as in-person training, even for service dogs!
Online training tends to be the most affordable option; not only are the classes typically cheaper, but you also won't have to pay for gas. It's nice to study in your own home, but with online training, you can study anywhere with an internet connection.
Though in-person training is typically more expensive, it does have its perks as well. Perhaps one of the best things about in person-training is that trainers can accompany you to public areas and help directly with your dog's training.  They're able to see exactly how your dog is reacting to a new environment and help guide you in real time.
While you could still reach out to an online trainer while out in public, it's not quite as easy as having someone there with you. So, for training in public, if you use online training, you have to be prepared ahead of time and you need to be able to be independent. Of course, you can always ask questions after a training session out in the wild.
Here's a quick look at the pros of both online and in-person training.
| | |
| --- | --- |
| Pros of Online Service Dog Training | Pros of In-Person Service Dog Training |
| Ask Questions | Ask Questions |
| Most Affordable | Cheaper Than Buying a Fully Trained Dog |
| Learn From Anywhere With an Internet Connection |  In-Home Training Available |
| Work With Experienced Professional Trainers |  Work With Experienced Professional Trainers |
| Flexible Schedule | Immediate Guidance During Fieldtrips to Public Places |
| Learn at Your Own Pace |   |
The Best Service Dog Training in Montana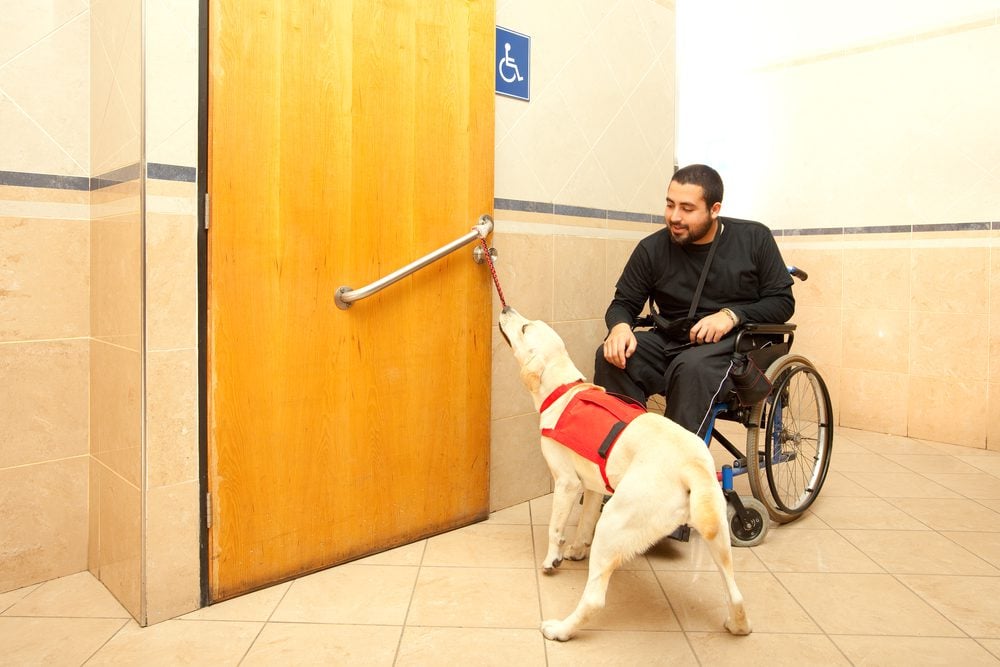 Finding the right trainer isn't always easy, especially when you're looking for someone to help you train a service dog. Therefore, we've done some digging and found some of the best service dog trainers in Montana. Take a look!
US Service Animals Online Training
US Service Animals' (USSA) online training focuses on psychiatric service dogs and includes six modules with 12 training videos. You will receive one-on-one support from a professional trainer, a training clicker, and an optional service vest, collar, collar tag, leash, and more.
You'll also get a trained service dog certificate upon completion of the program. USSA's training courses were created by a team of professional service dog trainers who have more than 20 years of experience. Training can take anywhere between 10 hours and 10 weeks to complete; it all depends on your dog's current level of training.
Cost: $349
Location: Online only (6 video modules)
Certificate: Yes
1:1 Support: Yes
Equipment Provided: Clicker, plus optional service vest, collar, collar tag, and leash
Link: https://usserviceanimals.org/service-dog-training
Wind River Canine Partners
Wind River Canine Partners created a service dog program in the hopes of providing a more accessible way for people with disabilities to get a service dog. Their program is designed for people who want to train a dog themselves and consists of private lessons and both board-and-train sessions.
If you already have a dog, Wind River Canine Partners will assess them to determine if they'd be a good fit for service work. If you don't have a dog, they offer a consultation to help you go about choosing the right dog.
Wind River Canine Partners helps train the following types of service dogs: mobility assistance, psychiatric assistance, scent-based alert (allergen detection, diabetic alert), and seizure assistance. Training can take anywhere between 4 and 18 months.
Cost: $1,500 – $2,500 for private lessons only, $6,600 – $9,600 for board and train only; combination programs are available and cost somewhere in between
Location: 5353 E. Carlton Creek Rd., Florence, MT 59833
Certificate: No
1:1 Support: Yes
Equipment Provided: Not specified
Link: https://windrivercaninepartners.com/about-service-dogs/
Firewind Training Kennels
Firewind Training Kennels offers private service dog training where they will help you train your dog to be a service dog. If you already have a dog, they will evaluate them to ensure they have the potential for service work.
Service dog training can be done via boarding and training, private lessons, or a combination of the two. Firewood Training Kennels uses reward-based training which includes praise, play, and treats. They focus on using a dog's motivations to their advantage rather than using intimidation or fear.
Cost: Contact for details
Location: Missoula and Western Montana
Certificate: No
1:1 Support: Yes
Equipment Provided: Not Specified
Link: https://www.firewindtrainingkennels.com/services/priv-service-dog-training/
Bark 4 Joy Dog Training
Bark 4 Joy helps people with disabilities train their own service dogs. They are able to help train medical alert or medical response dogs, psychiatric service dogs, hearing assistance dogs, and mobility assistance dogs.
The training plan includes basic obedience, public access, and task training. You'll also learn about service dog laws, so you'll know your rights as a service dog user. While the cost will depend on one's individual needs, Bark 4 Joy is happy to assist you with fundraising so that you can afford training.
Cost: Contact for details
Location: Helena, Montana
Certificate: No
1:1 Support: Yes
Equipment Provided: Not specified
Link: https://www.bark4joydogtraining.com/dogs-with-jobs
Dog Tag Buddies
Dog Tag Buddies is a non-profit organization focused on providing support for disabled veterans. They help veterans pick out a dog to be trained for service work. The veteran receiving the dog will participate in every step of the dog's training.
Dog Tag Buddies believes that being involved in dog training helps veterans (especially those with PTSD or other mental health disorders) overcome counterproductive coping mechanisms such as self-isolation, loss of interest, and detachment.
Dogs can be trained to help with physical, sensory, psychiatric, intellectual, and other mental disabilities. As a charitable organization, Dog Tag Buddies sponsors the entire cost of training a dog. They also provide many necessities for owning a dog such as food bowls, leashes, collars, and crates, all for free.
Cost: Free
Location: 924 Pine Ridge Ln #4 Billings, MT 59105
Certificate: No
1:1 Support: Yes
Equipment Provided: Food bowls, leash, collar, crate