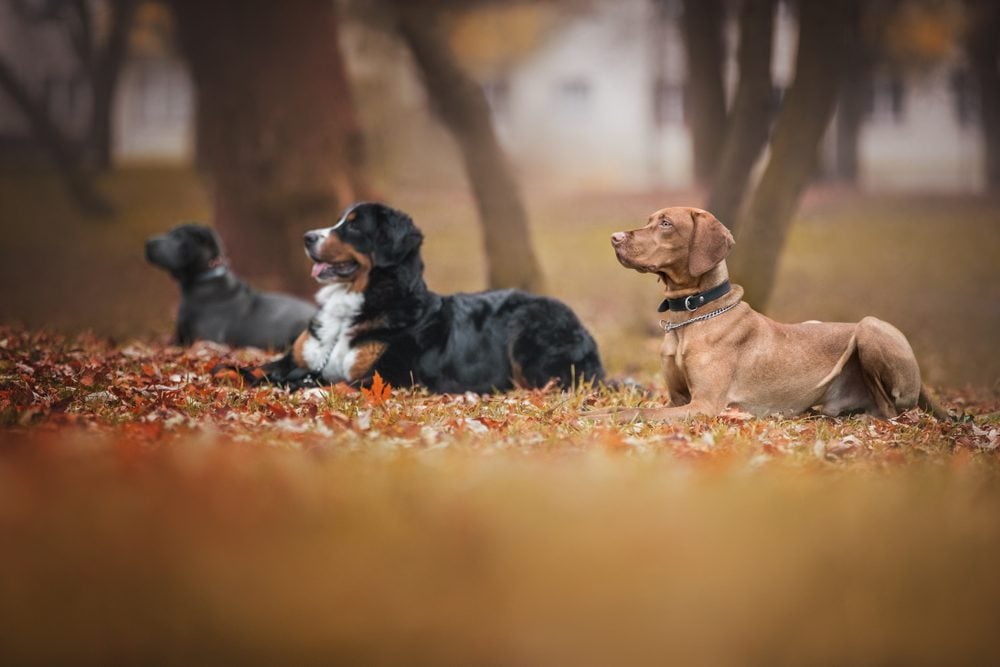 People living with a disability in West Virginia should consider training a service dog to aid them with their day-to-day tasks. Not only are these lovable companions incredibly helpful, but they also receive legal protections through federal and state laws.
Under the Americans with Disabilities Act (ADA), a public accommodation—restaurants, attractions, shops, etc.—cannot deny entry to a service dog, provided the animal is well-behaved and doesn't pose a safety risk. Furthermore, West Virginia's White Cane Law provides similar protections for service dogs in the state.
Although there aren't any formal certification requirements involved, the animal must be trained to assist its handler with a disability. To help you find a suitable trainer in West Virginia, we've compiled a list of the top five options in the state.
What to Look For When Choosing Service Dog Training
Choosing an appropriate service dog training center is the first step towards turning a canine companion into a bonafide service animal.
Regardless of whether you choose an online or in-person trainer, it's best to stick with an established operator with years (or decades) of industry experience. Look for a provider with a proven track record with your specific disability.
Not all trainers work with every dog. But that's not necessarily a bad thing—it could mean they excel at training a specific breed. Some insist on working with a custom-bred puppy, while others accept existing pets (after a rigorous evaluation) or source animals from a local shelter. In any case, check whether these conditions align with your needs.
For a brick-and-mortar establishment, it's worth assessing the facilities in person before committing. Are the kennels in good shape? Do the dogs have plenty of open space? A low-quality trainer will cut corners and deliver subpar results.
While a sizable waiting list is indicative of a successful business (or a popular non-profit), you should consider your own timeline as well. If you need an animal trained in a hurry, there's no point joining a five-year waiting list.
Finally, cost is a crucial consideration. While the law requires a service dog to be capable of supporting its owner, there's no legal requirement to enlist a professional trainer. An online training course gives you the necessary tools to train your animal at home and saves you thousands compared to an in-person program.
Online vs In-Person Service Dog Training
So what's the best option for training a service dog: in-person or online? Both methods have their advantages, which we'll discuss below.
While an in-person course requires you to attend scheduled classes, an online program lets you train your animal at your convenience—you don't even need to leave the comfort of your own home. The most significant benefit, however, is cost. Online programs give you all the support and guidance you need at a fraction of the price of an in-person course.
Although rigid and expensive, in-person programs may achieve better results because an experienced professional provides expert, tailor-made training sessions. Furthermore, the in-person option puts less burden on the owner, which is essential when a severe disability renders self-training impractical. Both humans and canines also get ample opportunity to socialize and exercise—active and outgoing owners often find in-person training more fun.
| | |
| --- | --- |
| Pros of Online Service Dog Training | Pros of In-Person Service Dog Training |
| Cost-effective: online courses cost a fraction of the price of in-person programs | Less owner burden: trainers do most of the work, essential for people with severe disabilities |
| Convenience: train your dog at a time that's suitable for you | Expertise: in-person trainers draw on years of experience to achieve optimal results |
| Comfort: no need to leave the comfort of your own home | Exercise and socialization: you and your dog will get out and about |
The Best Service Dog Training in West Virginia
Now that you're up to speed, it's time to check out the top service dog training programs in West Virginia, both in-person or online. We've searched long and hard to identify and review the top courses in the state to make the selection process easier for you.
US Service Animals Online Training
The top dog in virtual training, US Service Animals Online Training, gives you everything you need to teach your canine to become a service dog from home. The six-module program consists of 12 easy-to-follow videos that outline cutting-edge animal behavior theories and how they apply to your four-legged friend. Unlike other online programs, you'll get customized support from a professional service dog trainer throughout the course.
The comprehensive program teaches your pet to assist with various disabilities, including blindness, hearing loss, diabetes, mobility issues, and epilepsy. No breed or size restrictions apply, and you get a handy certificate at the end (there's also an optional service vest, collar, collar tag, and leash).
Cost: $349
Location: Online only (6 video modules)
Certificate: Yes
1:1 Support: Yes
Equipment Provided: Clicker, plus optional service vest, collar, collar tag, and leash
Link: www.usserviceanimals.org
Hearts of Gold
One for West Virginian veterans to consider, Hearts of Gold trains service dogs for servicemen and women living in the state. The training process, which takes over a year from start to finish, doesn't cost eligible applicants a cent, making it a tempting option for low-income veterans.
The service dog program is known as Human Animal Bond, and endeavors to deliver its namesake—a long-lasting relationship between handler and canine. Veterans with a wide range of disabilities may apply. However, the program is only open to people living within 100 miles of Morgantown due to the in-person training component.
Cost: Free of charge
Location: Morgantown, WV
Certificate: Unspecified
1:1 Support: Yes
Equipment Provided: Unspecified
Link: www.humanimalbond.org
Off Leash K9 Training
A sizeable nationwide outfit, Off Leash K9 Training provides in-depth board-and-train services throughout America, including right here in West Virginia. The company offers multiple service dog training programs that cater to three distinct disabilities: mobility impairments, diabetes, and Post Traumatic Stress Disorder (PTSD).
The length, requirements, structure (board-and-train / at-home training / weekly classes), and cost of each program vary, with the most in-depth option lasting up to 12 months. Basic obedience training plus Good Canine Citizen (GCC) certification comes included in the deal, and the company can help you find an appropriate pooch if your existing pet isn't suitable. There's a $50 assessment fee, which the company will waive if you choose to proceed with the program.
Cost: Mobility Support: classes $900-1300+ / board-and-train $2800. Diabetic Alert: $5,000-$15,000. PTSD: Classes $900-1300 / board-and-train $3,700.
Location: Charleston, WV
Certificate: Unspecified
1:1 Support: Yes
Equipment Provided: Yes
Link: www.olk9wv.dog
PurposeFULL Paws
This local non-profit works tirelessly to train and place service dogs into the homes of people with disabilities throughout West Virginia. At this stage, the organization is exclusively training animals to assist with mobility impairments, diabetes, hearing loss, and autism—people with other disabilities need not apply.
PurposeFull Paws sources donations from the community to fund most of the training. However, applicants will be expected to pay a $500 placement fee and launch a fundraising campaign to help cover costs. All its adorable assistance animals are rigorously trained at a volunteer's home—you can see their profiles on the organization's website. Applicants will need to make multiple visits to the Martinsburg facility for training and annual evaluations.
Cost: $30 application fee. $500 placement fee.
Location: Martinsburg, WV
Certificate: Unspecified
1:1 Support: Yes
Equipment Provided: Unspecified
Link: www.purposefullpaws.org
Fetch And More
Fetch And More is a for-profit trainer that offers a service dog program for people with disabilities in the Eastern United States, including West Virginia. The company provides pre-trained animals for physical and psychiatric disabilities. Fetch And More subscribe to the "no-kill revolution," sourcing animals from local shelters and working tirelessly to optimize their live release rate.
Animals are trained at the company's facility, then put through an in-depth placement program before being handed over to the new owner. It's worth mentioning that the company isn't as well-established as the other trainers on our list, so it may be worth investigating other options first.
Cost: Contact for a quote
Location: Eastern United States, including West Virginia
Certificate: Unspecified
1:1 Support: Yes
Equipment Provided: Yes
Link: www.fetchandmore.com