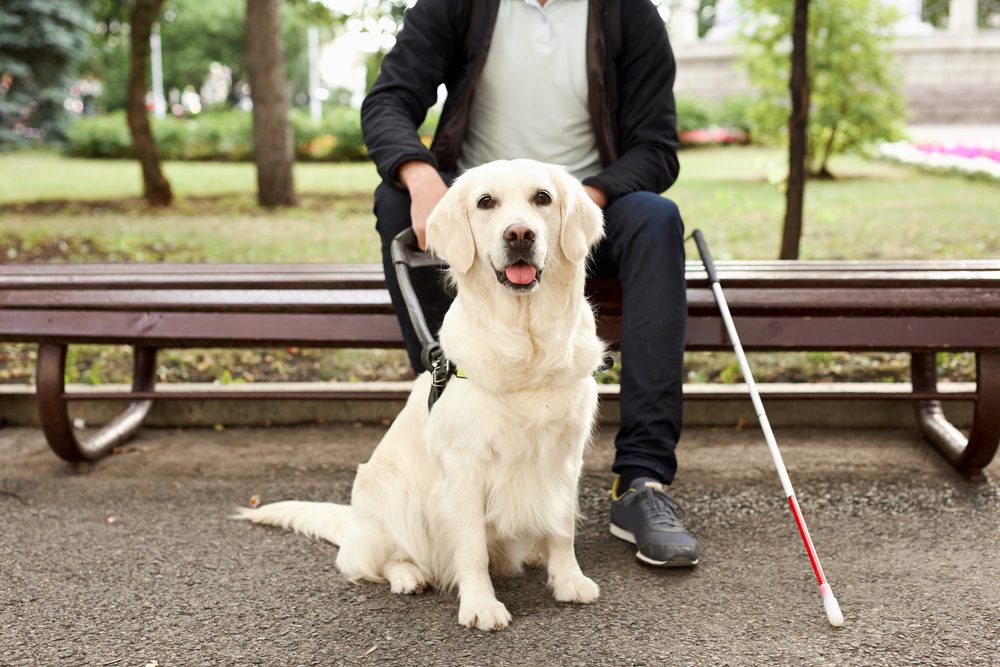 Living with a disability can be challenging, particularly if you live in a sunny, outdoorsy state like California. If you're living in California and struggling to complete day-to-day tasks on your own, it might be time to consider training a dog or puppy as a service animal. Not only will your pooch be able to assist you with completing simple tasks, but you'll also develop a fulfilling and unbreakable bond with your pup.
Under the Americans with Disabilities Act (ADA), service dogs in California are afforded comprehensive legal rights and protections across the entire. A violation of the ADA within California is considered to be a civil rights violation. Non-compliance with service dog protections is punishable with a minimum state penalty.
Under the ADA, public establishments like cafes, restaurants, retail stores, and educational institutions must make "reasonable modifications" to any standing no-pet policies. Airlines are unable to charge passengers for flying a service pet and landlords must also make an effort to accommodate for service animals in rental properties.
Currently, there is no formal certification or registration system for service dogs in California. However, you will need to ensure your canine is adequately trained to be a service dog and your dog must also be housebroken. Please note, Californians can register their service animal with the US Service Animal Register. This is an especially good idea if you're someone who travels regularly, allowing you to quickly show ownership of a service dog on a national database.
To give you a head start on training your pooch to be a service dog, this guide will cover some key points to keep in mind when searching for a service dog trainer. Finally, we'll take a brief look at five of the best service dog training providers in California.
What to Look for When Choosing Service Dog Training
In order to become a service dog, your pooch will need to learn a wide range of behavioral responses and vocal commands. Finding a qualified service dog training center is the first step in ensuring that your dog will be up to the task.
Both in-person and online courses can be effective in training your dog. However, for the best result, you should try to find a trainer who has experience with your disability and understands how to prepare your pooch for your specific physical and/or psychological needs.
Another important thing to consider when searching for a trainer is the breed of your dog. Some trainers prefer to work solely with specific breeds or breeds they have experience with. Others choose to only work with puppies, as they can be easier to train than older dogs. Don't worry, if you want to train your current dog as a service animal, there are trainers that can service your needs.
If you'd prefer in-person training, you should carefully consider the quality of the facilities and the staff taking care of your pooch. It's important that your dog is receiving the best possible care and husbandry during their time training. If they're living in crowded, uncomfortable kennels and not being well-cared for, they're less likely to take to new training techniques.
The final and potentially most important consideration you should make when deciding on a trainer is your budget. As previously mentioned, your dog will need to be trained to become a service dog. However, there is no legal requirement for a professional trainer to train your dog. If you're operating on a tight budget or the cost of in-person training is off-putting, you can learn all the skills and techniques necessary to train your dog at home through an online dog training course.
Online vs. In-Person Service Dog Training
There are pros and cons to both in-person and online service dog training. If you have a busy schedule or you find it difficult to travel regularly, an online training course is the perfect option for you. Not only will it allow you to train your dog as a service animal from the comfort of your own home, you'll also be able to develop a strong bond with your dog, as you'll be doing the bulk of the training yourself. Another significant benefit of online service dog training is the price. Online courses are often a fraction of the price of a traditional face-to-face service dog training program.
Alternatively, you may find it more effective to take your dog to an in-person service animal training program. This will mean your dog is being trained by professionals, so you may get quicker results. You may also find that online training is too intensive or unrealistic given the limitations of your disability. If this is the case, in-person training can take the pressure and strain off you as the owner, allowing you to enjoy the bonding experience without worrying about results. Another added benefit of in-person training is the socialization both you and your pooch will get. Many owners note that their dogs enjoy the training experience as it can be more stimulating with other people and dogs present.
| | |
| --- | --- |
| Pros of Online Service Dog Training | Pros of In-Person Service Dog Training |
| Budget friendly: an online course will be more affordable for those on a budget | Responsibility: training responsibility falls to the trainer, not the owner |
| Convenience: train anywhere, anytime without having to travel or leave your home | Experience: trainers are used to dealing with different levels of obedience and will likely be more experienced than the owner |
| Bonding: build and deepen your relationship with your pooch | Socialization: in-person training is a great opportunity for you and your pooch to get out and socialize. |
The Best Service Dog Training in California
Now you know the different options available for training up your pooch to be a service dog, it's time to decide which training course is right for you. We've compiled a list of the best online and in-person service dog training courses and facilities in California, to help make the decision-making process as quick and painless as possible.
1. US Service Animals Online Training
The US Service Animals online training course has everything you need to teach your dog basic service animal skills from the comfort of your own home. Established by a team of experienced dog trainers, you'll receive more than 20 years of training expertise over the course of 6 different modules. Each module uses easy-to-follow videos to outline behavioral theory and the best techniques to use when training your pooch. Not only will this course guide you in teaching your pet to assist with everyday tasks, but it can also be tailored to a number of different disabilities, including hearing loss, mobility issues, loss of vision, epilepsy, and diabetes.
At the conclusion of this course, you'll be given a certificate that is recognized in all 50 states and is a valid form of documentation for most airlines.
2. California Service Dog Academy
The California Service Dog Academy offers Veterans struggling with disabilities the chance to regain control of their lives with a service dog. Whether you want to train your own dog to become your service dog, or you're interested in introducing a pre-trained service dog into your life, the California Service Dog Academy has it all. If you're looking to train your own pooch, they'll need to undergo an official evaluation to see if they've got the right temperament and emotional recognition skills. You will also need to undergo a basic handler course to ensure you know the correct commands for your new service animal.
Not only does this service provide you with a fully trained service dog, but they also offer free in-house therapy and training to help your new or current dog adapt to their new placement. What's more, if you qualify for their Veterans program, you will get your service dog for free. Please note, however, if you don't qualify for their program, you may incur up to $25,000 in training fees.
3. Fun Paw Care Service Dog Training
Fun Paw Care is an in-person training service that helps individuals with disabilities train their pet pooch as a service dog. Based in LA, your dog will partake in a service dog boot camp where they'll receive the best possible care and affection whilst they undergo rigorous training from a certified, professional service dog trainer. Not only will your dog be socialized during training, but they'll also undergo public access training to ensure they won't be easily distracted.
Fun Paw Care specializes in training service dogs to assist with disabilities like autism, mobility limitations, PTSD, and hearing loss. They can also provide training for emotional support animals and other therapy dogs. If you're unsure whether you're ready to commit your pooch to training, you can opt for a one-hour personal Zoom meeting with a certified canine consultant to discuss your options and learn more about what you'll need to do to get your pooch certified.
4. Service Dog Tutor Service Dog Training
Service Dog Tutor is run by industry professional Jean Cary. With over 30 years of animal experience under her belt, Jean utilizes both in-person and online training to convert your current pet pooch into a fully functioning service dog. Jean has no qualms training purebred or mixed breeds to help with almost any type of disability. However, your pooch will need to undergo an initial assessment to determine whether they have the right temperament and abilities to assist with your specific needs.
When it comes to public access training, Jean will be working with you every step of the way to guarantee your pooch knows how to behave in your favorite public settings. Depending on how much time you're able to dedicate to training and the tasks you wish your dog to perform, your dog can be fully trained in as little as 6 months.
5. Medical Mutts Service Dog Online Training
Medical Mutts specializes in turning the average pet dog into a fully functioning service dog. Over the course of a year, you'll be guided through each stage of service dog training (including 30 different commands) by a number of experienced industry professionals. As the course is only available to Californians in an online format, you can choose the pace of how you complete the course. If you have time to complete multiple sessions per week, the course can be completed within six months.
It's important to note that your dog will need to undergo an assessment prior to commencing this course. This assessment is simply used to determine whether your dog is suitable for life as a service dog. The initial cost of $90 covers the cost of the assessment. Subsequent training levels cost $450 each and consist of foundations, intermediate obedience, and specialty training. Once you've completed all the theory and practical training, you'll need to visit a Medical Mutt center in order to complete the 5-week Public Access Test (PAT). A formal service dog certificate will be issued upon completion of the PAT.