Yes! Guests are allowed to bring their dogs to Yosemite National Park. Dogs are welcome to walk along most paved paths, reside in dog-friendly housing, or hang with the dog sitters that operate inside the park.
Visiting Yosemite Park with a dog is a unique experience. It does require some research and advance preparation. But the extra legwork absolutely pays off–there's nothing like experiencing the great outdoors or exploring the backcountry with a canine companion. And, as a bonus, Yosemite is one of the more dog-friendly national parks in the United States.
What Are Yosemite Park's Rules for Dogs?
Yosemite Park is home to more than 400 species of wildlife. In order to preserve and protect them from visitors, the park requires visitors to follow certain rules—and the four-legged ones are no exception.
The National Park Service cautions that dogs are known to chase wildlife, pollute water sources, or become defensive in unfamiliar situations. Wildlife can also become aggressive to dogs. Not to mention, rabies and distemper have been detected in park wildlife.
In short, Yosemite Park's rules are designed to keep both dogs and wild animals safe while allowing everyone to enjoy what the park has to offer.
Yosemite Park's rules for dogs:
Keep dogs on leashes no longer than 6 feet.
Do not leave dogs unattended.
Bag and dispose of pet waste in the available trash cans.
Store dog food according to park guidelines. Remember: bears don't distinguish between dog food and human food.
Tips for Visiting Yosemite Park With a Dog
Just like humans, dogs can be affected by heat and high altitudes—not to mention thirst. Be aware of the risks, plan accordingly, and pack appropriately. That way, everyone can remain safe and healthy while enjoying what Yosemite Park has to offer.
Follow the Five-Second Rule
Touch the ground with a bare hand for at least five seconds. If the ground is too hot, it can burn paw pads.
Arrive Early
Traffic into Yosemite Park can be brutal. Some people even report being stuck for over three hours just trying to get inside. Get up as early as possible to beat rush hour.
Plan Around the Heat
Avoid hiking during the hottest times of the day, especially during the summer. Dogs have higher body temperatures than humans and can overheat quickly while taking longer to cool down. In general, anything above 90 degrees Fahrenheit is risky. Try to stick to early mornings.
Carry Extra Food and Water
Many dog-friendly trails in Yosemite Park lack water fountains. Plan ahead or ask park rangers for the nearest drinking fountain. Bring a collapsible water bowl.
Fully Vaccinate Dogs
As already mentioned, rabies and distemper can be found in park wildlife. Vaccinations prevent these diseases from infecting pet dogs.
Visit During the Spring or Fall
Summer is the most popular time to visit Yosemite Park, which means it can get crowded and hot. Spring and fall have cooler temps that are easier for dogs, especially if they're going on any longer hikes. While winter in Yosemite is definitely worth a trip, dogs are not allowed on unplowed roads which significantly limits their movements.
Stay Out of the Water
Pets are not allowed to swim in Yosemite Park. And although many dogs love nothing more than to swim in lakes and ponds, Yosemite Park has had reports of harmful algal blooms (HABs) that can make animals sick. Do not allow dogs to drink out of contaminated water sources or scavenge dead fish or other animals.
Where Can My Dog and I Hike?
Dogs can accompany visitors along most paved roads, sidewalks, and bicycle paths. They can also enter developed areas and some campgrounds. Areas where they are not allowed are marked with signs.
Yosemite Park boasts towering waterfalls, massive granite cliffs, verdant meadows, and other awe-inspiring natural wonders—many of which are accessible via dog-friendly routes.
As always, dogs must remain leashed to enjoy these trails in Yosemite Park. Happy hiking!
Short Dog-Friendly Hikes in Yosemite Park
Keep it short and sweet with dog-friendly hikes under 2 miles. Smaller or less athletic dogs may prefer a couple quicker excursions during the day instead of one long one. And, depending on the weather, a short hike can still be physically exhausting for a dog.
Bridalveil Fall Trail
Bridalveil Fall Trail is a 1.2 mile hike open to dogs, though they may wish to pack a raincoat or towel. Named for how the mist wafts off during peak runoff season, the waterfall was made famous by Ansel Adams in his iconic photograph of Yosemite Park.
Lower Yosemite Falls Hike
Lower Yosemite Falls Hike is a 1 mile hike that brings dogs to the lower section of the Yosemite Falls, the largest waterfall in America. The footbridge brings hikers close enough to the falls that they (and their dogs) can expect to be sprayed by water during certain times of the year. For a longer hike, this route also connects to Cooks Meadow Trail which provides access to see Half Dome and Sentinel Rock.
Glacier Point
Glacier Point, a lookout spot with views of Yosemite Valley, Half Dome, and Yosemite Falls, is open to dogs. It's also accessible by car from spring to fall. During the winter, once Glacier Point can only be reached via skiing, dogs are not allowed.
Mirror Lake
Mirror Lake can be accessed by a 1-mile paved service road, which makes it a short hike for dogs. Mirror Lake Trail starts near Curry Village and follows along Tenaya Creek. It also traces along the base of Half Dome and provides gorgeous views of Tenaya Canyon, Mount Watkins, and Washington Column. However, dogs must turn around when the path becomes unpaved and cannot complete the loop around the entire lake.
Carlon Road
Carlon Road starts from Evergreen Road and ends at the dog-friendly Hodgdon Meadows Campground, is a 1.5 mile route open to dogs. Be careful not to get it confused with the trail that leads to Carlon Falls, which does not allow dogs.
Longer Dog-Friendly Hikes in Yosemite Park
Yosemite has a few options available for more athletic dogs that love to move. Just don't forget to pack some extra water bottles and keep them hydrated.
Wawona Meadow Loop
Wawona Meadow Loop is a 3.5 mile long hike near Tenaya Lodge that's open to dogs. This route is an exception to the rule—Wawona Meadow Loop used to be a paved path, but not anymore. It's a wide, relatively flat course that's popular with runners and beginner hikers, taking them past the Wawona golf course and around a meadow.
Tuolumne Grove Nature Trail
Tuolumne Grove Nature Trail allows dogs along its 2.5 mile long path that runs through the Tuolumne Grove. While dogs must stick to the main route, they can still experience and explore the giant sequoias, sugar pines, and white firs. The road also extends for another 4.5 miles to the dog-friendly Hodgdon Meadow Campgrounds.
Chowchilla Mountain Road Trail
Chowchilla Mountain Road Trail, another exception to the paved paths rule, is a 12-mile dirt road that starts at Highway 49, goes over the summit, and finishes at the Wawona golf course.
Which Areas of Yosemite Park Prohibit Dogs?
Dogs are not allowed:
On unpaved paths and trails
On unplowed roads covered in snow
In undeveloped and wilderness areas
In public buildings (visitor centers, museums, restaurants, hotels, gift shops)
On shuttle buses
In walk-in and group campgrounds
Keep an eye out for signage that indicates an area is off-limits.
Dogs carried in strollers, backpacks, etc. are not exempt from these rules. Park rangers levy fines for violations starting at $75, but they are free to increase the amount for additional infractions.
The National Park Service also requires that dogs stay out of meadows. Although the lush fields may look peaceful and calm, the grass hides nesting birds and rodents that deserve to be left in peace. Not to mention, ordinarily passive animals can become aggressive and territorial towards pets and humans alike, especially if they have a baby hidden nearby.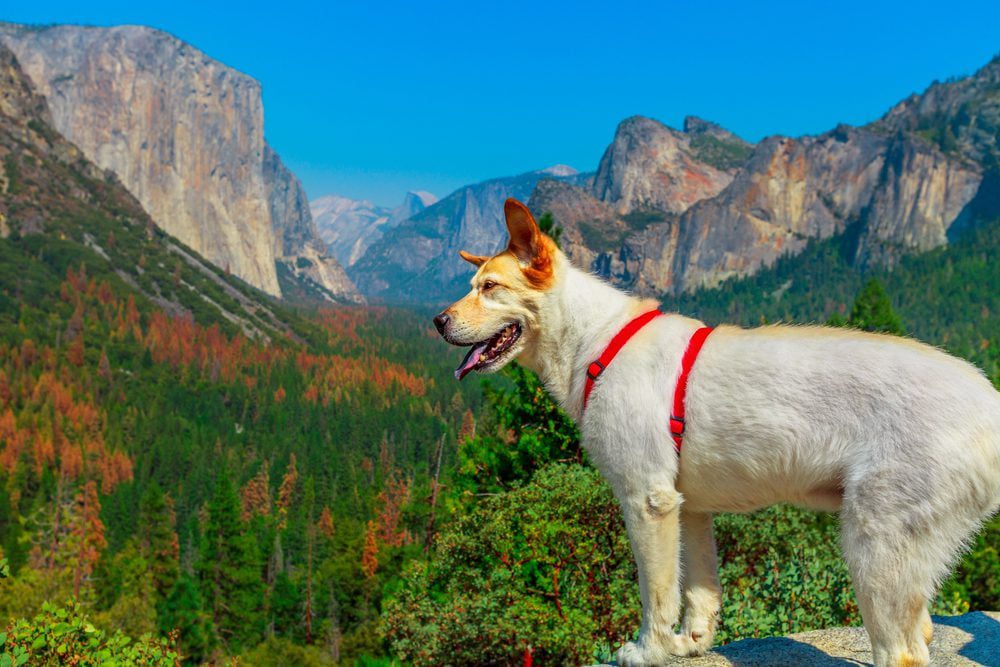 Where Can I Stay With My Dog?
While Yosemite Park's hotels do not allow dogs, the park offers other pet-friendly accommodations.
In-Park Campgrounds
Most of these permit dogs, with some exceptions. Seven campgrounds in Yosemite Park allow dogs to remain with their families: Tuolumne Meadows Campground, Hodgdon Meadow Campground, Upper Pines Campground, Wawona Campground, Lower Pines Campground, Crate Flat Campground, North Pines Campground, and Dimond O Campground. Dogs must be leashed anytime they're outside of a vehicle.
Tenaya Lodge
Tenaya Lodge has the Fido Friendly Room Package which includes doggy bowls and beds. For a more luxurious experience, Tenaya Lodge can upgrade their visitors to the Pampered Pet Package, which comes with complimentary pet sitting and chef-made dog treats.
Vacation Cabin Rentals
These have dog-friendly options. Many cabins are privately owned, so policies and amenities vary.
Outside of the park gates, many hotels and cabins allow dogs to stay with their owners. Yosemite Mariposa County's website allows visitors to search the region and filter by pet-friendly accommodations.
Where Can I Eat With My Dog?
In Yosemite Park, dogs can join their owners for meals in any restaurant or cafe with an outdoor patio area. California allows dogs to remain with their owners in restaurants that have outdoor seating.
Yosemite Park has four options for people who want to dine with their pets: Jackalope's Bar and Grill, Sierra Restaurant, Village Grill, and Degnan's Kitchen.
Can I Leave My Dog Alone?
When guests are ready to visit areas of the park off-limits to their pets, they can take advantage of Yosemite's dog sitting options.
Yosemite Kennel, available at Yosemite Valley Stable, offers dog boarding and kenneling options during the summer. Space fills up quickly, so advance reservations are recommended. Dogs must provide written proof of immunizations and be at least six months old. Dogs must weigh at least 20 pounds to be eligible, although smaller dogs may be considered if a crate is provided.
Tenaya Lodge also provides dog walking, pet sitting, and kenneling services for guests, given advance notice.
Do not leave dogs alone in the car. The temperature inside of a car can skyrocket rapidly in the summer, making it unsafe even for a few minutes. The Humane Society warns that even on a 80-degree day, it can take less than ten minutes for a car to reach 99 degrees Fahrenheit. Unfortunately, studies have shown that rolling the windows down does not significantly lower the temperature inside of a car.
Is There an Exception for Service Dogs?
Service dogs are legally permitted anywhere that visitors can go. They can accompany their handlers on trails, enter restaurants, and stay in hotels. Because they are officially considered working animals and not pets, fees are waived for their stay.
To be classified as a service animal, dogs must be trained to "perform a specific task that assists an individual with a disability." Service dogs do not require written documentation, identification, registration, or proof of training. In fact, many service dogs are owner-trained through online courses rather than through schools or foundations.
The Americans with Disabilities Act (ADA) considers service dogs-in-training to be pets. Because of this, they must abide by Yosemite Park's rules for pets.
Emotional support animals (ESAs) and therapy dogs are welcome at Yosemite Park, the same as pets. Tenaya Lodge is happy to waive pet fees for ESAs that can provide written documentation from a medical professional. However, standard pet fees still apply to therapy dogs.
What Is the B.A.R.K. Ranger Program?
To help visitors remember Yosemite's rules, the park created an easy mnemonic: B.A.R.K.!
Bag your pet's waste.
Always leash your pet.
Respect wildlife.
Know where you can go.
When dogs first arrive in Yosemite Park, they can stop by any Yosemite visitor center to pick up their official B.A.R.K. Ranger pledge card. Once their owners complete a few simple activities, learn the code, and sign the pledge, they can purchase the official B.A.R.K. Ranger badge at any Yosemite Conservancy bookstore.