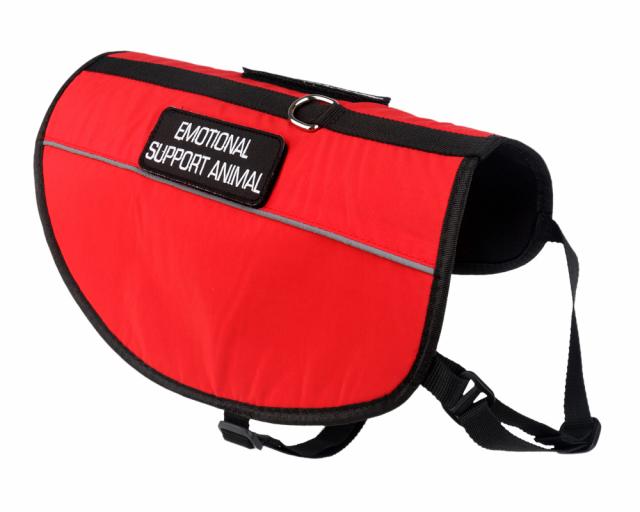 A therapy dog vest is used for therapy dogs and service animals to help create identification. It helps let it be known their purpose when in a public setting such as an airport, hospital, school, or other organization.
If you are new to therapy dog training it is a good idea to get your animal properly identified when out in public. Before we get too deep into the best therapy dogs vests let's start with a brief overview:
Therapy Dogs vs. Service Dogs
If you have noticed an animal such as a dog in a public setting that would not otherwise authorize pets you probably noticed that the animal was distinctively labeled. Dog vests for therapy animals are usually brightly colored and help provide a quick explanation as to the purpose of the animal.
Therapy dogs and service dogs are not the same thing. While they are often used interchangeably this is actually incorrect.
A service dog assists individuals that they cannot perform themselves because of a disability. For example, a person that is blind may receive a service dog in order to help them navigate the outdoors and remain safe.
Service animals are governed by the Americans with Disabilities Act. Individuals with disabilities are allowed to take service dogs into buildings, stores, restaurants, and on public transportation where they would otherwise not be allowed.
Meanwhile, therapy dogs are not allowed legal access to the aforementioned places without getting permission from the owner or supervisor of the establishment beforehand. While therapy dogs also receive specialized training it is not quite as intense as the training for service dogs.
Why? Therapy dogs are not intended to assist someone with a disability and help them deal with everyday life. Instead, they are often granted access to schools, hospitals, airports, and nursing homes because they help provide comfort and affection.
At the end of the day it is best summed by the following: a therapy dog is pet trained to interact with people besides its handler. Service animals are only intended for its handler and thus the animals should reflect it based on terminology like "please do not pet".
Does a therapy dog have a different vest from a service dog?
A vest for a service dog can differ from a traditional vest. It often includes important information regarding the animal (i.e. "please do not pet"). Service animals must undergo some extensive training and are regulated by a federal agency. Consequently, they must stand out from therapy animals in order to reflect it.
It also enables the owner or manager to distinguish between if the animal is there for emotional support, or fulfills a direct service that the individual with the disability would not be allowed to do alone.
Therapy dogs usually wear a simple vest or bandanna that is inscribed with the name of the organization that granted the animal certification.
Therapy Dog Vest Features
The organization that certifies a therapy animal can help inform you on where to get a vest. Some may even offer them in-house. Of course you can always browse online. Yet if you are new handling a therapy dog how do you know what to look for?
What size of dog is the vest or harness designed for? While a therapy vest is often adjustable, it still will only fit dogs within reason. For example, a St. Bernard is obviously going to need a harness specifically built for large dogs. You also don't want a dog vest to fit too loosely around smaller therapy animals in order to avoid it falling off all of the time.
How does the dog vest attach? In addition to finding out if the harness is adjustable or not also check for the quality of the strap. Some are a buckle strap while others are Velcro.
Is the vest reflective? The answer to this question is more than likely. However, some really cheap dog vests may not having reflective material on the vest. If you be venturing outdoors with the animal during the early or late hours of the day you should make sure that it is reflective.
How does the vest identify the animal? Therapy dog vests need to have some type of identification in order to inform the establishment as to why the animal in on premise. Unlike service animals public places and other environments have the right to turn down a therapy dog. It is why permission is required beforehand and the identification helps provide an explanation.
Extra Accessories to Consider
There aren't a lot of added luxuries when it comes to dog harnesses or vests. They're all fairly straightforward, particularly for dogs trained for therapy work. However, you can still find a few cool options on certain brands.
For example, some therapy dog vests feature pockets built into the sides of the vest. It allows for some simple storage. Another example are harnesses that have a handle built into the top of the vest. It allows the handler to get a hold of the pet for control purposes. It is a nice feature for therapy dogs that may need a little coaxing or support from its handler when first meetings strangers.