Service dogs are essential animal companions for many, and psychiatric service dogs are a subset of these important helpers.
If you have a psychiatric service dog in California, or you are looking to adopt one in this state, you may be wondering about the basics of this dog and what your rights are. Fortunately, our guide is here to tell you everything you need to know about psychiatric service dogs in California.
What Are Service Dogs?
Service dogs are dogs that have been trained to help individuals dealing with disabilities that may be physical, mental or psychiatric, or medical. They complete specific tasks for their owners based on the owner's disability and assistance needs.
You may see service dogs opening and closing doors, retrieving items, guiding their owners, or alerting their owners to oncoming medical problems such as seizures or blood sugar drops.
Service dogs are highly trained and skilled in assisting their owners, and they are often regarded as essential companions. When accompanied by a service dog, many individuals find they are able to complete their daily tasks with an increased sense of ease and confidence.
Types of Service Dogs
Service dogs come in all shapes and sizes, and there are three main types of service dogs to be aware of. These dogs help with different disabilities, and they may be trained to complete specific tasks as needed to assist their owners.
Psychiatric Service Dogs
Psychiatric service dogs are service dogs that have specifically been trained to help with certain mental health conditions or psychiatric disabilities. These conditions may include anxiety, depression, OCD, bipolar disorder, schizophrenia, and PTSD.
With the help of a psychiatric service dog, individuals may be able to complete their daily tasks with more ease. Psychiatric service dogs help people experience relief from symptoms of panic, agitation, or stress, and maintain a greater sense of confidence when out in public.
Mobility and Guide Service Dogs
Mobility and guide service dogs are what many people initially think of when they hear the term 'service dog.' These service dogs are trained to help provide mobility support by supporting individuals with their bodies, and they may also provide guidance to individuals with hearing or visual disabilities.
Mobility and guidance service dogs retrieve items for their owners, open and close doors, and guide their owners to new areas as needed, among many other helpful tasks.
Medical Alert Service Dogs
Medical alert service dogs are specially trained to provide assistance to individuals that may be suffering from certain medical conditions. This may include seizures, low blood sugar, low blood pressure, or heart problems.
These dogs are trained to detect changes in their owner's body and will alert them to oncoming problems so that their owner can get to a safe space or take medication as needed. Medical alert service dogs may also bring their owners medication, water, and emergency items like phones.
Psychiatric Service Dogs in California
Psychiatric service dogs in California are protected by both state laws and the federal Americans with Disabilities Act (ADA). While California doesn't specifically define 'psychiatric service dog' in their state laws, they do recognize service dogs that are trained to help with certain mental health or psychiatric conditions.
Individuals who require the assistance of a psychiatric service dog in California are able to access public or private facilities under the protection of both state law and the ADA. It should be noted that protection may exclude certain religious organizations that don't permit animals inside.
It's important to note that psychiatric service dogs in California also must meet the definition of a service dog according to California State law and the ADA. Any service dog must be trained to help with disability-related tasks, or complete tasks that help relieve the symptoms of certain disabilities. We'll go over some examples in the next section.
Tasks Your Psychiatric Service Dog Might Complete
The following tasks are examples of what a psychiatric service dog might complete. Keep in mind that tasks differ depending on an individual's needs and the condition that their psychiatric service dog is helping out with.
Wake up their owners from nightmares or wake up an individual suffering from depression at certain times during the day
Provide deep pressure therapy or tactile stimulation to calm down or ground their owner
Guide their owner to a safe or quiet space to help them calm down or to provide comfort
Guard their owner's backs in public and check rooms for their owner
Retrieving important items such as medication, water, and phones
Interrupting harmful behaviors or alerting their owner to the fact that they are engaging in negative or dangerous behaviors
Acting as a barrier between their owner and other individuals in public
Alerting their owner to take medications at certain points in the day
Provide balance assistance or support when their owner feels overwhelmed
Alerting others that their owner is in need of emergency assistance
This list of tasks isn't comprehensive, and psychiatric service dogs may be able to complete many other helpful tasks for their owners. Speak to the organization you are considering adopting a psychiatric service dog from to learn more about the skills they may be able to learn and items they can assist you with.
Psychiatric Service Dog Rights
Psychiatric service dogs and their owners are granted several different rights by both federal and state law. These rights allow individuals to access public or private areas with their service dog, live with their service dog, or bring their service dog with them during work or travel.
It's important that you understand the rights that you have if you are considering adding a psychiatric service dog to your care plan.
Public Access Rights
Public access rights for psychiatric service dogs are protected by both California State law and the Americans with Disabilities Act. These rights give individuals who need the assistance of a psychiatric service dog the ability to access public or private facilities, even if the facility doesn't typically allow animals inside.
Examples of areas where service dogs must be granted access include restaurants, businesses, and malls.
Individuals seeking to use their public access rights with their service dog are only allowed to be asked two questions:
Is this dog a service animal?
What task or work has the dog been trained to perform?
Any other question or request for the identification of a service dog goes against the ADA and California State law. If you are denied access with your service dog for not providing identification papers or demonstrating the trained tasks, this is a violation of both federal and state law. Because of this, you may be able to take legal action.
Fair Housing Rights
The Fair Housing Act ensures the rights of individuals with service dogs or emotional support animals to access reasonable and fair accommodations with their companion animals.
This federal law gives details regarding when service animals are allowed in housing areas and how to properly request accommodations for your service animal. It also goes over when a service animal might be denied a housing opportunity.
In most cases, all individuals need to do to ensure they can live with their service animal is present proof that their dog is a service animal to the landlord or rental agency. This proof may be in the form of a letter from a medical provider, but it's important that you check with the Fair Housing Act directly for additional guidance.
Travel Rights
Travel rights for service dogs and their owners are protected by the federal Air Carrier Access Act. This act defines what a service animal is and states that airlines must grant accommodations to individuals wishing to travel with their service animals.
Keep in mind that there are many steps you must complete to ensure your dog is legitimized as a service animal before a flight. You will likely need to submit paperwork and health documents for your service dog prior to boarding your flight.
Check with the Air Carrier Access Act and the airline you are wishing to travel on for more information.
Work Accommodation Rights
California state law does protect the right of individuals with service dogs or emotional support animals to request accommodations in order to bring their companion animal to work with them.
Under the California Code, accommodations must be made by the employer if an employee requests that their service dog accompanies them to the office or other work events. Check directly with this code or a legal professional for more information on how to obtain these accommodations in California.
How Can I Get a Psychiatric Service Dog in California?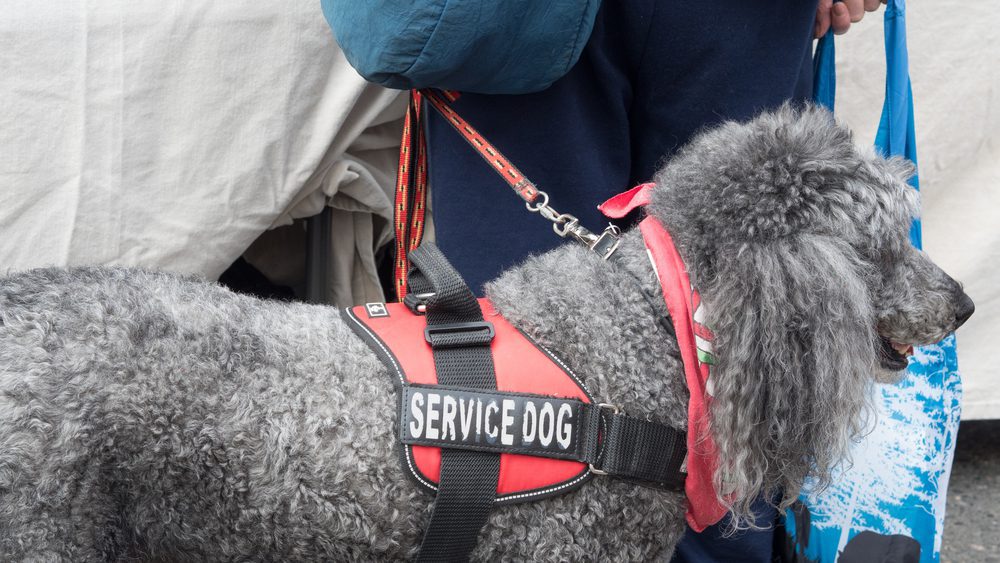 If you believe that you would benefit from the assistance of a psychiatric service dog in California, you are likely wondering how you can get one of these helpful companion animals.
The first step in obtaining a psychiatric service dog in California is to speak with a licensed mental health care provider about your psychiatric condition.
Your medical provider will help you determine whether or not a psychiatric service dog is right for your treatment plan. If it is decided one of these dogs is right for you, they will write you a prescription for a service dog and a letter stating your need for a service animal.
After getting the go-ahead, you can start reaching out to local and national organizations that may be able to place you with a psychiatric service dog suited for your assistance needs. Make sure that you keep in mind any specific skills or tasks you'll need assistance with.
You might need to obtain a certain breed to act as your psychiatric service dog (for example, a larger breed if you also need mobility support).
FAQs About Psychiatric Service Dogs California
We answer your frequently asked questions about psychiatric service dogs in California below to help put to rest any lingering worries or concerns about this service animal.
Are Service Dogs Different From Emotional Support Animals?
Service dogs are different from emotional support animals, as service dogs are specifically trained to help complete disability-related tasks or relieve the symptoms of a disability.
While emotional support animals provide comfort and support to their owners, they are not trained to complete disability-related tasks. Therefore, they are not covered by any of the federal or state laws that apply only to service animals.
Will Insurance Cover My Psychiatric Service Dog?
Whether or not insurance covers your psychiatric service dog depends on the insurance plan you have and your overall coverage.
Some insurance plans do consider psychiatric service dogs as essential medical equipment and a portion of the cost may be covered. However, in most cases, insurance will not pay for any part of the cost of obtaining your service dog. Check with your health insurance plan directly to see whether or not you have coverage in this area.
If you find that finances are preventing you from obtaining the service animal assistance you need, there are still solutions. You may be able to reach out to a local or national organization that helps to provide financial aid or equip individuals in need with service animals at low or no cost.
Can I Train My Own Psychiatric Service Dog?
It is possible to train your own psychiatric service dog and you may be able to train a dog that you already own.
Keep in mind that training your own service animal will take a lot of patience and consistency. We recommend utilizing a training course that is designed to help individuals train service animals at home.
You can utilize either online or in-person training to complete this task. Just make sure that you are prepared to follow through with the time commitment of training your own service animal.
Does My Service Dog Need to Be a Specific Breed?
Your service dog doesn't need to be a specific breed or size, as the ADA recognizes any dog that is trained to complete disability-related tasks as a service animal.
However, it's important to keep in mind the tasks or skills that you might need completed by your service animal and choose a dog breed that suits these skills. For example, you wouldn't want to choose a small dog if you need mobility or guidance assistance, as they are likely too small to complete the task necessary to help you.
Do I Need to Identify My Psychiatric Service Dog?
Neither federal nor state law requires that individuals identify their service dog with vests, harnesses, leashes, or certifications and identification papers.
That being said, many individuals choose to identify their psychiatric service dog when out and about with them in public. Identification helps the people around them understand that their dog is working and makes negative interactions with the public less common.
Whether or not to identify your psychiatric service dog while out in public with them is a personal decision and you should only do what you feel comfortable with.
Can I Be Denied Access With My Psychiatric Service Dog?
You can be denied access to areas with your psychiatric service dog in certain situations. Religious organizations and facilities are typically exempt from ADA protections, and these areas may have specific rules that don't allow animals inside they are doors.
In regard to fair housing rights, service animals can be denied if they are found to be destructive, dangerous to the health and safety of others. Service animals can also be denied if the accommodations requested aren't reasonable, such as attempting to live with a very large dog in a small space.
If you are denied access to any area with your psychiatric service dog for reasons that are not explicitly stated in the ADA, these actions might be a violation of federal law. Reach out to a legal professional for more information about legal recourse.
What Protections Do I Have With My Service Dog?
When going about your daily life and living with your service dog, you do have certain protections. California state law and federal law protects your right to fair housing with your service animal, public accommodation rights, travel rights, and the right to bring your service animal to work with you.
For more detailed information consult the specific law or a federal regulation in the accommodations area that you have questions about.
Keeping Your Essential Companion by Your Side
For many individuals with disabilities, their service animals are vital companions that must remain by their side no matter what.
If you have a psychiatric service dog in California or you are considering adding one of these pups to your treatment plan, carefully review our article for everything you need to know. If you have questions about the rights that your service dog may have and how to obtain a psychiatric service dog, feel free to reach out at USServiceAnimals.org.