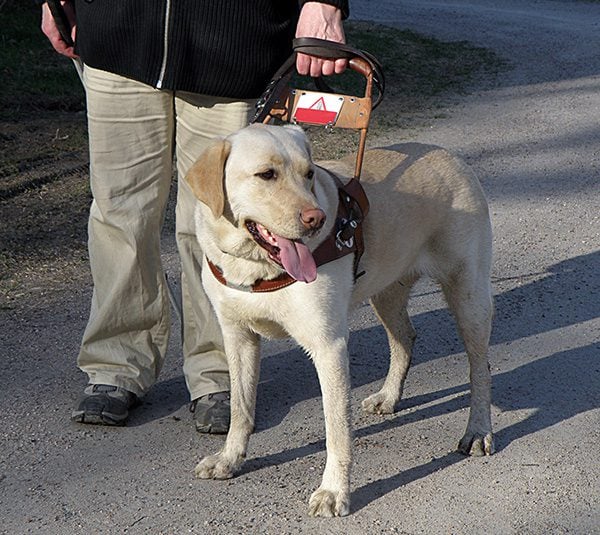 Service dogs are becoming more and more common as a treatment for various physical, mental and intellectual disabilities. Service dogs are trained to complete specific tasks according to their owner's disability. This can range from calming a person during an anxiety attack or meltdown, alerting the owner of an alarm or reminding the owner to test blood sugar or take medications.
For patients with mobility impairments, having a service dog can be life changing, as there are many ways the dog can support the owner to do things they would not be able to do on their own. Mobility service dogs may help their owner by completing tasks such as retrieving items that are dropped or out of reach, opening doors, turning lights on and off, seeking help in the event of a fall or crisis, and assisting their owner by providing balance and stability while standing or walking, using a mobility balance harness. Mobility assistance dogs may assist people who suffer from Parkinson's disease, spinal cord or brain injuries, foot or leg injuries, muscular dystrophy, spina bifida, arthritis, cerebral palsy, multiple sclerosis, paraplegia, and balance disorders.
What is a Balance Harness?
A balance harness is a service dog harness that includes a cane or handle to allow the dog owner to have extra stability by holding onto the harness. With so many different types of harnesses available for service dogs, it can be difficult to decide which balance harness is the best choice for your dog. While several factors should be taken into consideration such as the size of the dog, amount of weight that will be applied to the harness, age and physical development of the dog, there are a few balance harnesses that outshine the rest.
Bold Lead Designs Mobility Support Harness for Brace and Balance Stability Assistance
The Mobility Support Harness by Bold Lead Designs is the top rated harness on the market for mobility support. The leather harness with removable metal support handle provides consistent stability and support. The adjustable harness is comfortable for the dog and designed to have perfect weight distribution without shifting, slipping, pinching or rubbing, and it is lightweight and flexible. The best part about this harness is that it is custom made to meet both the needs of the dog and the owner, and is a guaranteed fit. The Bold Lead Designs harness is one of the higher end mobility harnesses, and costs around $475-$575.
Dean & Tyler Guide Dog Mobility Assistance Harness
The Dean & Tyler Guide Dog Mobility Assistance Harness is another great choice for mobility assistance dogs. This adjustable harness is made from premium leather and comes in different sizes to accommodate different types of dogs. The removable handle is made of sturdy steel and includes a crossbar for added stability. It's important to note that the handle bar on this harness does not stay vertical on its own. There is reflective stitching on the harness, as well as brass clasps and buckles. The harness is lightweight, flexible and comfortable for the dog. This is a great mobility harness to choose if you're looking for a lower budget but sturdy mobility harness for your service dog. The Dean & Tyler Mobility Harness costs around $120.
ActiveDogs Leather Light Duty Mobility Harness
The ActiveDogs Mobility Harness is a great choice for more lightweight duties. The adjustable leather harness is designed to fit securely so there is more stability and support for the disabled person while standing or walking. The chest strap and back handle plate of the harness are padded with sheepskin to provide extra comfort for the dog. The words "Service Dog" are stamped into the leather in order to make the dog easily identifiable as a service dog. There is also a vinyl pocket to show the service dog's identification. The ActiveDogs Mobility Harness is very cost-efficient at around $105.
If you or someone you know has a mobility disability, a mobility assistance dog could be a life changing form of support. These service dogs can help people with mobile disabilities do tasks they could have never been able to perform on their own, or only with difficulty. A mobility balance harness is an invaluable tool to have for a mobility service dog, as it helps give back the freedom of standing and walking by providing stability and balance.