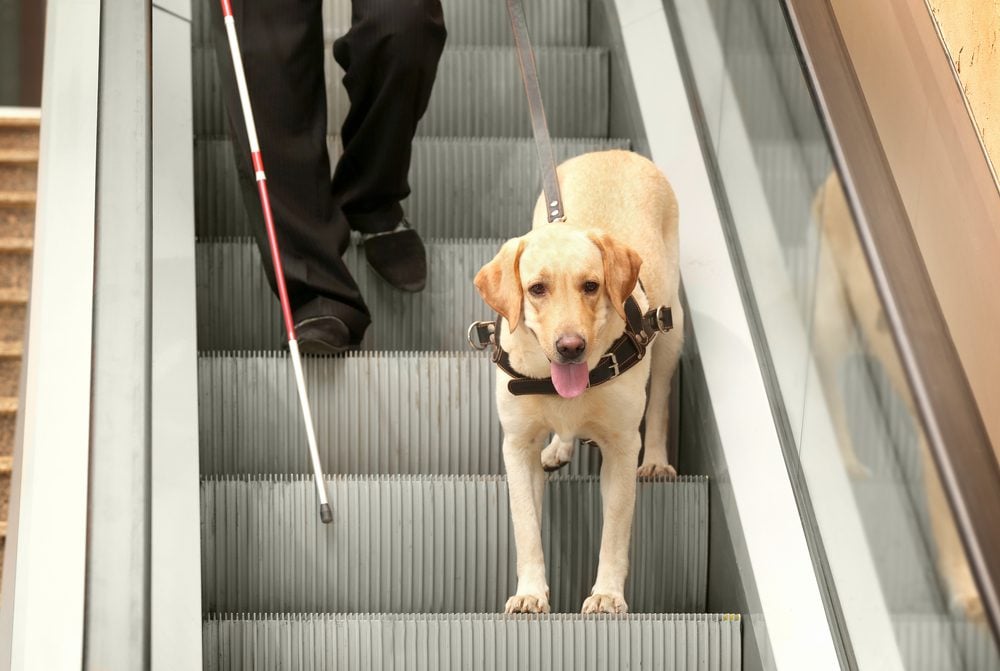 Animals are capable of some pretty amazing things, including taking care of their human owners. Service animals, as these caretaker animals are called, are specially-trained animals who can do work or perform specific tasks and duties for their disabled owners.
But there's more to this highly specific training than just teaching your dog a few tricks, buying it a vest, and calling it a service animal; in fact, there are a number of federal and state laws surrounding the definition and legality of service animals in certain places.
For example, the state of Illinois defines a service animal as "an animal trained in obedience and task skills to meet the needs of a person with a disability." While Illinois state law and federal protections of service animals dovetail in many ways, disabled people often rely on whichever laws provide them more protections.
We're going to explore these federal and state laws in detail so that Illinois residents can gain a better understanding of which animals qualify as service animals, what kind of duties they must perform to enjoy legal protections, and how to register your animal as a service animal in the Prairie State.
How Illinois Law Defines Service Animals
There are several provisions of Illinois law designating which service animals are permitted in public accommodations and facilities. Some provisions permit service animals trained to assist with physical disabilities, some permit service animals trained to assist with mental disabilities, and some permit both.
First, it's important to establish the role of the American Disability Act (ADA), a set of federal anti-discrimination laws protecting disabled people against discrimination on the basis of their disability status. Most states' laws are largely congruent with the provisions outlined in the ADA with a few minor, but key, differences.
The ADA's definition of a service animal is relatively broad: a dog that is individually trained to perform tasks or do work for the benefit of a person with a disability. The work, tasks, or duties that a service dog performs must be directly related to its owner's disability. In some cases, other animals–like miniature horses–can qualify under this definition as well.
Now let's take a look at some service animal laws specific to the state of Illinois.
Illinois White Cane Law
This state-specific provision requires public accommodations and facilities to allow guide dogs, hearing dogs, seizure alert dogs, seizure response dogs, and other "support" dogs.
Although there are no concrete definitions for these types of service animals, this provision does state that these dogs must be specially-trained or in training to assist someone who is blind, hearing-impaired, suffers from epilepsy or another seizure disorder, or is otherwise physically disabled, respectively.
Given this, it's safe to assume that those who suffer from psychiatric impairments are excluded under these provisions.
Illinois Human Rights Act
The provision that applies specifically to housing is similar to the White Cane Law in that it only covers guide dogs, hearing dogs, and dogs that aid physically disabled people.
Illinois Criminal Code
Unlike the former two laws, this law's definition of service animals is a bit broader, expanded to include both dogs and miniature horses that are either specially-trained or in training to serve as a guide animal, hearing animal, assistance animal, mobility animal, seizure alert animal, psychiatric service animal, autism assistance animal, or any other service animal specially trained to assist with any physical, mental, or intellectual disability.
This code penalizes public accommodations and facilities that refuse to admit the service animals listed, even though miniature horses' larger size may be a bit more difficult to accommodate.
A Note on Emotional Support Animals
It's important to note that none of these laws, both federal and state, include emotional support animals. Emotional support animals are animals that provide their owners a sense of safety, comfort, and companionship to those with emotional or psychiatric disabilities or conditions.
Despite these animals' ability to provide emotional and psychiatric support, they don't receive any special training to perform any specific tasks or duties for their owners. Neither the ADA nor Illinois state law require public accommodations or facilities to accommodate emotional support animals–only service animals.
Our website has an article detailing emotional support animal laws in Illinois.
Housing Laws
The Fair Housing Act (FHA) is a set of federal provisions that protect disabled individuals from any disability-related discrimination while renting, leasing, subletting, purchasing, or selling a property. There are also provisions for federally-assisted housing, and the FHA protects both service animals and emotional support animals.
To qualify under these protections, a disabled person must have a medically-verifiable, disability-related need for their service animal, meaning the animal must do work or perform tasks or duties that are related to their owner's specific disability.
The Illinois Human Rights Law, however, only prevents landlords from refusing to rent or sell a property to a disabled person with a guide dog, hearing dog, or other physical support dog. It's important to note that this provision applies solely to service animals specially trained to handle physical disabilities, though, and not mental or intellectual disabilities.
Public Accommodation Laws
The ADA's definition of public accommodations is very broad, similar to its provisions for housing. Under the ADA, public accommodations include places like:
Restaurants and other establishments that serve food and drinks
Hotels and other lodging establishments
Public transportation stations, depots, and terminals
Recreational facilities, including gyms, bowling alleys, zoos, parks, and other places used for recreation or exercise
Places for exhibit and entertainment, such as sports stadiums and theaters
Places where items are collected or publicly displayed, such as museums and libraries
Places of public gathering, such as convention centers and auditoriums
Sales and rental establishments
Service establishments
Educational institutions
Social service centers, such as food banks, homeless shelters, and senior service centers
Illinois state law also makes a special note for public swimming pools, where service animals that are specially trained to perform a task or duty in the water are permitted to enter them. The only time this is prohibited is when allowing these service animals to enter a public pool would pose a direct threat to the health and safety of others, the sanitary conditions of the public pool, or the function of the facility as a whole.
Employment Laws
The ADA also prohibits covered employers from refusing to grant "reasonable accommodations" to people with known disabilities. A reasonable accommodation is defined as "any change to the work environment or in the policies or practices of an employer which enable a qualified employee with a disability to perform the essential functions of his or her position or apply for a job." Most Illinois state laws include provisions that are nearly identical to those outlined in the ADA.
But for a disabled person to bring their service animal to work, they must first notify their employer of their disability and that they need their service animal with them to perform their job's required duties. The disabled person may inform their employer either orally or in written form, though the latter is strongly recommended for personal records.
Documenting Your Disability and Request
If a disabled person's disability isn't visibly obvious, then they may need to provide additional documentation, as well as information on the relationship between the person's disability and the need for their service to help them adequately do their job. The most important thing, though, is for the disabled person to support their request via written verification of their disability; this can be furnished by their doctor or attending medical professional.
Can an Employer Refuse a Service Dog Request?
However, disabled people should note that their employer may refuse their request if the presence of a service animal would place "undue hardship" on the business' day-to-day operations. The employer may also choose to provide a different, yet similarly effective, accommodation than the one requested by the disabled person. Because of this, it's up to the disabled person to prove that their service animal provides the most effective accommodation available.
Caring for a Service Dog at Work
Moreover, disabled people who can bring their service animals to work with them are also responsible for looking after and caring for them while working. In a similar vein, their employer must also allow the disabled employee to care for the service animal's needs throughout the workday, whether it's by letting them feed the service animal periodically or taking it outside to relieve itself.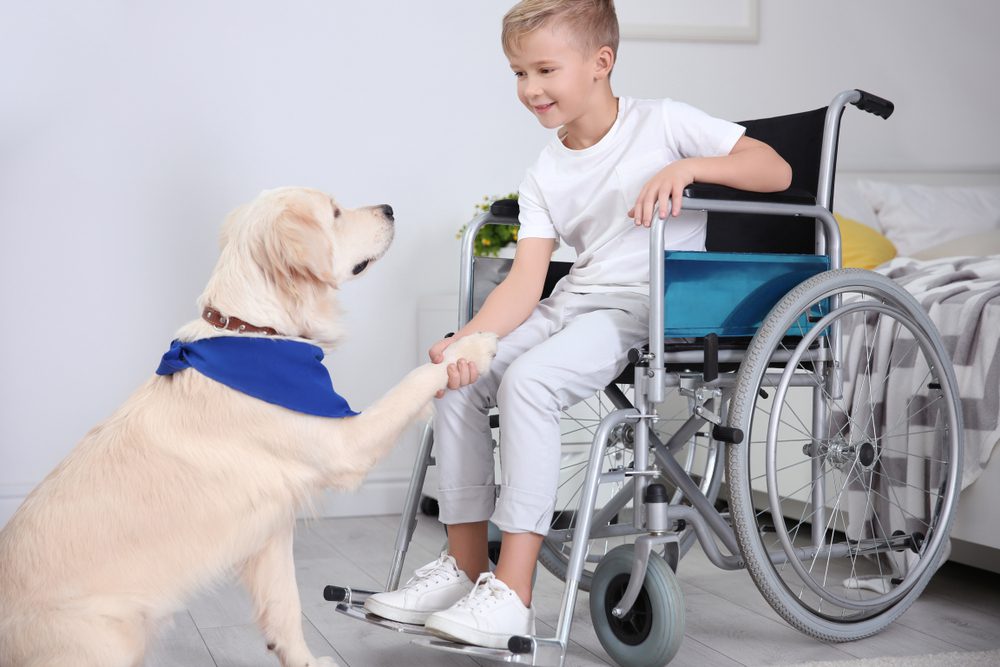 How Do I Register My Service Dog?
To register your service animal on our website, click here. For just under $80, you'll receive:
Lifetime registration for your service animal in the United States' largest service animal database
A Service Animal Registration Photo ID Card
A Registration Certificate for your service animal
Digital copies of your Registration Certificate, immediately available for download
The option to order a vest for your service animal
Full, 24/7 access to our legal team and support staff
In addition, you'll also receive a card outlining service animal laws and your rights that you may present in response to any inquiries concerning the legality of your service animal. It's important to remember, though, that this registration itself will not grant you any additional rights outside of the ones provided by the ADA and Illinois state law.
Make Your Life Easier With a Service Dog
It isn't hard to see just how many benefits service animals provide to disabled people. Unsurprisingly, the state of Illinois works hard to uphold disabled people's rights to these service animals that can improve the quality of their lives exponentially.