Do you suffer from a mental health or emotional disorder and believe that you could benefit from having an ESA (Emotional Support Animal)? Before exploring whether or not an ESA is right for you, you'll need to know your various obligations and rights under state law.
What Is an Emotional Support Animal?
Emotional Support animals offer comfort and therapeutic relief to an individual. Emotional support animals are not typically trained to perform a specific service. The purpose of an emotional support animal to provide a companionship that offers beneficial emotional health.
In order for an emotional support animal to legally be considered as such, they must be formally prescribed by a mental health professional. This means that a counselor, therapist, or comparable mental health role has noted your individual need for a support animal and has provided a written prescription of why you need a support animal and how it might benefit you.
Are ESAs the Same Thing as Service Animals in Montana?
While evidence exists that animals help those suffering from mental health problems and emotional disorders like PTSD, depression and anxiety, the law doesn't consider them to service animals. A service animal can be legally defined as an animal which has been trained specially to carry out certain tasks to help a disabled owner.
Since ESAs haven't received this type of training, they aren't covered by the law in the same way as service animals—though laws do exist that govern their rights. Practically speaking, this means that while service animals will automatically be given access to all public spaces like theaters and cinemas in Montana, emotional support animals will not be granted this automatic right. But certain protections do exist in the realms of housing.
Psychiatric Service Dog in Montana
A psychiatric service dog is a type of therapy dog that helps people with mental health disorders. These dogs help people calm down in stressful situations, reduce stress, and even manage general anxiety. 
Depending on the condition psychiatric service dogs can also retrieve someone's medication or recognize that their mood has changed. For these reasons, psychiatric service dogs require specific training to perform their designated task.
Aside from training, psychiatric service dogs also have to follow a handful of rules and laws. For example, the Montana Human Rights Act requires that service dogs in Montana have to wear a vest, leash, collar, or backpack that identifies that they're a service animal. Furthermore, the Fair Housing Act (FHA) states that psychiatric service dogs can live in homes that are otherwise not pet-friendly.
PTSD Service Dog in Montana
PTSD service dogs in Montana are trained to help people who struggle with post-traumatic stress disorder (PTSD). People who experience PTSD may struggle with panic attacks, anxiety, social anxiety, and fear of certain sounds. Service dogs for PTSD can be granted to people when there is a medical need for it, which grants the dog protections due to laws like the Americans with Disabilities Act.
PTSD service dogs in Montana can help in a few ways. A PTSD service dog can guide someone to safety, grab medications for them, and remind them about when it's time to take medication. Furthermore, a PTSD service dog can function as emotional support and recognize when someone's emotions change to provide comfort. These dogs need extensive training to complete these tasks and PTSD service dogs are usually only trained for one specific task.
What ESA Rights Exist in Montana?
In recent years, improvements have been made in reducing the stigma that surrounds physical disability however the situation for mental health problems hasn't changed to the same extent.
This means that, in law, service animals still have more legal protection than emotional support animals, being granted legal right to enter public places that ESAs cannot go. If you believe you need an ESA in Montana, though, you can still benefit from some legal protections.
Montana ESA Flight Laws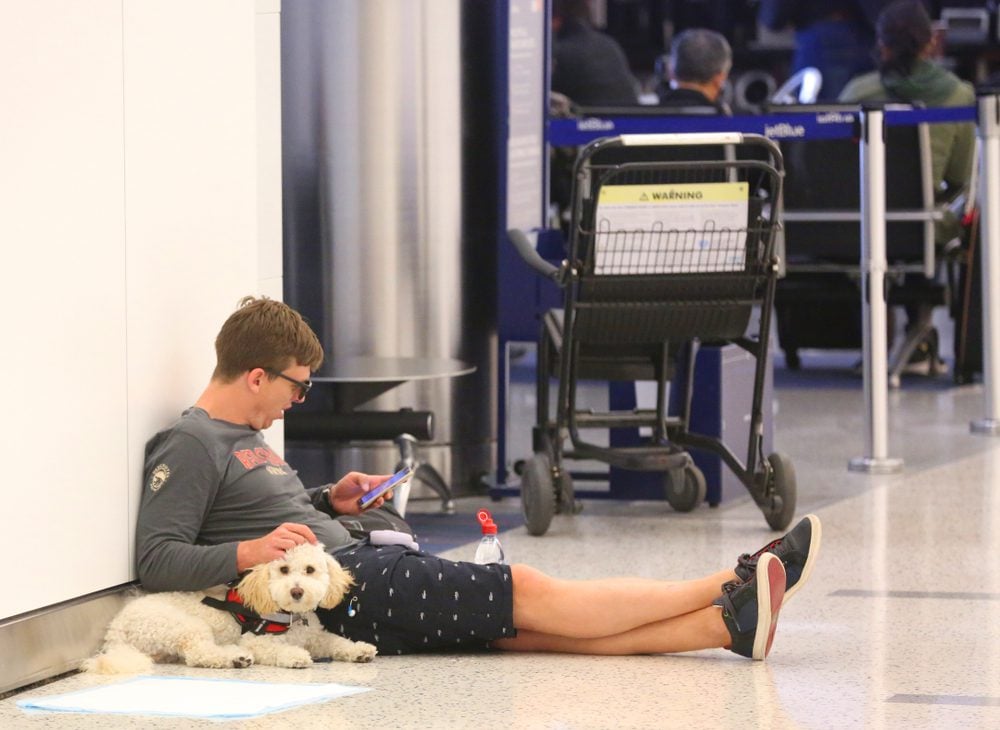 The Air Carrier Access Act once offered legal provisions to protect the rights of people who have an ESA due to their emotional or mental health disorder while traveling by air. However, now, only service animals are allowed to fly for free with you in the cabin of an airplane.
If you'd like to train your emotional support dog to be a service dog instead (so that they still help you when you fly, and accompany you nearly anywhere else in public), reach out to us for a service dog assessment.
Am I Allowed to Bring My ESA to Work in Montana?
For anyone with a mental health or emotional disorder in Montana, knowing whether you're permitted to bring your emotional support animal into your workplace is very important. Unfortunately, the legal situation at the present time does not protect ESAs in the work environment.
The ADA (Americans with Disabilities Act) covers service animals and states that they are automatically granted access to the workplace along with their owner. However, ESAs do not have the same legal protection.
Nevertheless, some employers are sympathetic towards those who have emotional support animals. As long as you have a valid ESA letter to show your employer, you may find that you will be permitted to bring your animal into work with you.
Montana ESA Housing Laws
Many landlords refuse to rent out properties to people with pets. However, if you suffer from an emotional or mental health disability and have an ESA, no landlord in Montana will be allowed to refuse you a rental property on grounds of having an animal living with you.
The Fair Housing Act protects ESAs. As long as you have a valid ESA letter showing your need for an emotional support animal, you cannot be denied your rights to have an ESA living in your home, even if that property doesn't typically allow pets. Students living in campus accommodation in Montana are also protected by this law.
Can a Landlord Refuse to Accommodate My ESA in Montana for Any Reason?
Emotional support animals and their owners are offered legal protection in Montana when it comes to housing under the Fair Housing Act. However there are some circumstances in which those rights are waived. If your ESA is very disruptive, loud or aggressive, your landlord has the right to refuse accommodation to you and your animal.
Will I Be Allowed to Take an ESA to Public Places in Montana?
As the law currently stands, service animals are automatically granted access alongside their owner to all public spaces. However, ESAs don't yet have the same rights in Montana. Yet, there are some destinations in the state that permit you to bring your emotional support animal with you when you enter their premises.
Some popular places in Montana welcoming ESAs include:
Jacobs Island Bark Park in Missoula
Huge Rogers Wag Dog Park in Whitefish
Norm Schoenthal Island in Billings
Pete's Rocky Mountain Pizza in West Yellowstone
Whitefish Handcrafted Spirits in Whitefish
The Garage in Bozeman
La Quinta Inn in Missoula
West Yellowstone Cabins in West Yellowstone
La Quinta Inn and Suites in Kalispell
What Is a Valid ESA Letter in Montana?
For anyone living or working in Montana who believes they could benefit from having an ESA or who already has one and wants to know more about exercising their legal rights, it's important to know that to do so you must have a valid ESA letter in your possession. This is the only way to ensure you're able to claim all of your legal rights in the state whenever you rent a property.
It's vital to understand what a valid ESA letter is, however. Some people think that you have to register or certify an animal as an emotional support animal. This is not the case. In fact, there is no such thing as a registration or certification for an ESA. Instead, the only requirement is that you have a valid ESA letter to show landlords when requested.
ESA letters are valid only when they are issued by qualified LMHPs (licensed mental health professionals), and they must be renewed each yar.
How Can I Get a Valid ESA Letter in Montana?
If you're suffering from mental health or emotional problems in Montana, it's possible that an ESA could help you to enjoy a better quality of life. But you still need to ensure that you've followed all the correct steps to guarantee that you and your ESA are protected by the law.
To legitimize your emotional support animal and to have it recognized under Montana law you will need an ESA letter that has been written and issued by a licensed mental health professional at least 30 days after you've established care with them. You may visit one in person or get one online.
To be valid, an ESA letter has certain requirements that need to be met. They must:
Have clearly outlined the LMHP's license number, full name and the state that issued their license
Be written on the official letterhead paper of the LMHP
Have a clear date of issue
Be signed by the licensed mental health professional.
Be aware that ESA letters remain valid for a limited period. They must be renewed every 12 months to stay valid. If you forget to renew your ESA letter, you and your animal will not have legal protection.
Get Your ESA Letter in Montana
If you're in need of a valid ESA letter in Montana it's possible to obtain one by contacting us through our website. We can connect you to an LMHP in your local area who will assess your eligibility and, after the required 30-day waiting period, issue you with the appropriate valid ESA letter.