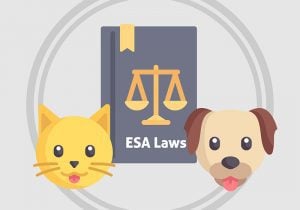 Emotional support animals, also known as ESAs, are not classified in the same way as other service dogs or animals. Service dogs are trained to perform specific jobs for people who have difficulty completing day-to-day tasks.
An ESA is a pet, often without specific training, that helps their companion by providing emotional support in the form of the calming effects of their physical presence. ESAs provide therapeutic benefits to individuals with a wide range of challenges, but most often to those who need support for their mental health.
Most of the time, an emotional support animal is either a cat or a dog, but there are other animals that can be classified as support animals. For an ESA to be offered protection under the US federal law, an individual must meet the requirements defined by the Federal Government of having a disability. That patient must also have a note from his or her health professional stating that they would benefit from the assistance of an emotional support animal.
Most regulations on ESAs are federal, but they apply in different ways in different states. To explore this topic in Kentucky, we'll go into how to get an ESA and the rules about ESAs in the state of Kentucky. For those who do not have access to a mental health professional, you can go to the USSA website to start registration for your existing pet to become an ESA.
How to Obtain an Emotional Support Animal in Kentucky
Going through the proper process and documenting your pet as a certified ESA is an essential step in protecting your rights and the rights of your animal.
For an animal to be considered a legitimate emotional support animal, your medical provider must write you a letter written on a doctor's or licensed mental health professional's letterhead. This information is also needed to verify your eligibility. It should include the following:
The name of the physician.
The physician's license number and state (Kentucky, in this case).
The date the letter was issued.
A signature from the licensed mental health provider.
Keep in mind that this letter is only valid for one year and it must be renewed. Make sure anyone who needs the letter (landlords, hospitality providers, etc.) are given an up-to-date copy. If you do not renew this letter, your animal may not be able to live with you.
Adopting an ESA
Service animals can be adopted already trained and certified, although you'll need some training to help understand how to best utilize your dog. That's with a service dog, though, and emotional support animals typically don't need training beyond being housebroken.
There are two ways to get an ESA: ESAs can be adopted or an existing pet can be certified.
Certifying a Pet You Already Own
If you're an existing pet owner and your pet provides a calming emotional presence, you can certify your animal as an ESA. All this requires is a signed letter from a medical professional stating that an ESA is helpful to you.
Adopting an ESA From an Animal Shelter
If a medical professional has recommended you think about an ESA and you don't already have a pet, we recommend looking into adopting from a shelter. Along with being more economical than a breeder, dogs are often already housebroken in the shelter. This makes the transition easier, especially for someone who already has a lot on their plate. Staff at the humane society will help you get a dog that will work for you.
Emotional Support Animal vs. Service Animals
Many Kentuckians don't know the exact difference between service animals and emotional support animals. Let's start with the similarities: both animals are trained, both have government protections, and both help individuals with physical or mental challenges.
What makes them different is the complexity of the tasks they can perform: service animals are trained to alert those who have seizures or diabetes of an oncoming episode, serve as a sensory dog (for blind or deaf individuals), or even push a wheelchair.
It is against federal law to discriminate against anyone with a certified service dog. This means that service dogs are allowed to be in all public places. Emotional support animals are not trained and although they're certified, they do not have access to be in all public places. They do, however, have rights under both federal jurisdiction and in the state of Kentucky.
ESAs and Air Travel
The Air Carrier Access Act (ACAA) previously used to allow all ESAs in the cabin of a plane for free. However, the ACAA has since been updated and unfortunately ESAs are treated as regular pets on airplanes now. This means that airlines can charge a pet fee, and can make your ESA ride in the cargo if it's too large or there are too many other pet reservations.
If planes trigger your anxiety (or other mental conditions) and you need support from your furry friend during takeoff and landing, it may be beneficial to see if registering your ESA as a psychiatric service animal is right for you. Service animals have more legal protections than ESAs, and you won't have to worry about leaving your emotional support in cargo.
ESAs in Apartments and Condos in Kentucky
Under the Fair Housing Act, those who have emotional support animals have every right to live with their animals in any apartment or condo. This means that even if your housing provider or landlord does not generally allow pets, you can have your ESA live with you with the proper certification.
This federal act allows emotional support animals to live with their owners in all apartments and condos throughout Kentucky no matter what their pet policy is. This includes units with a unilateral no pets policy, because, under this act, emotional support animals are not considered pets.
A landlord is not allowed to discriminate against a person for having an emotional support animal. However, some try to argue and put limits to prevent allowing a pet to move into their unit. They often site safety but landlords are not legally able to put breed restrictions in place, although you can be held responsible for any damages your ESA causes, and your ESA will still be subject to community restrictions against things like barking that apply to all animals.
ESAs at the University of Kentucky
Many students preparing to attend the biggest college system in Kentucky wonder if their emotional support animal can come with them. Others have a pet and are curious about the process to get their ESA registered.
While residence halls at the University of Kentucky system schools prohibit pets, ESAs are submitted if you go through the process outlined below.
You must register the emotional support animal at the Disability Resource Center before you come to the campus.
All dogs and cats are to be house trained.
Animals that are larger than 75 pounds are unable to be placed in the residence hall.
The Disability Center will determine if your pet's species is allowed.
The emotional support animal can only be in the hall (dormitory) where the student is living unless otherwise stated.
Vaccines must be up-to-date, and proof must be provided.
Your mental health professional needs to complete the University of Kentucky Disability Support Animal Verification Form.
A photo of the animal and a completed copy of the Support Animal Roommate Agreement must be turned in.
Your Emotional Support Animal and You in Kentucky
If you feel like you'd benefit from an ESA, you should first find a mental health professional. The professional will work with you to evaluate your situation, and based on their medical opinion, will either approve or deny your request for an ESA. This comes via a letter written on professional stationery.
Keep in mind that an emotional support animal is legitimate, and these animals have helped hundreds of thousands cope and thrive. If you believe you can benefit as well, take the steps to register your animal on the USSA website to get started. Having an ESA by your side can make a huge difference in your quality of life.