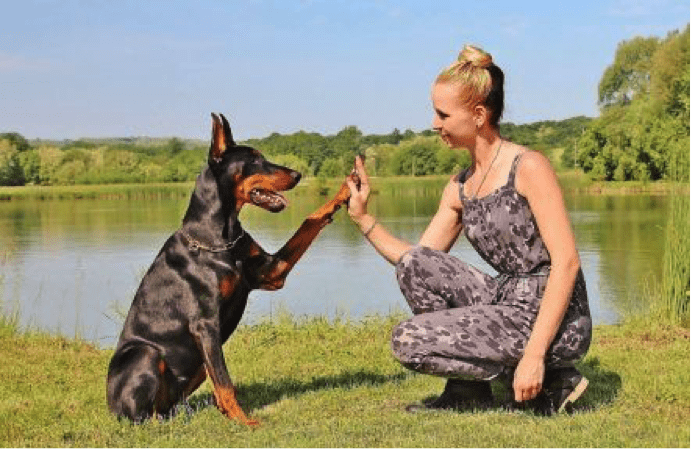 Can You Get A Service Dog If You Have OCD?
You may have heard the term obsessive-compulsive used a lot, but there are some individuals in this world whose daily lives are greatly impacted by the disorder. It may seem as if you can get a service animal for just about anything these days, and that is somewhat the case. These animals are so popular because they are so effective! Believe it or not, there is a service dog for individuals suffering from OCD.
What is the Difference Between a Service Animal and an ESA?
The terms service dog, service animal, and emotional support animal (ESA) are getting thrown around a lot these days. Due to the frequency with which these terms are used interchangeably, it's no surprise that many people don't know the difference between a service animal and an ESA.
A service animal (or service dog) is a specially trained animal that is able to perform some specialized tasks or tasks for their owner. The task these animals perform is often something the mentally or physically disabled owner would be incapable of doing for themselves. The task may also be something that aids the disabled owner in maintaining their safety or independence.
These tasks can vary from gently nudging their owner while walking beside them to make sure they don't veer to the side to fetching the owner a bottle of water or a phone to place emergency calls. A service animal is highly trained to perform necessary tasks.
The key differentiating factor between service animals and emotional support animals is that service animals are trained for specific tasks and are utilized by owners with disabilities while ESAs are used primarily for the comfort their presence provides.
Emotional support animals (ESAs) do not need to have any sort of specialized training to perform their roles. Some owners simply find comfort in the presence of their animals and find their life is improved by being allowed to keep their animals beside them at all times.
In light of this reality, regulations have been put in place to protect the rights of those who take advantage of the benefits that can be provided by service animals and ESAs alike. In order to avoid any issues when using a service animal or ESA, it is advised that you ensure you qualify to employ a service animal and have taken the proper steps for approval and registration.
What You Need to Qualify
In all cases, in order to qualify for a service animal, you will need to get approval from a physician. The physician will need to verify if you have OCD and how severe it is. Generally, service dogs are used when a condition severely impacts a person's well-being. Once you obtain qualification from a physician, you will be able to get a trained service dog. Unfortunately, service animals can be very expensive, so it is important to strongly consider if getting one is a good option for you.
Fully trained service animals can be quite expensive, but there are other options available for those who require a service dog or emotional support animal. There is nothing stopping a person from training their animal to provide them with support on their own. Training any dog for specialized tasks can be difficult and requires a lot of patience and knowhow, but it can be done by the owner at little to no cost. Another alternative would be seeking the aid of a professional trainer to improve the training process at a lower cost than purchasing a fully trained service animal.
Service animals, unlike ESAs, can be taken into any establishment or location in which a person is normally allowed to enter. This means service animals can be brought on planes, in taxis, and into restaurants without incurring any additional fees. Furthermore, service animals are also legally allowed to live with their owners in housing situations that otherwise have "no pet" policies.
Start Your Official Service Animal Registration
Federal laws permit service animal owners to take full advantage of their animals for their designated purpose while disallowing organizations from charging them additional fees for the presence of the animal. This cannot be said for ESAs across the board as ESAs do not have the same access to public establishments as service animals have. There are still regulations that aid ESA owners and allow them to bring their animals with them without extra cost in most places.
The Americans With Disabilities Act (ADA) protects the privacy rights of those with mental or physical disabilities. When you have a service animal, you are legally required to only answer two questions asked by employees, landlords, and managers of establishments: "Is this animal a service animal?" and "What tasks(s) does the animal perform?"
Answering these questions is your legal responsibility when prompted, but any other questions do not need to be answered. If an issue occurs, make sure you know your rights but remain calm and address the situation appropriately. Many people simply don't know the regulations surrounding service animals and ESAs and a calm explanation will often result in resolving the situation. In these types of circumstances, registration of your service animal can help ease the process.
What are the Benefits of Registering a Service Animal?
While registering your service animal is not required by law, it can make owning one and explaining their purpose to others much easier. Registration of your service animal will enter yourself and your animal into a database that can be referenced by others to legitimize your claims if they put up resistance.
Furthermore, a service dog vest issued after registration will help others realize that your animal is not simply a pet but actually performing a needed service for you. The included ID badges and certificates will further legitimize you and your animal in the minds of others. While these things are not required by law, they can greatly aid you in the process of gaining entry to locations you are legally allowed to enter and help to prevent any potential issues that may otherwise arise.
Despite the fact that service animals are legitimate and scientifically proven to be effective, there can still be a fair amount of balking from some individuals who don't fully understand or appreciate the functions that service animals are capable of. Service animals have been trained to effectively aid owners with all sorts of needs and disabilities—even those with obsessive-compulsive disorder (OCD).
How A Service Animal Can Help Someone With OCD
The type of service animal that an individual with OCD would have is classified as a psychiatric service animal (PSA). This classification of a service animal is great for individuals suffering from PTSD, panic attacks, depression, anxiety, and OCD.
OCD can overtake an individual's life and completely derail them from the task at hand. A service dog would be trained to distinguish good behavior from the negative. If you dive into something and lose track of time and the world around you, your dog is there to bring you back to planet Earth.
Service dogs know when you have been consumed by something and they can paw at you until you snap out of it. This may sound blunt and to the point, but let's give an example. It isn't uncommon for someone with OCD to be in the middle of a meeting and instead of focusing on the discussion, they can be consumed by their stack of papers not aligning correctly. Your service animal is there to make you aware of your distraction and help regain your focus.
This probably seems like a minor situation, but these situations can repeatedly happen day in and day out. The meeting is just one example, but a task as simple as eating dinner can easily be derailed.
Many individuals with severe OCD typically have anxiety. Service dogs are able to provide companionship and protection. When someone suffers from an anxiety attack the service animal is right there to provide comfort in any way possible. Whether by bringing you your prescription medications or simply lying on you to provide body compression.
The bond between a person and their service dog is inseparable. Many individuals who obtain a service animal look back and have no idea how they made it this far without them. One of the most positive things about a service animal is that your everyday life can only be enhanced. A service animal is well-trained and never a burden. These animals don't need much maintenance other than food and bathroom breaks, aside from those they are your lifeline and tend to all of your needs.
One OCD patient claims his dog cured his OCD and need for total control. Through getting a dog, it added some mess and disorder to his life, which helped him to relax and be okay with things not always being perfect. The dogs also provided love and comfort during the tough times along his recovery journey.
It is amazing just how much a service animal can enhance your quality of life. In addition to alerting you of your obsessive behavior, service animals can also help you put more of a routine into your life. You can look forward to walking your dog, feeding him, and simply enjoying time together. These moments with your service animal will help you forget about everything going wrong and focus and redirect your attention to your dog. It truly is amazing the difference a service animal can make in your life.