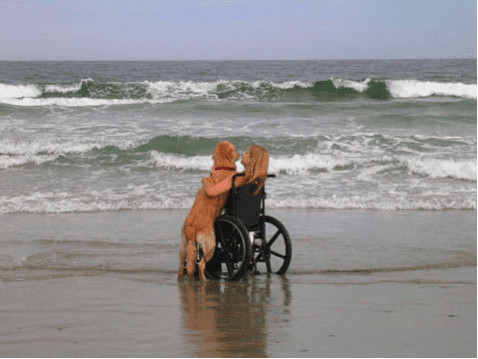 Depending on which state you live in, the laws surrounding service animals differ. It would be too easy if the laws were nationwide, but that is not the case. For the most part, the laws are very similar with just a few minor changes. It is important to check into the laws in your specific state so that you can obtain correct and up-to-date information.
A service animal is an animal that has been specially trained to perform tasks for disabled individuals. Some service animals may be a lifeline for their owner, while other animals may be trained for only a few tasks. Most service animals help their owners complete day-to-day tasks. The difference between a service animal and an emotional support animal is that an emotional support animal is more of a companion, rather than a helper.
The Florida state laws and the ADA laws differ in a couple ways, but they are clear in the polices that state that service animals must be allowed in most public areas. Florida's service animal law applies to animals that are trained to do work or perform tasks for someone with a physical, mental, psychiatric, sensory, or intellectual disability. The work the animal does must be directly related to the person's disability.
What Public Areas Must Allow Service Animals?
Your service animal should be permitted in all of the following locations:
hotels and other lodging establishments
public transportation terminals, depots, and stations
restaurants and other places that serve food and drink
sales or rental establishments
service establishments
any place of public gathering, such as an auditorium or convention center
places of entertainment and exhibit, like theaters or sports stadiums
gyms, bowling alleys, and other places of exercise or recreation
recreational facilities, such as zoos and parks
libraries, museums, and other places where items are collected or displayed publicly
educational institutions, and
social service centers.
Service Animal Rules In Florida
Service animals are exceptions to most pet rules that public places may have. You should never be asked to pay a deposit for your pet or a fee for having your pet accompany you. If your animal causes damage to public property, you will be expected to pay this fee.
You are expected to have access to full and equal housing in Florida. You should never be discriminated against for having your service animal.
Florida allows service animals in training to be in public areas if they are accompanied by their trainer.
Similar to most states, an establishment cannot require you to provide documentation that your animal is trained, and it cannot ask you about your disability. The establishment is permitted to ask you if your animal is accompanying you for a disability, and what tasks the animal completes for you.
Florida had a large problem with individuals falsely claiming that their animals were being used for service. This even went as far as individuals providing faked documentation. You should never be asked to show documentation that your animal is being used for service. Keep in mind, it is now a crime in Florida if you falsely classify your dog as a service animal.
There aren't any significant differences between service animal laws in Florida from other states. They do take their service animal laws very seriously because they see many of them between locals and tourists. Never falsely identify your animal as a service dog or you will be penalized, this is especially important in Florida since it is considered a crime. The high number of service animals that they see has improved their acceptance of the animals and helped individuals learn how to interact and accommodate them. Florida can definitely be considered a safe zone for you and your animal, you can even visit the greatest place on earth together – Disney World.