An emotional support animal (ESA) is an animal that provides emotional support, companionship, and comfort to those with mental or emotional disabilities. ESAs can be a variety of animals, including cats and dogs, but also birds, horses, rabbits, hamsters, and more.
An emotional support animal can help reduce stress levels and provide comfort during difficult times. ESAs are also often used as a form of therapy for those dealing with depression, anxiety, or post-traumatic stress disorder. ESAs are prescribed to individuals with documented disabilities.
To have an ESA, an individual must have a documented disability that significantly affects their quality of life, need an ESA to help manage their disability, and have the ability to care for the animal responsibly. Individuals must obtain a valid signed letter from a licensed mental health expert to confirm their need for the ESA.
What Is an Emotional Support Animal?
An emotional support animal is a companion animal that provides therapeutic benefits to its handler through companionship and affection. By providing emotional comfort, ESAs reduce feelings of loneliness and isolation and often help their handlers lead healthier lives.
Unlike service animals, ESAs do not require special training or certification, so they do not have the same legal rights and protections as service animals. ESAs have the ability to provide emotional help to individuals struggling with mental health concerns, including depression, anxiety, and PTSD. You must have a valid ESA letter to own an emotional support animal.
Who Can Qualify for an ESA in Austin?
Emotional support animals provide much-needed comfort and companionship to individuals suffering from mental or emotional disabilities. ESAs are seen as valuable family members, helping to improve an individual's overall quality of life by providing unconditional love and understanding. They can also raise self-esteem, reduce stress and anxiety, provide purposeful activities, and offer a safe space for owners to express themselves without judgment.
In Austin, meeting certain requirements is essential for being eligible for an emotional support animal. This includes having a verified mental health condition that considerably affects their day-to-day activities. There are a variety of conditions that an ESA can help with. These include, but are not limited to:
Anxiety disorders
Chronic stress
Depression
Post-traumatic stress disorder (PTSD)
Attention deficit hyperactivity disorder (ADHD)
To be approved for an ESA in Austin, a licensed medical professional must document your disability and demonstrate that the animal is necessary for managing your disability and improving your quality of life. If the licensed mental health worker determines that you would benefit from an emotional support animal, they can prescribe an ESA by writing an ESA letter.
What Are the Benefits of Having an ESA Letter in Austin?
An ESA letter is issued by a licensed mental health professional, such as a psychologist or psychiatrist. It provides evidence for a legitimate need for an ESA. An ESA letter allows you to have an emotional support animal and to access a variety of services and benefits that can help reduce stress, reduce feelings of anxiety or depression, and improve socialization.
ESA letters are a powerful tool for those living in the Austin area. In Austin, this document is recognized by property owners and landlords, allowing individuals with ESAs to live in housing that doesn't otherwise allow pets. By providing proof of the necessity of an ESA, these letters help individuals with mental health issues receive the support they need.
How to Get an Emotional Support (ESA) Letter in Austin
Applying for an emotional support animal letter may initially seem complicated and lengthy. Knowing the procedures for obtaining an ESA letter can make it much more manageable, and the benefits of having an ESA letter can make the process worthwhile.
A licensed mental health professional must assess if an emotional support animal is necessary for you to assist with your mental health. After making this determination, they should provide you with a letter documenting their findings and stating that an ESA is needed in order to maintain your well-being.
There are certain criteria an ESA letter must meet to be valid. The letter must:
Be issued by a licensed medical provider and written on official letterhead.
Contain detailed information about the medical conditions that qualify a person for the requested services or accommodations.
Include details of your animal, like their name and breed.
How to Get an Emotional Support Letter (ESA) in Austin With U.S. Service Animals
U.S. Service Animals (USSA) has an effective service animal system in place that facilitates access to licensed mental health providers for those who need an ESA. This system has helped make it easier for people with disabilities to obtain the support they need from their emotional support animals.
USSA provides free consultations—if they can't help you, there's no charge.
Submitting a consultation request will allow you to be paired with a mental healthcare worker licensed by the state of Texas. This will ensure that the process meets legal requirements.
To be eligible for an ESA, you must undergo a screening process conducted by a licensed mental health professional. This typically consists of a phone or video session, during which the therapist will assess your condition and determine if an emotional support animal is appropriate.
If you satisfy the requirements for an emotional support animal, a healthcare professional can provide the necessary paperwork in the form of an ESA letter.

What Are the Laws About ESAs in Austin?
In Austin, laws exist to protect the rights of individuals who rely on emotional support animals. These guidelines are for the proper treatment and care of these animals. These legal protections ensure that individuals are not discriminated against due to their need for an emotional support animal. Furthermore, the legal regulations state what kind of allowances must be given to tenants with an emotional support pet by their landlords.
Can I Fly With an ESA in Austin?
The Americans with Disabilities Act (ADA) requires airlines to make reasonable accommodations for those with disabilities. One of the accommodations was to allow certain passengers to bring emotional support animals on board, though they were not considered pets. This was accessible for passengers with a valid prescription from an authorized mental health expert.
The Air Carrier Access Act (ACAA) was revised in January 2021, which led to many changes in how airlines handle emotional support animals. The new amendment no longer treats ESAs as service animals, and they must adhere to the same size and weight restrictions as regular pets. This amendment also means that airlines can now charge for ESA travel as they do for regular pet travel.
Can I Live With an ESA in Austin?
The Fair Housing Act is a vital law enacted in the United States to protect people from discrimination based on several aspects. These are race, color, national origin, religion, and disability. This legislation helps ensure that all citizens are treated equally and fairly regardless of their characteristics.
Many landlords have policies in place that prohibit residents from owning animals, making it difficult for disabled people to access the care they need. Thankfully, persons living with disabilities have the option to request suitable accommodation from landlords if necessary.
When living with an ESA, they are exempt from all of the following:
Breed restrictions, including landlord, city, and state restrictions
Size or weight limits
Pet rent
Pet fees or security deposits
Landlords are legally allowed to reject an emotional support animal if the animal poses a safety or health threat to other tenants in the building. It is important for tenants with an ESA to be aware of their rights and responsibilities and ensure their emotional support animal does not pose a threat to others.
Can I Bring My ESA to Work With Me in Austin?
The state of Texas does not have any employment protections for individuals with ESAs in their workplace. Companies are free to exercise their discretion when it comes to allowing ESAs into their workplace, with no guarantee of protection should any conflicts arise.
You should check with your HR department to see if they are able to accommodate an emotional support animal on-site. With an ESA letter, you are better able to demonstrate that you need this accommodation and make it more likely that it will be approved by your employer.
What Exceptions Are There to ESA Laws in Austin?
Austin has laws in place to protect the rights of disabled individuals and ensure they have access to the same services and resources as everyone else. Nevertheless, there are a few exceptions to these rules.
Landlords can deny any emotional support animal demonstrating aggressive or destructive behaviors. This is because these animals could potentially harm other tenants, cause damage to property, and even lead to legal action against the landlord. There are also exceptions if the property has fewer than four domiciles, and in this situation, it is up to the landlord to allow ESAs on a case-by-case basis.
Emotional support animals do not have the same rights and protections under the Americans with Disabilities Act (ADA) as service animals. This means that ESAs are not allowed in public places where pets are typically prohibited, and their owners cannot access the same accommodations as those with service animals. So it is important to understand the differences between ESAs and service animals to ensure you receive the support you need.
Emotional support animals don't need any specific training; they just provide companionship and emotional support to their owners. They are not expected to have specific abilities or fulfill certain tasks. In contrast, service animals are specially trained to assist their owners with specific tasks and are typically allowed to accompany their owners even in areas where pets are prohibited, including restaurants, health care facilities, and public transportation.
Where Can You Take Your ESA in Austin?
Austin offers many activities, attractions, and locations designed with both pets and pet owners in mind. From parks to beaches and restaurants to shopping centers, you'll find plenty of places that welcome you and your ESA. With the wide range of pet-friendly activities available, you can make the most out of your time together while enjoying the city's offerings.
Blue Owl Brewing is making it easier for pet owners to enjoy a cold brew with their furry friends. They have created a pet-friendly atmosphere where owners and pets can relax together. Dogs are welcome both outside on the patio and inside the tasting room.
Neighbors Dog Park & Coffee Shop is a unique place in Austin where both dogs and their owners can hang out together. It's the perfect spot to socialize and relax with your furry friend. While you enjoy freshly brewed coffee from local businesses, your dog can run and play off-leash.
Kimpton Hotel Van Zandt is a great choice for travelers with pets, as it welcomes furry friends to stay for no extra charge. Both dogs and cats are allowed, but pets may not be left unattended in rooms. Treats and waste bags are available at the front desk. There is also a grassy area on the property for the relief of your animal companions.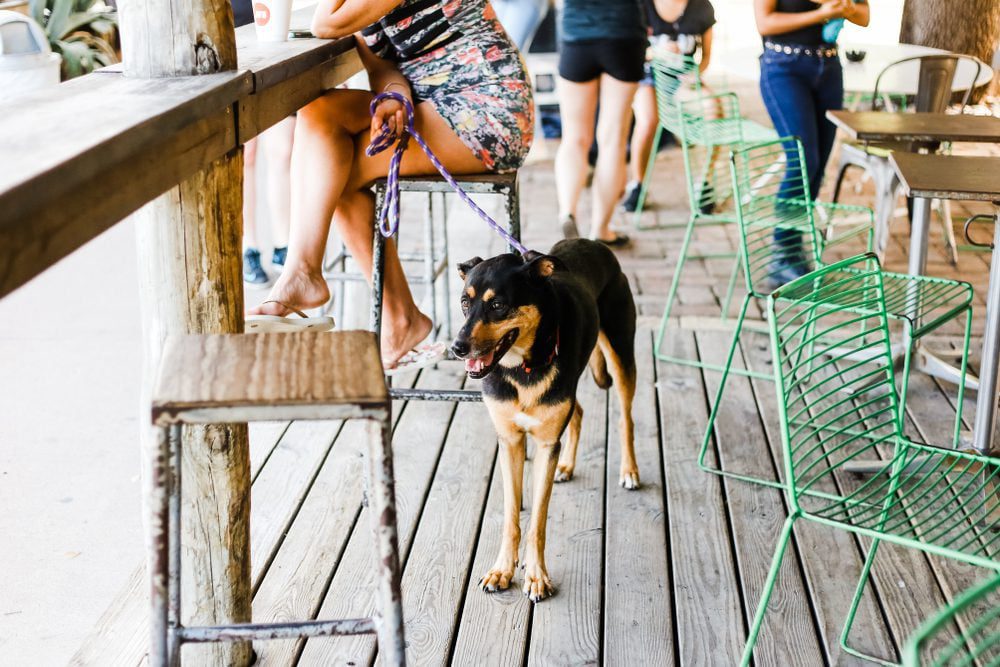 Important Facts About ESAs in Austin
ESAs are becoming more and more common among people struggling with mental health in Austin. It is important that everyone knows the facts about them, such as their legal rights, guidelines, and regulations.
ESAs are not granted public access, which means:
They are not guaranteed the right to visit public spaces
They are not guaranteed the right to be in airplane cabins with you or on any other public transport
They are not guaranteed the right to be allowed to stay with you in a hotel
Additionally:
ESAs are only granted to those with diagnosed mental or emotional disabilities/disorders
ESAs do not need to be certified, registered, or trained to perform specific tasks
ESAs are allowed to be any animal and are not limited to dogs
ESA letters must be prescribed by a mental healthcare worker licensed in Texas
Get an Emotional Support Animal (ESA) Letter in Austin Today
Emotional support animals provide emotional and psychological support to their owners, helping them cope with various mental health issues such as anxiety, depression, and other forms of trauma. ESAs can be of any species and do not require professional training. They help their owners by providing unconditional love, companionship, and comfort in times of need – which can help reduce stress levels and improve quality of life.
If you're living in Austin and are looking for an emotional support animal letter, you've come to the right place. An ESA letter is a document that certifies the need for an emotional support animal based on a person's mental health condition. It is written by a licensed mental health professional and can be used to assist individuals with their housing rights, travel accommodations, and more.
Our experienced team of professionals can help you get an ESA letter as soon as possible. We recognize the importance of having a comforting companion by your side when you are struggling and are here to support you to try and get the assistance you require.
If an ESA may be right for you, schedule your risk-free consultation with USSA today and find out how we can help you get your emotional support animal letter.