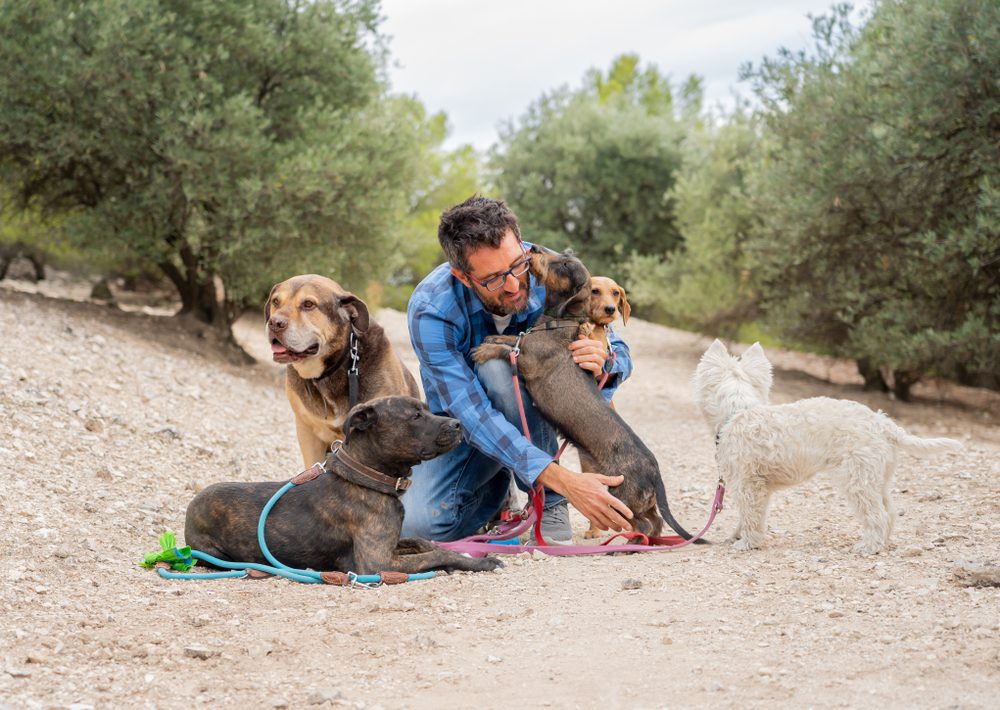 Following the Washington Law against Discrimination (WLAD), Washington State officially recognizes the Americans with Disabilities Act (ADA) when it comes to service dogs. To roam freely in public, though, your dog needs to be sufficiently trained, setting them apart from the everyday pet. For this to be recognized, the dog must complete specific tasks, instead of just being there for its comforting presence. Because of this, comfort support and therapy dogs aren't officially recognized, but you can have a dog for severe emotional illnesses and PTSD. Dogs can assist the owner through touch and other exercises when the owner shows signs of mental distress.
Service dogs have the right of access in any public arena, allowing them to follow and assist you diligently. You are welcome to offer your dog's certification if asked by an establishment, but it's not a requirement, and this certainly doesn't extend to asking about the disability itself. All you need is a clear explanation of what specific task the dog does. You can also move into any new home without the hassle of the "no pets" rule.
While you'll make a friend, service dogs are there to do a job, assisting you and ensuring your safety. Training helps them understand what you need. You may train your dog to detect the dropping blood sugar levels of diabetes on your breath, but they can also provide more frequent guidance by being your eyes and ears. WLAD stipulates the training a dog needs, but it is up to you to find training to hit their criteria. Once registered, your service dog can aid you with whatever you need, bringing mobility and freedom.
What to Look for When Choosing Service Dog Training
First things first, you want to see who will be training your dog. Training is unregulated, which means it's up to you to vet a trainer's experience and see how many years they've been practicing. Time spent researching the experience of a trainer, or the methods they'll be using, is well worth it.
Positive reinforcement has a proven track record when training; it replaces inappropriate behavior with more desired conduct and makes sure your dog understands his role clearly. Also, check for trainers' certifications; a governing body (like the International Association of Canine Professionals Service Dog Committee) can accredit them, which will give you more reassurance of their expertise. Sometimes though, their experience more than speaks for itself.
Pick your training venue carefully; a minimum of 120 hours of training is needed over six months, so the center needs to be easily accessible. Of course, if you are in a remote area or facing mobility issues, this can be tricky. Wait times can also be a factor. If your chosen location is booked up, this can leave you without necessary assistance for an excessive length of time. Wait times are even more of an issue if you're looking for an in-person, one-to-one session for your dog, or if your chosen trainer is a specialist in a particular area. Then there is the question of whether the training center can cater to your breed; some only provide training for specific varieties. Time spent researching will mean that once you have a plan, you're good to go.
Online vs. In-Person Service Dog Training
There are many advantages to training your service dog online. Firstly is the convenience and simplicity of communicating through services like Zoom and referencing video tutorials. This ease of access allows you to pace yourself and your pup, creating a schedule that's easier to follow. You don't want to exert yourself, and working online can accommodate your needs.
Besides allowing you to manage everything from home, your dog will benefit from the familiarity provided—because it is not just your home, but your dog's, as well. Working with you rather than a trainer will help establish a bond for your dog; you are the voice of authority, and it is your life your furry friend is watching over.
There is the economic benefit, as well; it will always be cheaper training online. Of course, being able to call up a trainer at the click of a button in an emergency is also invaluable!
You may choose to take advantage of in-person training, however. You will benefit from the trainers' expertise up-close, and they'll make a direct connection with you and your dog. Their professional judgment can be helpful when identifying dog behavior and the ways to work with it.
In-person training can also accommodate more specific disabilities, when taking different methods of training into account. And although there are improvements to scent training online, you can still better manage the training for particular scents in person.
Of course, a crucial part of in-person training will be the socialization of your dog. Although you can teach your dog to handle public situations, a decent trainer will know precisely what to do. It can be simpler when an in-person trainer visits and creates a customized schedule, although this will involve their availability and travel arrangements.
| | |
| --- | --- |
| Pros of Online Service Dog Training | Pros of In-Person Service Dog Training |
| Convenience and better ease of use. | Trainer connects with your dog. |
| Fits your own pace and schedule. | Identify behavioral quirks and personality. |
| Bond with your dog as they respond to you. | Some disabilities require assistance. |
| Your dog learns from the familiarity of home. | Teaching for scents is easier in person. |
| Instant troubleshooting and accessibility. | Effective dog socialization. |
| Far cheaper. | Customized scheduling. |
The Best Service Dog Training in Washington State
Keeping all of that in mind, we'll now look at Washington State itself and what courses there are to serve you best. These choices are both online and in-person, and we've narrowed it down to the best offerings currently available, and explained what you can expect from them.
US Service Animals Online Training
Recognized across the United States, US Service Animals has over twenty years of experience in service animal training. Operating online, they're at the forefront of service dog training, offering great benefits to those who qualify. All fifty states are covered, including Washington State, making it a great all-rounder.
It's a lot cheaper than many of the alternatives, too, with effective service providing a structured lesson plan. While it is online-only, it does offer a certificate upon completion, with direct one-to-one support available, too. They do provide equipment, as well, making this one of the more accessible choices available.
Cost: $349
Location: Online only (6 video modules)
Certificate: Yes
1:1 Support: Yes
Equipment Provided: Clicker, plus optional service vest, collar, collar tag, and leash
Link: www.usserviceanimals.org
Nitro K-9 Service Dog Program
Based in Washington, Bothell, Nitro K-9 training focuses on emotional support and psychiatric dogs when it comes to service animals. Dealing in-person, they're a well-established, if somewhat smaller, trainer. Serving the local area, they're fully accredited with plenty of experience and equipped to deal with obedience exercises.
When choosing them, a significant bonus is that they'll help you select a service dog before training. Because of this, Nitro K-9 are helpful as starting trainers, getting things running before continuing yourself. If there are any severe behavior issues you're facing, this makes a good stopping point, too.
Cost: $160 hourly, depending upon the dog's size
Location: In-person only
Certificate: Provided through a governing body
1:1 Support: Yes
Equipment Provided: None
Link: www.nitrocanine.com
Compass Key Service Dog Training
While this is a nationwide trainer, with outlets across America, Compass Key mainly offers in-person training. There are some online resources, but it's primarily geared towards boarding when training your service dog. Its branch is located in Western Washington, making it reasonably central, but it's a pretty big commitment, time-wise.
Decently equipped and staffed, they offer a range of service animal training. Included is a variety of conditions, identifying emotional and physical issues. Extensive with its boarding, it's excellent for those wanting intensive treatment, although this means time away from your dog.
Cost: $6,200 (Board and Training: 4-Weeks + 10 Private Lessons)
Location: Online and in-person; serves Olympia, Tacoma, Renton, Seattle, Bellevue, Everett, and surrounding areas
Certificate: ADA certification provided
1:1 Support: Yes
Equipment Provided: None
Link: www.ckdogs.com
Atlas Assistance Dogs
Atlas Assistance Dogs is a nationwide organization located across the United States with three branches located in Washington alone. Offering hands-on support directly, it covers several different conditions, opting for a broader scope. Private trainers are assigned, taking you through every single step of the process.
A large part of this particular program teaches you the necessary skills for training your service dog, allowing you to continue yourself. There's also certification at the end of it, with a service vest and ID card provided, allowing you to take the dog wherever it's needed.
Cost: $700
Location: In-person (six months); Bellevue
Certificate: Yes
1:1 Support: Yes
Equipment Provided: Service vest and ID card
Link: www.atlasdog.org
Power of Dog Training
One woman based in Seattle, Elisa Rivera, is passionate about her job, specializing in training emotionally supportive service dogs in person. Fully accredited and qualified with years of experience behind her, she's a trainer with more of a personal touch. Working by herself, though, there are some intensive wait times to consider here.
Recently she's begun to offer online training, making herself readily available via webcam. Again this is one-to-one, dealing with your dog directly, so you'll need to work around her schedule when she becomes available. It's also important to note that her days operating are Thursday through to Sunday.
Cost: $150 24 hours board-and-train, $150 for 90 minute session + $125 discount for blocks of six
Location: Online and In-person; Seattle
Certificate: No
1:1 Support: Yes
Equipment Provided: None