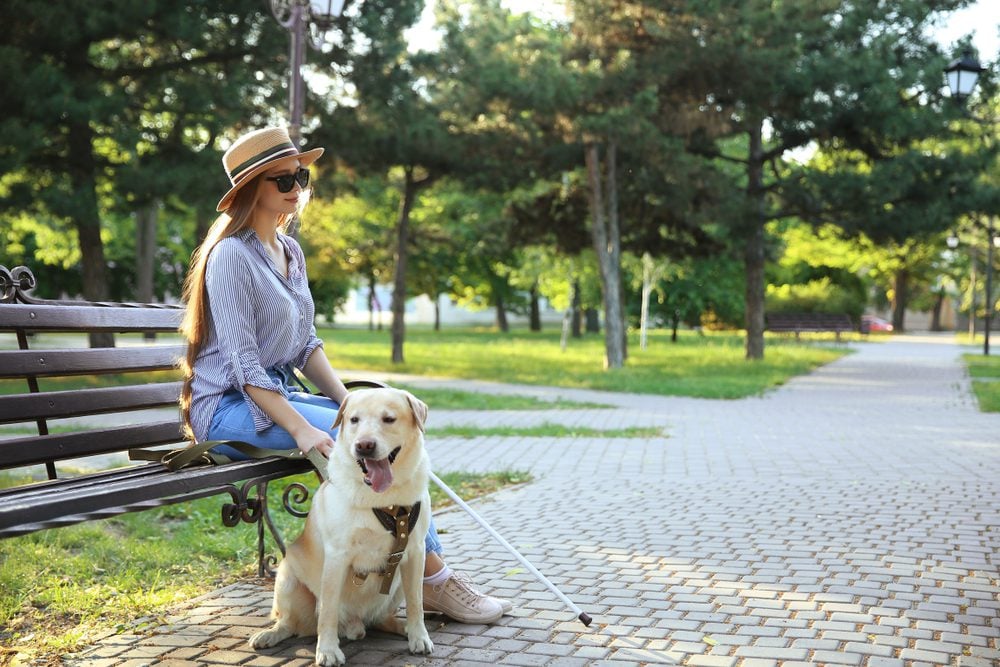 If you're living with a disability in Iowa, it might be worth training your pooch (or a new puppy) to become a service dog. Not only do these lovable creatures provide invaluable assistance with everyday tasks, but they also receive legal protections under federal and state laws.
The Americans with Disabilities Act (ADA) affords anyone with an eligible disability the civil right to bring a service dog into any "public accommodations" (restaurants, entertainment venues, retail stores, educational institutions, etc.). Businesses, including landlords and airlines, cannot charge for a service dog or treat the owner differently, providing the animal is housebroken and well-behaved.
Furthermore, Iowa's disability rights law also grants similar protections; thus, service dogs are covered by state and federal laws.
Although there are no formal certification or registration requirements, a canine must be adequately trained to qualify as a service dog. In this article, we'll cover what to consider when searching for a service dog trainer and then review the top five providers in Iowa.
What to Look for When Choosing Service Dog Training
Choosing an appropriate service dog training center is the first step towards turning a canine companion into a bonafide service animal.
Regardless of whether you choose an online or in-person trainer, it's best to stick with an established operator with years (or decades) of industry experience. Look for a provider with a proven track record with your specific disability.
Not all trainers work with every dog. But that's not necessarily a bad thing—it could mean they excel at training a specific breed. Some insist on working with a custom-bred puppy, while others accept existing pets (after a rigorous evaluation) or source animals from a local shelter. In any case, check whether these conditions align with your needs.
For a brick-and-mortar establishment, it's worth assessing the facilities in person before committing. Are the kennels in good shape? Do the dogs have plenty of open space? A low-quality trainer will cut corners and deliver subpar results.
While a sizable waiting list is indicative of a successful business (or a popular non-profit), you should consider your own timeline, as well. If you need an animal trained in a hurry, there's no point joining a five year waiting list.
Finally, cost is a crucial consideration. While the law requires a service dog to be capable of supporting its owner, there's no legal requirement to enlist a professional trainer. An online training course gives you the necessary tools to train your animal at home and saves you thousands compared to an in-person program.
Online vs. In-Person Service Dog Training
So what's the best option for training a service dog: in-person or online? Both methods have their advantages, which we'll discuss below.
While an in-person course requires you to attend scheduled classes, an online program lets you train your animal at your convenience—you don't even need to leave the comfort of your own home. The most significant benefit, however, is cost. Online programs give you all the support and guidance you need at a fraction of the price of an in-person course.
Although rigid and expensive, in-person programs may achieve better results because an experienced professional provides expert, tailor-made training sessions. Furthermore, the in-person option puts less burden on the owner, which is essential when a severe disability renders self-training impractical. Both humans and canines also get ample opportunity to socialize and exercise—active and outgoing owners often find in-person training more fun.
| | |
| --- | --- |
| Pros of Online Service Dog Training | Pros of In-Person Service Dog Training |
| Cost-effective: online courses cost a fraction of the price of in-person programs | Less owner burden: trainers do most of the work, essential for people with severe disabilities. |
| Convenience: train your dog at a time that's suitable for you | Expertise: in-person trainers draw on years of experience to achieve optimal results |
| Comfort: no need to leave the comfort of your own home | Exercise and socialization: you and your dog will get out and about |
The Best Service Dog Training in Iowa
Now you're up to speed, it's time to check out the top service dog training programs in Iowa—both in-person or online. We've searched long and hard to identify and review the top courses in the state to make the selection process easier for you.
US Service Animals Online Training
The top dog in virtual training, US Service Animals Online Training gives you everything you need to teach your canine to become a service dog from home. The six-module program consists of 12 easy-to-follow videos that outline cutting-edge animal behavior theories and how they apply to your four-legged friend. Unlike other online programs, you'll get customized support from a professional service dog trainer throughout the course.
The comprehensive program teaches your pet to assist with various disabilities, including blindness, hearing loss, diabetes, mobility issues, and epilepsy. No breed or size restrictions apply, and you get a handy certificate at the end (there's also an optional service vest, collar, collar tag, and leash).
Cost: $349
Location: Online only (6 video modules)
Certificate: Yes
1:1 Support: Yes
Equipment Provided: Clicker, plus optional service vest, collar, collar tag, and leash
Link: www.usserviceanimals.org
Knallhart Kennels & Training Academy
Knallhart is a prestigious training provider located on the outskirts of Iowa City. The company offers a comprehensive board and train program to prepare service dogs for duty. Its modern, 80×70 ft kennel is temperature controlled and protected from the elements, with ample room to sleep, stretch, and play.
Lead trainer Chelsey offers a free, 15-minute consultation to discuss your circumstances and needs—further consultations come with a fee. BYO dogs may be considered for appropriate breeds with a good temperament over 16 weeks of age. Both the basic and advanced service dog programs come with a lifetime guarantee.
Cost: Basic $16,900 (16 weeks) / Advanced $21,900 (21 weeks)
Location: Iowa City, Iowa
Certificate: Yes
1:1 Support: Yes
Equipment Provided: At extra cost
Link: www.knallhartacademy.com
Deafinitely Dogs
Deafinitely Dogs is a reputable non-profit that trains service animals for people with hearing impairments and PTSD. The Cedar Rapids-based organization uses a positive reinforcement approach to foster a strong bond between human and dog. Applicants must pay around half the total cost of the two-year program, and the charity can advise on effective fundraising efforts.
Dogs are hand-selected from approved breeders, and training begins almost straight away. The technical service dog training component typically starts around 18-20 months of age, at which point a suitable applicant has already been chosen. The program includes team training, public access, one-on-one sessions, and follow-up consultations.
Cost: $10,000
Location: Cedar Rapids, Iowa
Certificate: Yes
1:1 Support: Yes
Equipment Provided: Unspecified
Link: www.deafinitelydogs.org
Iowa Service Dogs
Iowa Service Dogs is a well-regarded non-profit that trains and places animals into the homes of veterans and first responders with disabilities. Volunteer "Guardians" care for, raise, and train each puppy until it's ready to be handed over to an appropriate "Warrior." Then, an in-depth placement program teaches the new owner how to work with the animal and continue ongoing training.
Only applicants with psychiatric conditions, traumatic brain injuries, or mobility impairments may apply. Applicants must attend rigorous training sessions before, during, and after the program—there's a significant amount of work required here. No BYO dog: all canine candidates are handpicked Labrador Retrievers.
Cost: Free (expect long waiting list)
Location: West Des Moines, Iowa
Certificate: Unspecified
1:1 Support: Yes
Equipment Provided: Unspecified
Link: www.iowaservicedogs.org
Paws-Effect
Paws-Effect is a long-standing non-profit that trains and places service dogs into the homes of children and veterans with disabilities in both Iowa and North Carolina. The organization has been operating for over 15 years, placing scores of service dogs during that time. The team currently sources suitable puppies from the breeder Formaro Labradors and volunteer trainers from the Parole and North Central Correctional Facility. In-depth placement support is provided at the conclusion of the program.
The organization aims to place animals at little or no cost to approved applicants—it raises funds from events, donations, and sponsorships. Existing pets may be considered for training, although the organization prefers to handpick custom-bred puppies.
Cost: Free or nominal fee (expect a long waiting list)
Location: Des Moines, Iowa
Certificate: Unspecified
1:1 Support: Yes
Equipment Provided: Unspecified
Link: www.paws-effect.org