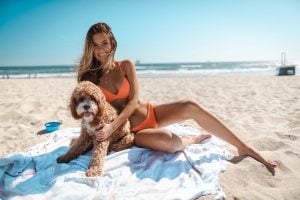 The sea rising, rolling, and waves cresting draws millions of people to America's best beaches. One of the prime destinations for beach living is Florida with its abundant sand, sun, and surf. When your pet is a part of your family or -perhaps more important- a vital part of your travels and enjoyment, you want to find beaches that are pet-friendly.
Not only are there plenty of pet-friendly Florida beaches in the Sunshine State, some of them really focus on making sure pets have a safe time, too.
While you shouldn't have any trouble finding pet-friendly Florida beaches, especially when you consider the nearly 1,300 miles of shoreline this state boasts, you should pay attention to the types of pets allowed and what (if any) restrictions may be in place.
You want to enjoy yourself and the last thing anyone needs is to run into a hassle just trying to enjoy some fun in the sun with your furry companion. We understand the value pets offer, especially as valued companions and want you to be empowered so that your next trip to Florida (or, if you live in this great state, to one of its pristine beaches) is a safe and enjoyable one.
That's why we've put together a list of 5 things you should know before heading out to any number of those pet-friendly Florida beaches.
1. Be clear on what pets are permitted.
Most people -when they think about pet-friendly Florida beaches- are commonly envisioning dogs, but they're not the only type of pet people enjoy. Cats are the second most common pet in the U.S., but still, there are plenty of others.
Pets of all types and kinds offer incredible emotional and physical value to their caretakers, but not all of them are allowed. Many of the 'pet-friendly' Florida beaches are focused on dogs only.
However, if you have a pet as an emotional support animal, you'll need to be clear on whether or not this animal is permitted. For example, potbelly pigs are highly intelligent and make great pets, but will one of these beaches permit them to be on their sands or stroll in their waters?
Not always and a lot of the restrictions have to do with vaccinations, sanitation, and other factors, not to mention how dogs may react and respond to these different species.
2. Make sure your pet's shots are up-to-date.
Whatever the county requires for pet shots need to be up-to-date. Most commonly, this refers to rabies, but there are several other vaccinations designed to protect these family-friendly animals and keep them (and people) safe.
While you may not be asked to show these tags or certifications at any time, it's necessary for your safety and that of anyone else on the beach. If you're not sure which shots are required, contact the county where the beach is and inquire as to these requirements.
It can be easy to try and ignore these things and assume no one's going to check, but two things need to be kept in mind: if you get caught without proper certification or licensing for your pet it could mean a fine and second, if something happens on that pet friendly beach with your pet (he bites another dog, for example) and you can't produce proof of a rabies vaccination, your beloved animal could be impounded.
3. Have proper restraints.
Most communities throughout the country now require all dogs to have a collar (with rabies/vaccination tags) and be on a leash at all times except where they are specifically permitted off-leash.
Even when you're heading to a 'pet-friendly' Florida beach, you'll need to properly care for your companion from the vehicle to the sand and maintain control over him the entire time.
If your pet has no experience on a pet-friendly beach or has any problems dealing with other animals, it's your responsibility to ensure a pleasant and problem-free day for not just you and your pet but others enjoying the beach with you.
Only allow your pet off the leash in specifically designated areas. Some beaches, like Flagler Beach on the East Coast, have large and small dog beaches and those pets are allowed to frolic in the water. Others only permit animals to be off-leash in small grassy areas.
Heading to any pet-friendly beach without proper restraints is hoping for the best; this is an opportunity to make sure the entire day will be fun-filled.
4. Clean up after your pet.
One of the great responsibilities all pet owners have is to clean up after them, whether you're at a pet-friendly beach or not. Unfortunately, too many pet owners don't take this seriously and it ultimately ruins things for everyone else.
Whatever pet-friendly Florida beach you enjoy, make sure you clean up after your pet. You will commonly find that many of these beaches have free poop bags for use so even if you don't have any or run out, you should be able to find one at a convenience box.
5. Never assume an unregistered ESA will be accepted.
An emotional support (or service) animal is a registered pet that serves a specific purpose for its master's benefit. Millions of Americans struggle with physical, emotional, and mental challenges and pets have proven to be highly effective at helping them overcome these struggles.
However, just because you have a pet and rely on it for this level of support doesn't mean any state, county, city, or town (including beaches) will accept that. A legitimate registrar of these ESAs is a valuable asset in helping you enjoy more of the amazing wonders this country has to offer, especially when you can only do them with an ESA.
US Support Animals is one of the nation's elite and legitimate service and support animal registration services, recognized throughout the country. We have helped people just like you have their support animal registered so you can enjoy many of Florida's amazing pet-friendly beaches, too, just like the millions of others who flock here from all over the world.
Once you have your pet registered as an ESA, perhaps you'll want to visit one of those amazingly pet-friendly Florida beaches. Whether you'll be heading to the East Coast, Gulf Coast, or even along the panhandle, here are some beaches you'll want to check out.
Beach 1: Paws Dog Park.
Located in St. Augustine, just a short drive southeast of Jacksonville, you'll find an amazing dog park, including separate sections for small dogs and larger dogs. They can play in the surf and even 'mark their territory' on the fake fire hydrant located near the grassy area.
Beach 2: Anne's Beach.
If you decide to head down to the Florida Keys for vacation, Anne's Beach is a great destination that remains pet-friendly to this day. It consistently ranks as one of the best beaches in the Keys and the waters are warm year-round, so no matter what time of the year you visit, you're sure to have a great time with your ESA.
Beach 3: Dog Island Park.
Located in Cape San Blas, you can only reach this isolated island by boat, but with a support animal, you can have a great time. Leashes are a must and there are plenty of conservation areas on this small island where pets are strictly prohibited, but where allowed, it can be a wonderful day of fun.
Beach 4: Key Biscayne Dog Beach.
Enjoy the view of Miami from across the bay in Key Biscayne. A popular destination, this beach can become crowded quickly, especially during the peak summer months, so if you plan to visit here with your pet, get there early and stake a claim to some warm sands.
Beach 5: Davis Islands Dog Park and Beach.
This one is on the Gulf side in Tampa and consists of a dog-friendly dry park as well as 200 feet of coastline where your furry companion can splash and frolic in those soft, gentle waves. There are no fences at this beach, though, so you'll want to keep an eye on your beloved pet to make sure he doesn't slip away!
Beach 6: Smyrna Dunes Park.
Located not too far away from Cape Canaveral and nestled against the Atlantic Ocean sits this pet-friendly beach in New Smyrna Beach. There is an entry fee and it's open from sunrise to sunset. Leashes are required, but you can stroll along the dunes and enjoy some leisurely time on the boardwalks or simply have a picnic at one of the pavilions.
As you can see, there are a number of pet-friendly Florida beaches to enjoy with your ESA. To be sure that there won't be any issues when you head to one of these (or any of the dozens of other pet-friendly beaches), have your pet officially registered as an ESA.
When you can have your best friend traveling with you, not only will you feel more comfortable, you'll also be more confident with an ESA registration by our legitimate, nationally recognized service.