The Crown Jewel of the North Atlantic Coast, Acadia National Park, is a great destination. It is packed with breathtaking views, scenic drives, action-packed hiking trails, restaurants serving fresh Maine seafood, and many other wonders.
For dog owners planning a trip to Acadia National Park, the question is whether or not their furry friends can join in the fun. The answer is an absolute yes! In fact, it is one of the most dog-friendly national parks in the United States. Acadia National Park welcomes dogs to most hiking trails, its carriage roads, campgrounds, and more.
While it's good to know that Acadia National Park allows dogs, there are some restrictions dog owners should be aware of. In this article, we'll cover everything you need to know about taking your four-legged family member to Acadia National Park. Plus, we'll go over the best spots to hike with your dog and tips to ensure their safety during your stay.
How Dog-Friendly Is Acadia National Park?
The National Parks Service knows how dear our four-legged family members are and have a welcoming pet policy. Most hiking trails and carriage roads, as well as two campgrounds in the Acadia National Park, permit pets. You can camp out in these campgrounds with your dog in a tent or rent a dog-friendly cabin near the national park.
Acadia National Park is also near dog-friendly towns that offer dining, lodging, and fun activities. Most restaurants, bars, and cafes welcome dogs in their outdoor areas. The nearby towns also have pet-friendly hotels and vacation rentals.
All these make Acadia an attractive destination to explore with your dog.
Where Are Dogs Allowed in Acadia National Park
First and foremost, dogs aren't allowed everywhere within Acadia National Park. Where your furry friend can go is restricted, but don't let that be intimidating. A large part of the Acadia National Park, spanning over 48,000 acres, allows dogs.
Hiking Trails
Being one of the dog-friendliest national parks, Acadia has various hiking trails that accommodate different breeds, ages, and fitness levels. There is a suitable hiking trail for every dog and their owner, with over 100 miles of it open to dogs. Dogs are also allowed to hike in parts connected to Isle au Haut but only during the day.
Carriage Roads
The carriage roads are coupled with Eagle Lake, astonishing stone-faced bridges, cliffsides, streams, and waterfalls. You can take a relaxing walk with your dog and explore the heart of Acadia National Park through the carriage roads. The total length of the carriage roads is 45 miles. There are lots of attractions to explore with your dog during walks.
Campgrounds
Dogs are permitted in two campgrounds – Blackwoods Campground on the east side of Mount Desert Island and Seawall Campground off the coast of Maine. You can camp out in Blackwoods to reach Bar Harbor and Park Loop Road easily or have a quiet time with your pooch at the Seawall campsite.
Both campgrounds have flush toilets, running cold water, picnic tables, fire rings, a dump station for RVs, and access to potable water. During the peak season (between June and October), you might consider reserving your spot in these dog-friendly campgrounds through Reservation.gov.
Rules for Dogs and Their Owners
These places where pets are permitted offer wonderful experiences, but you must keep your dog on a leash that's 6 feet long or shorter. The National Park Service (NPS) is very strict about this rule, and rangers are quick to enforce it.
Although your dog would be thrilled to run around endlessly in a national park, this is for their protection. The NPS imposes this rule to prevent dogs from getting lost, protect them from wildlife, and preserve national park resources.
Owners must remove dog waste from the campgrounds, roads, parking lots, and other developed areas. Owners also must pick up their dog's waste from the loops within the campgrounds, established campsites, and hiking trails.
Additionally, practice good etiquette when visiting the park with your dog. Keep in mind that not all park visitors may be comfortable around dogs. Pay attention to keeping your dog quiet in the early morning and late at night, as excessive noise can be disruptive to both other visitors and local wildlife.
Respect the personal space of fellow park guests, especially on popular trails. Maintain a comfortable distance between your dog and other visitors. Although these aren't a part of the rules, you will contribute to a welcoming environment, ensuring you and your dog can enjoy the park to the fullest.
Emotional Support Animals
Although Maine recognizes emotional support animals (ESAs), therapy, and comfort dogs, they aren't exempt from the rules that apply to companion dogs, as they don't qualify as service animals. Still, Acadia National Park offers plenty to do for folks traveling with their four-legged family members.
Where You Can't Go With Your Dog in Acadia National Park
The places you can explore in Acadia National Park are vast, but there are areas where pets aren't allowed. These include some of the trails, Wild Gardens of Acadia, Duck Harbor Campground in Isle au Haut, and public buildings such as visitor centers and museums. Dogs also can't participate in the Ranger-led special programs.
Dogs aren't permitted in the following hiking trails in Acadia National Park:
Beech Cliffs Trail in the western part of the national park.
Beehive Trail starting from Sand Beach.
Jordan Cliffs Trail located between the carriage road and Penobscot East Trail.
Ladder Trail to Dorr Mountain
Perpendicular Trail located west of Mansell Mountain and Long Pond.
Precipice Trail north of Sand Beach and Beehive Trail.
The NPS doesn't allow dogs on these trails because hikers often need to use ladders or iron rungs. These hiking trails are also very steep and aren't suitable for novice hikers – let alone dogs.
Dogs can swim in Sand Beach and Echo Lake, but not from May 15 through September 15. Most lakes in the Acadia National Park are public water supplies, so dogs and people aren't allowed to swim.
If you want your dog to experience the water, you can visit Thunder Hole instead, where waves hit against the rocks and spray water in the air. It can be an exciting experience for your pup, but be mindful of your dog's temperament, as the loud, thunderous sounds of waves crashing may scare them.
Exemptions for Service Dogs in Acadia National Park
Service dogs are exempt from many of these rules, per the Americans with Disabilities Act. If you're planning to visit Acadia National Park, your service dog may enter the areas restricted to other dogs with you.
Service dogs are allowed to accompany their owners to all park locations, including the Duck Harbor Campground in Isle au Haut, public buildings, and swimming beaches.
Things to Do in Acadia National Park With Your Dog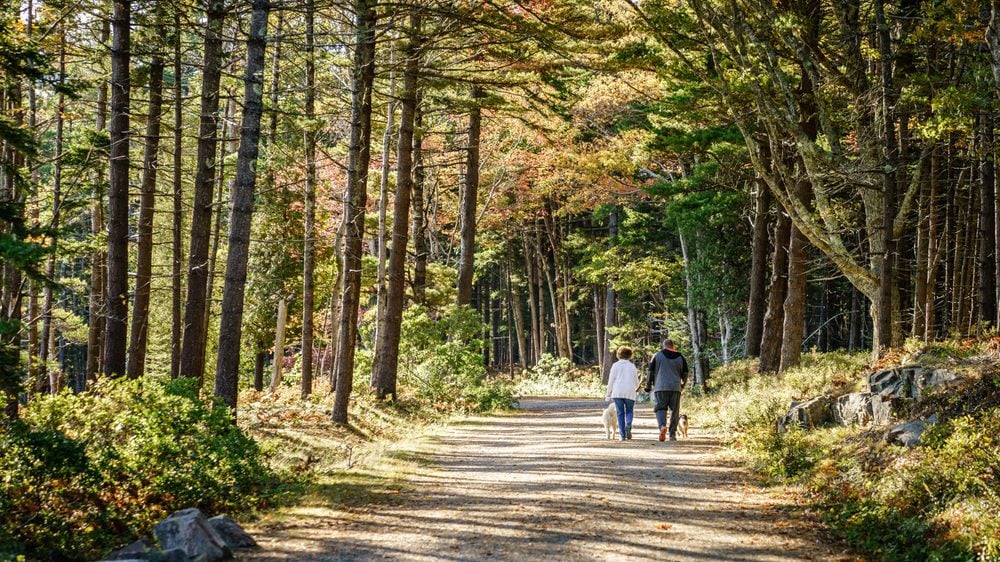 Acadia National Park offers various activities for people traveling with their dogs. The national park also recognizes the importance of dogs in our lives and has a special program where they can swear in as rangers! Here are a couple of exciting things to do in Acadia National Park.
Enjoy Stunning Views While Hiking
There is no shortage of hiking trails suitable for dogs in Acadia National Park. The difficulty of these trails is appropriate for the courageous Dachshunds to athletic Collies. You can enjoy stunning views while hiking with your dog. The following are some of the best trails to hike with dogs in Acadia.
Jordan Pond Loop
There's a 3-mile loop around Jordan Pond with stunning views of surrounding mountains and the iconic rocks. It's a fairly flat trail that's suitable for all dog breeds. There's also a one-mile round-trip hike you can take with your dog that gets you closer to the famous Bubble Rock.
Ship Harbor Trail
This 1.3-mile trail is flat and well-maintained. It's suitable for those testing to see if their dog would like hiking. The trail goes along the rocky coastline and has mesmerizing views of the nearby islands.
Cadillac Summit Loop
This trail offers one of the best views. Although it's long (about 5 miles), it isn't a challenge for fit dogs. The panoramic view of the surrounding landscape overlooking the nearby islands is breathtaking for dogs as much as it is for humans.
Before hiking with your dog, consider their health and fitness levels. Also, make sure to provide them with plenty of rest and pack the necessary supplies.
Become a B.A.R.K. Ranger
The B.A.R.K. Ranger programs in select national parks promote responsible pet ownership. It stands for:
Bag your pet's waste
Always leash your pet
Respect wildlife
Know where you can go
In this 15-minute program, Rangers educate dog owners about the rules and highlight the importance of following them to ensure a safe experience. After completing this program, your dog can be sworn in as a B.A.R.K. Ranger. You can also purchase a B.A.R.K. Ranger collar tag at the Hulls Cove Visitor Center.
Take a Boat Tour or Drive Around
Numerous companies have boat tours that accept dogs. You can take a sightseeing cruise with your dog or catch the sunset. The sights include the Egg Rock Lighthouse and historic mansions. A boat trip can be just as interesting for your dog as you encounter seals and porpoises.
Acadia is packed with scenic drives. Catch breathtaking views of nearby islands, the coastline, and much more as you drive up Cadillac Mountain. As you admire the scenery, you can stop at one of the pull-off areas to take a short walk or snap photos.
Consider Boarding Your Dog
Acadia National Park offers various activities that dogs, unfortunately, can't participate in. The programs led by Rangers, for example, don't accept dogs. If you anticipate attending recreational activities that don't allow dogs, you can board your dog for the day or overnight.
There are many kennels near Acadia that not only offer boarding services but also sell pet supplies. These kennels are often spacious and provide a safe environment for your dog. While your dog gets cared for in a safe place during the day, you can explore the wonders of Acadia National Park without restrictions.
How to Protect Your Dog in Acadia National Park
National parks can be overstimulating for dogs. They will encounter new sights, smells, and sounds, which can lead to overexcitement. These can cause unwanted behaviors such as chasing wildlife or barking excessively.
Make sure to observe your dog for signs of overexcitement. Consider walking your dog on a short leash to have better control if your dog tends to get excited.
Store dog food in a sealed container, as the smell can attract wildlife. Also, never tether your dog to a tree when camping in the backcountry. Instead, sleep with your dog in the tent.
Ticks are a problem in Acadia, especially between late spring and early fall. If your visit is around these times, use a tick-prevention product even if your dog is vaccinated. Give your dog topical or oral medications that kill ticks or put a tick collar on to repel ticks. If you find a tick on your dog, use a tick removal tool or tweezers to remove it and sanitize the bite area.
Also, make sure your dog is well-hydrated, and pack enough supplies for their needs. Protect their paws from the rough terrain of the trails by investing in high-quality dog boots that will keep them comfortable and prevent injury.
Contact Acadia National Park
If you have specific questions about what you can and cannot do with your dog in Acadia National Park, it's best to contact the national park directly. You can call Acadia at 207-288-3338 or through their contact form.