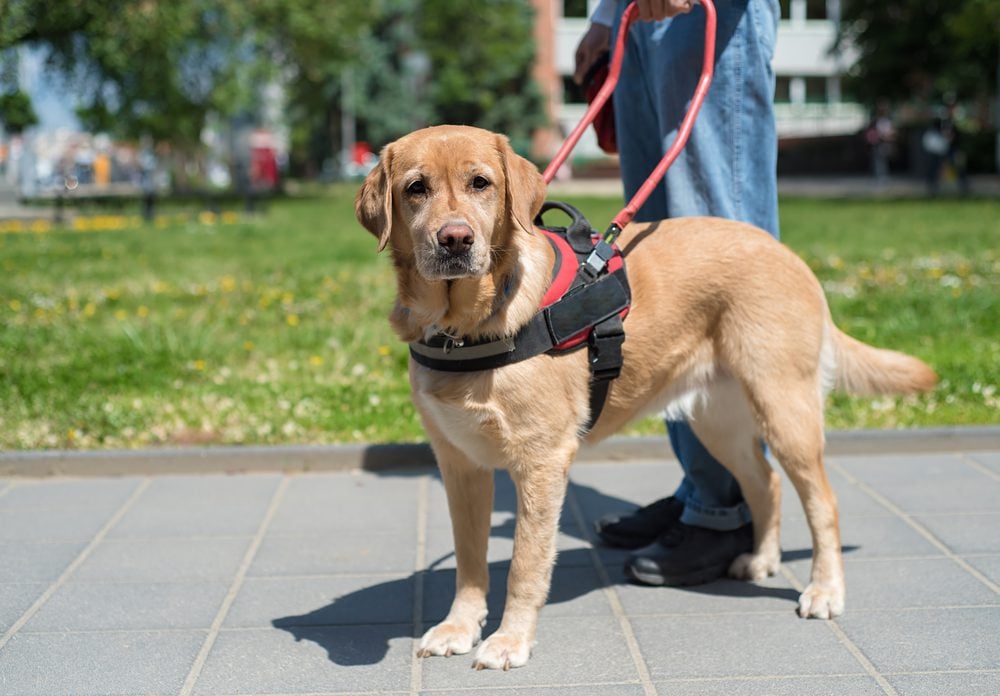 The Ohio Revised Code states that people with disabilities accompanied by an assistance dog—a dog trained by a non-profit agency to assist people with sight, hearing, or mobility impairments—cannot be discriminated against in any public accommodation, even if that establishment normally prohibits animals.
However, the Administrative Code, a separate provision of Ohio law, provides similar protections and broadens the definition to include any dog that supports both physical and mental disabilities. Furthermore, the Americans with Disabilities Act (ADA) states that people with disabilities have a civil right to bring a service dog into any "public accommodations." An individual has the right to apply the law that offers them the most protections.
Public accommodations include hotels, retail outlets, entertainment venues, transportation services, and educational institutions, although religious organizations and membership-based clubs are exempt. All public accommodations, including rental properties and airlines, cannot legally charge for, prohibit entry to, or discriminate against an accompanying service animal.
Therefore, if you're living with an eligible disability in the state of Ohio, it's worth training your canine companion to become a fully-fledged service animal. Eligible disabilities include visual impairment, hearing loss, seizures, mobility issues, and balance or stability problems.
What to Look for When Choosing Service Dog Training
Choosing an appropriate service dog training center is the first step towards turning your canine companion into a bona fide service animal.
Regardless of whether you choose an online or in-person trainer, it's best to stick with an established operator with years (or decades) of industry experience. Look for a company with a proven track record of training your specific breed for your unique disability requirements.
For a brick-and-mortar establishment, it's worth assessing the facilities in person before committing. Are the kennels in good shape? Do the dogs have plenty of open space? A low-quality trainer will cut corners and deliver subpar results.
While a sizable waiting list is indicative of a successful business (or a popular non-profit), you should consider your own timeline. If you need your animal trained in a hurry, there's no point joining a year-long waiting list.
Not all service dog trainers work with every breed and age. But that's not necessarily a bad thing—it could mean they excel at training a specific type of dog. In any case, double-check whether your trainer of choice will work with your animal.
Finally, cost is a crucial consideration. While the law requires a service dog to be capable of supporting its disabled owner, there's no legal requirement to enlist an in-person trainer. An online training course gives you the necessary tools to train your animal at home and saves you thousands compared to an in-person program.
Online vs In-Person Service Dog Training
So what's the best option for training a service dog: in-person or online? Both methods offer distinct pros, which we'll cover below.
While an in-person course requires you to attend scheduled classes, an online program lets you train your animal at a time that's convenient for you—you don't even need to leave the comfort of your own home. The most significant benefit, however, is cost. Online programs give you all the support and guidance you need at a fraction of the price of an in-person course.
Although rigid and expensive, in-person programs may achieve better results for specialist requirements because an experienced professional can provide expert, tailor-made training. Also, both humans and canine get ample opportunity to socialize and exercise—active and outgoing owners often find in-person training more fun.
| | |
| --- | --- |
| Pros of Online Service Dog Training | Pros of In-Person Service Dog Training |
| Cost-effective: online courses only cost a small portion of what in-person courses cost | Individualized advice: a trainer can give you and your dog real-time, specific tips |
| Convenience: you're free to train your dog on your own schedule | Expertise: many in-person trainers have years of experience training service dogs |
| Comfort: you and your dog can train in your own home | Exercise and socialization: your dog (and you yourself) can bond with others in-person |
The Best Service Dog Training in Ohio
Now that you have a general overview, it's time for us to review the top service dog training programs in Ohio, including online and in-person courses. We've done intensive research to find the best course in the state, so that the selection process can be simpler for you.
US Service Animals Online Training
US Service Animals Online Training is known as the top dog in virtual training for a good reason – it offers you everything you need to train your dog to be a service dog without leaving your home. Its program features six models which include 12 videos that are easy to follow and that cover current animal behavior theories. It also explores how to apply those theories to your own dog. What makes it unique amongst other online courses is that a professional service dog trainer will give you customized support as you train.
This thorough program helps you train your dog to assist with multiple disabilities, including hearing loss, blindness, mobility issues, diabetes, and seizures. Any breed or size dog can be trained, and you get a certificate on completion. You can also get a collar, tag, leash, and service vest.
Cost: $349
Location: Online only (6 video modules)
Certificate: Yes
1:1 Support: Yes
Equipment Provided: Clicker, plus optional service vest, collar, collar tag, and leash
Link: www.usserviceanimals.org
Buckeye K9
Ohio-based Buckeye K9 is one of the leading dog training institutions in the state, and its service dog training program is highly regarded among those in the know. Led by head trainer Lori, who boasts over 15 years of experience in the field, the program enables people with disabilities to regain their confidence, freedom, and independence through a fully trained canine.
After an in-depth consultation, the business helps clients handpick a suitable puppy (no BYO dog option available) and then spends several months training it to respond to key commands. All training is fully customized to the client's needs and occurs either one-on-one or in a group lesson setting. Buckeye K9 provides service dogs for most physical and mental disabilities.
Cost: Contact for a quote
Location: Obetz, Ohio
Certificate: Unspecified
1:1 Support: Yes
Equipment Provided: Unspecified
Link: www.buckeyek9.com
A Better Pet
A Better Pet is a small Cleveland-based training service that offers local clients a comprehensive and fully customized program. Founder and lead trainer Rachel has been working closely with canines for over 20 years and currently specializes in training service dogs to assist with autism, psychiatric conditions, and mobility issues. Rachel has a knack for working with children and puts extra effort into building a strong three-way relationship (child-dog-responsible adult)
All breeds are accepted; Rachel's only requirement is that the client is willing to participate and will treat the animal gently. Training occurs in the customer's home, which must be within 75 miles of downtown Cleveland (distance learning available on request).
Cost: Cost varies depending on requirements. Contact for a quote.
Location: Cleveland, Ohio
Certificate: Unspecified
1:1 Support: Yes
Equipment Provided: Unspecified
Link: www.abetterpet.com
4 Paws for Ability
4 Paws for Ability is a well-established Ohio-based non-profit that "takes the 'dis' out of disability." Since its foundation in 1998, the organization has trained and placed over 1,500 service dogs with needy local families. The team specializes in working with young disabled children and covers the full spectrum of mental and physical disabilities.
For approved applicants, the service is entirely free, although there's typically a long waiting list involved. 4 Paws for Ability operates thanks to its passionate volunteer staff, corporate sponsorships, and generous donations from the community. There's no BYO dog training option because the organization finds it achieves better results breeding its own puppies.
Cost: Free
Location: Xenia, Ohio
Certificate: Unspecified
1:1 Support: Yes
Equipment Provided: Yes
Link: www.4pawsforability.org
Highland K9
Highland K9 offers a flexible and highly sought-after service dog training program to provide a helpful, lifelong companion for people with autism (seizure and mobility service dogs are available, too). Above all else, Highland K9 is well-regarded for its impressive outcomes and flexible approach. There's no age limit or application fee, and the training program is fully customized for the client's needs.
The company trains puppies at its North Carolina facility before placing them in homes around America, including Ohio. A trainer provides one-on-one support throughout the placement phase, which typically lasts five days. Highlands K9 offers a flexible payment plan and can assist clients with fundraising initiatives.
Cost: Contact for a quote
Location: NC-based but places dogs throughout America
Certificate: Unspecified
1:1 Support: Yes
Equipment Provided: Leash, service vest, harness, tethering/trailing equipment, ID
Link: www.highlandcanine.com