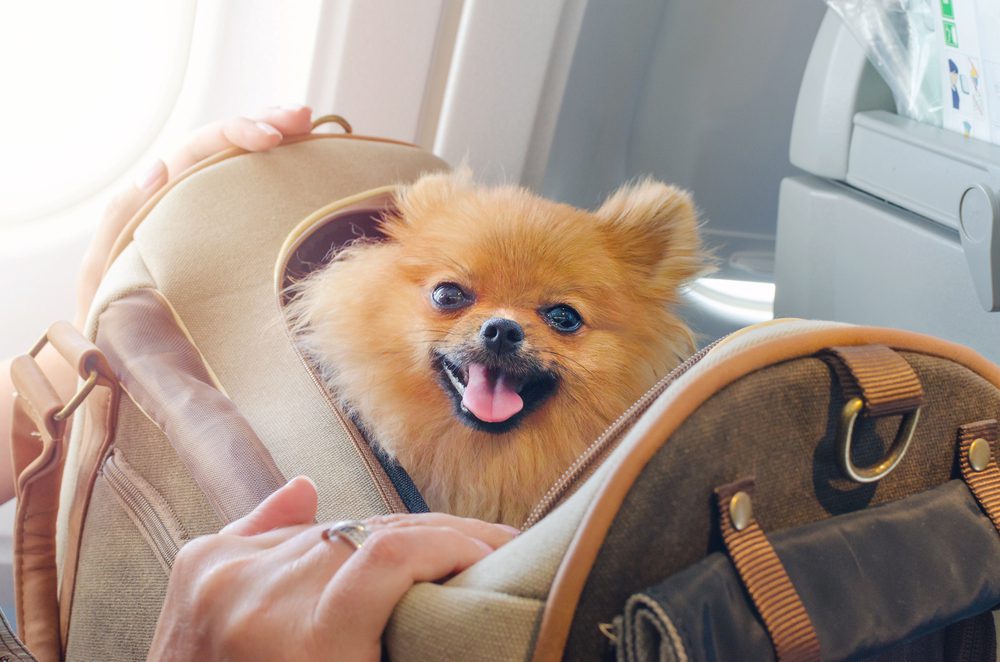 An emotional support animal is a great way to support a mental health disorder and not let the condition prevent you from doing the things you love. Many people with an emotional support animal – or ESA – find the animal becomes their best friend and helps them cope with conditions such as depression or anxiety.
There are certain times in everyone's life that stress is at its highest. Perhaps atop the list of these occasions is the experience of flying, which leads many to feel scared and anxious — or not fly altogether.
Fortunately, many airlines like KLM allow passengers to bring pets and service animals on board. Below is everything you need to know about the emotional support animal policy for KLM airlines.
Are Emotional Support Animals Allowed on KLM Flights?
KLM Royal Dutch Airlines is a famous airline that offers flights all around the world. Although it is the flag carrier of the Netherlands, KLM flights can be found in most major cities around the world. Choosing them can be a great way to ensure your safety and mental well-being while on a flight; however, you'll need to determine which category your animal falls under first.
Prior to 2021, KLM recognized emotional support animals (ESAs) and permitted them to fly free of charge. However, KLM's policies have since changed, and ESAs are no longer recognized. Instead, emotional support animals must fly as pets unless they're a trained service dog (SA).
At a Glance: ESA Policy Changes
Below is a glance at the policy changes towards animals traveling on KLM flights:
Emotional support animals (ESAs) are no longer recognized by KLM
All ESAs must travel under KLM's Pet Travel Policy
Under the Pet Travel Policy, animals incur fees (EUR 75 to EUR 400 each way)
Trained service dogs are permitted on flights free of charge
Psychiatric service dogs are only permitted on flights to and from the US
Like other airlines, there are restrictions and requirements to be aware of to ensure your pet or service animal is allowed to fly. It is also essential to know what documentation is needed to ensure your faithful companion can travel with you.
While emotional support animals are no longer acknowledged as a special category on KLM flights, those wishing to travel with their ESA can still bring their animal under KLM's Pet Travel Policy. The main difference is that handlers must pay a fee for the animal, and they are not given any special treatment, even if the animal is there to support a mental disability. Only trained service animals can travel for free.
Pets vs. Service Dogs
As ESAs are no longer recognized by KLM, all animals either fall under their Pet Policy or their Service Dog Policy. We explore the differences in more detail below.
KLM's Pet Travel Policy
In adherence to animal welfare guidelines and the International Air Transport Association (IATA) regulations, KLM's Pet Travel Policy only permits dogs and cats inside the cabin and luggage hold — other animals such as snakes or rodents are not allowed.
Your cat or dog must also be at least 10 weeks old and travel on the same flight as you.
How to Apply
As there is limited space for pets in KLM's aircraft, passengers are encouraged to make a reservation for their animal no later than 48 hours prior to departure.
KLM also has a pet checklist and list of kennel requirements that you should read before you travel.
Pet Cabin Rules
If you want to bring your ESA into the cabin, it should fit into a kennel or closed pet travel bag. As the animal is required to fit into the seat in front of you, the kennel can be no bigger than 46 x 28 x 24 cm, and it (or the pet travel bag) can weigh no more than 8 kg.
As space is limited, your ESA needs to be small enough to fit into these dimensions while also being able to move comfortably. Pets are also not allowed to be taken out at any time during the flight.
Note: Pets are not allowed in the cabin in Business Class or on an intercontinental route because it will not be possible to put it under the seat in front of you.
Pet Hold Rules
If your ESA is too large to travel in the cabin or weighs more than 8kg, you can bring them in the hold instead. Although they might not be next to you, you can still feel comfortable knowing your ESA is close by and will be there upon landing.
If you have more than one animal, you can put them in the same crate or kennel (no bigger than 122 x 81 x 89 cm) if they weigh less than 14kg each. Animals as large as 70kg can be accepted so long as the passenger notifies the airline in time and have the appropriate documentation.
Note: Pets cannot be brought in the hold if passengers have a transfer time of more than 3 hours or if their flight is in a Boeing 787-9 or 787-10 aircraft. Also, passengers on some KLM Cityhopper flights (operated with Embraer aircraft) cannot bring pets in the hold between 1 November and 31 March.
Pets Not Permitted in the Hold
KLM restricts some snub-nosed animals from traveling in the hold because these breeds can experience breathing difficulties in stressful and high-temperature environments. However, snub-nosed breeds can travel in the cabin or cargo area. Check KLM's site for a listing of the cat and dog breeds that fall into this category.
Costs for Traveling with a Pet
One of the biggest changes that ESA handlers face with KLM's Pet Travel Policy is a fee associated with their animal. Bringing a dog or cat onboard a KLM flight can incur fees ranging from 75 to 400 euros each way. The prices vary depending on the destination and departure airport.
Passengers can see how much the fee is for their pet when they make their reservation.
KLM's Service Animal Policy
According to KLM's Service Animal Policy, only dogs are considered service animals on their flights. Passengers with a trained service dog can travel with their animal free of charge; however, you will be asked to confirm that your dog is licensed and trained on the application form.
KLM also considers fully-trained service animals to be well-behaved in public places. If your dog acts out at the airport or misbehaves, you may be asked for further proof of its training.
While most service dogs are permitted on KLM flights, psychiatric service dogs are only allowed on flights to and from the US.
How to Apply
If you want to fly with your service dog on a KLM flight, you must fill out their application form and send it via e-mail at least 48 hours before departure. You'll also need to include a copy of your animal's passport, which indicates the breed, size, and weight.
Service Animal Cabin Rules
The cabin rules for service animals are similar to pets in that they cannot occupy a seat. It's also important they don't impede another passenger's legroom or block aisles and emergency exits. During the flight, your service dog must also wear a harness that is attached to your seatbelt.
While service dogs are not subject to the same restrictions as pets, your dog must be small enough to fit under the seat in front of you. If the animal doesn't fit, you will be offered an alternative seat within the same travel class. If no other seats can accommodate you and your service dog, you may be asked to travel on a later flight or let your animal travel in the hold.
Note: If your flight is longer than 8 hours, you may be asked for documentation or confirmation that your service dog can travel for that duration without relieving itself (or at least can do so in a sanitary way).
FAQs
What travel documents do I need for my pet or service animal?
For both pets and service dogs, the main required documents are vaccinations, travel documents, and health certificates. The exact requirements might vary depending on the location and length of the flight, so be sure to consult directly with the airport that offers the KLM flight you plan to take.
Also, dogs and cats traveling within the EU must have an electronic chip for identification purposes. If you're unsure about what your animal needs, check the embassies of your departure and arrival countries for more details.
The best way to ensure your pet or service animal can travel with you is to start the process early, informing the airline of your intentions and asking them about the needed documentation.
Are there other restrictions on KLM Airlines I should be aware of?
The fact of the matter is flying is complicated, and the first concern of KLM airlines is to keep passengers safe and calm during the flight. Subsequently, there are restrictions the airline has that might prohibit some service animals and pets from traveling in the cabin.
For example, some cities might require that animals arrive as air cargo, although most cities accept service animals that travel directly with the passenger. Always check your departure and arrival embassy rules on pets and service animals before traveling.
How can I register my pet as an ESA or an SA?
You can register your emotional support animal (ESA) or service animal (SA) through our website, and we will guide you through each step. The process is simple and easy, and it involves a quick phone call with a mental health professional to determine whether the animal is beneficial for your condition.
If you are considering having your pet registered as an emotional support animal but do not know where to start, simply get in touch or fill out one of our forms online to take the first step. Here at U.S. Service Animals, we can appropriately evaluate your need for an ESA or SA and ensure you get the help you need.
Summary
Everyone deserves to be as happy as they possibly can and feel their best both physically and mentally. That means no one should have to miss out on doing the things they love because they are afraid to fly.
Emotional support animals have helped numerous people live a more fulfilling life by helping them manage symptoms and cope with the demands of everyday life. If you struggle with issues related to mental health and well-being, then a pet or service animal that is permitted on KLM flights might be the thing you need to gain back control of your life.