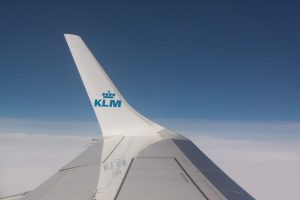 An emotional support animal is a great way to deal with a mental health disorder and not let the condition hold you back from doing the things you love. Many who have an emotional support animal – or ESA – find that the animal becomes their best friend, and they go and do whatever it is they desire with the animal without worrying about depression, anxiety or another mental issue holding them back.
There are certain times in everyone's life – regardless of the person's mental state – that stress is at its highest. Perhaps atop the list of these stressful occasions is the experience of flying, which leads many to feel scared and anxious and even prevents some from flying altogether. Fortunately, many airlines – including KLM airlines – allow passengers to bring their registered service animals on board.
If you are one of the many who fears flying and would benefit from having a furry companion there for emotional support, then consider registering your animal as an emotional support animal. The entire process is conducted on our website at US Service Animals, and we are there to guide you through each step. For your benefit, the following is everything to know about the emotional support animal policy for KLM airlines.
Are Emotional Support Animals Allowed on KLM Flights?
KLM Royal Dutch Airlines is a famous airline that offers flights all around the world. Although it is the flag carrier of the Netherlands, a KLM flight can be found in most major cities around the world, and choosing them as your flight is a great way to ensure your safety and mental well-being while on a flight.
The reason KLM airlines is such a good choice for passengers who have a mental health condition that causes them to feel anxious or scared while on a flight is because they have a generous policy for emotional support animals and most ESAs are allowed on KLM flights.
However, like any other airline, there are some restrictions and requirements that it is crucial to be aware of to ensure your registered emotional support animal is allowed there beside you during the duration of the flight. It is also important to know the documentation needed and necessary steps to take to ensure your faithful companion is there beside you.
In summary, emotional support animals are allowed on KLM flights, and they have a more generous policy than many other airlines. However, there are certain animals that might not be allowed on the flight if the proper documentation is not provided or if the animal is a restricted type of animal or breed.
Documents Needed for Your Emotional Support Animal
There are certain documents that you must have with you if you plan to bring your emotional support animal on the plane ride with you for a KLM flight. Without the proper paperwork, or without following the restrictions they have in place for certain animals, your emotional support or service animal might not be allowed on board.
The two areas where documentation is necessary are travel documents and health certificates. The exact requirements might vary depending on the location and length of the flight, so be sure to consult directly with the airport that offers the KLM flight you plan to take. With that said, having the ESA recommendation letter – which we offer here at US Service Animals – is always a necessity.
There are also certain animal restrictions depending on the method in which your emotional support animal will travel. For emotional support animals that ride in the cabin, meaning along with the passenger, there are certain animal type restrictions. KLM airline typically does not accept snakes, spiders, etc., along with various other notable restrictions, and any dog should be at least eight weeks of age. The best way to deal ensure your emotional support animal is there with you during the flight is to start the process early, informing the airline of your intentions and asking them about the needed documentation.
Things to Know Before Your Flight with KLM Airlines
The fact of the matter is flying is complicated, and the first concern of KLM airlines is to keep passengers safe and calm during the flight. Subsequently, there are restrictions the airline has that might prohibit some service animals and emotional support animals from traveling in the cabin – although most dogs are allowed on as cargo at the least. The following is a complete overview of everything to know about bringing an ESA onboard a KLM flight, depending on the manner in which the animal will travel.
In-cabin flight
Most who have an emotional support animal prefer their ESA to travel beside them, helping the passenger to stay calm and anxiety-free. KLM airlines understand this need for passengers with a mental health condition, and they allow most dogs and cats that are registered as an ESA. It is required that those looking to travel with their ESA notify the airline at least forty-eight hours in advance via phone call(emails not accepted). Most dogs and cats are accepted, but other animals such as snakes and spiders are likely not allowed. It is also crucial to have an approved pet carrier in which your ESA lies in during the flight.
Checked baggage
If your emotional support animal is too large or not an accepted type of animal to travel in the cabin, then do not worry. Pets that are not accepted to fit underneath the passenger's seat still can travel in the cargo section of the airplane, which is air-conditioned and comfortable for your pet. Although they might not be next to you, you can still feel comfortable knowing they are a short walk away from you and will be there upon landing. It is important to have the proper crate for your animal if they travel in cargo, but animals as large as 150 pounds are often accepted so long as the passenger notifies the airline in time and have the appropriate documentation.
Animal types and airports served
There are more than 130 different cities and over 60 countries in which KLM airlines offer flights, including the majority of countries in North America, Asia and Europe. There are certain cities that might require animals arrive as air cargo, although most cities are accepting of emotional support animals that travel directly with the passenger.
Aggressive breed dogs – such as an English Bulldog or Boston Terrier – might not be allowed to travel as an emotional support animal, but they are accepted to travel as cargo. Be sure to consult with KLM airlines if you have an emotional support animal or service animal that is not a dog or cat to see if they are accepted.
How to Register Your Pet as an Emotional Support Animal
An emotional support animal is any type of animal that provides mental health assistance to a person and is recommended by a medical professional to a patient. A service animal is similar to an emotional support animal, but they might help with a physical condition as opposed to a mental health disorder. Both emotional support animals and service animals have certain benefits that a regular pet or therapy animal might not, including the ability to travel alongside passengers on airplanes.
Anyone who is diagnosed with a mental health condition – such as depression or anxiety – and has or has a desire to own a pet that makes them feel happier and more relaxed each day should consider obtaining an emotional support animal. You can register your emotional support animal through our website, and we can guide you through each step of the approval process. The process is simple and easy, and it involves a quick phone call with a mental health professional and a determination as to whether the emotional support animal is beneficial. Upon approval, we send you the ESA recommendation letter, which you can provide to the airlines to ensure they permit your emotional support animal onboard.
Have Your Pet Registered as an Emotional Support Animal Today
If you are considering having your pet registered as an emotional support animal but do not know where to start, simply give us a call or fill out one of our forms online to take the first step. Here at U.S. Service Animals, we can appropriately evaluate your need for an ESA and ensure you get the help you need for any mental health complications you might experience.
Everyone deserves to be as happy as they possibly can and feel their best both physically and mentally each day, and no one should have to miss out on doing the things they love to do because they are afraid to fly. Emotional support animals have helped numerous people live a more fulfilling life and dare to take that next flight to their dream vacation destination. If you struggle with issues related to mental health and well-being, then an emotional support animal that is permitted on KLM flights might be just the thing you need to gain back control of your life.