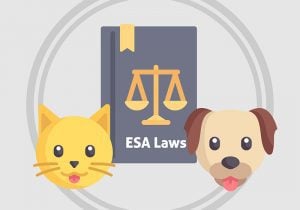 Animals offer us some of the most loyal friendships we will ever find. They stick by our side, they are always there for us and they seem to have a sixth sense so they know when something just isn't right. They might just offer that emotional connection that could save a life.
Emotional support animals are not just pets. While they are treated as pets when it comes to a variety of laws and regulations, there really is a different scope that qualifies an emotional support animal.
All animals in our lives are typically irreplaceable, but some provide a higher benefit through their connections or companionship, as we will continue to discuss.
Emotional Support Animals Defined
Emotional support animals are often also referred to as comfort animals. An emotional support animal can be any type of animal but is most commonly a dog or cat. There are some stories of emotional support peacocks, ponies, hamsters, etc.
Emotional support animals are typically not specifically trained. They may be trained by their owners to perform basic commands but they are not highly trained for specific health functions for their owners. Most commonly, an emotional support animal is comparable to a pet in that it provides an emotionally beneficial companionship.
Emotional support animals are commonly used for people who struggle with anxiety, depression, or mental focus but there is a vast array of reasons that an emotional support animal might be useful.
For an emotional support animal to legally be considered a support animal, the individual must be seeking mental health guidance from a professional. The professional (therapist, psychologist, etc.) designates or prescribes the emotional support animal as beneficial to the overall emotional health of their client and can provide a basis for the need of the support animal.
Tennessee State-Specific Emotional Support Laws
Every state must conform to the ADA regulations at a minimum, but apart from that, they are granted the authority to develop and enforce further laws and regulations concerning both service animals and emotional support animals.
Let's look a little deeper at the Tennessee laws in place for support animals:
Tennessee's laws only specifically mention guide dogs for those with physical disabilities. However, they must comply with federal regulations at a minimum
Tennessee designates public accommodation areas to include stores, businesses, motels, restaurants, theaters, schools, etc.
Tennessee's laws are quite basic and refer only to dog guides in terms of support animals. The law states that service animals must be allowed only if they are leading or accompanying someone who is blind, deaf, hard of hearing, or otherwise physically disabled.
Psychiatric services are not even mentioned for basic accommodation, but Tennessee must comply with the ADA regulations that do accommodate specific psychiatric needs.
Tennessee's laws do not mention in any way provision for emotional support animals.
Businesses and public accommodations are not required to allow emotional support animals but may choose to do so, although there are some locations that are specifically prohibited from allowing animals.
Tennessee's guidelines are more limited than even the ADA regulations, but Tennessee must accommodate the ADA guidelines regardless. However, it is quite clear there is no protection or accommodation for emotional support animals in the state of Tennessee's laws.
Is My Animal Emotional Support or Service Animal?
While we might consider emotional support animals and service animals to be nearly the same things, they are specifically separate groups and only service animals are provided for in federal regulations through the ADA.
Emotional support animals provide companionship to their individual that is beneficial on an emotional or mental health level. Emotional support animals might provide calm in anxiety, joy in depression, or a mental focus for their owner.
Emotional support animals are loosely defined, but the primary note to have a valid emotional support animal is that you are treated by a mental health professional who recognizes your need for the support animal and is willing to prescribe for such need.
Service animals are quite specifically by law. Service animals are trained or in training and they complete specific care needs for their owners. These actions may include a guide dog, pulling a wheelchair, retrieving medication, or sounding an alarm for an allergen, but the key term is that they are specifically trained to perform tasks for the disabled individual they serve.
Most commonly, service animals are dogs. However, the law does allow miniature ponies to be used as service animals. Ponies are more likely to be used in a case where mobility or pulling is needed and the size and strength of the pony could be beneficial.
Support Animal Registration
Here at USSA, we recognize the need for support animals of all kinds. We hope that in the future, states and ADA regulations will be more accommodating to service animals and emotional support animals alike.
We recommend that you register your support animal no matter what type of support they provide you. Registering your animal is easy and convenient and provides you with a suitable, professional approach to having your support animal accompany you.
Some of the benefits provided when you register your support animal through USSA are:
Customer service available via chat or phone call
Lifetime registration of your support animal
Printable certificate and photo ID, as well as original copies
Registration into the official US Service and Support Animal Registry Database
Staff doctors to provide assistance with letters needed for travel and housing
Staff attorneys that serve and protect your support animal rights.
Registering your support animal is not currently required, but in the future, it may be. We highly recommend that you are proactive in this process before guidelines and requirements become more strenuous.
Emotional support animals are still minimally recognized and approved, but as the need for them continues to grow, we expect the laws to adapt and change in recognition and accommodation of the need for your support animal.
Don't put it off, take these simple steps to register your support animal today.